Save Plants
Center for Plant Conservation
November News 2022
Life can spring from even the tiniest of seeds – creating the foundation for all life on our planet. These precious seeds also serve as the foundation of our work to save rare and endangered plants. At the Center for Plant Conservation (CPC), we maintain a collection of more than 2,200 of America's most endangered native plants through our network of world class botanical gardens that safeguard plant material in ex situ botanical collections. Made up in large part by seeds, this National Collection serves as an emergency backup in case a species becomes extinct or no longer reproduces in the wild. In practice, this takes the form of seed collecting and seed banking, which ensure that we are preserving both the rare plant species and its genetic diversity across populations.
In our November issue, we highlight work being done throughout CPC's network to collect and bank seeds, and also to study and understand the behavior of seeds. My colleagues at the North Carolina Botanical Garden give insights into their ongoing initiative to conserve the Seabeach Amaranth (Amaranthus pumilus) – a federally threatened "fugitive species" endemic to the coastal dunes of Atlantic barrier island beaches – through concerted seed increase and reintroduction efforts. Our Conservation Champion, Joe Davitt, shares about his work at the San Diego Zoo Wildlife Alliance's Native Seed Bank, making seed collections of rare species of conservation concern and collaborating with CPC as part of the California Plant Rescue state-wide seed collecting initiative. Our featured Rare Plant Academy video explores the topic of maximizing genetic diversity in seed collections by sharing tips to "know before you go" on a seed collecting trip.
We thank our collaborators and supporters for making it possible for us to save these tiny, incredible seeds – and, in turn, to Save Plants.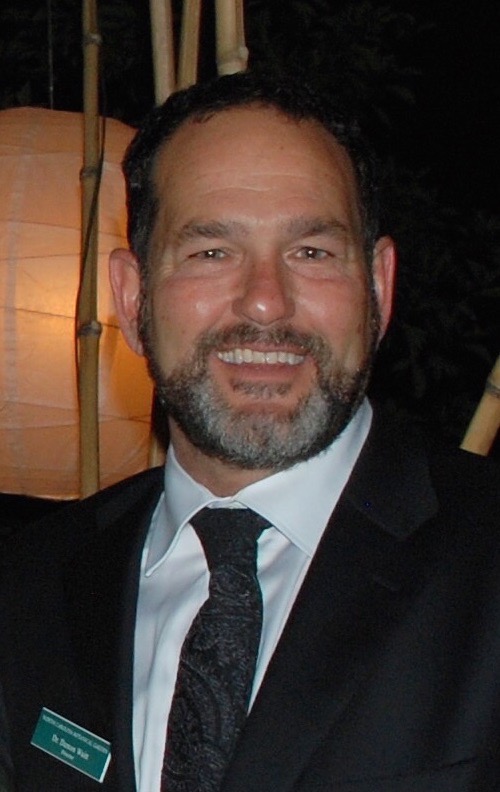 Damon Waitt
Director, North Carolina Botanical Garden
North Carolina Botanical Garden
On the Run: Recovering a Fugitive Species
Based on an Interview with Johnny Randall, PhD, and Michael Kunz
On the sandy coastal dunes of Atlantic barrier island beaches, just beyond the high tide line, lives the Seabeach Amaranth (Amaranthus pumilus), a federally threatened annual herb that is facing significant decline in its natural habitat. Once common along much of the eastern seaboard, from South Carolina all the way up to Massachusetts, this rare plant species is now extirpated from the states of Massachusetts, Rhode Island, and Connecticut, and needs significant conservation intervention to survive and thrive.
Coastal habitat of Seabeach amaranth (Amaranthus pumilus). Photo by Mike Kunz.
"This is a plant that has been of great interest to us for a long time, especially with its precipitously declining populations all throughout its range," shared Dr. Johnny Randall, Director of Conservation at the North Carolina Botanical Garden (NCBG). They have been working to conserve Seabeach Amaranth since making their first seed collections of the species in the 1980s. "It's such an interesting plant, being one that is on the frontier – it's truly on the edge of a habitat that is really vulnerable," continued Randall. The Seabeach Amaranth's precarious habitat is created by tides, wind, and storms. The species is intolerant to saltwater exposure, so individuals and habitat are often lost after storm surges and overwash events. It is also threatened by human development and recreation, in addition to sea level rise and beach stabilization efforts such as jetties and dune fencing. Often dubbed a "fugitive species," Seabeach Amaranth is always on the run from threats and competition to seek out suitable habitat to call home.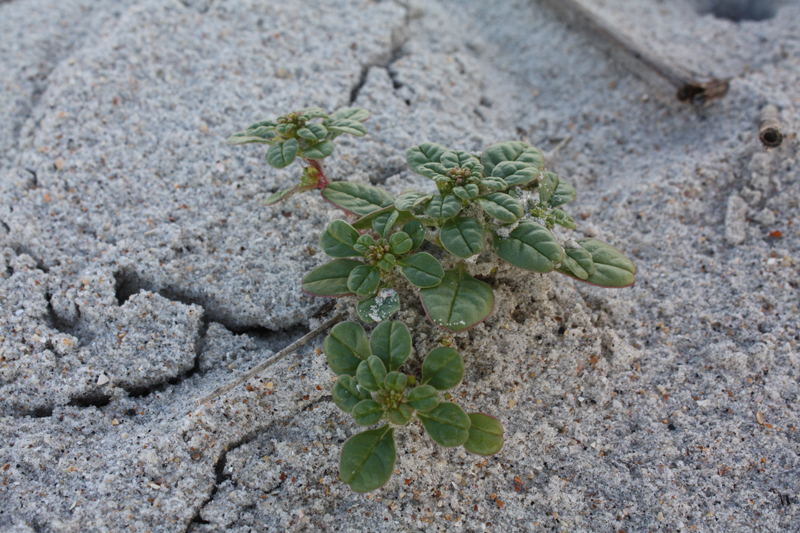 In 2015, NCBG began a partnership with the US Fish and Wildlife Service to reintroduce the Seabeach Amaranth in six wildlife refuges and some private lands within its native range along the Atlantic coast. They expanded this effort in 2018 by partnering with the National Park Service on reintroductions on Cape Lookout National Seashore, North Carolina. Central to these reintroduction efforts is seed increase efforts, or bulking. "We chose to work with seeds because the wide geographical range we were working in – from South Carolina up to Cape Cod, Massachusetts – made transporting mature plants unfeasible, but first we needed to get sufficient seed stock to do it," said Michael Kunz, Associate Director of Conservation at NCBG. Since this species was struggling in the wild, their team turned to accessions stored in their seed bank (39 collections from 23 populations throughout the species range) and conducted seed increase to generate enough seed for the reintroductions.
In a few cases, the NCBG team needed to make fresh seed collections. "Since this is a particularly vulnerable annual species, we often don't collect even the full ten percent in order to not harm the wild populations, which is fairly easy to do given the species' long flowering period and heavy seed production," continued Kunz. "This allows us to collect an ample supply to start ex situ populations for seed increase, even from small wild populations."
Once seeds are planted back into the wild, various partners help monitor plots where seeds were planted. The long-term goal is to continue establishing plants so seeds are continually being put out in the environment. "Since it is a fugitive annual, populations will fluctuate naturally, so not finding plants in the wild after a couple of years is not a failure, but a bump in the road to where this plant is going," said Kunz. "Hopefully, by continuing to get plants out in the environment, we're adding to this long-term natural seed bank – with the hope that when conditions are right, these plants can germinate and show back up on their own." The team at NCBG also have an eye toward optimizing efficiency and effectiveness by finding ways to use the least number of seeds or plants while maintaining a high success rate.
Conservation initiatives like this require long-term monitoring and management, but also provide opportunities to further research and better understand this species. One example is geographic-based genetic variation.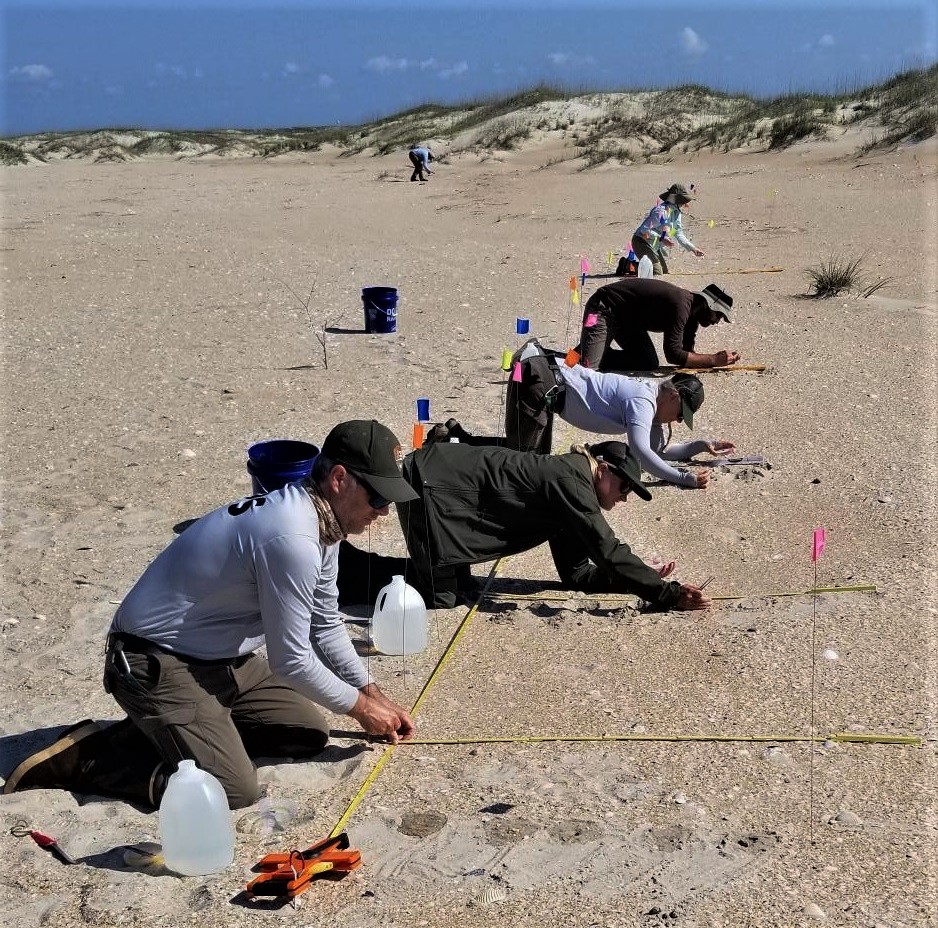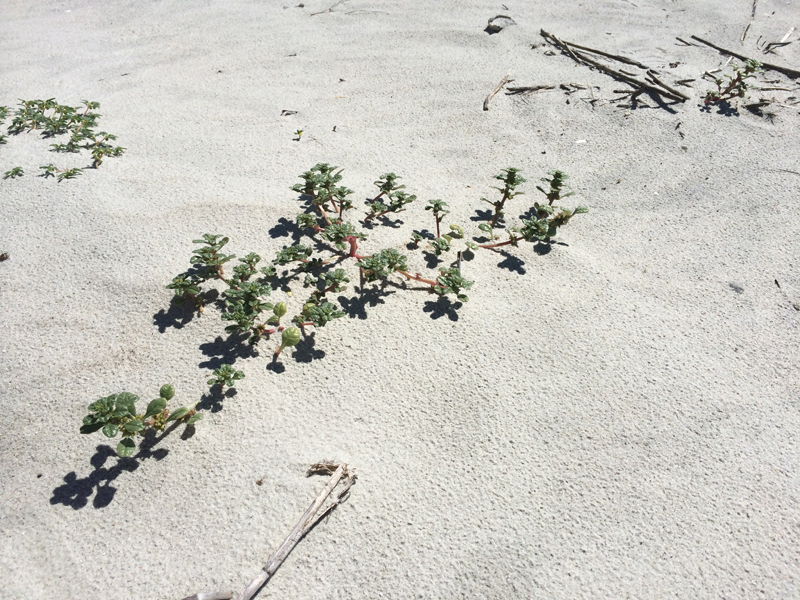 After beginning seed increase efforts in their greenhouse, the NCBG team found distinct phenological differences among plants along the geographic gradient, indicating genetic diversity – which probably accounts for variation seen among plant sizes, flowering times, and other traits from different sites. "This is one of the reasons we've stepped up our efforts to do seed increase, so we have enough seeds from as many representative populations throughout the range as we can, which helps avoid interbreeding ­– and we do have most of the species' range captured in our seed bank," said Kunz. Additionally, Seabeach Amaranth has been selected as a subject species for CPC's IMLS-funded Seed Longevity Study, which will better our understanding of seed viability in long-term seed bank storage to ensure better stewardship of these precious natural resources.
With these ongoing conservation actions, North Carolina Botanical Garden hopes to ensure the Seabeach Amaranth's recovery so that this fugitive species is no longer on the run, and can settle in its natural coastal habitat long into the future.
Learn more about NCBG's conservation work with Seabeach Amaranth by viewing Michael Kunz's 2022 CPC National Meeting presentation, "Bringing Back a Fugitive," on the Rare Plant Academy.
Further reading: Stalking the Wild Amaranth: Gardening in the Age of Extinction.
Conservation Champion
Joe Davitt
Research Associate, San Diego Zoo Wildlife Alliance
November's Conservation Champion, Joe Davitt, is a frequent collaborator and dedicated conservation partner to the Center for Plant Conservation (CPC). As research associate at the San Diego Zoo Wildlife Alliance's(SDZWA) Native Seed Bank, Joe utilizes his experience in conservation botany to identify and make seed collections from rare species of conservation concern, and to process and conduct germination testing of the seed bank's accessions. He actively collaborates with CPC and the SDZWA Plant Conservation team on the California Plant Rescue initiative and a large-scale restoration project at Torrey Pines State Natural Reserve. Joe is also instrumental to the creation of educational resources featured on the Rare Plant Academy. He contributes his expertise to develop storyboards and edit content for the educational videos that instruct practitioners in rare plant conservation best practices – as well as a fun and informative how-to video on creating educational videos using commonly available technological resources, such as your smart phone. We are grateful to count Joe as a valued partner and friend of CPC, and we thank him for all he does to Save Plants!
Joe Davitt making seed collections near the coast in San Diego County. Photo courtesy of Joe Davitt.
When did you first fall in love with plants?
Some of my earliest memories are of planting gardens with my parents. I was born and raised in rural San Diego County, surrounded by avocado and citrus groves, and we always grew tomatoes, squash and sweet corn. My mom was interested in ornamental horticulture, and I can remember tropical gingers, interesting succulents and cactus, and butterflies and hummingbirds all around the house. I think those early years in life are often a time we feel most safe, content, and happy. I associate that period in my life with digging holes in the soil, learning the names of flowers and trees, and my family.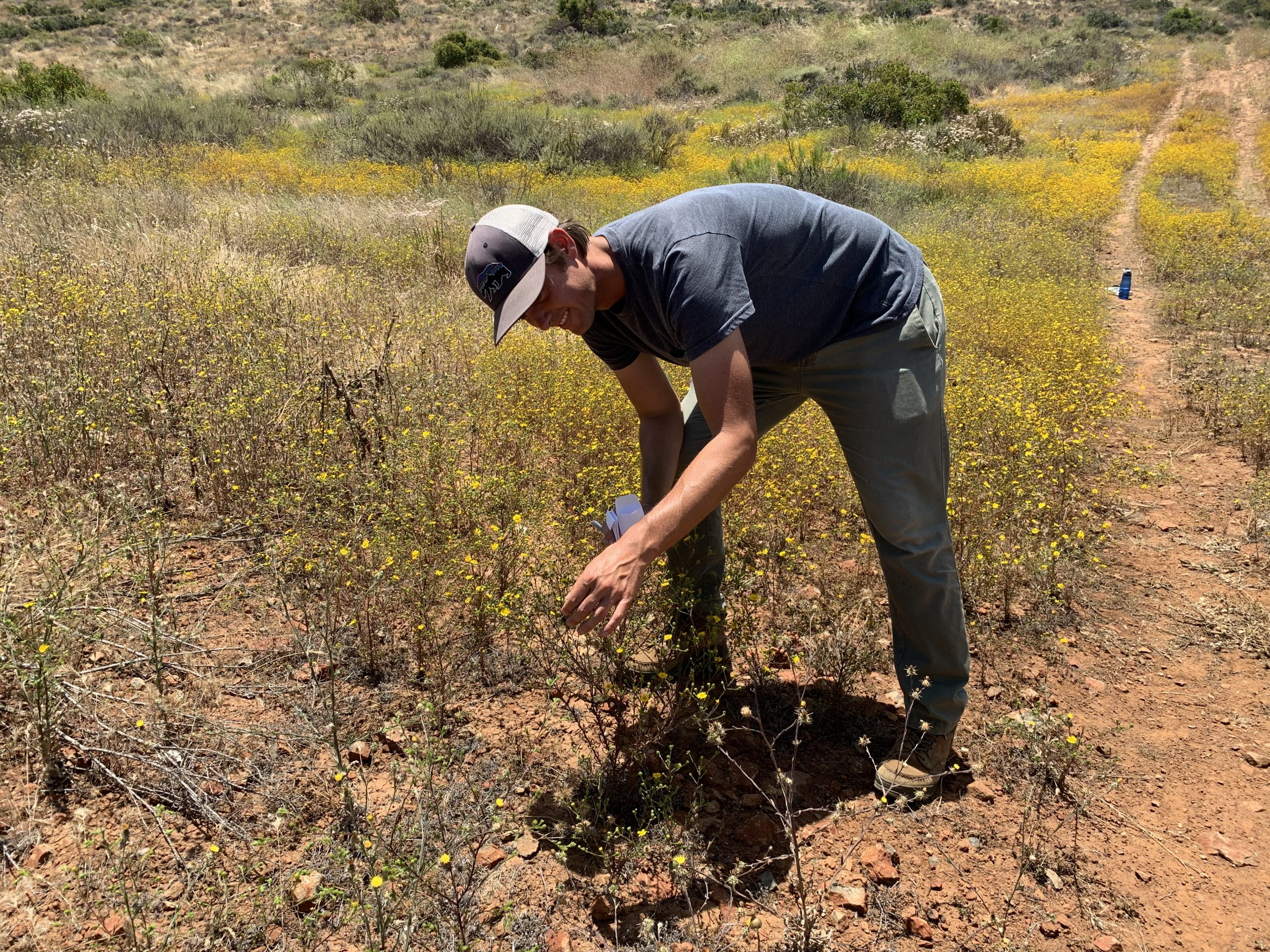 What was your career path to the San Diego Zoo Wildlife Alliance?
It was somewhat of an untraditional path. I received my undergraduate degree in biology with an emphasis in plant science and a minor in chemistry, I worked briefly in the pharmaceutical industry, and then spent 7 years in the Midwest, removed from the California flora. In 2014, I returned home and was so thankful to find a position at the San Diego Zoo Wildlife Alliance, working in the seed bank to locate and conserve seed from the rarest plant populations in the area. Science and conservation have always been a passion, as were the plants in the region where I was born and raised. Finding a way to combine the two has been very rewarding.
In your experience, what are some of the pressing conservation needs impacting the rare and native plants of California?  
I think there are two ways of looking at this. The pressing risks are climate change, invasive species, altered fire regimes, etc.—and there is a definite need to mitigate these. However, in my opinion, the most pressing conservation need is in conserving the genetic diversity that currently exists as quickly and completely as possible. This is best done via seed banking. Living in California, we have amazing institutional infrastructure in place and programs like the California Plant Rescue network that can optimize the work being done to conserve species ex-situ. We also have a well-funded government that directly supports these programs with funding and initiatives like the 30×30 California. If we can conserve the genetic diversity available to us now, I'm optimistic for the future. Seed banking allows us to conserve genetic diversity in a cost effective, space effective way, and allows us to proactively plan for a better future.
What are some of the projects you're currently working on at SDZWA's Native Plant Seed Bank?
Working as partners in the California Plant Rescue initiative, we are prioritizing the collection and conservation of rare species that are currently underrepresented in ex-situ collections. San Diego is a "biodiversity hotspot," and we aim to conserve the genetic diversity of the entire flora in our seed bank. I'm involved in the locating, monitoring, and collecting of the seed, as well as the processing and germination testing of the accessions. Our seed bank also supports a large restoration project at Torrey Pines State Natural Reserve. We've collected seed from multiple species throughout the reserve, including the Torrey pine, and are experimentally reintroducing the propagates to the wild. This project will both restore this beautiful park and document protocols so that others can learn from our efforts.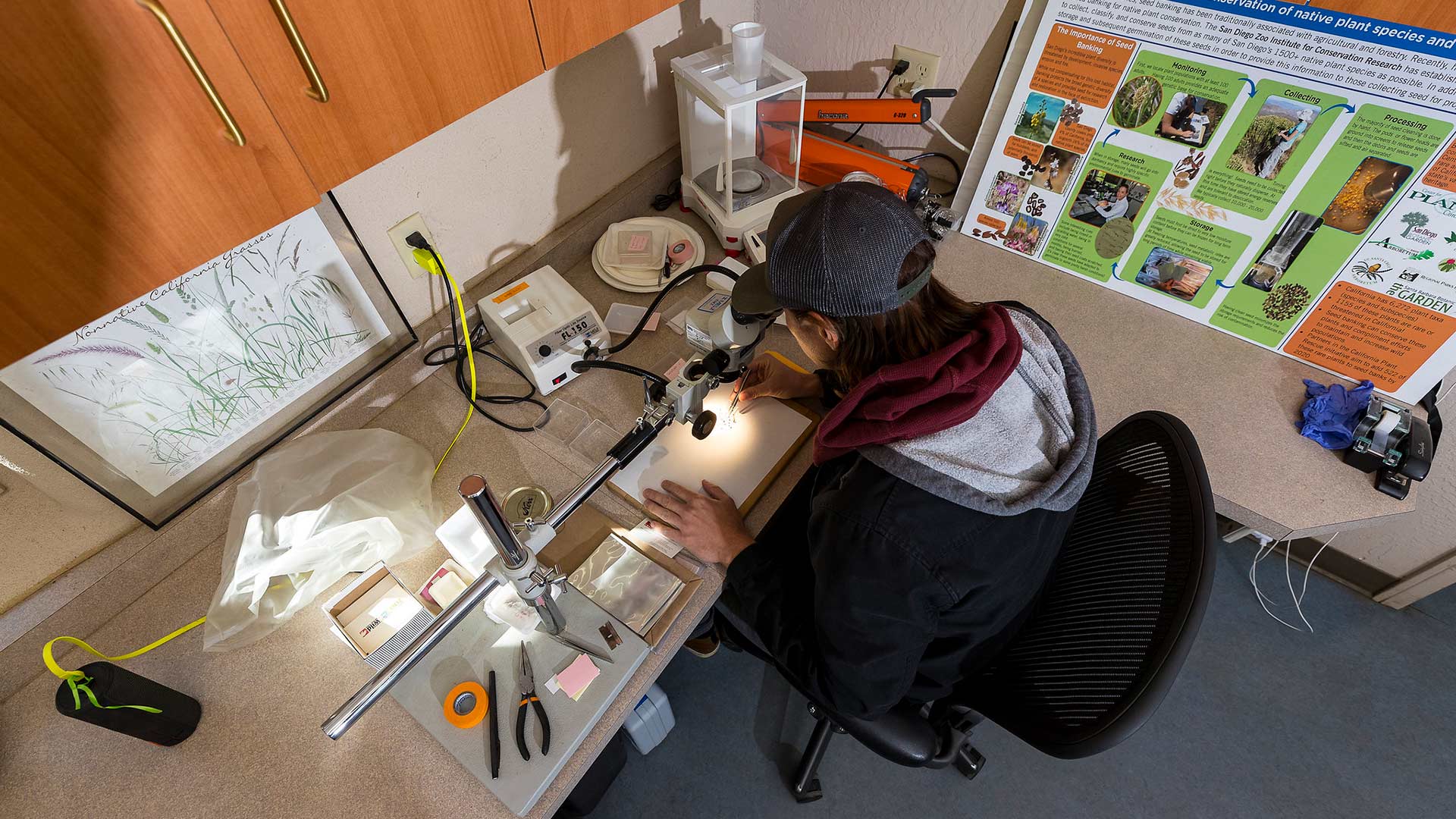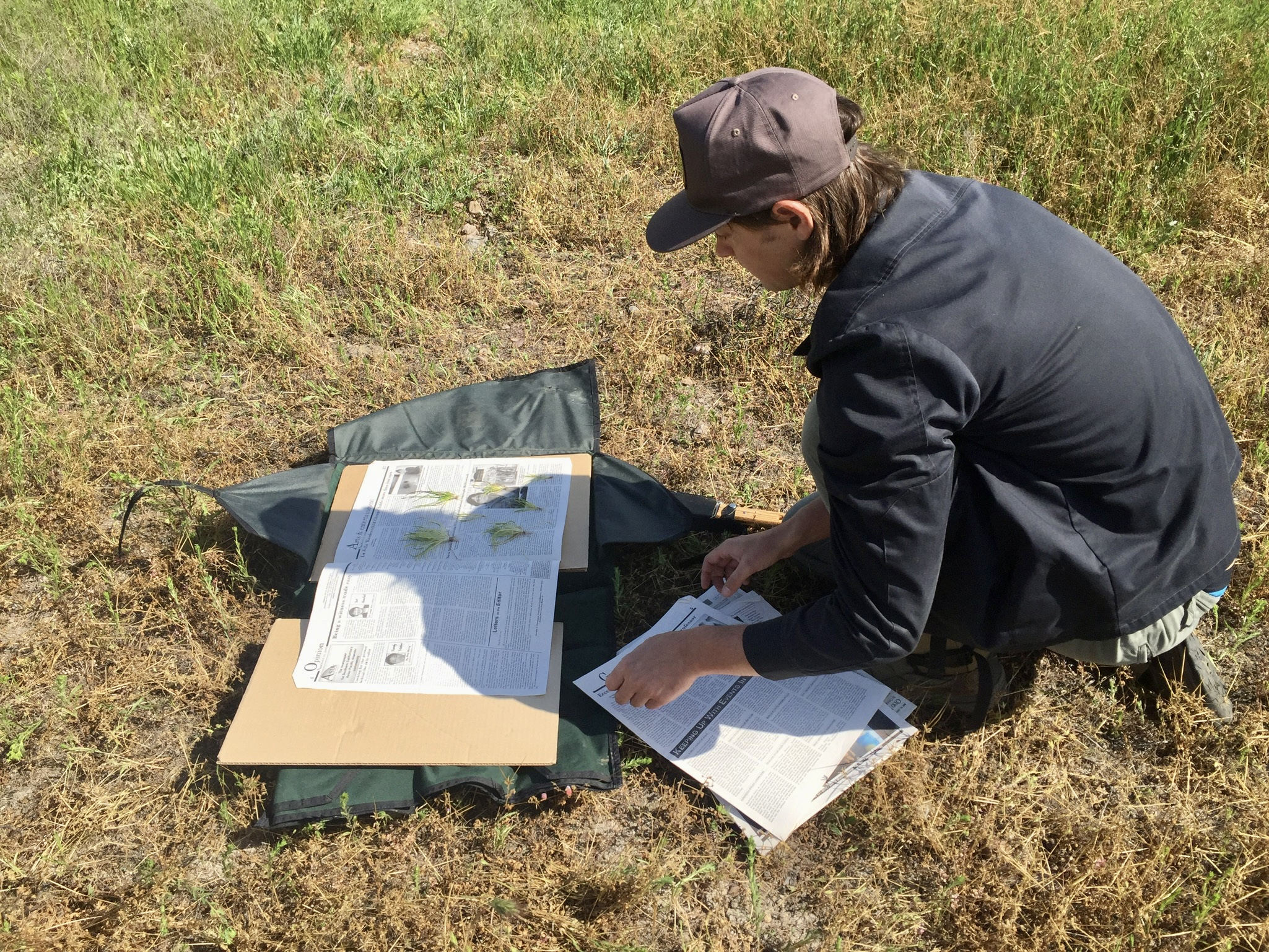 How do you draw upon your conservation experience at SDZWA to create storyboards and educational video content for CPC's Rare Plant Academy (RPA)?
I've really enjoyed working with the CPC to create video content for the RPA. I've made a few videos documenting our own work at SDZWA, and I've been working with partners throughout the country to create storyboards for videos that document the amazing work being done throughout the CPC network. We hope to teach others about plant conservation. I've been working directly with animators and video editors to piece together content and make it accessible to anyone at any time. I believe the Rare Plant Academy is an invaluable resource for anyone interested in plant conservation, and it's been a pleasure to contribute.
What successes or challenges have you encountered in your work?
I'm an optimist, and maybe that's because I am constantly surrounded by successes in my day-to-day work. Because we are working with the rarest species in our area, I think that every herbarium voucher, every seed collection, and every germinated seed is a success. Challenges abound, but every day we learn and take further steps toward our conservation goals.
What has surprised you about working with and learning more about rare plants?
When I first started to focus on rare taxa, the number of rare and threatened plants in our region was surprising. I've always known that the flora here was special, but when I started exploring the many different ecoregions, the amount of diversity was astounding. My interests are in the connectivity of life and the natural history that has led to the beauty and cohesiveness of the world around us. Working with rare species has brought a finer resolution to my understanding and a greater appreciation of the life on our planet.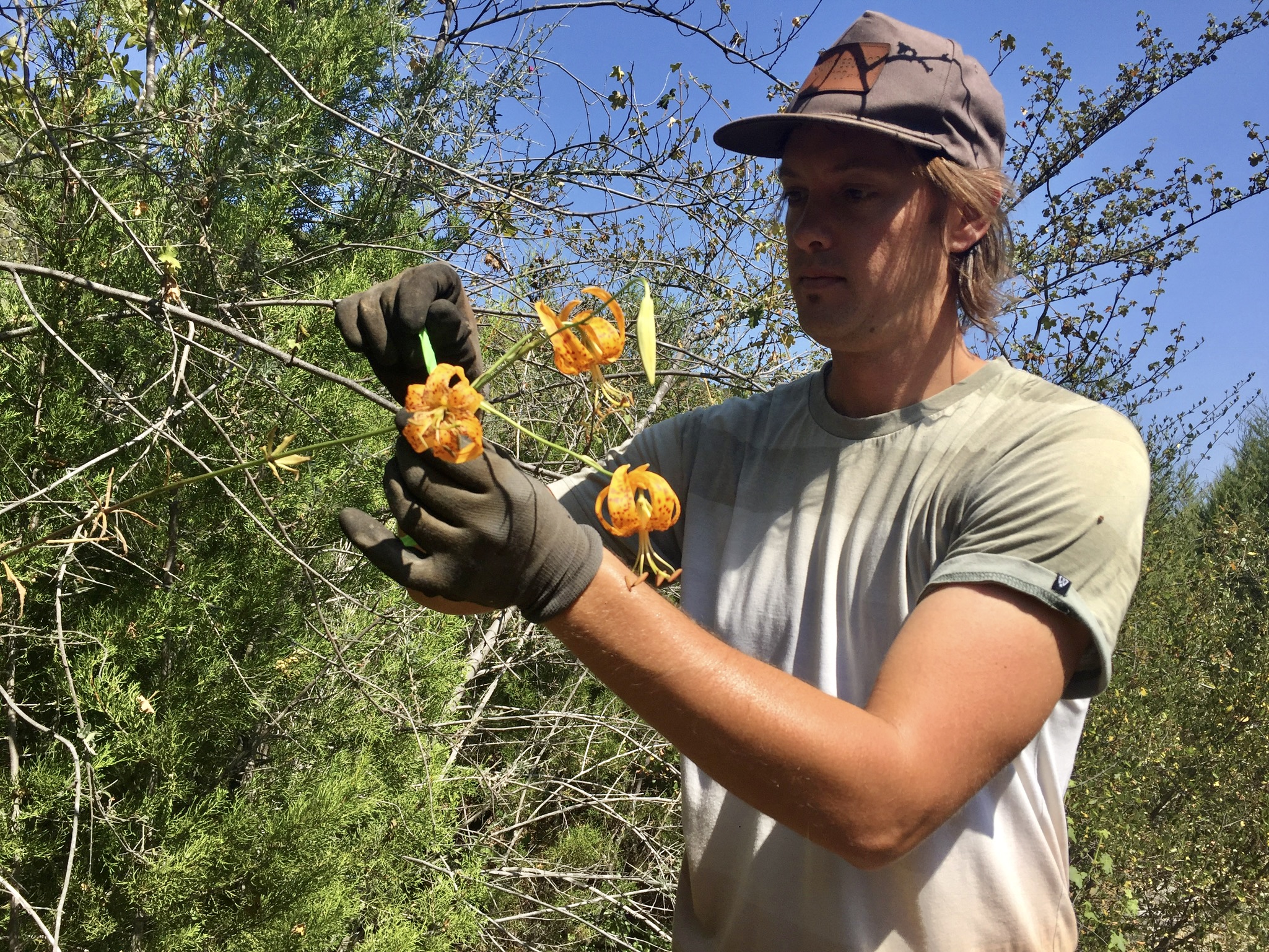 What advice would you give to those who wish to learn more about how they can help save imperiled plant species?
No matter where you are, there is a plant species, habitat type, or some aspect of the natural world that could use your help. Help might come in many forms, including just learning all you can and disseminating this knowledge. I'd recommend starting at the Rare Plant Academy, and be sure to watch for the upcoming Applied Plant Conservation course that will be free and available to everyone on the CPC website in the coming months.
CPC at the 2022 California Native Plant Society
CPC Participating Institution California Native Plant Society (CNPS) hosted a conference celebrating native plants of the Golden State in San Jose, California on October 18-20, 2022. CPC was thrilled to sponsor the video recordings of the proceedings, many of which focus on the conservation of California's rarest plants, including a recent genetic study of the always-charismatic Island Mallows by Kristen Hasenstab-Lehman of Santa Barbara Botanic Garden, a CPC Participating Institution. These videos will be hosted on the CPC Rare Plant Academy once production is finalized, and species-specific talks will be featured on CPC's National Collection Profiles.
Malva Rosa (Malva assurgentiflora). Photo Credit: Ron Vanderhoff.
The CNPS conference was also the site of the first in-person gathering of California Plant Rescue (CaPR) partners since 2019. This meeting was an opportunity to celebrate the incredible progress CaPR has made in fulfilling the goal of the California Biodiversity Initiative: to seed bank all critically imperiled species in California by 2024. In a little over two collecting seasons, CaPR partners have secured 324 previously unbanked "1B" species or globally rare species in seed collection. We have 253 species to go to reach our goal of securing all 1B species in seed collection by the end of 2024. CPC VP of Science and Conservation, Dr. Katie Heineman, presented preliminary findings from the CaPR gap analysis, which demonstrate enormous improvement in species representation in collection – especially in northern California.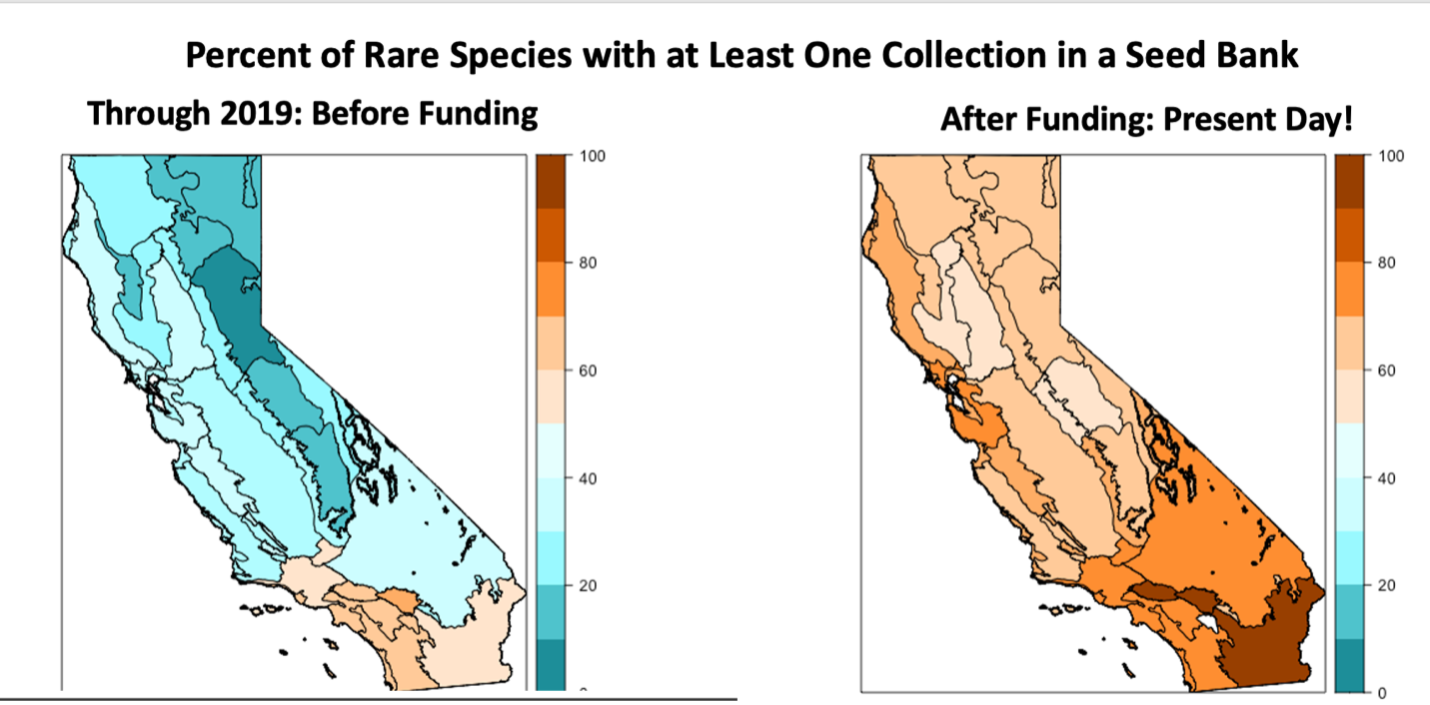 CPC was excited to demonstrate for CaPR partners the new database tool we developed to facilitate the targeting of seed collections for the initiative. This tool, currently only available to vetted members of CaPR institutions, allows collectors to search accessions and occurrences by geography, collection status, and landownership. It also includes user-specific lists to keep track of monitoring progress. We hope this tool can be adapted to other regional initiatives in the future and will serve as a useful reporting mechanism for our partners to provide reports to agency partners.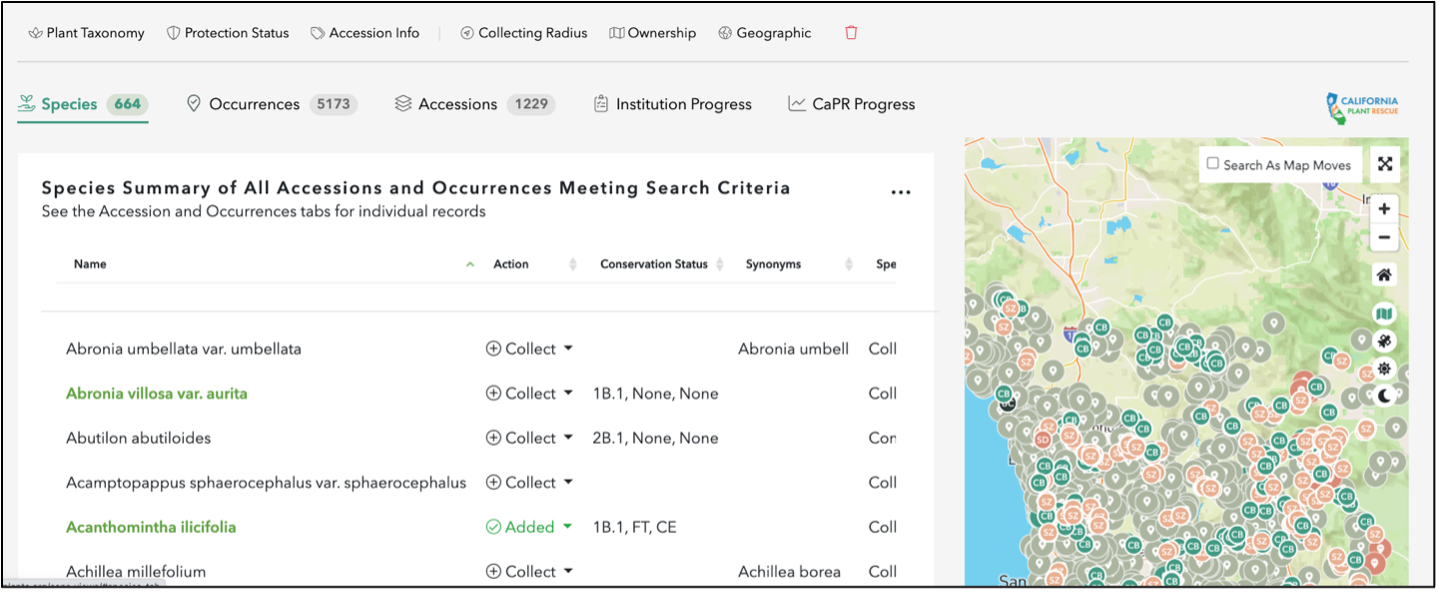 CPC and our CaPR partners will continue advancing towards our goal to secure all of California's critically imperiled plant species, in support of our ultimate goal to Save Plants from extinction.
National Collection Spotlight: Sand Food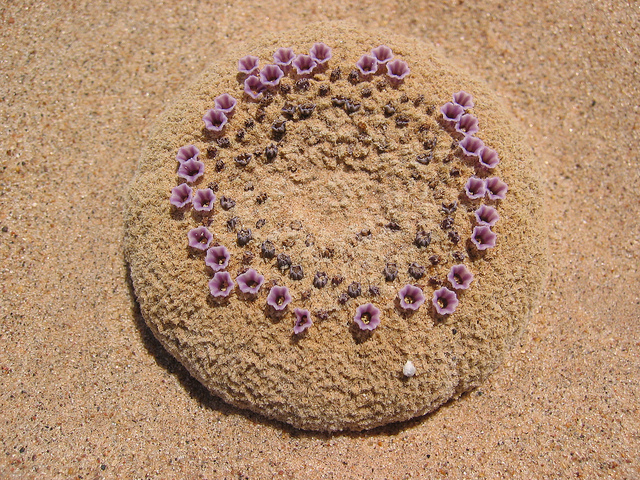 Sand food (Pholisma sonorae) is an imperiled species native to the sandy dunes of Arizona, California, and northern Mexico. This strange, rare plant does not contain chlorophyll and relies on nearby plants for nutrients. Sand food has a long stem which reaches underground for nearby host plants and attaches to their roots, from which this unique parasitic species can absorb nutrients and energy. Its mushroom-like "cap" of this plant is formed by its inflorescences containing tiny beautiful purple flowers which line the outer edge.
Sand food is held in the CPC National Collection at Desert Botanical Garden, where it possesses a Plant Sponsorship to help support efforts in the conservation of this species, as well as at California Botanic Garden and Cincinnati Zoo and Botanical Garden. At these institutions, critical work for the species' conservation is being conducted in the form of propagation research, genetic studies, seed collection, and seed banking.
Learn more about conservation actions taken for Sand food on its National Collection Plant Profile, and help support conservation of rare plants with a Plant Sponsorship.
As Seen on CPC's Rare Plant Academy: What to Know Before You Go: Maximizing Genetic Diversity in Seed Collections
Ex-situ conservation seed collections are a crucial part of saving rare and endangered plants from extinction, and maximizing the genetic diversity present in these collections is essential. In this short video prepared for the Rare Plant Academy, Joe Davitt of the Center for Plant Conservation and the San Diego Zoo Wildlife Alliance describes some of the ways seed collectors can ensure maximized genetic diversity in collections while also ensuring the greatest conservation benefits for the species. In order to maximize genetic diversity, collectors should acknowledge and avoid biases which may skew the genetic makeup of collections – such as temporal and land access bias or personal bias towards prettier maternal plants. For more information on seed collecting, visit the Rare Plant Academy Video Library!
Save the Date: 2023 National Meeting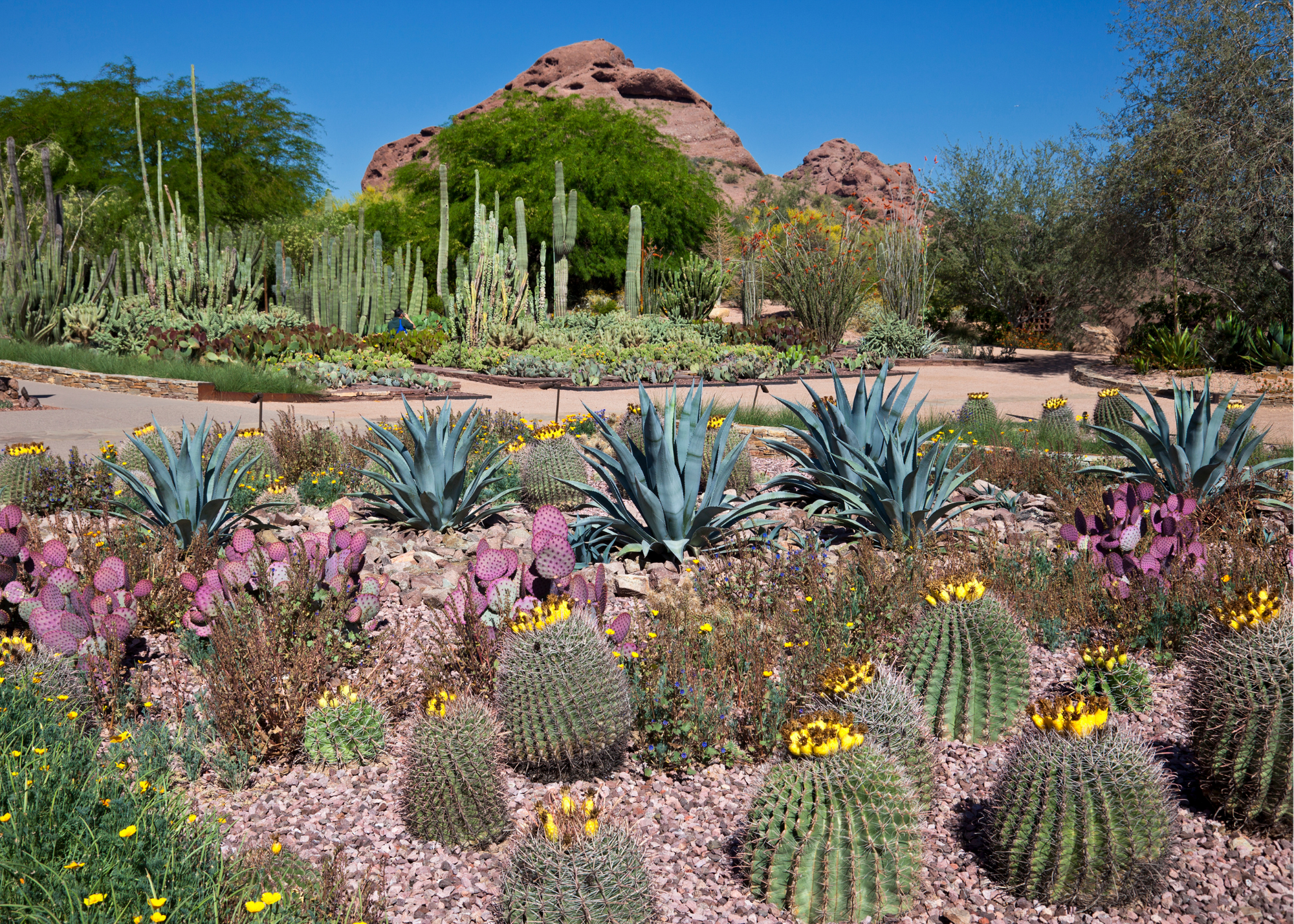 Mark your calendars – we are thrilled to announce that the 2023 CPC National Meeting will take place May 4-6! Back by popular demand, the 2023 meeting will feature a hybrid format, with both in-person and online presentation sessions highlighting the theme of "On the Horizon: Looking to the Future of Plant Conservation." In-person sessions will be held at Desert Botanical Garden which offers 55 acres of gardens and trails for you to explore and immerse yourself in the beauty of the desert. In-person sessions will be live streamed and recorded for later viewing on the conference platform. Virtual attendees will also have access to pre-recorded presentation content and virtual breakout sessions.
Presentation sessions will include updates from the CPC National Office on network-wide initiatives, plus lightning talks from CPC network partners on plant conservation research, accomplishments and challenges, and future initiatives.
We welcome both Institutional and Individual Conservation Partners to submit abstracts for presentation sessions highlighting this year's theme of "On the Horizon: Looking to the Future of Plant Conservation." We encourage our contributors to consider presentation proposals that spotlight new conservation projects and research; ways your institution is visioning the field of plant conservation, goals, and outcomes in the future; or topics that otherwise adhere to the theme.
Visit our website for important dates and information for the 2023 National Meeting. Registration offerings and more details coming soon!
Get Updates
Don't miss out on current events and updates. Get content instantly by signing up for our newsletters.
Sign Up Today!
Employment Opportunities
Peter J. Olin Endowed Director, Minnesota Landscape Arboretum
Minnesota Landscape Arboretum
This is a remarkable opportunity to make significant strides in one of our nation's top public gardens, at a time when University and community enthusiasm for the Minnesota Landscape Arboretum (MLA) is strong.
Reporting to the Dean of the College of Food, Agricultural and Natural Resource Sciences (CFANS), the Peter J. Olin Endowed Director will have the opportunity to develop a long-term vision and strategic plan for the next decade and beyond. The plan will address all aspects of the MLA, including capital projects, horticulture, ecosystem design and management, research, education, and philanthropy all while building a diverse, equitable, inclusive, world class culture and workforce. The future of the MLA will also be focused on its financial growth that includes growing the endowment and increasing earned revenue support.
The MLA is within the College of Food, Agricultural and Natural Resource Sciences (CFANS) at the University of Minnesota. The MLA is one of the top visitor attractions in the Minneapolis-St. Paul area and an important part of the culture, education, and economy of the Twin Cities and the Upper Midwest. It serves a broad audience with more than 500,000 visitors annually and 32,000 members as a beautiful in-town getaway, an escape to reflect, re-energize or plan for the future and connect with the wonders of nature. The MLA consists of almost 1200 acres of unique public gardens including 49 display and specialty gardens, 18+ miles of garden paths and hiking trails (a 1.5 mile stretch of the Highway 5 Regional Trail on property not included in this total), 44 plant collections, 6,100 taxa of plants, and 8 native and restored natural areas. World class exhibits, events, and innovative natural science and horticultural education inspire individuals of all interests and ages. It is ever growing and improving the visitor experience and opportunities to educate and inspire Minnesotans through its plant collections with display gardens, horticultural research, programs, and 155 art collections. In the coming years, several major projects – funded through a generous private gift – will relocate the MLA entrance, create new visitor welcome areas, enhance safety, protect the MLA's assets, and create opportunities for further expansion. Philanthropy will continue to determine the pace of further development. Learn more about the programs and activities at the Minnesota Landscape Arboretum.
Required Qualifications:
A Bachelor's degree or higher in a relevant field including horticulture, landscape architecture, plant biology, business administration, education or a field related to public gardens
Minimum of five-years of relevant experience in leading and managing complex organizations
A significant record of accomplishments that include revenue generation, endowment building and fundraising success
Demonstrated administrative and governance ability
Demonstrated success in past job performance
Demonstrated interpersonal and public communication skills and public speaking experience
Ability to forge positive collaborative relationships with diverse public constituencies, private stakeholders and business interests
Documented competency managing complex budgets
Documented experience with strategic plan formulation, development, implementation, and evaluation
Documented engagement with diverse audiences
Salary is competitive and commensurate with experience and qualifications. The minimum starting salary for this position is $200,000. For more information regarding benefits, see Summary of Benefits. Learn more about diversity at the University of Minnesota.
The MLA's Commitment to Diversity and Inclusion
All Are Welcome. We recognize and value the importance of diversity and inclusion in enriching the experience of its employees, donors, members, volunteers and visitors and in supporting the MLA mission.
All Are Valued. We are committed to attracting and engaging employees, members, donors, volunteers and visitors with varying identities and backgrounds.
All Are Included. We strive to provide equal access to and opportunity in its programs, services, gardens, operations and employment without regard to race, color, creed, religion, national origin, gender, age, marital status, disability, public assistance status, veteran status, sexual orientation, gender identity, or gender expression.
Employer Requirements
Any offer of employment is contingent upon the successful completion of a background check. Our presumption is that prospective employees are eligible to work here. Criminal convictions do not automatically disqualify finalists from employment.
Please note: All employees at the University of Minnesota are required to report complete vaccination against COVID-19 or submit documentation requesting a medical or religious exemption on their first day of employment. To learn more, please visit the University's COVID-19 Response webpage.
For More Info and To Apply
To apply, please submit a current resume and letter of introduction to Kittleman & Associates, by clicking on the Apply button at the bottom of this position announcement page.
For more information, contact Amy Smith with Kittleman & Associates.
Learn more about the programs and activities at the Minnesota Landscape Arboretum.
Documents to download
M.S. Assistantship at Cincinnati Zoo & Botanical Garden and University of Cincinnati
Cincinnati Zoo & Botanical Garden and University of Cincinnati
The Center for Conservation and Research of Endangered Wildlife (CREW) at the Cincinnati Zoo & Botanical Garden in collaboration with the Department of Biological Sciences at the University of Cincinnati is offering a unique opportunity for a qualified, energetic Master's student with a strong interest in plant conservation and molecular biology. The student will be part of a project supported by a Federal grant from the Institute of Museum and Library Services involving the genetic evaluation of samples taken from six species of endangered oaks before and after initiation into in vitro culture. The specific focus for the student will be to analyze and compare these samples using genetic markers to look for any changes during this process.
The student will work under the direction of Dr. Theresa Culley, from the Department of Biological Sciences, University of Cincinnati, in collaboration with Dr. Megan Philpott and Dr. Valerie Pence at CREW, at the Cincinnati Zoo and Botanical Garden. The University and Zoo are within a mile of each other.
Candidates for this position should have a B.S. degree with a strong background in plant genetic analysis and molecular techniques, as well as in statistical analysis. A strong interest in plant conservation is also required.
The position provides an annual stipend of $23,000 in addition to a graduate scholarship which covers most tuition costs. The position will start in the fall of 2023, but a start date of early summer, 2023, is also possible.
To apply for this position, go online: http://grad.uc.edu/admissions.html. More information on the application process for the UC Biological Sciences program is at: http://www.artsci.uc.edu/collegedepts/biology/grad/application_info.aspx. Review of applications will begin on Dec 1, 2022, and will continue until a suitable candidate is found.
For further information on the project, contact Dr. Theresa Culley, Department of Biological Sciences, University of Cincinnati, 614 Rieveschl Hall, Cincinnati, OH 45221-0006, theresa.culley@uc.edu.; or Dr. Megan Philpott, Center for Conservation and Research of Endangered Wildlife, Cincinnati Zoo & Botanical Garden, 3400 Vine Street, Cincinnati, OH, 45220: megan.philpott@cincinnatizoo.org.
Coordinator, Native Plant Initiative at the Missouri Botanical Garden's Shaw Nature Reserve
Missouri Botanical Garden
Summary: Provides guidance and expertise to promote appreciation of native plants and their use in residential and commercial horticultural landscapes. Engages with diverse partners to plan and implement outreach activities including lectures, workshops, written content, and professional consultations to provide native plant horticulture expertise in the regional community. Fosters relationships that support and grow the SNR Native Plant Horticulture Program. Contributes to the planning and execution of horticultural events and programs including SNR Wildflower Markets, Native Plant School, and other public outreach and community engagement activities. Serves as an actively-contributing senior staff member of the SNR horticulture program, honing and applying fine horticulture skills in the Whitmire Wildflower Garden and other horticultural areas of the Nature Reserve, which serve as demonstrations areas for visitors and participants in classes and workshops.
The right candidate will have a strong desire to continue developing their knowledge of native plant horticulture, sharing knowledge, expertise, and passion with landscape professionals and the public.
Essential Duties and Responsibilities:  
Contributes to the continued success and growth of the SNR Native Plant Horticulture Program as a prominent resource for native plant horticulture knowledge and the Whitmire Wildflower Garden as the premiere demonstration of native plant horticulture in the Midwestern United States.
Collaborates with community partners (municipalities, businesses, non-profits, agencies, and others) to advance knowledge of native plant horticulture by conducting workshops and other presentations; Provides technical consultation on strategies and projects to advance the design, installation, and maintenance of native plant gardens and plant-based rainscaping techniques.
Serves as a primary contact for the Native Plant Initiative, a cooperative agreement between the Missouri Department of Conservation and SNR, advancing shared objectives to build capacity for native plant horticulture practices that benefit regional conservation of flora and fauna.
Ensures that objectives are met for the Native Plant Initiative of the MDC-SNR Cooperative Agreement, including coordination with contract consultants supported by the agreement and completing interim and annual reports of deliverables in accordance with reporting deadlines.
Provides strategic planning for Native Plant School and other workshops and seminars while actively engaged in content and curriculum development and instruction.
Creates written material including articles for local and regional print media, web content, social media, blogs, and other platforms; Provides interviews for print, radio, and TV media; Performs various outreach activities to advance awareness and knowledge of native plant horticulture.
Contributes to the planning and execution of events and programs including Wildflower Markets and other public facing horticultural activities at Shaw Nature Reserve.
Serves as an active and engaged member of the SNR horticulture team, honing and applying fine horticulture skills in the Whitmire Wildflower Garden and other horticultural areas of the Nature Reserve, which serve as demonstrations areas for general visitors and program participants.
Performs horticultural work including propagation, planting, weeding, pruning, watering, path maintenance and invasive species control within horticultural areas of the Nature Reserve.
Supports the SNR Horticulture Manager, taking a lead role as needed, with special projects in the Whitmire Wildflower Garden and other areas of horticultural emphasis within the Nature Reserve.
Understands and utilizes the Living Collections Management System to manage and develop living collections, including conducting inventories and maintaining excellent plant records.
Supports and fosters relationships with donors, foundations, and strategic partners. Assists with writing grants and other proposals as necessary.
Leads tours for members, donors, strategic partners, public programs, and other guests to the Nature Reserve, serving as a primary resource and expert on native plant horticulture.
Ensures that all applicable safety standards are followed (i.e., inform employees of safety rules and safe working practices and routinely monitor to enforce them. Adapts or modifies work methods to reduce hazards.  Reports accidents and injuries.)
Follows and adheres to established policies and procedures, including but not limited to Employee Handbook, Garden Safety Guidelines and Department Policies.
Behaves and communicates in a manner that promotes and fosters a culture of teamwork and cooperation, within our division and throughout the Garden, with co-workers, supervisors/managers, volunteers, visitors and employees.
Performs other duties as assigned.
Supervisory Responsibilities: Does not have direct staff reports; may supervise and mentor volunteers with the SNR Native Plant Horticulture Program.
Competencies:  
Communication: Combines listening skills, verbal and written communication skills and visitor relation skills.
Collaboration: Incorporates teamwork, mutual respect, active engagement, cooperation and visitor focus.
Accountability: Initiative to take ownership of responsibilities, the ability to prioritize and the working knowledge and skills to take action.
Problem Solving: Blends problem solving skills, judgement and decision making skills along with creativity and resourcefulness.
Stewardship:  Merges the practical application of the Garden values and support for a positive organizational climate.
Qualifications/Experience:
Minimum of 3-5 years of relevant work experience with the practice of fine horticulture landscape design, and landscape maintenance.
Strong interest in horticultural conservation and science; knowledge and experience with native plants, native plant communities, and native plant horticulture in the Midwestern US preferred.
Excellent written and oral communication skills; exceptional ability to communicate effectively at all levels; must enjoy and feel comfortable interacting and working in close proximity to general public, in a safe and friendly manner, answering questions.
Excellent public speaking skills; confident interacting with the media and diverse audiences.
Strong initiative; proven track record of taking ownership of projects through successful completion required; coordinating multiple, concurrent projects and performing activities related to project planning, coordination, and leading subtasks of a major project required.
Strong knowledge of propagation, production methods, and greenhouse operations and equipment.
Excellent working knowledge of safe operation and use of landscaping equipment and herbicides.
Scheduling flexibility that allows working occasional evenings, weekends, and holidays is required.
Independent self-starter, creative, flexible, and possess the ability to effectively multi-task
The Garden is committed to the safety and wellbeing of our employees, volunteers and guests. All staff are strongly encouraged to receive COVID-19 vaccinations by hire date, and the Garden reserves the right to require future proof of current vaccination status, based on community health department guidelines.  When international travel is necessary for Garden business, staff must be able to obtain visas, vaccinations and immunizations for all countries where travel is required.
The requirements and duties listed are representative and not exhaustive of the knowledge, skill, and/or abilities required.
Education:
Bachelor's degree in Horticulture, Biology, Botany, Ecology, Environmental Science, Education or related field preferred.
Some college coursework in Horticulture, Ecology, or related fields, with an Associate's degree or other relevant certification (e.g. Certificate of Proficiency in Horticulture) required.
An equivalent combination of experience, skills, education, and experience may be considered.
Computer Skills:
Proficiency with Microsoft Office suite (i.e., Word, Excel, Outlook).
Ability to use e-mail to effectively communicate with colleagues, strategic partners, and other diverse collaborators and constituencies.
Solid Internet research skills.
Other Skills and Abilities:
Ability to work independently and as part of a team.
Ability to manage several significant projects at once.
Excellent organizational, time management and interpersonal skills.
Scheduling flexibility that allows working weekends and holidays as needed.
Speaks clearly and persuasively in positive or negative situations; listens and gets clarification; responds well to questions; is tactful and treats others with respect; values departmental teamwork.
Language Skills: 
Ability to communicate effectively in English (oral and written).
Ability to convey technical horticultural concepts to a general audience, both verbally and in writing.
Communicates effectively with donors, strategic partners, and representatives of agencies, foundations, and other organizations.
Excellent public speaking skills.
Mathematical Skills:
Proficient college math aptitude – Requires ability to perform addition, subtraction, multiplication and division; calculate percentages and decimals, etc.
Ability to understand and assist in developing project budgets.
Certificates, Licenses, Registrations:
Must possess and maintain a valid driver's license and clean insurable driving record (prior to employment).
Ability to obtain a pesticide applicators license within (6) months of hire date is required.
Physical Demands: 
Requires standing, walking, bending, stooping, and reaching for extended periods of time
May be required to perform tasks at varying heights (i.e., climb step stools, etc.).
Ability to utilize computer keyboard (typing); operating standard office equipment (computers, copiers and printers).
Ability to lift and carry up to 50 lbs.
Ability to wear Garden-issued Personal Protective Equipment.
Work Environment:
Ability to work outdoors in all weather conditions (i.e., in temperatures over 100°F as well as temperatures below 0°F, in rain, snow and other inclement weather conditions as needed).
Comfortable working in immediate proximity to the general public, in a safe and friendly manner, answering questions regarding SNR programs.
Must have access to transportation for off-site consultations, meetings, and outreach activities.
Frequent off-site travel to meetings required.
Contacts with Individuals/Organizations inside/outside the Garden:
Frequently works with representatives from the green industry, professional organizations, colleges and universities, municipalities, corporate partners, agencies, and other strategic partners.
Participants in tours, classes, workshops, seminars, and landscape consultations
Contacts for print, digital, radio, and television media
Garden Employees, Volunteers, Donors, Visitors
Supervisor: Manager, Horticulture (SNR)
Apply here: https://us63.dayforcehcm.com/CandidatePortal/en-US/MBG/Posting/View/1305