CPC's Partnership With the California Plant Rescue (CaPR)
Learn More
Photo Credit for Plant Shot: Duncan Bell, California Botanic Garden
A HISTORIC REGIONAL COLLECTIONS PARTNERSHIP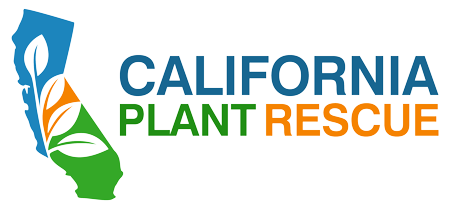 Within our nation-wide network, the Center for Plant Conservation supports regional networks bound by common goals and circumstances. The California Plant Rescue (CaPR) partnership is one such network, focused on conserving the flora of the state of California and the California Floristic Province. CaPR began in 2014 when the California member institutions of CPC came together at the prompting of Peter Raven, chair of the CPC board at the time, and under the leadership of California Botanic Garden (then Rancho Santa Ana Botanic Garden). United under CPC's best practices, the group works collaboratively to ensure all the plant diversity of California is conserved in ex situ collections.
Center for Plant Conservation
Santa Barbara Botanic Garden
California Botanic Garden
University of California Botanic Garden
San Diego Zoo Wildlife Alliance
California Native Plant Society
San Diego Botanic Garden
University of California-Santa Cruz Arboretum and Botanic Garden
University of California-Davis Arboretum and Public Garden
Theodore Payne Foundation
Mojave Desert Land Trust
CaPR partner San Diego Zoo Global made the first collection of this rare 1B species, San Diego gumplant (Grindellia hallii) in 2018.
Photo Credit: Stacy Anderson, San Diego Zoo Global
How CPC Helps
In support of the CaPR goal to save plants, CPC provides various services and resources, as well as the expertise of staff as members of the network. In monitoring contracts and collections as fiscal sponsor, CPC provides also quality control on the data being shared and entered into the database. Further combining their administrative role with database expertise, the CPC-provided database is used to track contracted species, collection progress, and more. The synergy of resources from CPC allows CaPR to focus on their collection work – making incredible progress towards their goal of representing all of the rarest species in collections by 2025.
FISCAL SPONSORSHIP
As CaPR is a partnership rather than a separate non-profit entity, CPC also provides administrative and fiscal support to the group, serving as the fiscal sponsor. In this capacity, CPC is administering over $3 million in project funds from the State of California as part of its California Biodiversity Initiative in support of CaPRs collection of the state's rare and threatened native plants. Guided by the partners' fiscal decisions and the granting legislation, CPC issues contracts for collections, infrastructure and other support services.
DATA MANAGEMENT & EXPERTISE
Key to CaPR's successes thus far, CPC maintains a custom database of all member seed collections and most native living collections. Sharing data not only allows the group to track progress towards their larger goals, but to evaluate collections, conduct gap analyses, and guide their future projects. CPC's scientists are key to delving into this data.
California Biodiversity Initiative
Bringing Seed Banking to the Forefront
In 2019, the California Native Plant Society, a CaPR member, took the lead on lobbying California state legislators to fund parts of the ambitious California Biodiversity Initiative. As part of this effort, they pushed for millions of dollars to be dedicated to the collection and maintenance of the most threatened of California's rare plant species. With seed banking infrastructure already in place across the state, the CaPR partnership proved an ideal place to invest this funding. The funding has accelerated the CaPR effort to make conservation collections from all of the state's rare plants, to great success.