Save Plants
CENTER FOR PLANT CONSERVATION
September 2021 Newsletter
One of the challenges plant conservationists face is helping people recognize their connection to plants and realize how they can help save them. Research has shown that most people don't think about plants, don't see plants, yet plants are essential to our existence. Botanical Gardens in the CPC network have devised ingenious ways to captivate new audiences and foster this understanding and appreciation of native plants through innovative public education and outreach initiatives – from tagging trees with messages about climate change to guided hikes along trails where favorite cultural foods may be seen and remembered.
The services plants provide us are solutions to human needs and well-being. They clean our air, they filter our water, they help control flooding, they provide us with food, and they inspire us with beauty. These are all reasons for loving and saving plants. As our Conservation Champion Lucy Commander said, "I guess saving plants is not just about seed banking, putting up fences and replanting – it's also about everyone making a few small changes to their own lives to reduce the threats that these plants face."
Wishing you continued health in the embrace of plants,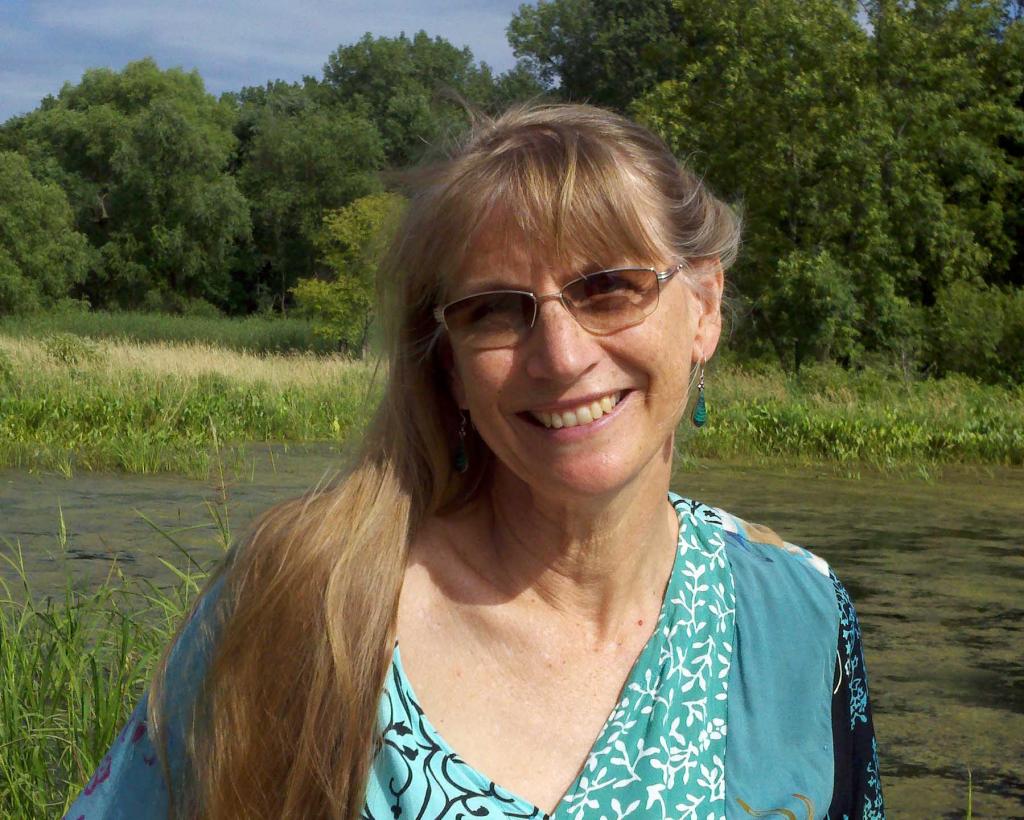 Joyce Maschinski
CPC President & CEO
UC Davis Arboretum and Public Garden
Tag Teaming for Climate Change and Urban Forest Outreach
Based on information from and an interview with Emily Griswold, Director of GATEways Horticulture and Teaching Gardens, and Shannon Still, Ph.D., Director of Plant Conservation/Curator
We all enjoy the color and structure of trees, the shade they offer, and the atmosphere they create. But we don't always notice the trees themselves, or recognize how they are making our outside experience so pleasant. To help people see trees and learn something about them, the team at UC Davis Arboretum and Public Garden (UCDAPG) decided to try an innovative approach—tags. Not the little metal tags used in research studies, or a garden name plate at ground level, but large, unusual, eye-catching tags that draw attention and invite people to learn more.
In spring of 2021, UCDAPG partnered with Tree Davis to create and install 50 tags on young trees on campus and in the City of Davis. This third iteration of an outreach tagging program focused on the organizations' collective work to proactively adapt urban tree canopies for climate change. They created tags to highlight the Arboretum's work on introducing and testing trees with greater heat and drought tolerance into the urban landscape. Teams of interns from UCDAPG's Learning by Leading program worked with staff to develop messages, write content, generate companion web materials, design and fabricate signs with campus partners, and install the tags in sites across the city and campus.
Background photo: UCDAPG interns planting trees. Photo courtesy of UC Davis Arboretum and Public Garden.
The tag team faced new challenges in 2020 and 2021. With everyone working remotely during the pandemic, coordinating among multiple organizations and team members presented a project management challenge. Technological tools, such as teleconference platforms and the Trello project management app, allowed the team to regularly clarify roles and define steps. Site selection was more limited after COVID-19 arrived, due to decreased numbers of students and substantially different campus traffic patterns. Hot spots of campus activity moved to the main COVID-19 testing site, the Veterinary Medicine teaching hospital (which retained in-person classes), and around student dorms that still had residents. The recent tree plantings in these areas proved good places for small clusters of signs. Fortunately, more visitors than ever have been flocking to the Arboretum, so the team also installed a cluster of tags in a newly planted tree trial research grove, featuring plantings to assess potential heat- and drought-tolerant tree species for the Davis urban forest.
The campus plantings selected for tagging in 2021 are part of the UC Davis Living Landscape Adaptation Plan for climate change, an 80-year strategy to prepare the campus for the climate of 2100. In support of this plan, the UCDAPG is growing and testing tree species from west and central Texas for potential introduction to local urban forests. With its dry, hot climate, these Texas trees may prove a good fit for the Davis of the future. Furthermore, Davis may prove a good fit for some of the rare trees in Texas: multiple oak species in the trials are of conservation concern in Texas. Thus, the plantings also serve an ex situ conservation function. Emily Griswold, Director of GATEways Horticulture and Teaching Gardens at UCDAPG, explains, "I'm interested in exploring how urban forests can provide benefits that support biodiversity conservation, in addition to many other environmental services." In fact, the urban forest trial project was spurred by funding from APGA and USFS for collection of rare species in the Trans-Pecos region of west Texas. Trial results will feed into other UCDAPG projects to assess suitability of trees in a changing climate, potentially finding more homes for the rare Texas trees.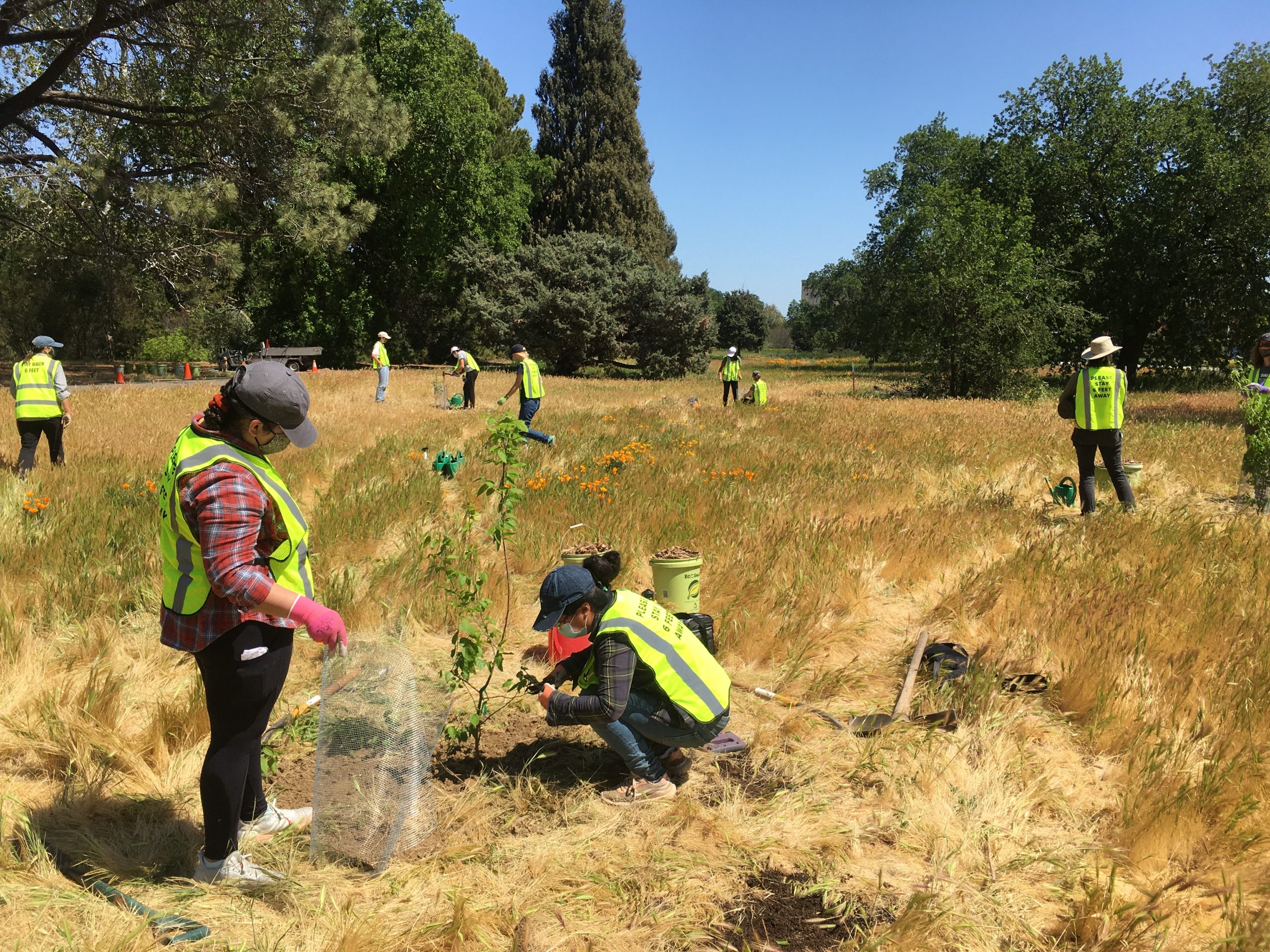 The Arboretum's proactive work to address climate change impacts provides a great opportunity to share the message of climate change without overwhelming the audience—or the students working on the project. Rather, the team hopes that the tags create a sense of empowerment. Tags in the City of Davis highlight the availability of trees through the partner non-profit Tree Davis, inviting homeowners to prepare their own landscapes for climate change. All the messages are brief and use non-technical language, so they can be absorbed quickly and be meaningful to a broad audience. The messages prompt the reader to seek more information, readily provided through a QR code that opens a webpage with a selection of relevant links.
The tagging outreach project has brought together partners, researchers, and students to highlight the many benefits of the Arboretum as well as trees in general. The idea originated at The Morton Arboretum, which ran a similar outreach project in Chicago, but UCDAPG has made it their own. The monetary value of environmental services provided by trees—such as carbon sequestration and energy savings—served as UCDAPG's initial focus. That first round of tree tags garnered much attention and positive community feedback. Though the tags stayed in place for only six months, the strong response to them prompted new iterations. Round four, currently in the planning stage, will tag adult trees to highlight the health benefits of trees. And this time the text will offer both English and Spanish to expand the audience.
Thus far, the tag program has been opportunistic and a great way to connect with the public. Though the UCDAPG team does not necessarily have long-term plans for the program, they do know they will be doing more public outreach. Because, everyone can—and should—be invited to learn more about the wonders of trees!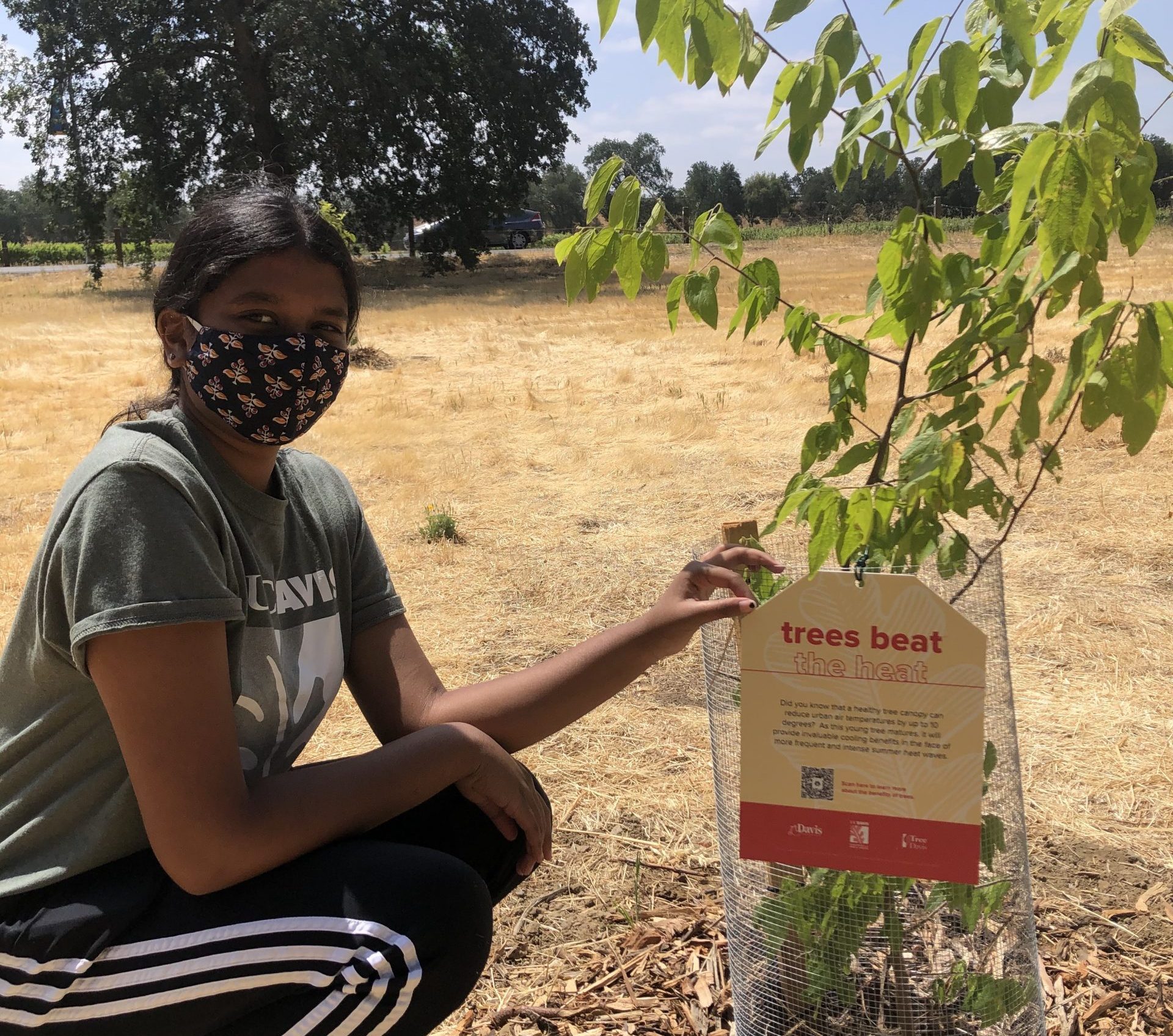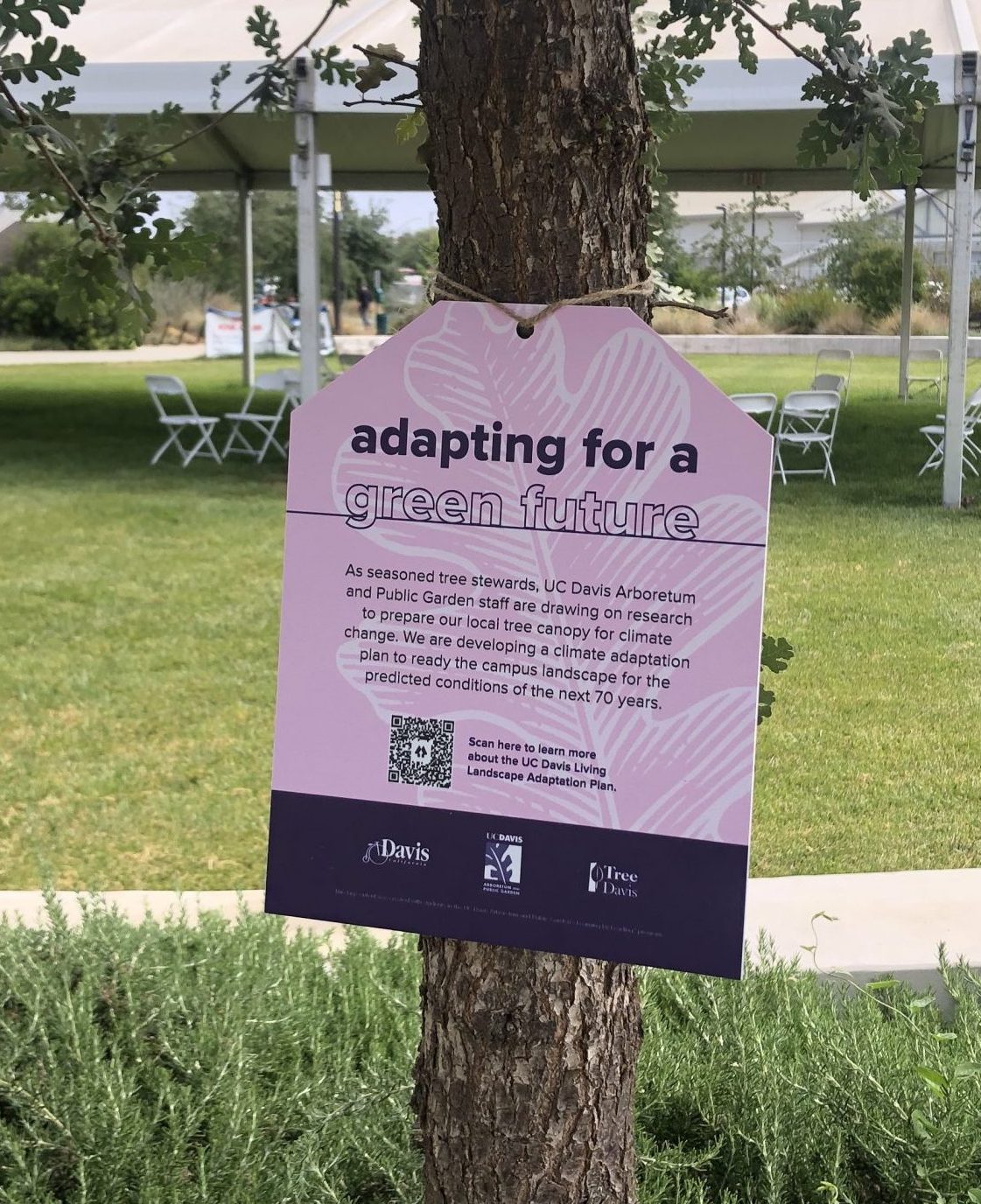 Key Messages
The key to success is identifying desired messages and crafting them for simplicity and clarity. The tagging project's 2021 messages below illustrate their direct and jargon-free prose, use of questions to engage the audience, and use of succinct title statements. You can also see the different messaging approaches used to appeal to both city residents and student audiences.
The following are sample messages from the 'trees keep us cool' tags.
City of Davis:
Did you know that trees near buildings can cut the amount of electricity needed for air conditioning by up to half? Cooling shade and water vapor released from trees help keep buildings energy efficient and comfortable.
Scan here to learn more about the benefits of trees and how you may be eligible for a free shade tree from Tree Davis.
UC Davis Campus:
Did you know that trees can keep asphalt pavement significantly cooler on a hot summer day? Pavement shaded by trees can be up to 36 degrees cooler. Park your car under a tree and experience the benefits!
Scan here to learn more about the value of trees.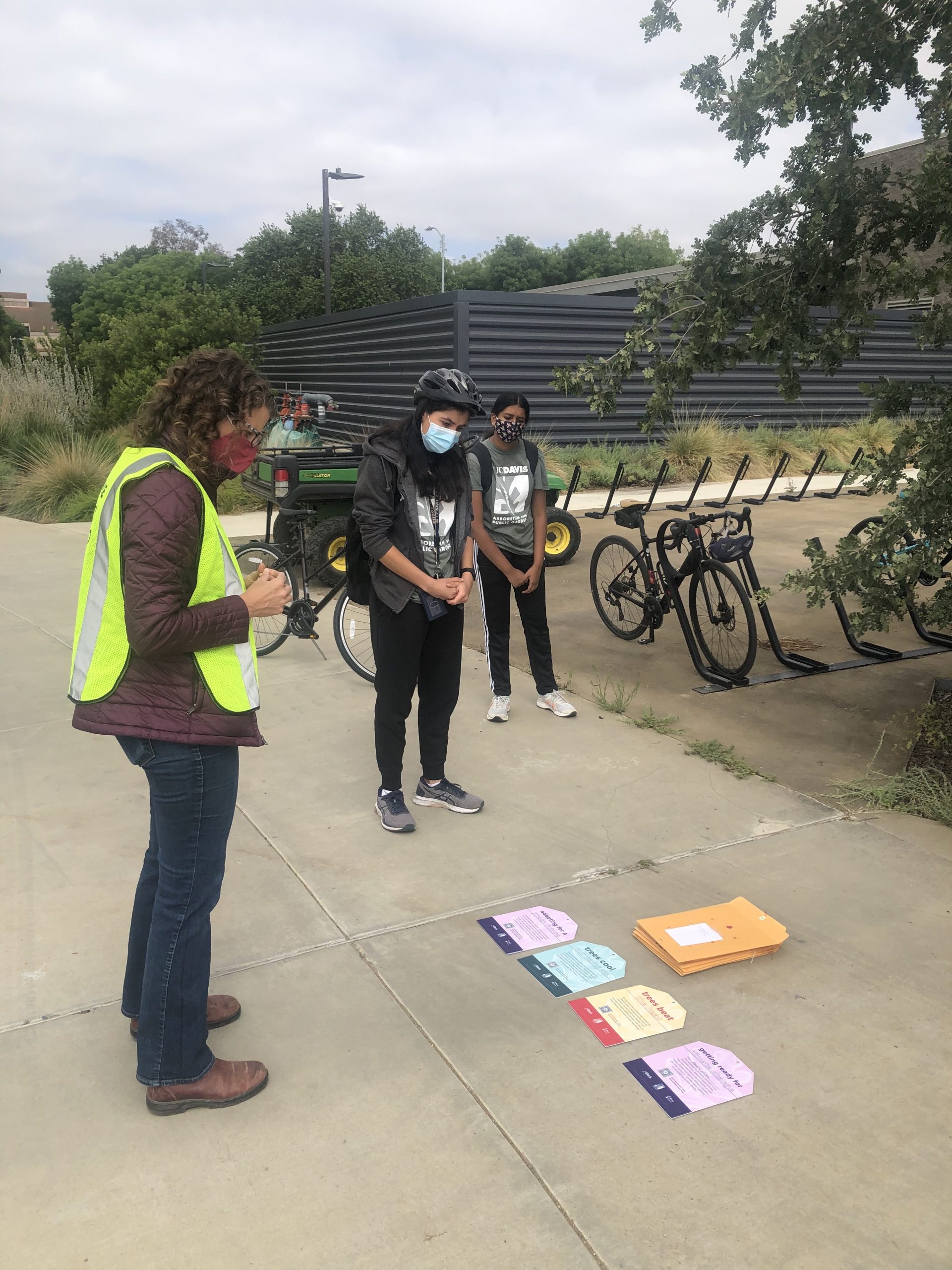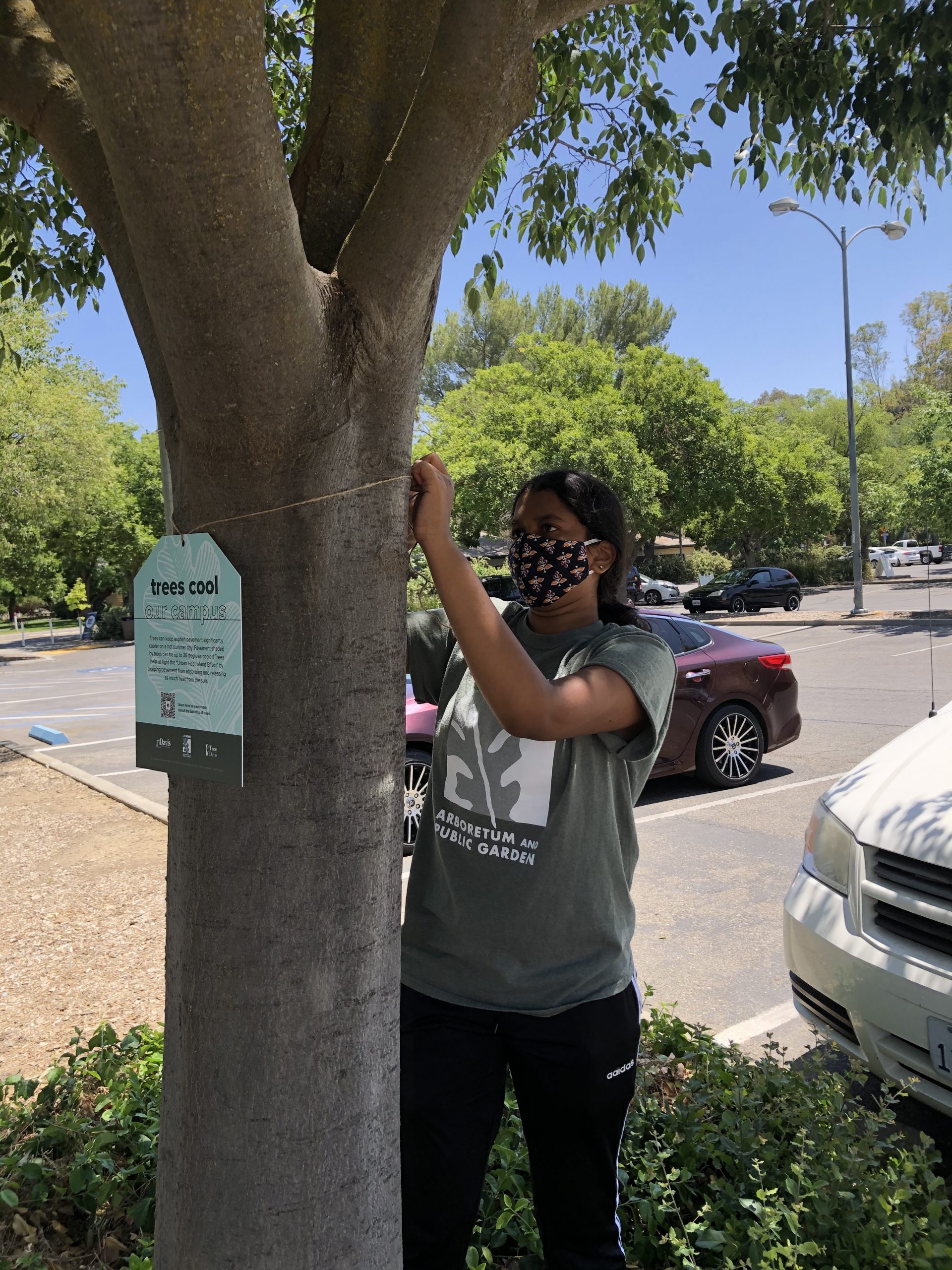 Naples Botanical Garden
Naples Botanical Garden Tackles Water Pollution Through Community Education
By Jennifer Reed, Editorial Director
Of all the things you might experience at a botanical garden, you'd hardly think "stormwater management" would rise to the top of anyone's must-see list.
Yet, at Naples Botanical Garden in Naples, Florida, the topic receives top billing—both at the 170-acre campus and in community education forums featuring the organization's experts. Given Florida's water-related crises lately, the interest comes as no surprise.
Nutrient pollution is among the state's biggest environmental challenges. In heavily developed areas, rainwater gushes along paved surfaces and manicured lawns, picking up substances such as nitrogen and phosphorus—fertilizer ingredients—as it makes its way to the nearest waterbody. When used excessively, these nutrients feed algae, contribute to harmful blooms, and impact oxygen levels in water.
Background photo: The densely planted edges of Harvey's Lake help protect the water, which is used to irrigate Naples Botanical Garden's priceless tropical collections. It also serves as a model retention pond to property owners, elected officials, and environmental groups. Photo courtesy of Naples Botanical Garden.
Polluted water has contributed to a record number of manatee deaths this year. These endangered aquatic mammals are starving because tainted water has killed seagrass, their dietary mainstay. Three years ago, Southwest Florida, where the Garden is located, suffered two major algal attacks—a massive red tide outbreak in the Gulf of Mexico and infestations of blue-green algae along rivers and canals. Economic losses to marine-dependent and tourism industries tallied $184 million, according to a newly released University of Florida study.
Those harmful algal blooms spurred Florida into action and intensified Naples Botanical Garden's efforts to educate the community about the relationship between plants and clean water, and how individual actions contribute to ecosystem health.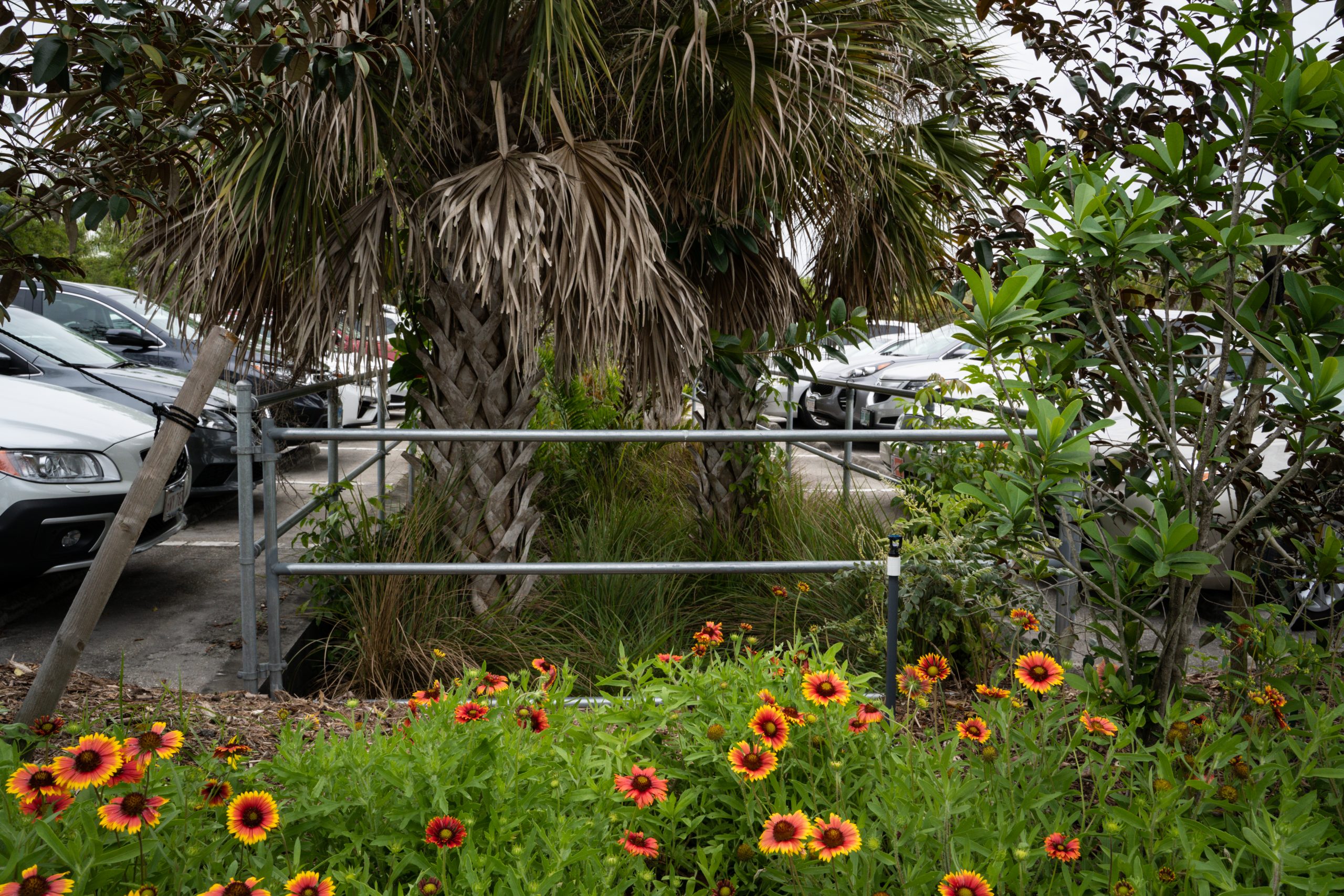 The 12-year-old garden was built around an award-winning stormwater system that provides a model for visitors, policymakers, and landscape professionals to understand nature-based water management practices. Garden educators and conservationists have designed a stormwater system tour suitable for anyone from homeowners to state officials.
The tour starts in the Garden's parking lot, which features a rain garden and swale system, and ends at its manmade lakes, one of which serves as the Garden's irrigation source. Although the Gulf of Mexico is not directly visible, the tour notes its proximity to the Garden and the fact that water from campus eventually makes its way to the sea.
Along the route, guests learn how a well-designed stormwater system slows runoff, giving water an opportunity to percolate into the earth or be taken up by plants that capture contaminants. It also features the Garden's littoral zones—the edges around waterbodies—which are dense with native plant species. Guests observe how plants serve as filters, form buffers between cultivated landscapes and waterbodies, create wildlife habitats, and add aesthetic value to otherwise nondescript manmade ponds. Florida has tens of thousands of such retention ponds.
"Since our stormwater system is built into the Garden, we have an opportunity to show how you can have a lush, tropical, beautiful landscape, and not contribute to algal blooms," says Chad Washburn, Vice President of Conservation.
Stormwater education is a departure from typical botanical garden offerings, Washburn notes. "I think a lot of gardens, if they do something about water, it's typically something on water conservation and rarely about using plants to clean the water."
But demand for such knowledge in Southwest Florida is high. Residents routinely call Washburn seeking remedies for unhealthy neighborhood ponds, and Britt Patterson-Weber, Vice President of Education & Interpretation, fields guest questions such as, "How come your lakes aren't bright green?"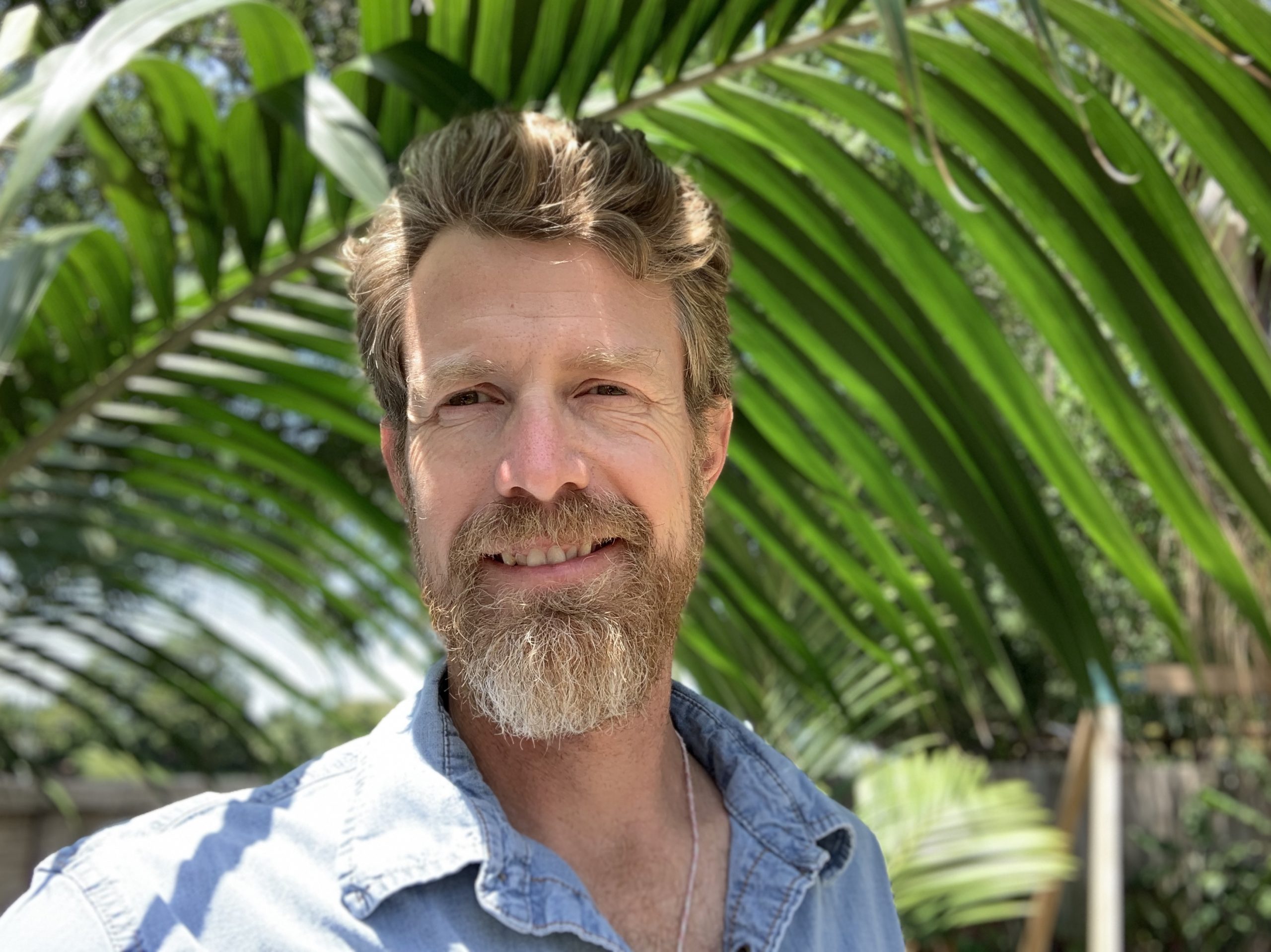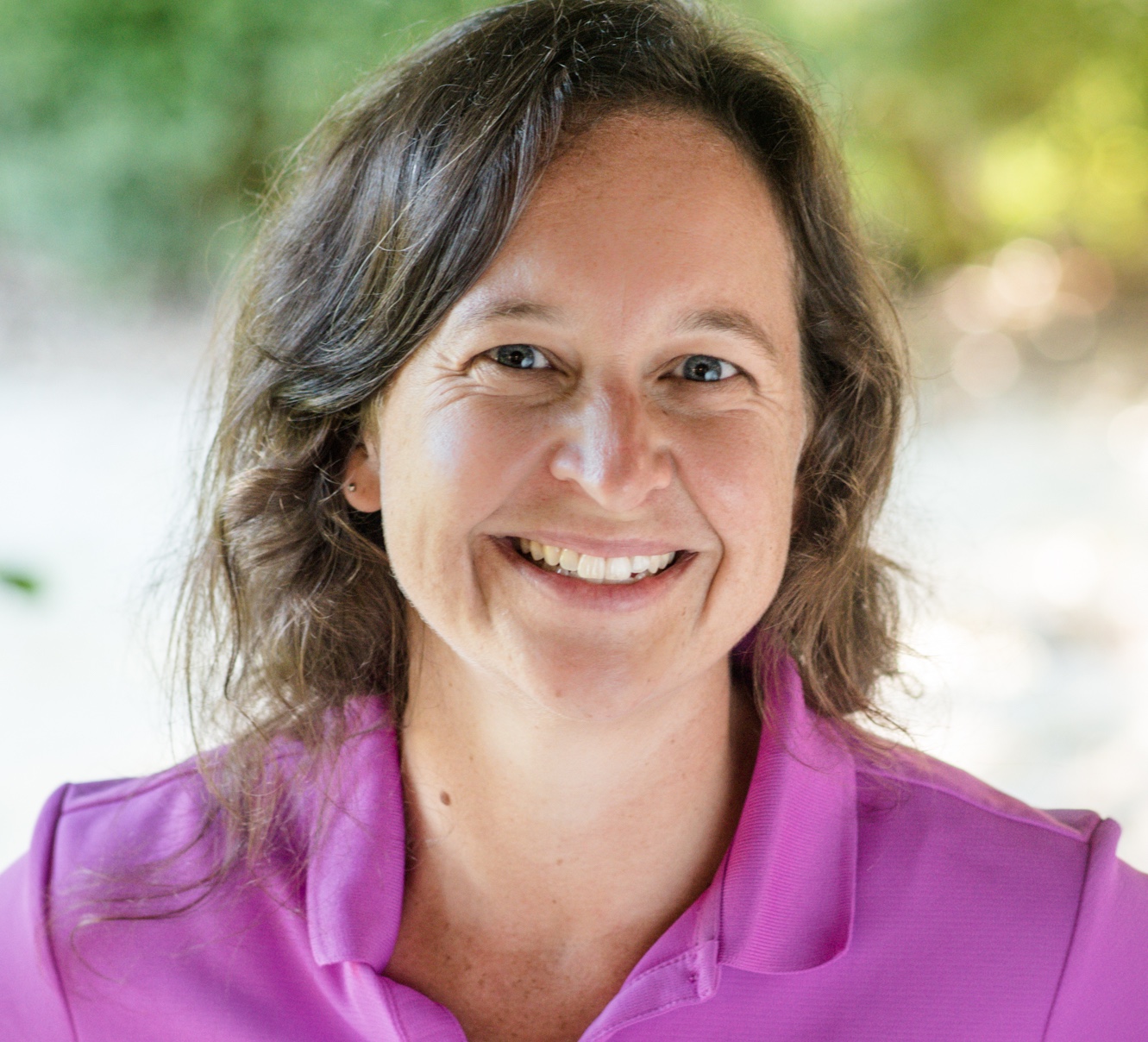 To expand their reach, Washburn and Patterson-Weber collaborate with area organizations, including a county pollution control department, to offer virtual seminars. They teach participants how to plant around the edges of stormwater ponds, how to reduce fertilizer use, and how doing so protects water.
"I think it's easy to overlook the retention pond in your neighborhood—it's just this bland puddle in the middle of everything," Patterson-Weber says. But showing guests what a healthy pond looks like and the wildlife it supports can be eye-opening. "It gets them looking at their surroundings in a whole new way."
Stormwater education efforts come in tandem with a related Garden program to help local governments create public landscapes that reduce demand for water, maintenance, and fertilizer.
Outreach will continue in the coming years. Garden educators are currently developing a self-guided audio tour of the stormwater system to reach more guests, and community partners are lining up additional seminars.
Patterson-Weber and Washburn hope the Garden's lessons help residents understand how individual decisions impact a region's watershed.
"What you do on your landscape connects to the rest of the environment," Washburn says. "What you do in your yard does eventually flow to the Gulf of Mexico."
San Antonio Botanical Garden
Ethnobotanical Programming at the San Antonio Botanical Garden
By Maeve Bassett, M.A.A., Conservation and Volunteer Programs Specialist
Ethnobotany—the study of the relationship between people and plants—isn't a common term anymore, even in botanical gardens; consolidated collections of ethnobotany. Botanical gardens  showcase plants deemed regionally important, deciding which plants to include in the collections, which should be interpreted, and which should be considered as weeds. Many stories of potential interest to visitors remain hidden. Purslane, for example, is a weed in the United States but a common salad green throughout most of the Middle East, where it might be found in a botanical garden's culinary display.
As the conservation specialist at the San Antonio Botanical Garden, I use my training as an ethnobotanist to provide new ways for people to view, relate to, and appreciate plants. Not everyone can or wants to garden; not everyone would like to add more plants to their diet; and not everyone thinks experiencing the beauty of flowers is worth an admission fee. Yet people do have pervasive relationships to plants that they may not realize—from a morning coffee dependency to a Texas-heat-mitigating cotton wardrobe, or even the nostalgia felt for a mother's loved (or despised) green bean recipe.
Backgroundphoto: Turk's Cap/Lazy Hibiscus (Malvaviscus arboreus var. drummondii). Photo by Maeve Bassett courtesy of San Antonio Botanical Garden.
Programs, events, and displays that relate plants to people's interests—such as math, art, and music—can attract a much larger audience to a botanical garden. However, taking the extra step and increasing people's understanding and appreciation for native plants does have its challenges. It's easy to have fond memories of roses and tomatoes, but a shrubby plant by the side of the road may bring up memories of endless weeding or an unpleasant thorny encounter. And although native plants are getting more recognition for ecological benefits and reduced maintenance in landscaping, those uses rarely come with any emotional attachment. Making a connection between native plants and people's interests is a valuable tool that botanical gardens can use to promote sustainability, historical understanding, and a variety of other regional benefits.
The San Antonio Botanical Garden is lucky to feature three trails highlighting areas of Texas and their plants: East Texas Pineywoods, South Texas, and the Texas Hill Country. To foster a wider appreciation for native plants, the Garden hosts a monthly "Ethnobotany of Native Plants" walk that we adapt seasonally to what is blooming or a relevant theme. My other programs focus on contextualizing plants in new ways to reach different interests.  Examples include my "Teas, Tisanes, and Texas Natives" class, a DIY series with in-house Chef Katrina Flores, incorporating native plants into workshops about foodstuffs like Za'atar, as well as my "Nefarious Plants" tour, which explores the darker sides and uses of plants. Intriguing native plants covered in the walks may include:
Mountain Cedar (Juniperus ashei): This tree—which is neither a cedar nor grows in the mountains—is also known as the Ashe Juniper. During the winter, it releases such a high concentration of pollen that the resulting region-wide cold/flu-like symptoms have earned the name "cedar fever." Juniper berries have been used extensively throughout history wherever they grow. When Anglo-settlers arrived in South Texas in the mid-1800s, they were very happy to find a local juniper to flavor their gin.
Passionflower (Passiflora foetida): Although its name suggests a more stimulating effect, passionflower is actually used to help with relaxation and sleep. The name was coined by Spanish Missionaries, who discerned signs of the crucifixion in the unique flower structure: five stamens for the five wounds, three stigmas that resemble the three nails, a fringe representing the crown of thorns, and ten petals representing the disciples (excluding Peter and Judas). The missionaries interpreted these features as signs from God in support of their mission. Locally the plant is also called Maypop, because when you step on the balloon-like fruit, it may … pop!
Turk's Cap/Lazy Hibiscus (Malvaviscus arboreus var. drummondii): Turk's Cap is seen all over San Antonio as a low maintenance landscaping plant. It is also a fantastic edible—the prolific red flowers don't have much flavor but do offer a sweet pocket of nectar at the base, and the fruit are lightly sweet and hugely popular with local fauna. The leaves may be used in ways similar to spinach—however, like okra, this plant in the Malvaceae (Mallow) family can get quite slimy, especially when boiled.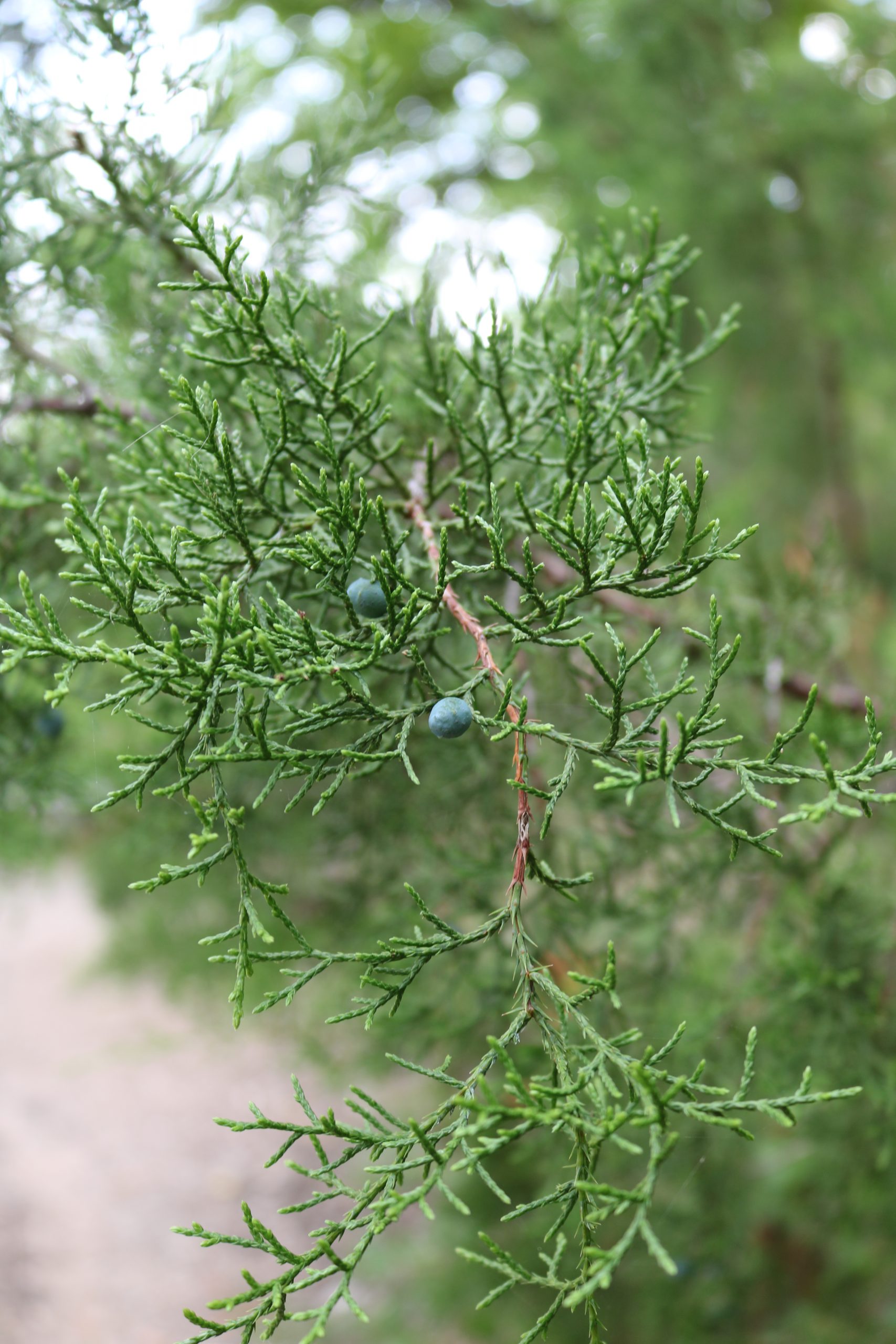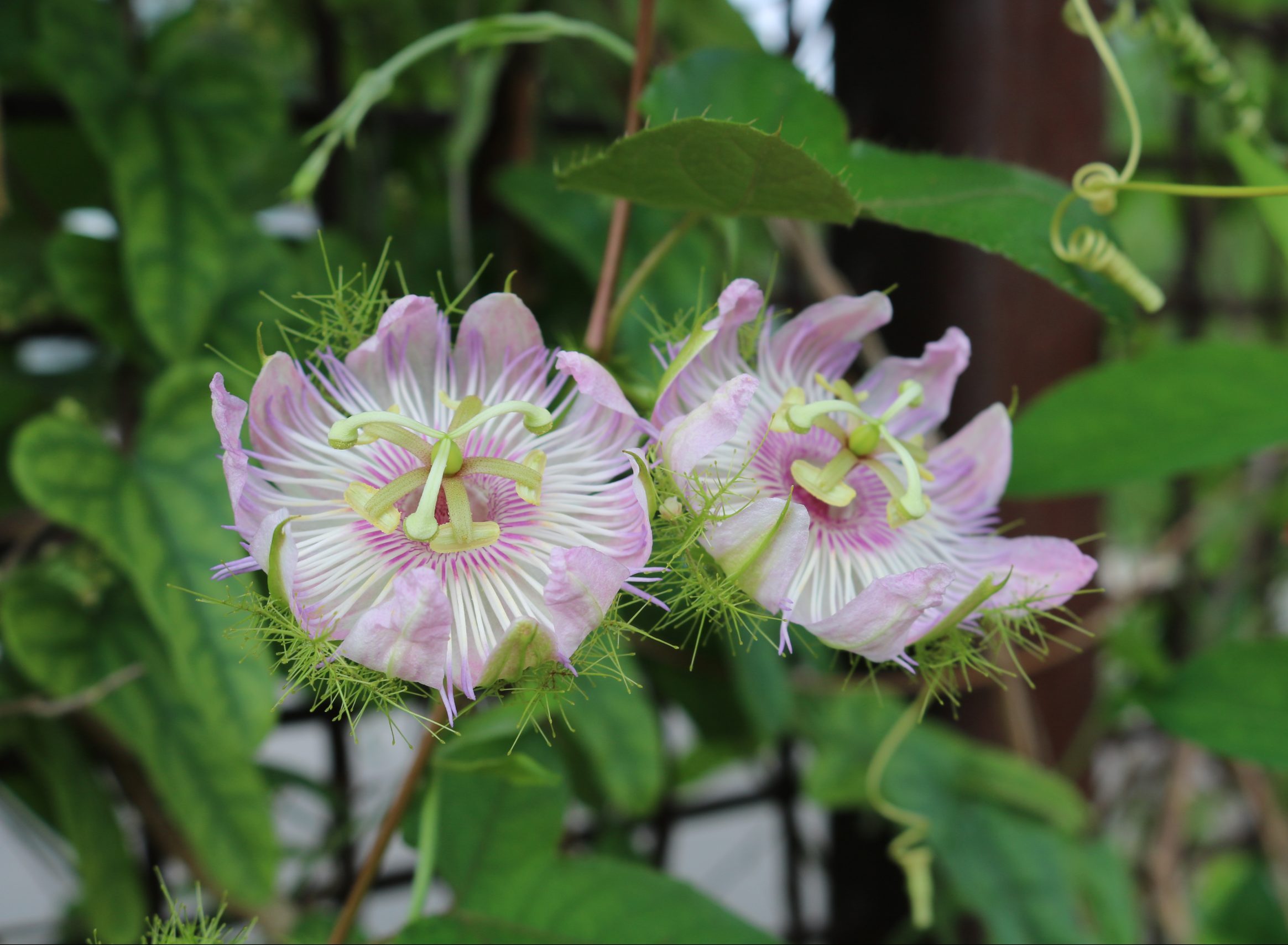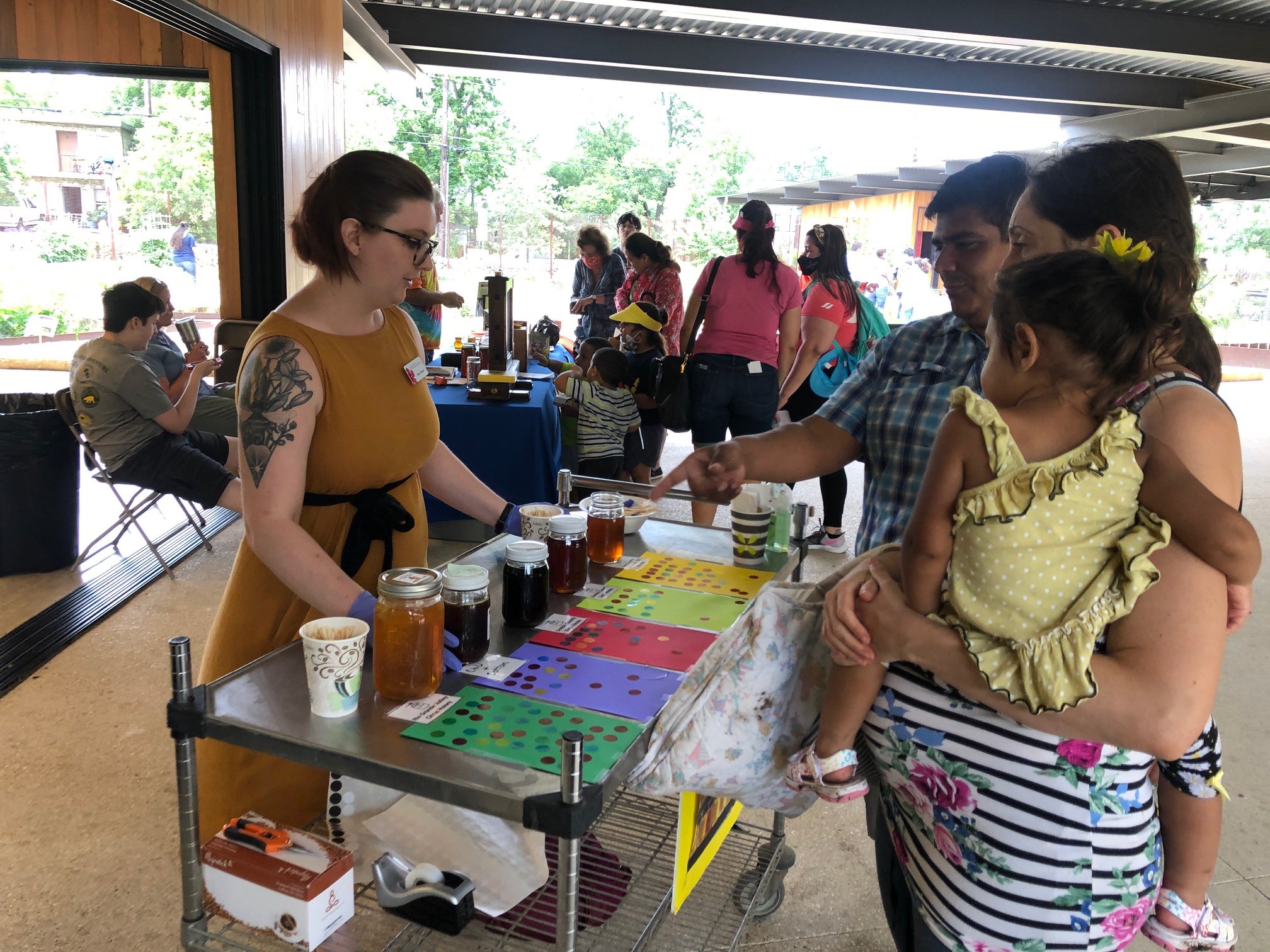 One of my most important goals as the conservation specialist at the San Antonio Botanical Garden is to help people understand how botanical gardens can play a role in their lives—especially people who feel like botanical gardens are not a place for them. Starting those conversations through a diverse range of programs can spur people into making their own connections and explore the plants in their lives. The entry points may be culinary, historical, economical, cultural, or maybe just through taking a second glance at the shrubby plant that popped up at the end of their driveway. A wider appreciation—even acknowledgement—of plants by the general public is an essential step towards more effective and comprehensive conservation education.
Conservation Champion
Dr. Lucy Commander
Australian Network for Plant Conservation, Inc.
Our September Conservation Champion, Dr. Lucy Commander, is known for her outstanding research on seed germination in arid Western Australian and the Middle East. In her capacity as Project Manager at the Australian Network for Plant Conservation, she spearheaded production of the Guidelines for Translocation of Threatened Plants in Australia and the Florabank Guidelines, as well as organized many conferences on specialized areas of plant conservation including orchid conservation and seed science. Each project and publication allows Dr. Commander to reach a broad scientific and lay public not only in Australia, but around the world. We solute Dr. Commander's noteworthy achievements that help Save Plants.
Background photo: Lucy Commander planting at her field site for her PhD project at Shark Bay in Western Australia. Photo courtesy of Dr. Lucy Commander.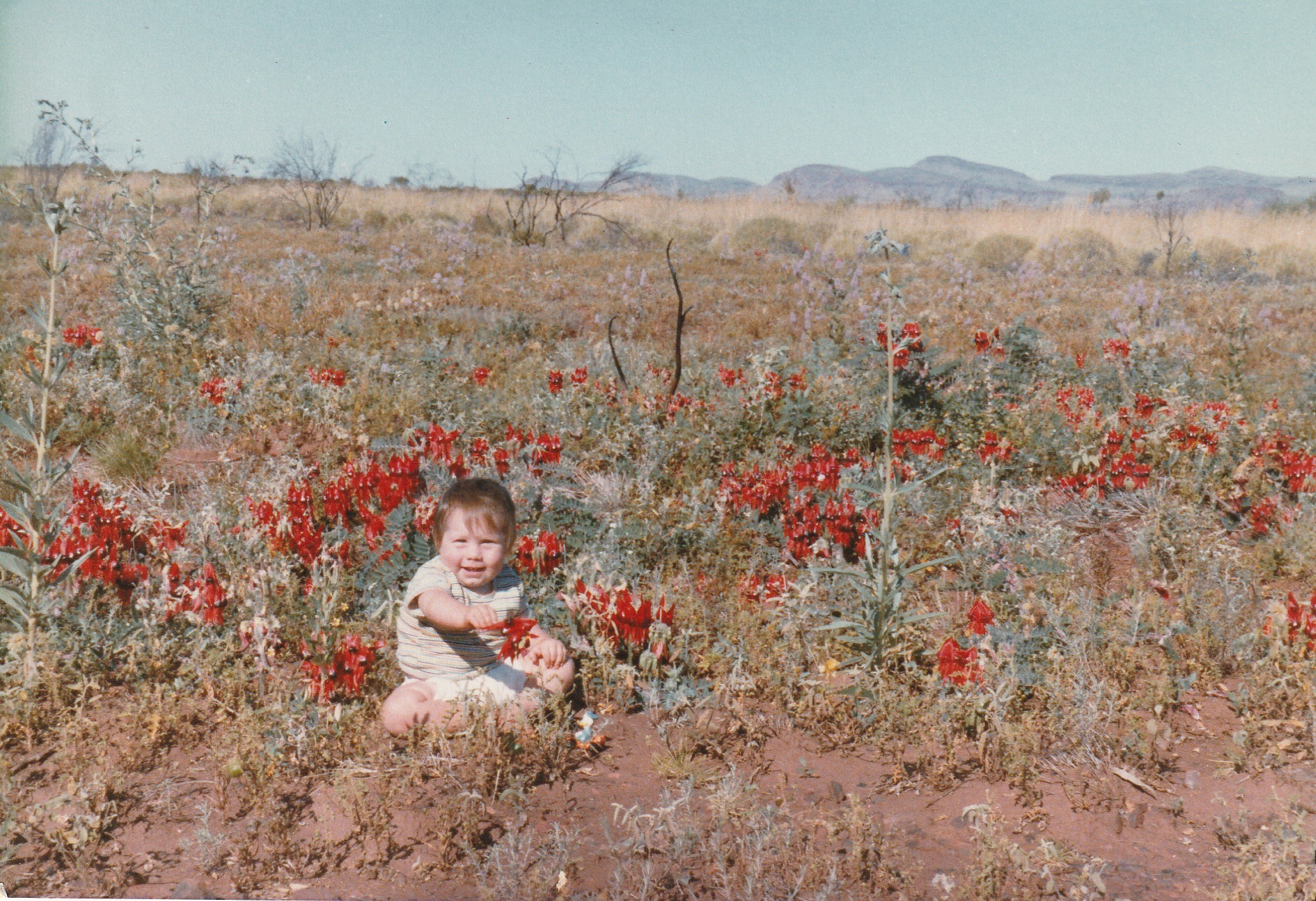 When did you first fall in love with plants?
When I was in year 10 at school, I was in the choir and orchestra. The school got us to sell flower bulbs to fundraise for our music tour to the Kimberly region in the north of Western Australia, and my science teacher gave us all a gladioli bulb. I was fascinated watching these bulbs grow and developed an interest in gardening. I had always been interested in science at school and chose to study horticulture at University. It was in my second year that I did a botany unit called 'Land Plant Diversity' and really fell in love with Australian plants—they were so much more interesting than roses and carnations! Just look at the floral structure of our native plants, like the kangaroo paw (Anigozanthos manglesii) that looks like the paw of a kangaroo and is adapted to bird pollination.
We have orchids that look like donkeys (Diuris spp.); feather flowers (Verticordia spp.) named after Venus, the Turner of Hearts, because of their beauty; and trigger flowers (Stylidium spp.) named for their unique pollination mechanism, triggered when an insect lands on the flower. Also, I'm fascinated by all the adaptations that plants have to their environment—the ability to tolerate saline environments, low phosphorous soils, or places where it doesn't rain for months at a time. I'm really lucky to live in Western Australia, a biodiversity hotspot, with some of the most interesting and beautiful plants in the world.
What are some of the pressing conservation needs related to Australia's rare and native plants?
There are so many! Land clearing and degradation is one of the biggest threats. In addition, diseases caused by pathogens known as dieback (Phytophthora cinnamomi) and myrtle rust (Puccinia psidii) are terrible. Inappropriate fire regimes—too frequent or not frequent enough, in the wrong season, or too intense like the recent catastrophic fires—can be devastating. Grazing by non-native feral herbivores, competition from non-native invasive species, loss of beneficial biotic interactions with native fauna due to predation from introduced fauna, and changes in rainfall patterns also threaten rare plants. Some of these threats are exacerbated when combined, such as drought followed by extreme fire.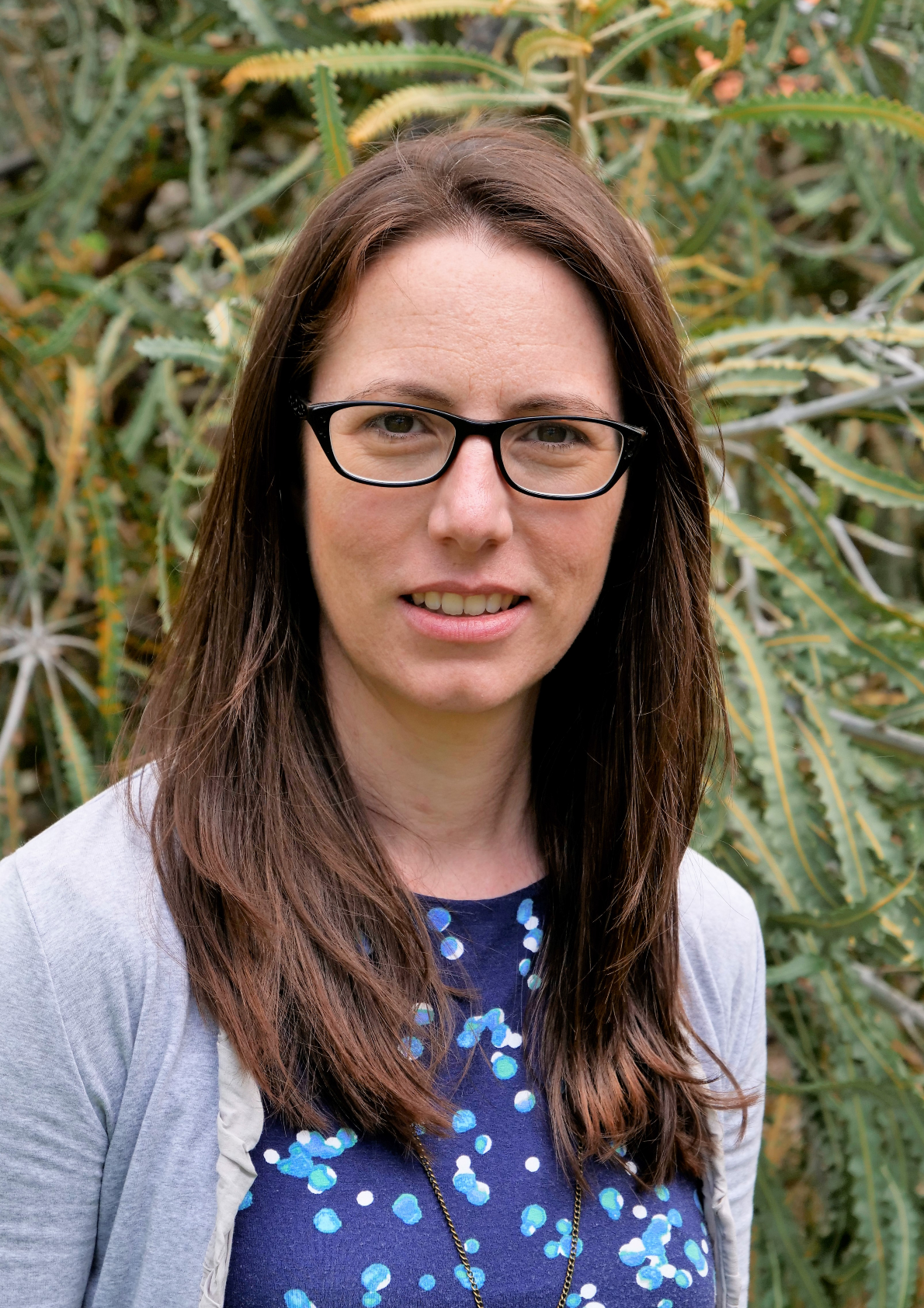 What was your career path to ANPC?
In the final year of my undergraduate degree in Horticulture, I did a fourth-year project on seed germination of a tree needed for restoration of a diamond mine in the Kimberly. Straight out of university, I worked for a research nursery helping to grow native plants for field trials. Next, I got a job working at the state's botanic garden—Kings Park and Botanic Garden—where I helped the seed scientists with their experiments for a year as a technical assistant. Then I completed a Ph.D. project on restoration of borrow pits at a solar salt facility at Shark Bay, on the Western Australian coast.
As a post-doctoral associate, I worked on various projects helping mining companies in Western Australia do better seed-based restoration. This involved travelling to mine sites in remote parts of the state. Our state is huge—2.6 million km2, or about 11 times the size of Texas, with only 2.6 million people! I worked in the Hamersley Ranges, Great Sandy Desert, and Koolanooka Threatened Ecological Community, surveying vegetation, collecting seeds, doing experiments in the laboratory on seed germination and dormancy, planting and seeding field trials, and monitoring field trials.
I also wrote scientific papers and industry reports, gave presentations, and organized conferences. I really appreciate having a solid scientific training as well as practical on-ground experience. Spending time with industry professionals as well as botanic gardens staff has given me a good understanding of different perspectives and issues.
In 2016, I started working for the Australian Network for Plant Conservation (ANPC), as Project Manager for update of the Guidelines for Translocation of Threatened Plants in Australia. I coordinated a group of 30 authors from across Australia to write and edit the third edition of the Guidelines. I also ran workshops about the Guidelines in the state capital cities of Sydney, Perth, Canberra, and Adelaide. Over the last two years, I've been updating the Florabank Guidelines.
What advice do you have for newcomers to the field of plant conservation?
Find what aspect of conservation you're most passionate about—but also make sure you have a broad range of skills and knowledge, so you can adapt to new jobs and places and relate to people in different sectors. Talk to as many people as you can about their experiences. As travel is challenging at present, see if you can find out about plant conservation around the world through documentaries, webinars, and books. It's nice to have a global perspective on issues, even when working at a local scale. And it's interesting to learn about different species and ecosystems!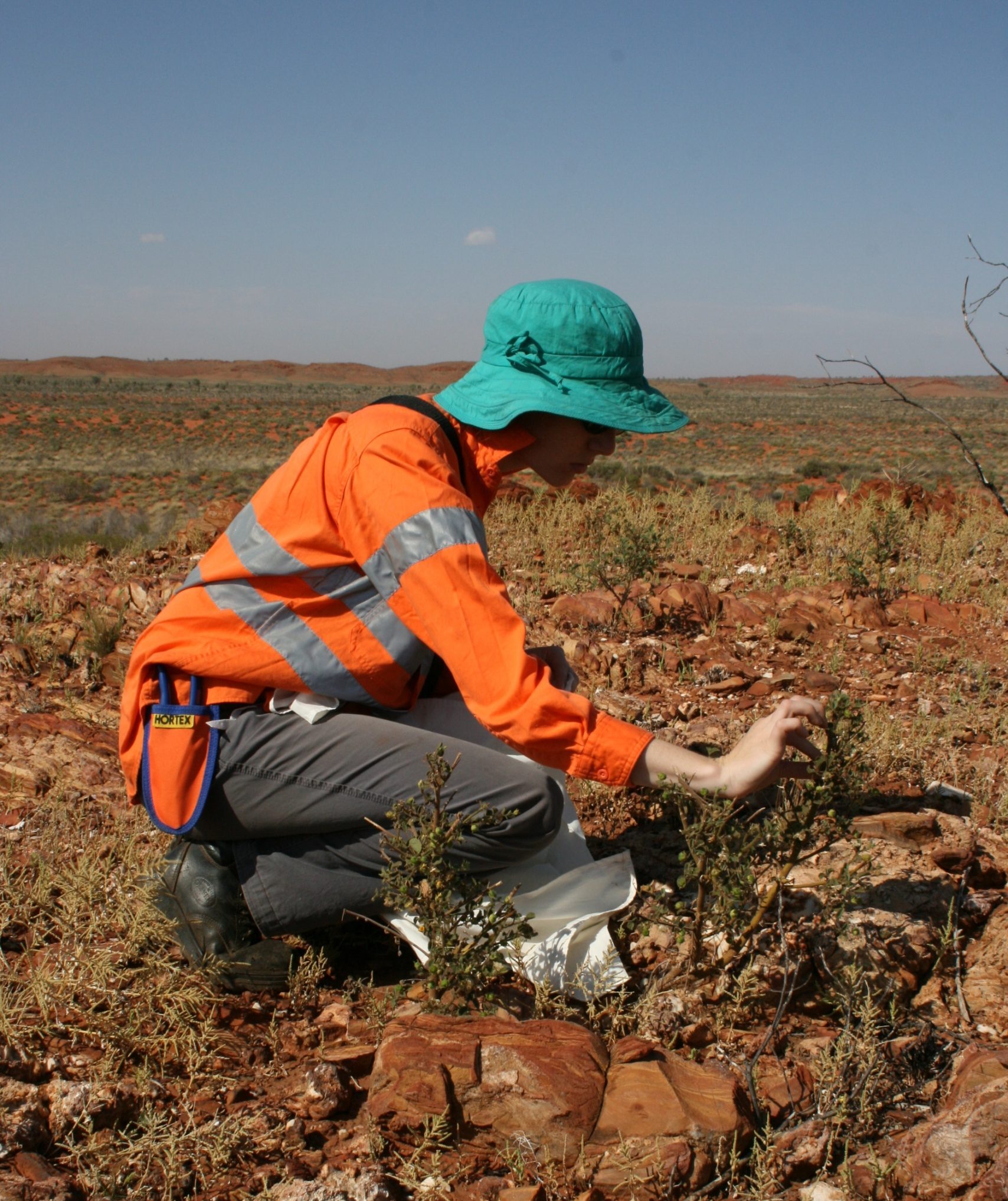 Please share more about the Florabank Guidelines project at ANPC. What are the goals and desired outcomes?
The Florabank Guidelines are best-practice guidelines for native seed collection and use. They were first published 20 years ago, and I've been leading a team of over 45 authors to update them. We want to share the knowledge, research, and experience that has been gained over the past 20 years to improve practices across the country.
We hope that everyone involved in native seeds will read the Guidelines—not just those involved in the seed supply chain (collection, processing, production, testing, storage, propagation, and seeding), but also those making decisions that affect the use of native seeds, such as restoration planners, policy makers, licensing staff, and funding organizations. We've even written a new chapter on tips for seed purchasers.
Ultimately, we hope that native seed is used more efficiently, and that restoration projects using native seeds will be more successful, leading to improved outcomes for the environment.
While these Guidelines are focused on Australian native seeds and restoration of Australian ecosystems, some of the information (such as seed storage, production, and technology) has been sourced from the international literature. Much of the information can be adapted for other countries, so we hope that global users of native seeds will find it useful.
What successes and challenges have you encountered in your work?
The fires in Australia in the summer of 2019/2020 were challenging, even though I was not directly affected. Many of the authors of Florabank Guidelines were helping with recovery efforts, and consequently we experienced delays in the writing process. Then, of course, the pandemic and resulting travel restrictions meant that in-person meetings, workshops, and conferences have been cancelled or postponed, so networking and information sharing is more challenging. But we've risen to the challenge, upskilling to run online webinars and posting presentations on YouTube. In some instances, I think we've been able to reach more people than if we'd had in-person events, but I'm still looking forward to the time when I can see colleagues on the other side of the country, as well as the other side of the world!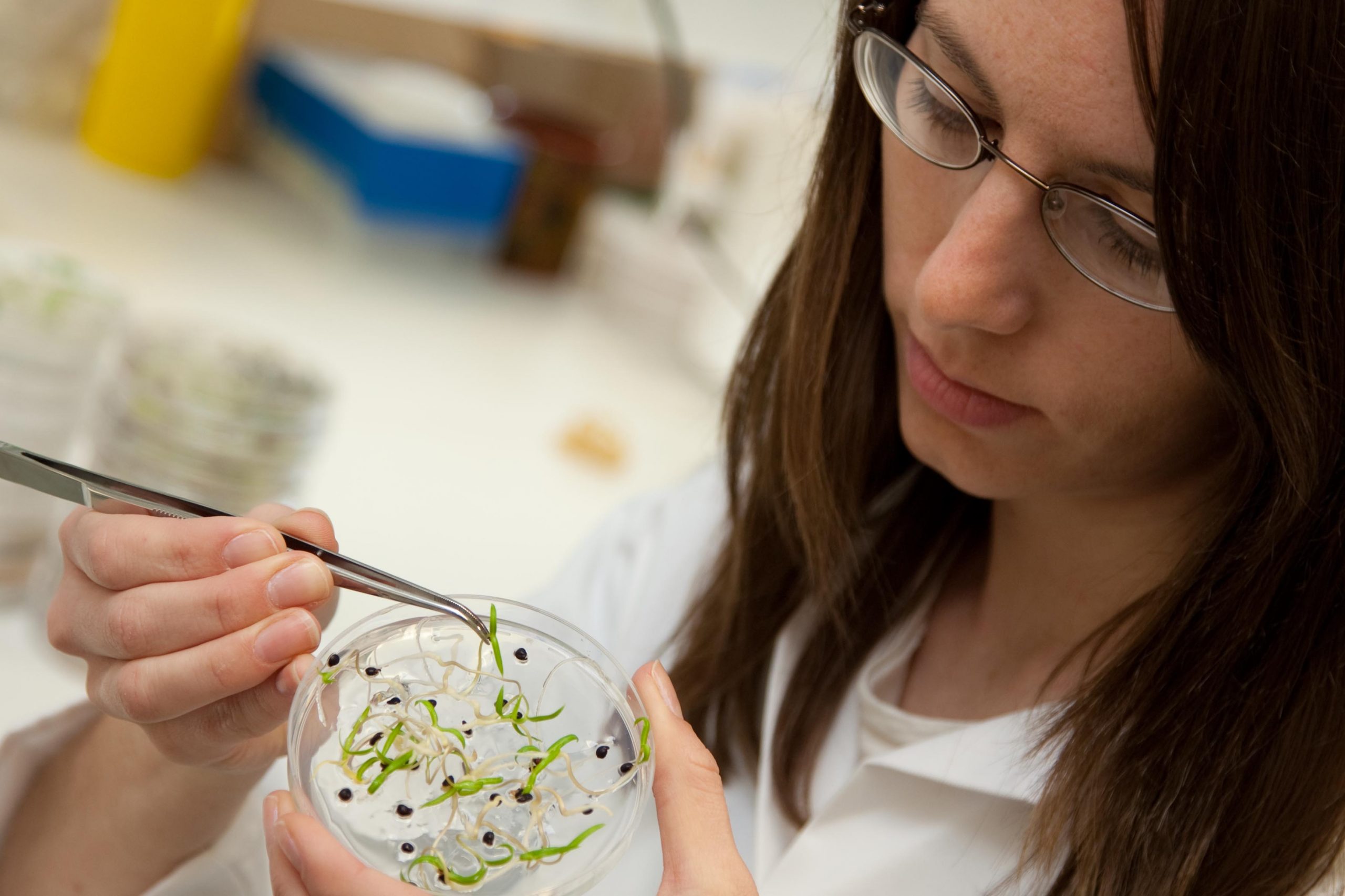 Ultimately, I'm really proud of the Florabank Guidelines, and also the Translocation Guidelines. The success of seeing these two guidelines through to publication shows what can be done when people work together for a common goal. The Translocation Guidelines have been referred to in state government policy, so I'm really proud that I've been able to make a difference at that level.
What emerging science (methods, approaches, discoveries) and/or trends in plant conservation excite you most?
I do get very excited about seed germination! I think it's amazing when someone 'cracks the code' to find out how seeds know when and where to germinate in their natural habitat, and then are able to replicate that in the nursery or lab to enable ex situ propagation.
I love integrated projects where people from lots of disciplines or areas of expertise work together to solve problems. It shows how important diversity and creativity are to coming up with ideas and solutions.
What has it meant to you to be a member of the CPC network? How has CPC supported your work?
CPC has great resources on their website. Joyce Maschinski, CPC President & CEO, has been a wonderful supporter of the Translocation Guidelines and wrote a lovely Foreword. It's nice to be part of the global plant conservation community. Working at ANPC, I certainly value the importance of networks to bring people together and share information.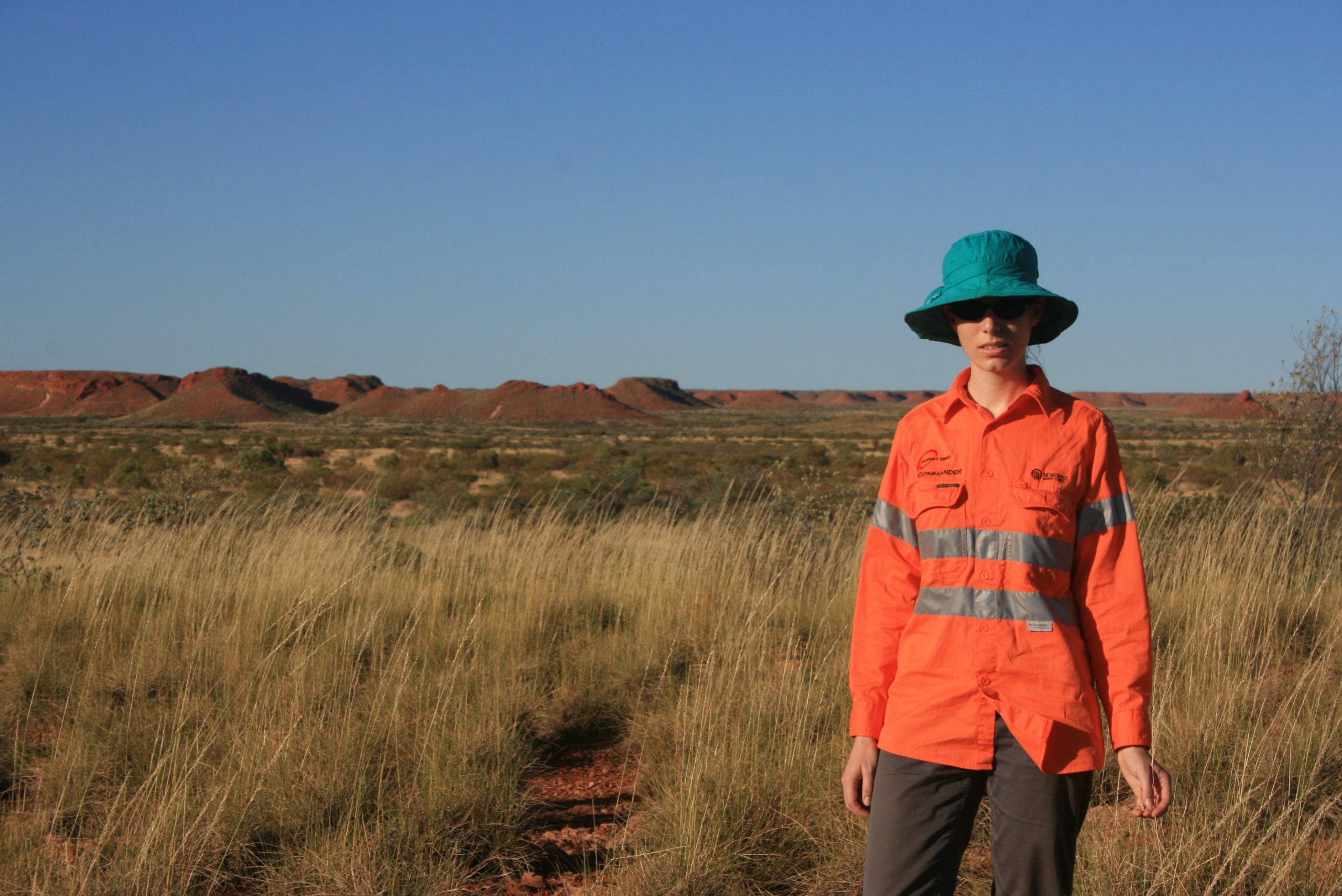 What advice would you give to the public who want to learn more about how they can help save imperiled plant species?
Join an organization like CPC or ANPC. Follow them on social media or sign up for their newsletters. That way you'll receive information and news stories to inform yourself about the positive work that's going on and some of the threats to imperiled plants.
Join a 'friends' group in your local area, either at a botanic garden, a natural area like a national park, or even your local patch of remnant vegetation. You will be able to make a hands-on difference by growing plants or reducing threats like removing invasive species.
I find it quite overwhelming to consider how I, as an individual, can help save imperiled species, other than by sharing information and raising their profile. But I think that I can make a difference by making small changes in my everyday life to help reduce the threats to imperiled species. Reducing my consumption; reusing, recycling, and composting; growing some of my own food (I have a lemon tree and a small vegetable patch); providing resources for pollinators in my garden; and educating my children about threatened species can all help reduce my footprint on the planet. I guess saving plants is not just about seed banking, putting up fences and replanting–it's also about everyone making a few small changes to their own lives to reduce the threats that these plants face.
As Seen on Rare Plant Academy
Outreach and education are crucial components of plant conservation. Without these important efforts, conservation programs would never reach their full potential and flourish with public support and engagement. Educational outreach is therefore a key feature of the University of California Botanical Garden at Berkeley's mission to Save Plants.
The Big Give, an annual fundraising campaign across UC Berkeley's campus, invites community members and the public to turn their attention to various programs on campus, including the school's Botanical Garden and plant conservation initiatives. Vibrant social media graphics detail a case for conservation of five plant species studied in the Garden, encouraging the public to learn more about plant conservation and get involved by funding the Garden's research efforts.
Head to the Rare Plant Academy to view Holly Forbes' presentation on the Big Give. You will discover how Garden staff used the campaign to reach and engage new audiences and motivate them to donate in support of their conservation work – and also find inspiration for your own educational outreach programs!
Get Updates
Don't miss out on current events and updates. Get content instantly by signing up for our newsletters.
Sign Up Today!
Employment Opportunities
Temporary Field Botany Technician | California Botanic Garden
California Botanic Garden
Angeles National Forest, CA
TITLE: Temporary Field Botany Technician (invasive plants)
DEPARTMENT: Field Studies STATUS: Hourly up to 40 hours per week (3 months)
REPORTS TO: Field Crew Lead and Director of Conservation Programs
Position Overview: Work in a team performing invasive plant management on the Angeles National Forest. Duties include herbicide application, use of hand and power tools such as chainsaws for removal of invasive plant species, rugged off-trail backcountry travel by foot in difficult terrain, and some GPS mapping of plant populations. Must approach all tasks with respect for natural, cultural and fiscal resources, co-workers, volunteers, partner agencies, and organizations. This is a full time temporary position (up to 40 hours a week for 3 months, with possibility of extension.) Hours may vary due to weather conditions.
Duties and Responsibilities:
● Under cooperative agreements between CalBG, the Angeles National Forest, and National Forest Foundation, executes removal of invasive plant species such as Arundo donax (giant reed), Ailanthus altissima (tree of heaven), Tamarix ramossisima (salt cedar), Spartium junceum (Spanish broom) and others species ranging in size from seedlings to trees
● Herbicide application
● Use of hand and power tools such as trowels, shovels, picks, chainsaws, weed wrenches, and weed-whackers
● Drive and navigate to field sites on 4WD roads
● Rugged travel on foot on- and off-trail to field sites
● Record-keeping and other duties as assigned Qualifications:
● A working knowledge of basic taxonomic principles and characteristics of major plant families and California flora desired
● Ability to perform difficult physical labor for the majority of the 10-hour workday
● Familiarity with the use of GPS equipment and ability to read and navigate with topographic maps
● Ability to properly use hazardous equipment; ability to operate 4WD vehicle and/or power tools such as chainsaw desired
● Demonstrated commitment to conservation
● Valid driver's license
Physical demands:
● Ability to conduct strenuous fieldwork under a variety of environmental conditions is required
● The physical ability to hike several miles a day for 10 hours a day, carrying a pack through rugged chaparral terrain, in remote canyons, and mountain top fire breaks
● Comfortable hiking and working on steep and difficult terrain
● The ability to work outdoors all day in unpredictable or adverse weather conditions
● Must have physical strength and endurance sufficient to carry field equipment and supplies
● Ability to lift 50 lbs
Location
● Reporting location is a forest service station near Sunland-Tujunga, CA.
Qualified candidates please send electronic cover letter and resume to: invasives@calbg.org Attention: Naomi Fraga California Botanic Garden 1500 N College Avenue, Claremont, CA 91711
Apply
Chief Botanist | NatureServe
Position: Chief Botanist
Location: Arlington, VA
Who may apply: Open to the public – this is not a federal sector position
Compensation:  NatureServe offers full-time employees a comprehensive benefits package that includes:
Apply
Horticulture Field Supervisor, Conservation Manager, and Botanical Gardener | Waimea Valley Botanical Department
Waimea Valley Botanical Department
Apply
Landscape Ecologist | National Fish and Wildlife Foundation (NFWF)
National Fish and Wildlife Foundation
Overview:  The staff scientist will work with the Science and Evaluation team to design monitoring and evaluation plans and conduct data analyses that enable rigorous assessments of conservation impact. As such, they are responsible for ensuring the terrestrial and ecosystem components of NFWF's programs are science-based, aligning project portfolios with measurable conservation outcomes, providing technical assistance to programs and grantees as needed, reviewing data submitted from grantees and contractors to ensure the quality of information being reported, drafting recommendations for staff and Board action,  reviewing requests for proposals, contributing to fundraising efforts, and closely coordinating program efforts with the Director of Data Science, the Science and Evaluation team, and other Foundation staff.
Position: Landscape Ecologist
Location: Washington, DC
Who may apply: Open to the public
Compensation: Commensurate with experience
See the full announcement: https://workforcenow.adp.com/mascsr/default/mdf/recruitment/recruitment.html?cid=29f3c179-537a-4b50-b69a-83ed4ff3b6ae&ccId=19000101_000001&type=MP&lang=en_US
Apply
Network Coordinator | Hawaiʻi Conservation Alliance Foundation (HCAF)
Hawaiʻi Conservation Alliance Foundation (HCAF)
The Hawaiʻi Conservation Alliance Foundation (HCAF) is seeking a full-time Network Coordinator for Laukahi:The Hawaiʻi Plant Conservation Network (
https://laukahi.org/
). The Network Coordinator will represent the collective work of the numerous government agencies, community groups, academic researchers, and non-government organizations involved in the conservation of Hawaiʻi's native plants. In addition, the Network Coordinator will lead in communicating the value of conserving native plants, weaving partnerships among the existing conservation community, and leading the Network to meeting the targets in the Hawaiʻi Strategy for Plant Conservation (Strategy). The Strategy is based on the Global Strategy for Plant Conservation, developed by the United Nation's Convention on Biological Diversity, but adapted to fit more specific conservation needs in Hawaiʻi.
Application Deadline: Review of applications will start on September 15, 2021
Application Instructions: Email cover letter, résumé, & contact information for 3 references: 
sugii@hawaii.edu
Apply
SCBG Executive Director | South Carolina Botanical Garden
South Carolina Botanical Garden
Description
The South Carolina Botanical Garden (SCBG) offers 298 acres of gardens and arboretum for research, conservation, outreach, and education. The SCBG is a living laboratory with extensive plant and natural resource collections. This position offers exciting opportunities for plant-passionate candidates to creatively expand on the Garden's existing collections and sustainability focus.
The Executive Director will collaborate with colleges, departments, and cooperative extension to develop and carry out the vision of the SCBG within the operating and reporting structure of the Cooperative Extension Service. They will have a tenure-track faculty appointment in the Forestry and Environmental Conservation Department or the Plant and Environmental Sciences Department within the College of Agriculture Forestry and Life Sciences. They will report directly to the Director of the Clemson University Cooperative Extension Service.
SCBG Mission: To serve as a holistically managed landscape fostering a healthy ecosystem and experience for the public; while serving as an interdisciplinary resource focusing on teaching, research, and outreach that advances awareness and understanding of our plants, animals, minerals, and our culture.
Specific Duties
The Executive Director will provide a broad, integrative vision to grow the reputation of the gardens in South Carolina and the nation. The Executive Director will work with the Clemson University Foundation Development Office to create and implement fundraising activities that benefit the SCBG, including grant proposal preparation, donor events, and project and capital fund campaigns. The Executive Director will develop, refine, and publicize programming consistent with the SCBG mission based on resource availability and acquisition.
The Executive Director will develop, implement, and manage the SCBG operational budget in consultation with the Director of the Cooperative Extension Service and the Vice-President of Public Service and Agriculture. The Executive Director will also oversee all aspects of the daily management and operation of the SCBG and its staff (13 full-time staff) and serve as the SCBG's lead representative to internal and external stakeholders.
The Executive Director will facilitate integrating educational programming into appropriate Cooperative Extension Service program teams and enhance the development of applied research, demonstrations, and education.
The Executive Director will be required to perform other duties as assigned and appropriate for this position.
Qualifications
The Executive Director must have a Ph.D. (preferred) or terminal degree (required) in botany, horticulture, natural resource management, or a related field.
The Executive Director must also have at least 5 years of experience as a director with supervisory and budgetary oversight in an applied horticulture setting such as a public or private botanical garden or arboretum, an educational institution, or other relevant experience.
The Executive Director must have demonstrated experience with annual giving and project and capital fundraising campaigns.
The Executive Director must also demonstrate outstanding oral and written communication skills. Advanced experience as a public speaker in the areas of garden and planting design, plant taxonomy and distribution, plant/garden history, or a combination thereof are desirable.
The successful candidate for Executive Director must have the qualifications to meet the standards for a tenure-track faculty appointment as a Professor within the Forestry and Environmental Conservation or Plant and Environmental Sciences Department.
Application Instructions
All applicants must apply at http://apply.interfolio.com/93124. To receive full consideration, application materials must be received no later than November 15, 2021.
• Statement (2 pages or less) describing your leadership style and philosophy, vision for the SCBG, and how you have demonstrated a commitment to diversity, equity, and inclusion.
• CV
• Unofficial transcripts (An official transcript for highest degree earned is required prior to the start of employment for the selected candidate.)
• References (names and contact information for five)
Should you have any questions related to the position, please contact Dr. Greg Reighard, search committee chair, (grghrd@clemson.edu).
Apply