UC Davis Arboretum and Public Garden
Tag Teaming for Climate Change and Urban Forest Outreach
Based on information from and an interview with Emily Griswold, Director of GATEways Horticulture and Teaching Gardens, and Shannon Still, Ph.D., Director of Plant Conservation/Curator
We all enjoy the color and structure of trees, the shade they offer, and the atmosphere they create. But we don't always notice the trees themselves, or recognize how they are making our outside experience so pleasant. To help people see trees and learn something about them, the team at UC Davis Arboretum and Public Garden (UCDAPG) decided to try an innovative approach—tags. Not the little metal tags used in research studies, or a garden name plate at ground level, but large, unusual, eye-catching tags that draw attention and invite people to learn more.
In spring of 2021, UCDAPG partnered with Tree Davis to create and install 50 tags on young trees on campus and in the City of Davis. This third iteration of an outreach tagging program focused on the organizations' collective work to proactively adapt urban tree canopies for climate change. They created tags to highlight the Arboretum's work on introducing and testing trees with greater heat and drought tolerance into the urban landscape. Teams of interns from UCDAPG's Learning by Leading program worked with staff to develop messages, write content, generate companion web materials, design and fabricate signs with campus partners, and install the tags in sites across the city and campus.
Background photo: UCDAPG interns planting trees. Photo courtesy of UC Davis Arboretum and Public Garden.
The tag team faced new challenges in 2020 and 2021. With everyone working remotely during the pandemic, coordinating among multiple organizations and team members presented a project management challenge. Technological tools, such as teleconference platforms and the Trello project management app, allowed the team to regularly clarify roles and define steps. Site selection was more limited after COVID-19 arrived, due to decreased numbers of students and substantially different campus traffic patterns. Hot spots of campus activity moved to the main COVID-19 testing site, the Veterinary Medicine teaching hospital (which retained in-person classes), and around student dorms that still had residents. The recent tree plantings in these areas proved good places for small clusters of signs. Fortunately, more visitors than ever have been flocking to the Arboretum, so the team also installed a cluster of tags in a newly planted tree trial research grove, featuring plantings to assess potential heat- and drought-tolerant tree species for the Davis urban forest.
The campus plantings selected for tagging in 2021 are part of the UC Davis Living Landscape Adaptation Plan for climate change, an 80-year strategy to prepare the campus for the climate of 2100. In support of this plan, the UCDAPG is growing and testing tree species from west and central Texas for potential introduction to local urban forests. With its dry, hot climate, these Texas trees may prove a good fit for the Davis of the future. Furthermore, Davis may prove a good fit for some of the rare trees in Texas: multiple oak species in the trials are of conservation concern in Texas. Thus, the plantings also serve an ex situ conservation function. Emily Griswold, Director of GATEways Horticulture and Teaching Gardens at UCDAPG, explains, "I'm interested in exploring how urban forests can provide benefits that support biodiversity conservation, in addition to many other environmental services." In fact, the urban forest trial project was spurred by funding from APGA and USFS for collection of rare species in the Trans-Pecos region of west Texas. Trial results will feed into other UCDAPG projects to assess suitability of trees in a changing climate, potentially finding more homes for the rare Texas trees.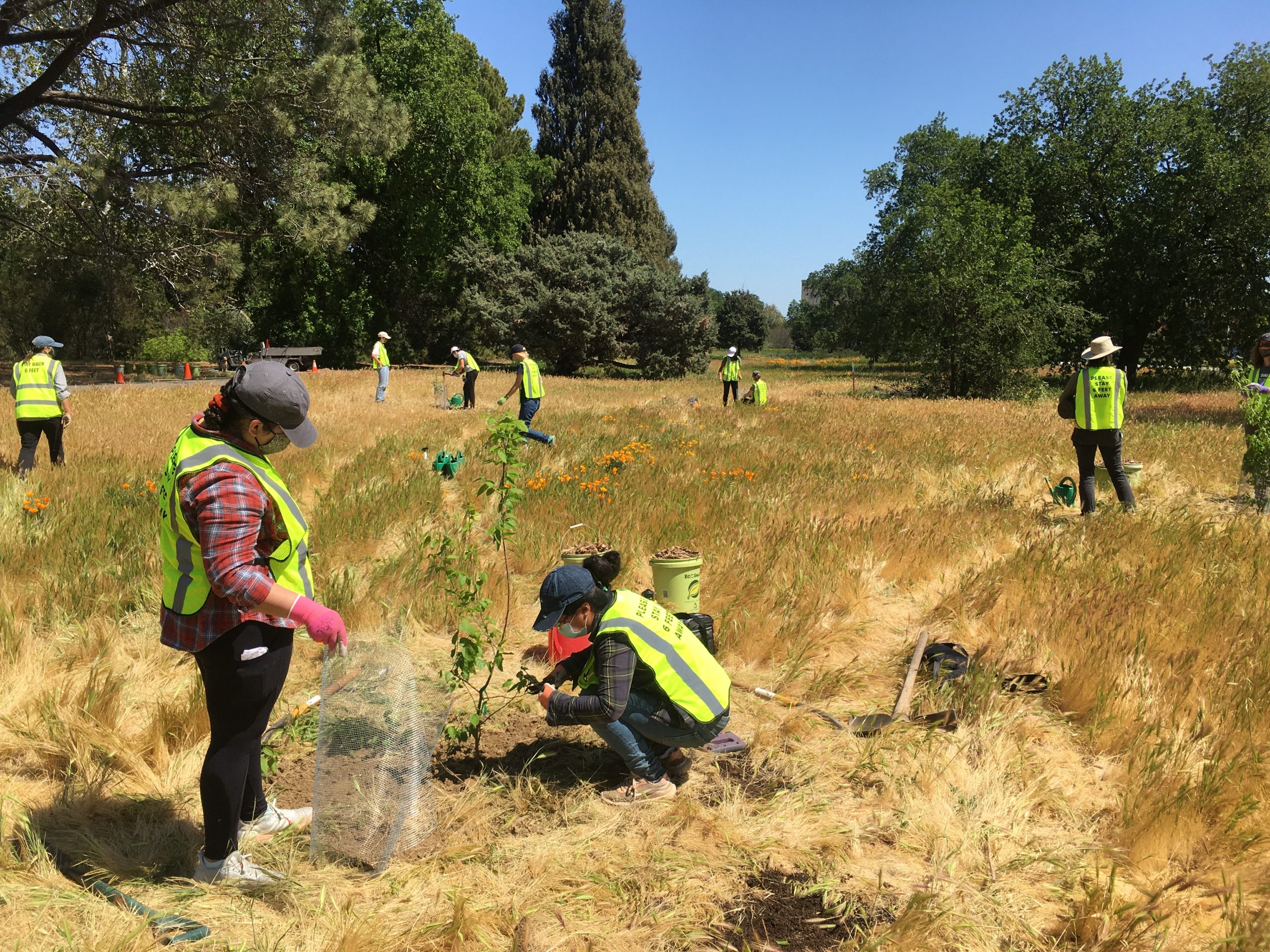 The Arboretum's proactive work to address climate change impacts provides a great opportunity to share the message of climate change without overwhelming the audience—or the students working on the project. Rather, the team hopes that the tags create a sense of empowerment. Tags in the City of Davis highlight the availability of trees through the partner non-profit Tree Davis, inviting homeowners to prepare their own landscapes for climate change. All the messages are brief and use non-technical language, so they can be absorbed quickly and be meaningful to a broad audience. The messages prompt the reader to seek more information, readily provided through a QR code that opens a webpage with a selection of relevant links.
The tagging outreach project has brought together partners, researchers, and students to highlight the many benefits of the Arboretum as well as trees in general. The idea originated at The Morton Arboretum, which ran a similar outreach project in Chicago, but UCDAPG has made it their own. The monetary value of environmental services provided by trees—such as carbon sequestration and energy savings—served as UCDAPG's initial focus. That first round of tree tags garnered much attention and positive community feedback. Though the tags stayed in place for only six months, the strong response to them prompted new iterations. Round four, currently in the planning stage, will tag adult trees to highlight the health benefits of trees. And this time the text will offer both English and Spanish to expand the audience.
Thus far, the tag program has been opportunistic and a great way to connect with the public. Though the UCDAPG team does not necessarily have long-term plans for the program, they do know they will be doing more public outreach. Because, everyone can—and should—be invited to learn more about the wonders of trees!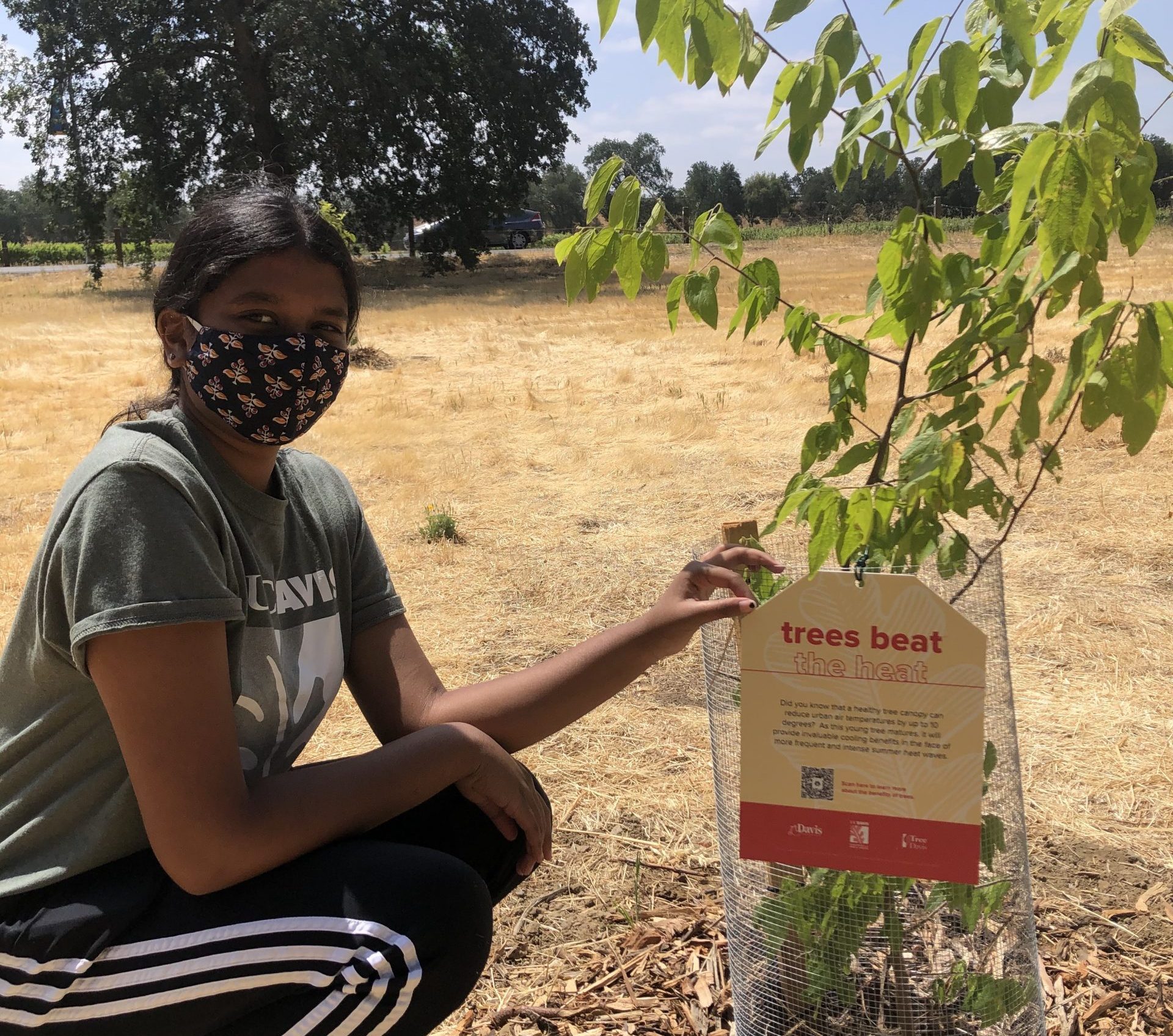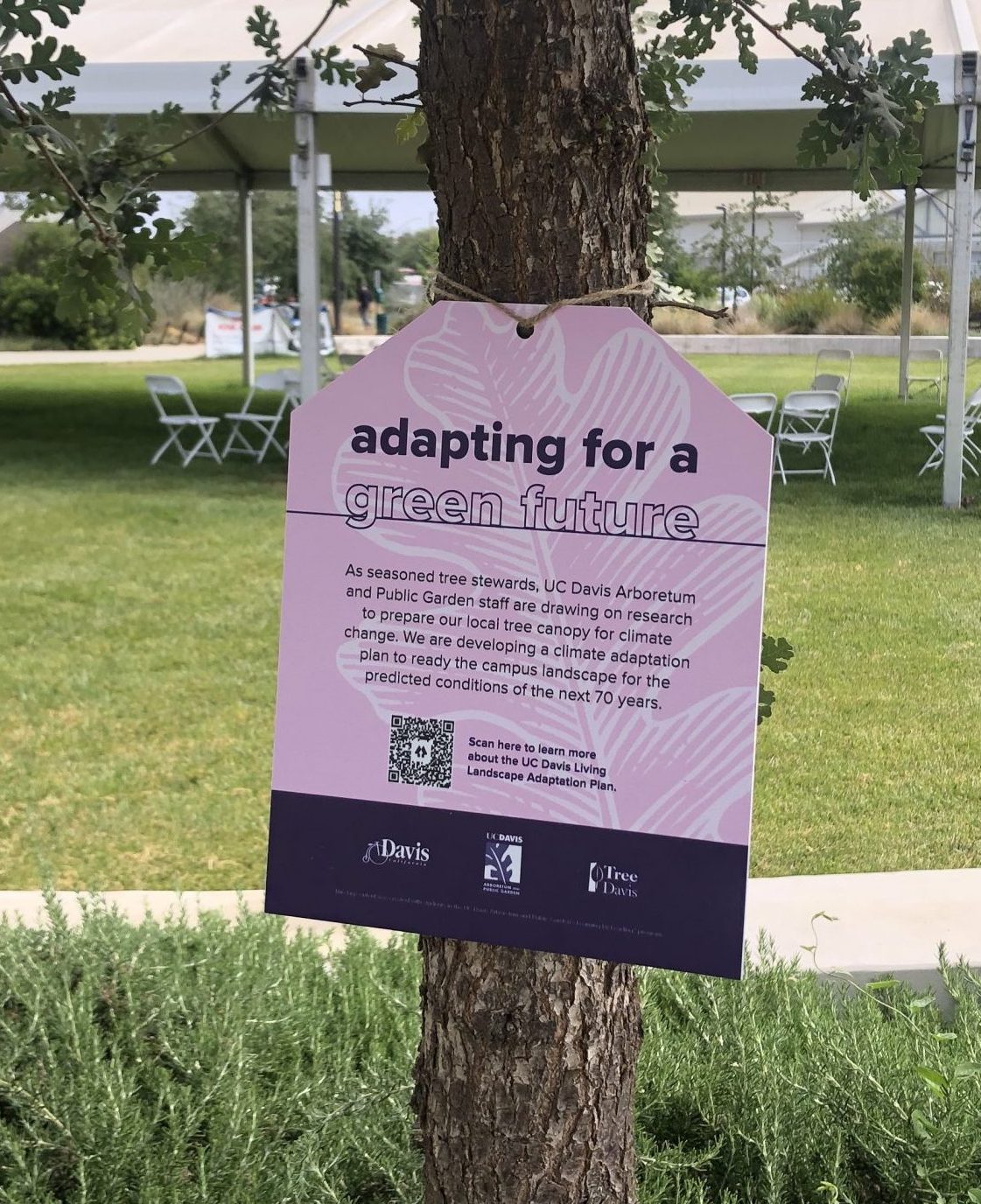 Key Messages
The key to success is identifying desired messages and crafting them for simplicity and clarity. The tagging project's 2021 messages below illustrate their direct and jargon-free prose, use of questions to engage the audience, and use of succinct title statements. You can also see the different messaging approaches used to appeal to both city residents and student audiences.
The following are sample messages from the 'trees keep us cool' tags.
City of Davis:
Did you know that trees near buildings can cut the amount of electricity needed for air conditioning by up to half? Cooling shade and water vapor released from trees help keep buildings energy efficient and comfortable.
Scan here to learn more about the benefits of trees and how you may be eligible for a free shade tree from Tree Davis.
UC Davis Campus:
Did you know that trees can keep asphalt pavement significantly cooler on a hot summer day? Pavement shaded by trees can be up to 36 degrees cooler. Park your car under a tree and experience the benefits!
Scan here to learn more about the value of trees.