Save Plants
Center for Plant Conservation
Rare plants and the habitats they call home engage the imagination of many people—not only botanists, but lovers of nature and biodiversity as well. Grasslands are perhaps one of the most defining and quintessential habitats of the United States, often associated with the Midwest and evoking images of rolling prairies with seas of swaying grasses as far as the eye can see. However, grasslands can be found in many regions throughout the country and are home to a wide variety of plant species, many of which are in decline and their ecosystems threatened by fragmentation, invasive species, wildfire, degradation, and land conversion.
In this issue, we highlight the impactful grassland conservation initiatives that are underway throughout the Center for Plant Conservation's (CPC) network of Institutional Conservation Partners. The Southeastern Grasslands Institute shares an update on their work with Porter's Goldenrod (Solidago porteri), a globally rare grasslands species with a compelling story. The University of Minnesota Landscape Arboretum spotlights their efforts to conserve Escobaria vivipara, a species of ball cactus (yes, a cactus in a Minnesota grassland!) and the restoration challenges it faces. Our Conservation Champion, Jim Locklear of Lauritzen Gardens, describes their team's work on the protection of rare grasslands plants and the unique places where they live.
Although North American grasslands are threatened and the urgency of conservation work cannot be overstated, our CPC partners are committed to the preservation of these imperiled species and exemplify how we are rising to meet these challenges. I am honored and humbled to have been selected to lead the CPC and contribute to its future success, and to support the excellent conservation work of our network. One of my priorities is to create and curate the most inspiring conservation stories that inspire people to care for and become active in biodiversity conservation. It starts here, in our monthly newsletter.
Thank you for your stories, support, and for helping to Save Plants,
Carlos L. de la Rosa
President and CEO
University of Minnesota Landscape Arboretum
Ball Cactus in the Minnesota Grasslands? Ya, You Betcha!
David Remucal, Curator of Endangered Plants
Escobaria vivipara (MN S1; state Endangered) is a ball cactus that has a large range across North America, extending into granite outcrops in the Great Plains grasslands. With less than 4% of native prairie remaining, North American prairies are one of the most endangered ecosystems in the world. The ball cactus is generally secure across great portions of its range, but in Minnesota, on the easternmost edge of the range, just a single population remains. This lovely little cactus was once abundant on exposed granite outcrops and shields extending along the Minnesota valley into the center of the state. However, agriculture took over as European settlers moved across Minnesota, and now less than 2% of the state's native prairie remains. As tilling, human activity, and domesticated animal usage moved or covered all but the largest rock outcrops, ball cactus became rare – like many prairie plants that were already uncommon.
Background photo: Escobaria vivipara planted at Big Stone National Wildlife Refuge. Photo by David Remucal.
At one time the ball cactus was probably also found on drier, thinly vegetated prairie habitat, but it was eventually reduced to only undisturbed granite surfaces. Granite and quartzite outcrops in Minnesota are home to ephemeral pool habitats – shallow depressions where water can pool for a few weeks each year. These accumulate biotic matter and host several plants rare to the state, including Bacopa rotundifolia and Heteranthera limosa (both state Threatened). With only one ball cactus population left in Minnesota, it is hard to generalize about its preferred local habitat, but it appears to favor moss shields that occupy some of the same kinds of shallow depressions that form ephemeral pools. The plants also hug cracks in the granite and may even anchor an accumulation of duff and moss material around them as prairie winds blow over the rocks.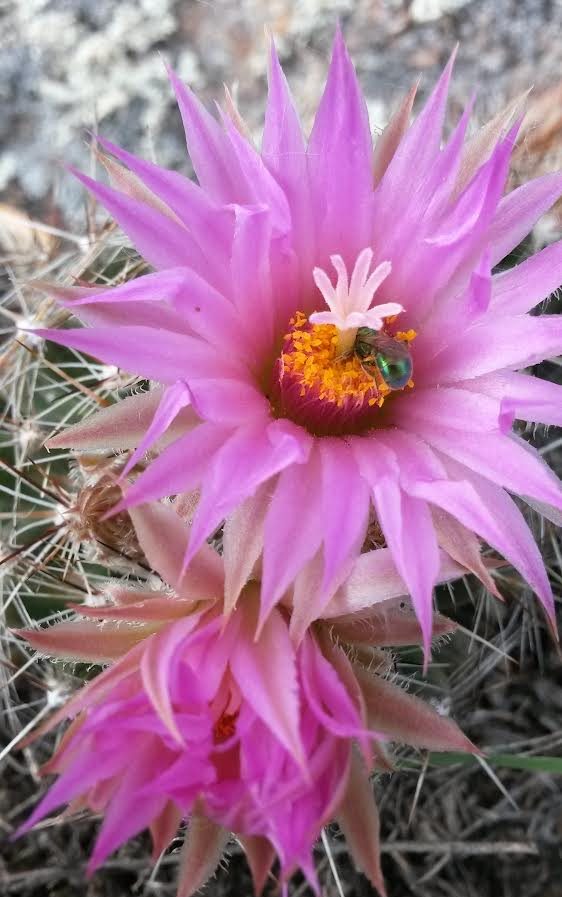 Minnesota's ball cactus population sprawls across several properties, including land belonging to a private citizen, a municipal unused property, two granite quarries, and a National Wildlife Refuge (NWR). Unfortunately, the quarries, which contain the two largest subpopulations, are both seeking permits from the Minnesota Department of Natural Resources (DNR) to resume active mining in the outcrops where the cacti live. As this would destroy both the plants and a large portion of the genetic material available to the state's ball cactus population, the DNR has not yet permitted the land use. To deal with this threat, Minnesota Landscape Arboretum obtained a grant from Minnesota's Environmental and Natural Resources Trust Fund to move plants from the quarries to several protected locations, including granite outcrops at the NWR that are unoccupied by cacti and outcrops on land owned by The Nature Conservancy and another federally managed Waterfowl Production Area.
One potential setback is that rescues are not permitted in Minnesota until the original landowner Take Permit is granted, and the permitting process for the quarries is taking too long for us to hit our grant application window to request funding. What we did instead was to collect thousands of seeds from one of the quarry sites and the NWR. A majority of those seeds have now been banked in our long-term seed bank. In partnership with the University of Minnesota Twin Cities College of Biological Science's Conservatory, we are also growing seedlings from the quarry subpopulation and have started planting them out in the sites noted above. Refining techniques between our two groups has enabled us to improve our germination rates to over 70%. As a result, we will eventually be planting roughly 2000 cacti seedlings across the three recipient sites over a several year period.
Our first planting day happened in early November 2022. The daily average temperature was still just above freezing, but (fortunately!) it was a sunny day with the rock surface temperature a balmy 50° F. We chose this timing because the cacti would likely be dormant and not in need of follow-up watering, as long as the areas received a good snow covering (knock on wood – the snow cover out there has been good so far). We placed about 110 plants at each site, planting some in granite crack microsites and some in moss shield microsites.
Our hope is that this first year will provide some feedback on planting techniques, microsite preference and mapping techniques. We also hope to obtain information on general survivability and establishment – especially regarding the chosen planting time – and on any potential animal issues. Critters are often attracted to the disturbance of planting and will dig around looking for goodies!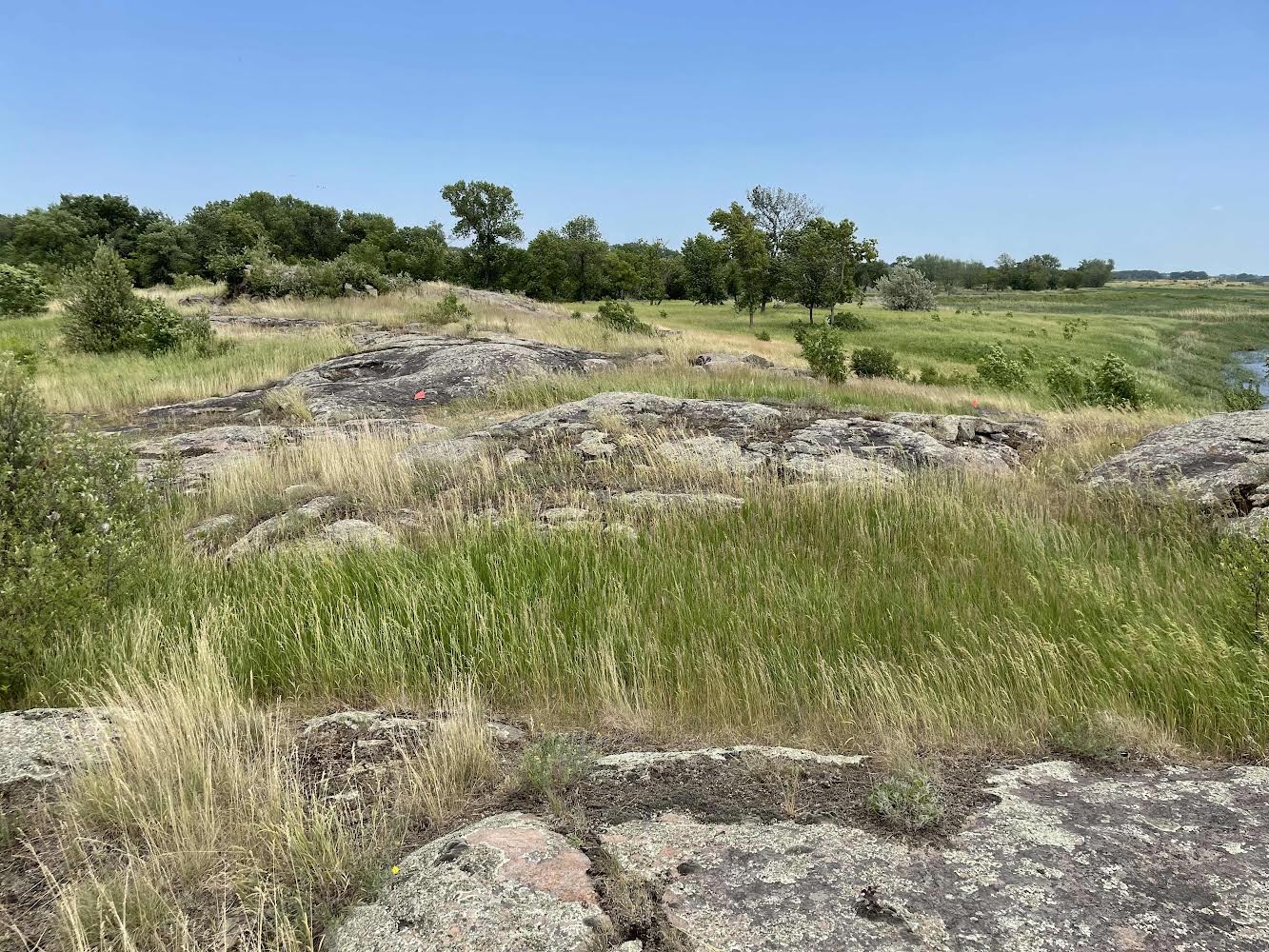 Our project has the practical goal of preserving the edge-of-range genetic library that could be key to survival of the ball cactus in a climate-changing world. An equally important goal is to bring this unexpected (and cute!) species to the attention of Minnesota residents. In a state renowned for its wetlands and lakes, even residents are surprised to learn that Minnesota has native cacti, including two common species of prickly pear (Opuntia). We hope to foster both a pride in the local flora and a desire to support efforts to keep our native plants around for the long term.
Southeastern Grasslands Institute
Conserving the Globally Rare Porter's Goldenrod
Cooper Breeden, Plant Conservation Manager
Southeastern Grasslands Institute (SGI), based out of Austin Peay State University, is dedicated to saving the forgotten grasslands of the Southeast. SGI works to achieve this mission through on-the-ground restoration of remnant and re-created habitats, preservation through acquisition and easements, and research. One area of focus at SGI is the conservation of rare and declining grassland plant species and communities through various in situ and ex situ projects. One such species is Porter's Goldenrod (Solidago porteri), a G1, globally rare plant with an interesting history.
Background photo: Solidago porteri flowers close up in Cherokee County, Georgia. Photo by Ellen Honeycutt.
Over a century ago, the botanist and Presbyterian minister Thomas Conrad Porter collected a rather elusive plant southeast of Atlanta, Georgia. Half a century later, the old specimen was seen by Porter's nephew, the famous botanist John Kunkel Small (author of the original Flora of the Southeastern United States), who recognized it as an undescribed species and named it after his esteemed uncle. Porter's pressed plant specimens then sat nestled away in the New York Botanical Garden Herbarium, lost to the annals of history – until a century later, when SGI's Executive Director, Dr. Dwayne Estes, discovered a new population in south-central Tennessee, nearly 250 miles from Porter's original collection site.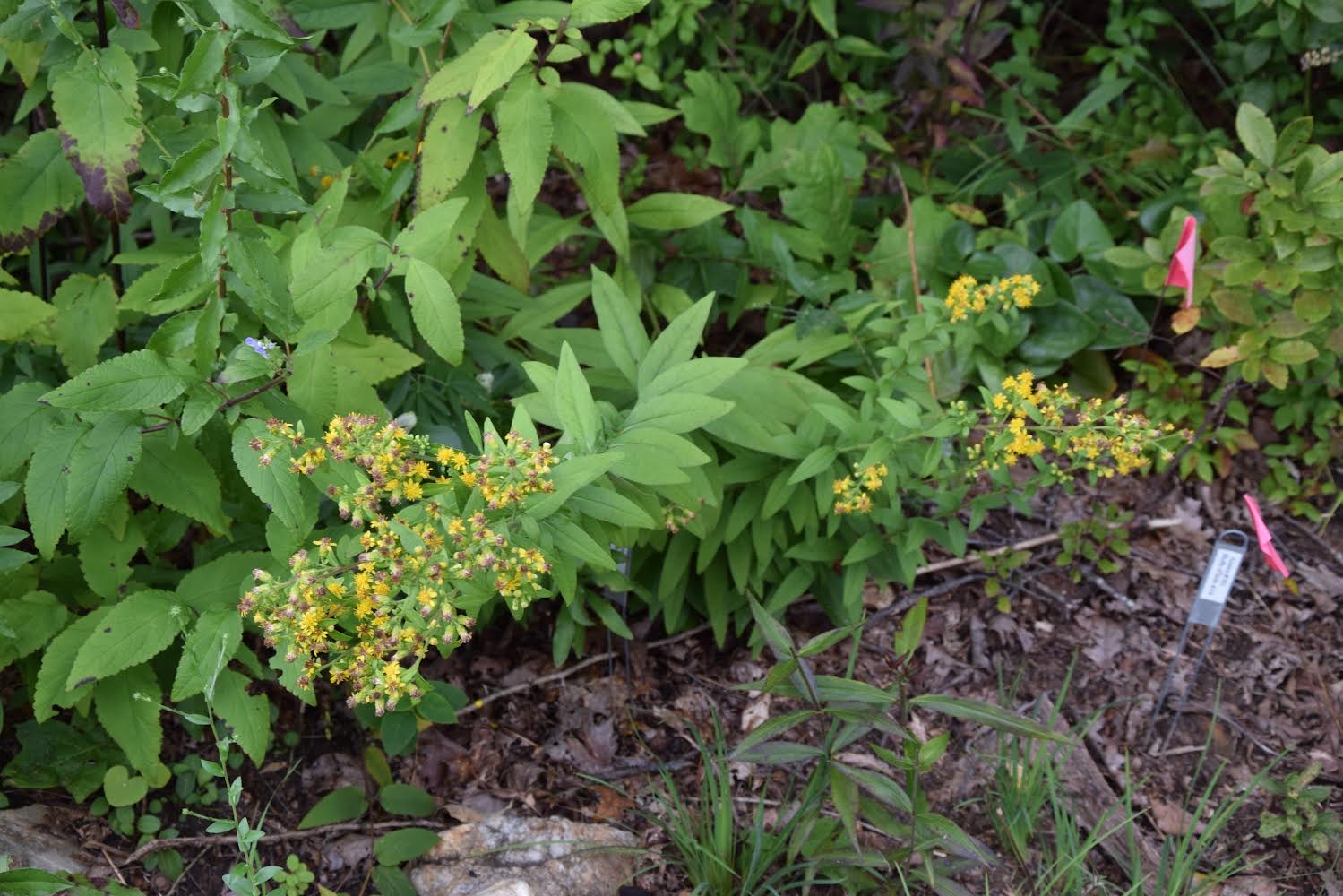 Today, Porter's Goldenrod is known from one population in Tennessee and two additional populations in northern Alabama, all three of which are on private property. A small population in Georgia, discovered circa 2010 in a narrow strip of woods between two houses in a residential development, has since been extirpated – with the exception of one remaining plant in the caring hands of horticulturists at the State Botanical Garden of Georgia.
Cooper Breeden, Plant Conservation Manager at SGI, spearheads the conservation efforts for Porter's Goldenrod. As a baseline, he has made seed collections from all known populations, which are maintained in SGI's Conservation Seed Bank. The work to save this goldenrod has allowed SGI to forge new partnerships, which have greatly improved our ability to advance the recovery of the Porter's Goldenrod.
The Porter's Goldenrod population in Tennessee is on an active Loblolly Pine plantation. Fortunately, the forestry management company that manages the site has not only been cooperative but has become heavily involved in its conservation. They designated a portion of the plantation where the Porter's Goldenrod occurs as a preserve, thinning the pines to reduce canopy cover and burning the site. They have also supported SGI staff and volunteers in managing the encroachment of woody plants and invasive species, as they work to restore the site to oak savanna habitat. Ultimately, SGI hopes to facilitate the permanent protection of the site through acquisition or easement.
Cooper has propagated a small collection of Porter's Goldenrod from the Tennessee population and is now working with horticulturists at the Nashville Zoo to maintain the propagules in a living collection. Some of these plants will ultimately be used in a reintroduction project on protected land. SGI has located several prospective sites and plans to begin a reintroduction project as early as Fall 2023.
While the one remaining individual Porter's Goldenrod from the Georgia population is being pampered at a botanical garden, SGI and partners hold out hope for the existence of more populations as yet undiscovered. Last summer, Cooper coordinated search teams with Georgia Department of Natural Resources botanists, as well as an ambitious biology student who volunteered a week of her time to search target areas in the vicinity of the extirpated population. Though the team did not find any new populations of Porter's Goldenrod, the effort was successful in another way: the discovery of several previously unknown populations of other rare plant species, including Appalachian Rose-gentian (Sabatia capitata) (G2); Smith's Sunflower (Helianthus smithii) (G2); and Fraser's Loosestrife, (Lysimachia fraseri) (G3). In years to come, SGI will continue working with other partners to coordinate search efforts.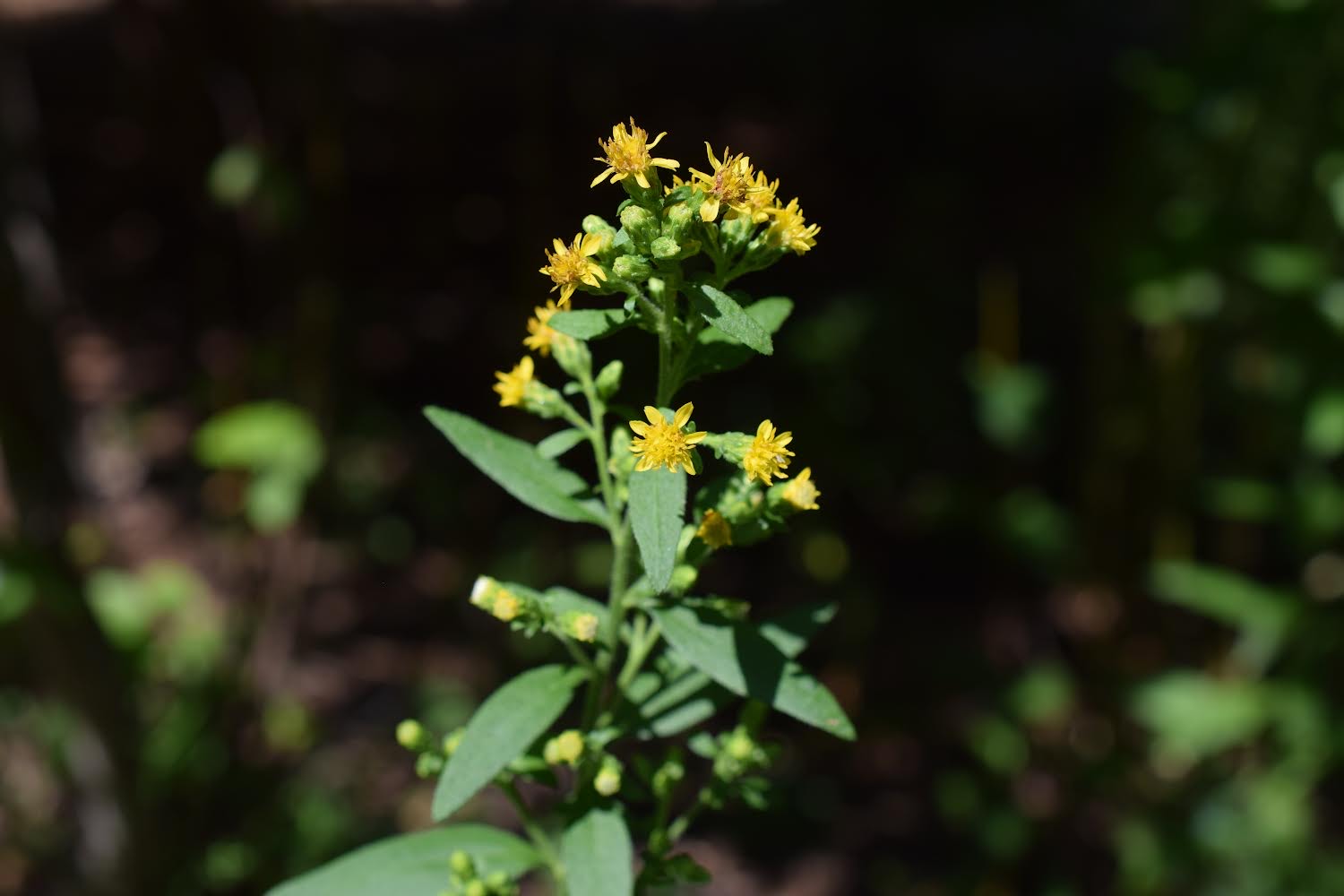 Porter's Goldenrod is not difficult to propagate and seems to be pretty hardy, once mature – which may leave people wondering about the reason for its rarity. Unfortunately, there is very little remnant savanna habitat in the Southeast, especially in the non-coastal regions where these populations occur. All populations are relegated to woodland margins along roads, in forgotten corners of residential yards, or in small openings in dense fire-suppressed woodlands. Restoring Porter's Goldenrod populations in the wild will require restoring the savanna habitat that is so crucial to its survival.
Conservation Champion
Jim Locklear
Director of Conservation, Lauritzen Gardens
February's Conservation Champion, Jim Locklear, is a long-time collaborator of the Center for Plant Conservation. As Director Conservation at Lauritzen Gardens–which, as the only botanical garden situated along the entire length of the Missouri River, has focused its conservation efforts on the Central Grassland of North America–Jim is dedicated to the preservation of imperiled grasslands habitats and plant species. We are thankful for Jim's work to conserve and advance our knowledge of these rare grasslands species, helping us Save Plants from extinction.
Background photo: Research by Lauritzen Gardens established that sandsage prairie is a biodiversity hotspot for the Great Plains. Photo by Jim Locklear, Lipscomb County, Texas.
When did you first fall in love with plants?
I was fortunate to have had the kind of "free-range" childhood described by Richard Louv in Last Child in the Woods. I spent a lot of time as a kid exploring the woodlands, pastures, and creeks near my home on the south side of Kansas City. I have always been drawn to the natural world, but those boyhood rambles sparked a special love and passion for plantlife.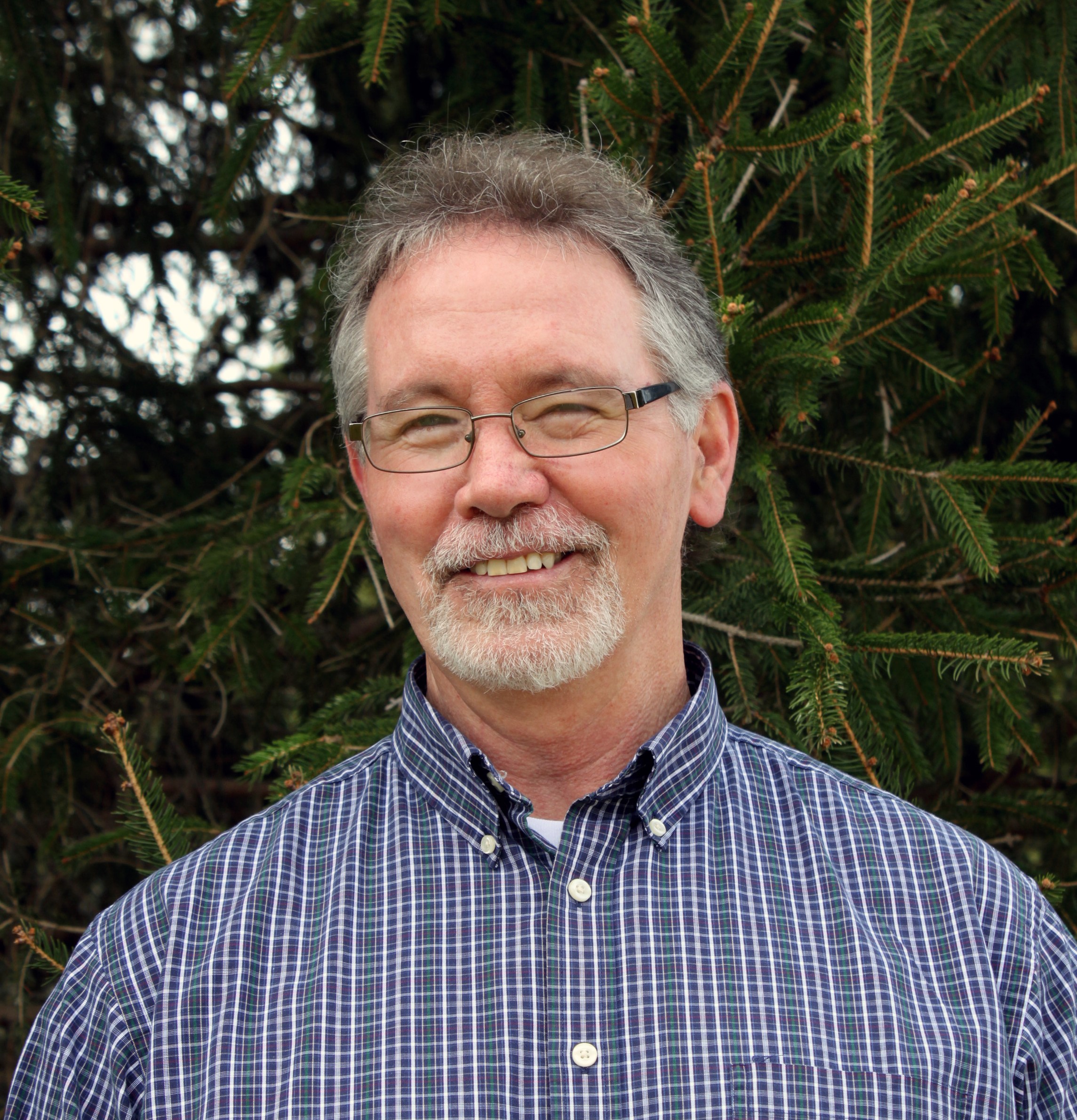 What was your career path to Lauritzen Gardens?
After graduating from the University of Central Missouri with a degree in Biology, I ended up working at a nursery in Kansas City. While I'd had botany classes in college, it was at Rosehill Gardens that I got schooled in horticulture, especially the unique joy of propagating plants from seed. I've now had the privilege of working at the Dyck Arboretum of the Plains (Hesston, Kansas), the Nebraska Statewide Arboretum, and Lauritzen Gardens (Omaha, Nebraska) – wonderful institutions where I've been able to pursue both botany and horticulture!
In your experience, what are some of the pressing conservation needs impacting the rare and native plants of the Midwest and Central Grassland of the United States?
Many of the imperiled plants of the Central Grassland are associated with naturally disturbed habitat, which makes on-the-ground management a challenge. An example is blowout penstemon (Penstemon haydenii), a critically-imperiled species native to the Nebraska Sandhills and an area of dune fields in central Wyoming. This beautiful wildflower is associated with areas of open sand called blowouts. It plays a unique role in revegetating this fragile and transitory habitat, but a narrow specialization makes it vulnerable to extinction. Managing sandhills grassland for the conservation of blowout penstemon means allowing – or even creating – areas of disturbance where this species can persist.  We have collected seed from several populations of blowout penstemon, some of which we have provided for restoration projects on ranches in the Nebraska Sandhills.
Much of your work is focused on grasslands habitats and species – what related conservation initiatives are you currently working on at Lauritzen Gardens?
Lauritzen Gardens is the lead institution for the Great Plains Bur Oak Project, which aims to safeguard the valuable drought tolerance of western bur oaks (Quercus macrocarpa) by collecting seed from stands in the central Great Plains. Living collections will be established from these seeds at a network of collaborating gardens and arboreta. We are also part of a coalition of gardens, led by the Minnesota Landscape Arboretum, that is working to conserve the imperiled butternut tree (Juglans cinerea). This relative of black walnut is disappearing throughout much of its range in the eastern U.S. due to a blight disease.
While much of our work with imperiled plants happens in places quite distant from Omaha, we are also committed to conserving and enhancing the biological diversity supported by our 100-acre property, with the aim of practicing the best possible ecological stewardship. To date, we have documented 161 birds, 62 butterfly species, and over 50 species of bees at the garden – which is remarkable, since we are located just minutes from downtown Omaha.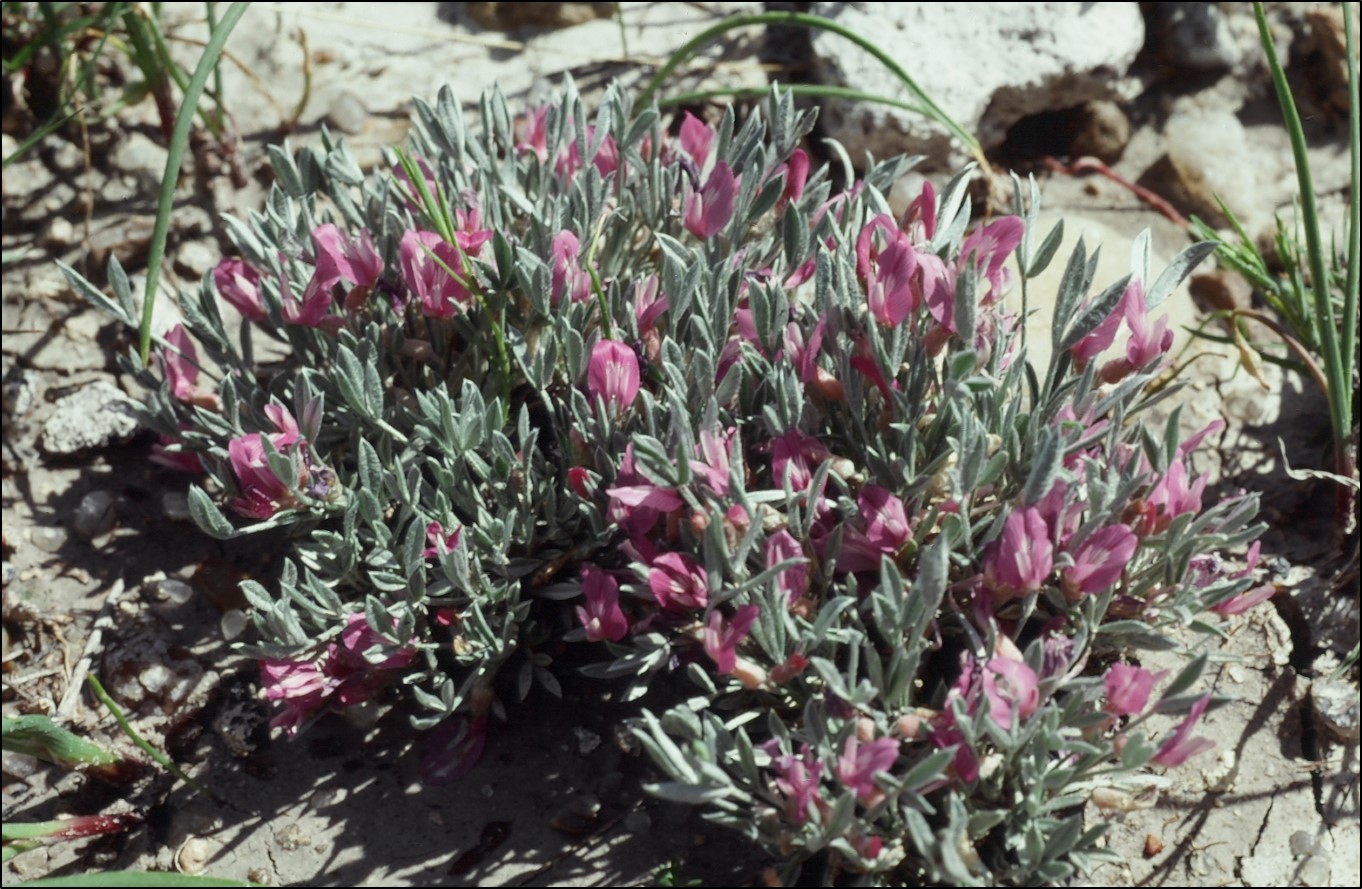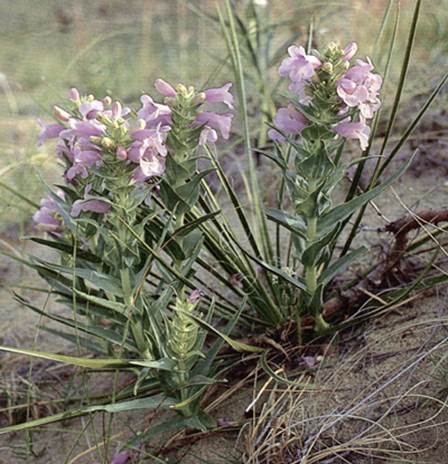 What successes or challenges have you encountered in your work?
The plant conservation program of Lauritzen Gardens is fairly young, having been launched "from scratch" in 2010. We've worked hard to build credibility and relationships with on-the-ground conservation practitioners in our region. Success is evident in collaborations with our partners, including the Nebraska Natural Legacy Program, the National Park Service, the U.S. Forest Service, and The Nature Conservancy.  Being a CPC participating institution (since 2012) has also connected us to a tremendous network of gardens across the country working on behalf of imperiled plants.
What has surprised you about working with and learning more about rare plants?
Rare plants are typically associated with rare places – either unique, specialized habitats or precious remnants of ecological systems that were once more widespread. Conducting conservation assessments of these plants and collecting seed for seed banking purposes has given me the privilege of seeing many fascinating and beautiful places in person.
What advice would you give to those who wish to learn more about how they can help save imperiled plant species?
Imperiled plants often occur in places that are distant, remote, and perhaps not even accessible to the general public. My recommendation is to get acquainted with the CPC participating institution in your particular region. Most of the gardens and arboreta associated with CPC have outstanding educational programs related to their regional flora and have living displays of native species that may include plants of conservation concern.
National Collection Spotlight: Missouri bladderpod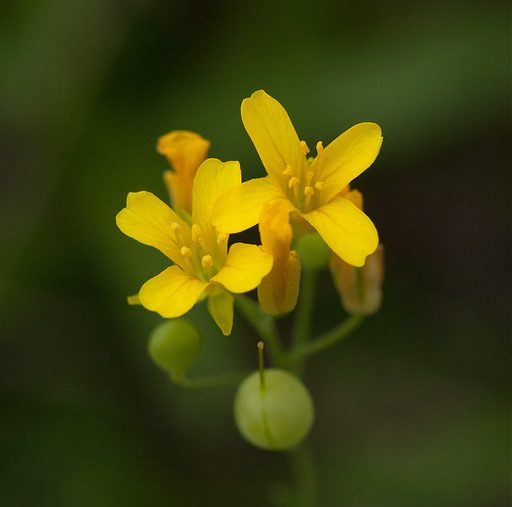 Missouri bladderpod (Physaria filiformis) is a vulnerable species native to Missouri and Arkansas. Bladderpods earn their common name by virtue of the globose fruits in which they carry their seeds. The Missouri bladderpod lives in limestone, dolomite, or shale glades, which are sparsely vegetated grasslands with shallow soils and exposed bedrock – just one example of the many types of grassland habitats across the United States. This rare plant was once considered endangered under the Endangered Species Act, but it is currently listed as threatened.
Physaria filiformis is held in the CPC National Collection at Missouri Botanical Garden, where conservationists are conducting a range-wide population genetics study. Missouri bladderpod is sponsored at Missouri Botanical Garden, helping to support conservation efforts for the species.
Learn more about conservation actions taken for Missouri bladderpod on its National Collection Plant Profile, and help support critical conservation work for rare plants with a Plant Sponsorship.
As Seen on CPC's Rare Plant Academy: Collecting Genetic Samples from Herbarium Plant Vouchers and Plant Populations
Herbarium vouchers provide both historical data on plant populations and plant tissue for future genetic analyses. How can field biologists help make such analyses possible for the rare plants they monitor and study? This video produced for the Rare Plant Academy from a storyboard by Dr. Jennifer Ramp Neale of Denver Botanic Gardens describes ideal methods for sampling and storing plant tissue for future genetic analysis. One key objective is to maximize genetic diversity by collecting tissue from multiple individuals in each wild population. This will enable researchers to obtain useful information to help maintain a population which may be declining or facing increased threat. Learn more about genetic samples from herbarium vouchers on the Rare Plant Academy.
Save the Date: 2023 National Meeting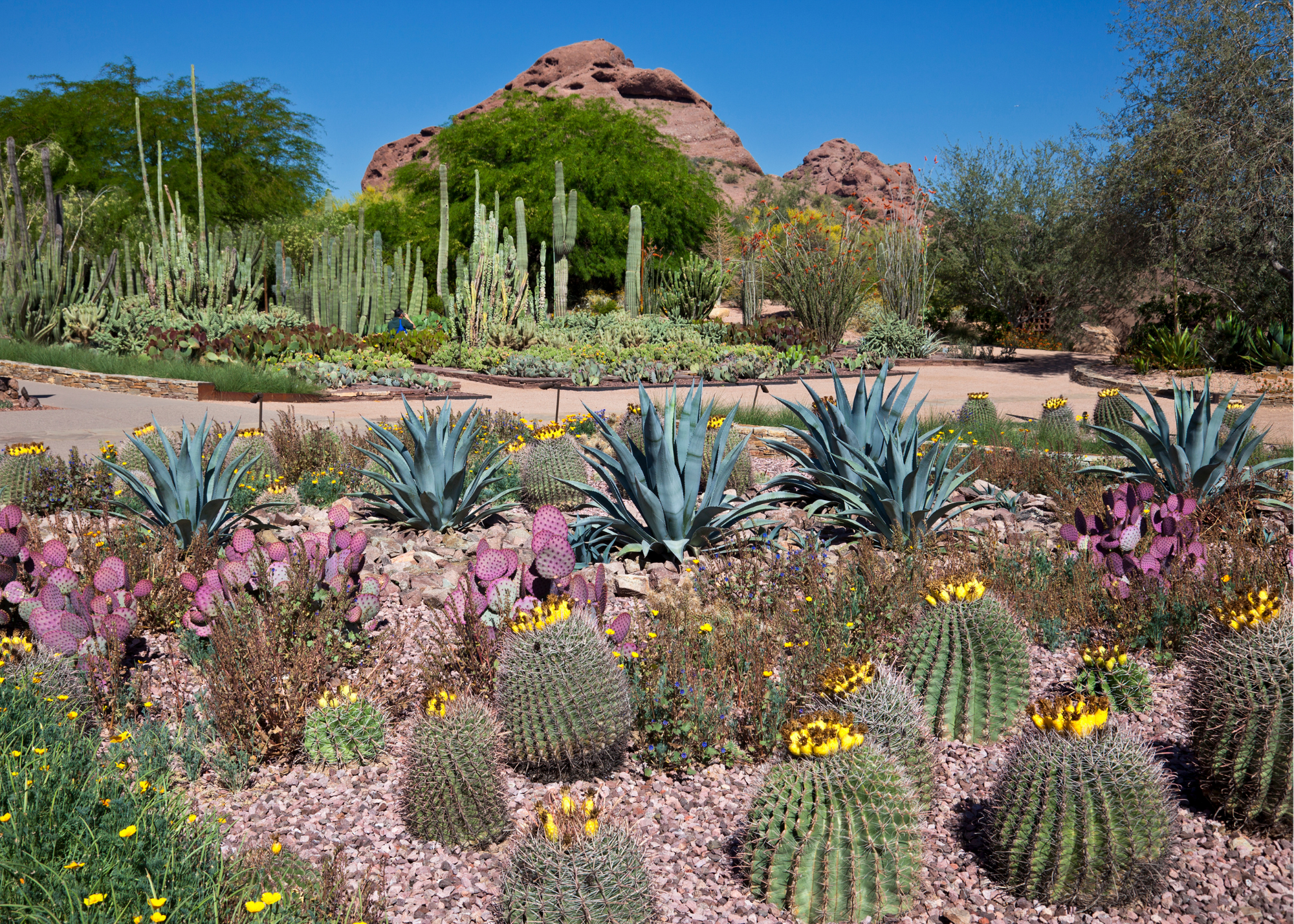 Mark your calendars – we are thrilled to announce that the 2023 CPC National Meeting will take place May 4-6! Back by popular demand, the 2023 meeting will feature a hybrid format, with both in-person and online presentation sessions highlighting the theme of "On the Horizon: Looking to the Future of Plant Conservation." In-person sessions will be held at Desert Botanical Garden which offers 55 acres of gardens and trails for you to explore and immerse yourself in the beauty of the desert. In-person sessions will be live streamed and recorded for later viewing on the conference platform. Virtual attendees will also have access to pre-recorded presentation content and virtual breakout sessions.
Presentation sessions will include updates from the CPC National Office on network-wide initiatives, plus lightning talks from CPC network partners on plant conservation research, accomplishments and challenges, and future initiatives.
We welcome both Institutional and Individual Conservation Partners to submit abstracts for presentation sessions highlighting this year's theme of "On the Horizon: Looking to the Future of Plant Conservation." We encourage our contributors to consider presentation proposals that spotlight new conservation projects and research; ways your institution is visioning the field of plant conservation, goals, and outcomes in the future; or topics that otherwise adhere to the theme.
Visit our website for important dates and information for the 2023 National Meeting. Registration offerings and more details coming soon!
Get Updates
Don't miss out on current events and updates. Get content instantly by signing up for our newsletters.
Sign Up Today!