Save Plants
Center for Plant Conservation
Our 2023 National Meeting at the beautiful Desert Botanical Garden in Phoenix, AZ, was a stimulating and well-attended hybrid meeting, with 170 participants both in person and online representing a broad cross-section of the CPC network. The desert flora in full bloom was the perfect backdrop to inspire our members to share their conservation accomplishments and challenges, establish new collaborations, explore future possibilities, and strengthen relationships. Additionally, I was tremendously inspired and energized by the passion and commitment to plant conservation in all its forms from everyone I met. This transformational experience reinforced my commitment to supporting and expanding our joint mission to save rare plants from extinction.
As such, we took the opportunity at this year's conference to introduce our brand-new '40 for 40' campaign, which is designed to celebrate CPC's upcoming milestone 40th anniversary and support the conservation work of our network partners through CPC's Plant Sponsorship Program. Our goal: to raise $200,000 to sponsor 40 plant species in the National Collection in honor of our 40 years of saving plants from extinction. We've curated a special selection of rare plant species in need of sponsorship as part of this 40th anniversary campaign—highlighting the incredible beauty and diversity of North America's rare and endangered plants. These 40 species represent the urgent and enormous challenge that CPC and our conservation partners face—to save these precious plants before they are lost to us forever. But they also represent the interconnectedness and value of all rare plant species, and hope for a future where both plants and people thrive together.
Becoming involved in preventing extinction is a choice—a realization that every species is precious and deserves to flourish as part of our global ecosystem. Our National Meeting always serves as an inspiring reminder that we are not alone in this fight to prevent extinction, and that by working together, we can achieve our conservation goals. I invite you to join us in supporting this campaign as we continue our work to save rare and imperiled plants from extinction.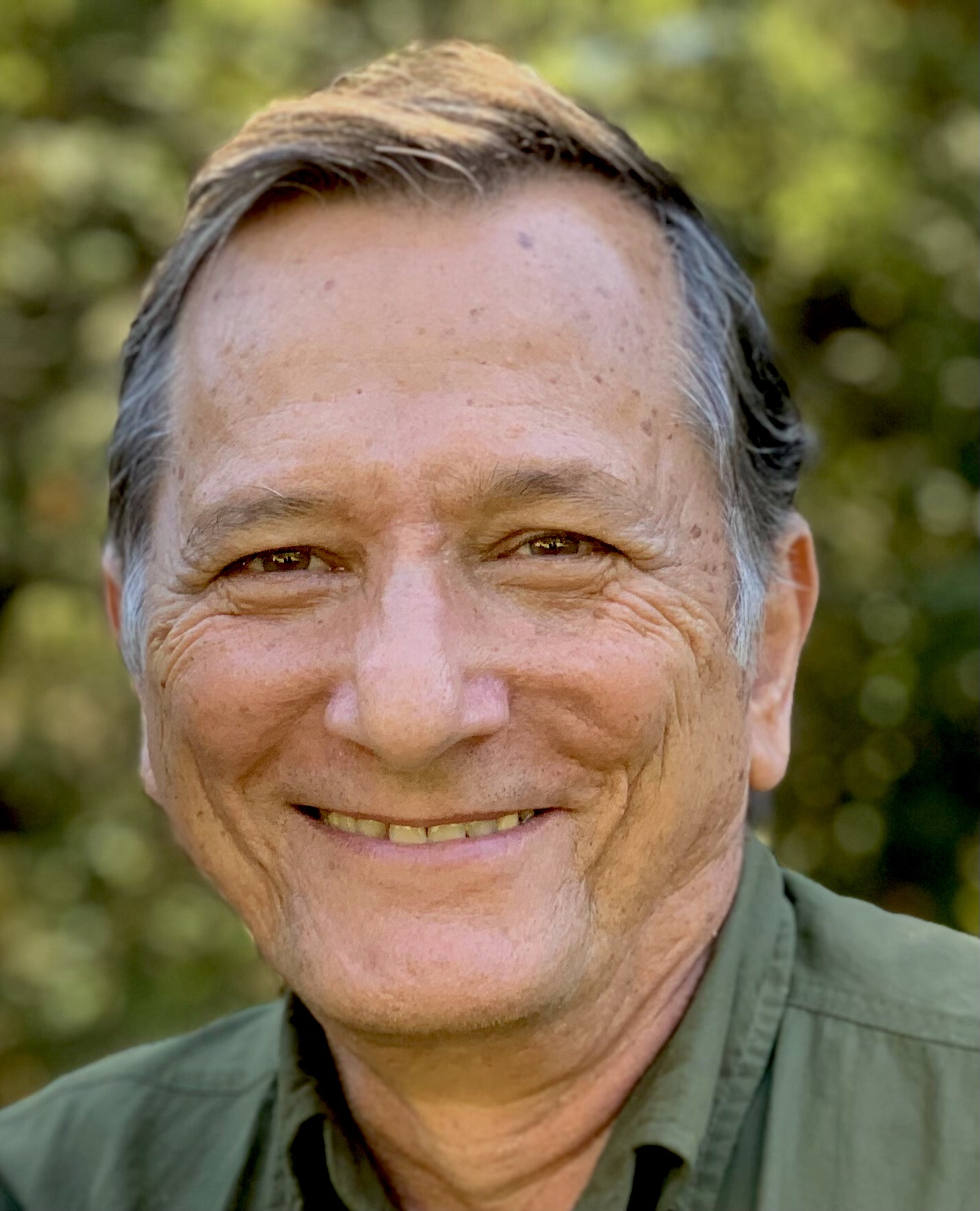 Carlos L. de la Rosa
President & CEO
2023 National Meeting
State of the Center for Plant Conservation
During the National Meeting, the CPC National Office team gave a series of presentations highlighting CPC-led initiatives that support our network's shared mission to Save Plants from extinction—ranging from federal grant-funded projects and improved CPC database resources to the launch of a new professional training module on rare plant conservation and much more. We were also pleased to introduce CPC's new President and CEO, Dr. Carlos L. de la Rosa, during his inaugural National Meeting. CPC is proud to support our conservation community through these programs and resources—learn more below!
Background photo: Courtesy of Desert Botanical Garden
A Vision for Rare Plants and Ecosystem Conservation
In his first National Meeting address, CPC's new President & CEO, Dr. Carlos L. de la Rosa, shared his exciting vision for CPC, its role in plant conservation, and more broadly, how our work impacts ecosystem health and conservation. With a background in aquatic ecology, Carlos shared highlights from his work and research on the relationship between plants and their insect associates—such as the purple pitcher plant and the mini-aquatic ecosystem they support with non-biting midges in Pennsylvania and aquatic tree hole habitats in Costa Rica that support helicopter damselflies. This work inspired a keen appreciation for plants, which Carlos now brings to CPC along with his deep understanding of the vital connections plants have with other organisms in their ecosystems—and how protecting plants from extinction is critical in preserving thriving ecosystems and a healthy planet.
Carlos also shared his vision for CPC and plant conservation both in North America and globally; CPC's strategic initiatives and areas of focus and how our organization and network partners are addressing major conservation threats such as climate change, urban development and habitat loss, and more; opportunities to expand our conservation goals through CPC's current regional initiatives, California Plant Rescue and Florida Plant Rescue; the need for effective storytelling and messaging to share our work and garner support from the general public, policy makers, and donors; and his 'safety net' concept for CPC's role in plant conservation—from building the safety net through seed collections and field work, strengthening the safety net through collection management and ex situ conservation, and using the safety net by utilizing ex situ collections for reintroductions and restoration. With Carlos at the helm, CPC is eager to continue our work to save plants from extinction and make this vision a reality.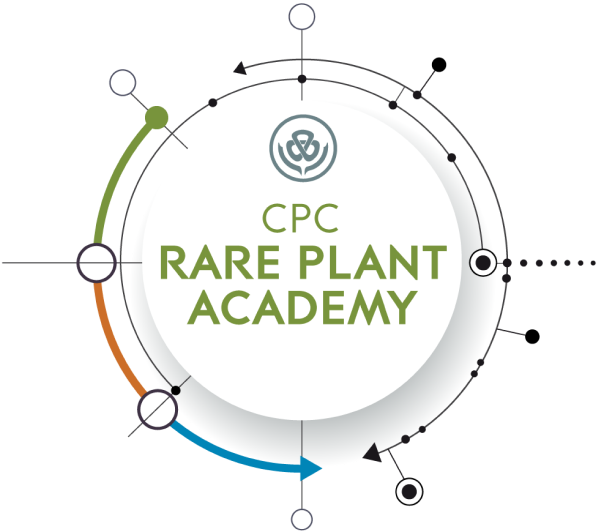 Rare Plant Academy Grant Recap
With the completion of the CPC's IMLS National Leadership grant (MG-70-18-0063-18) in October 2022, the CPC Rare Plant Academy (RPA) has been established as a go-to multi-media resource for rare plant conservation education and expertise. This four-year $500,000 grant (2018-2022) facilitated key improvements to the RPA platform—and broader CPC website—to better serve our community of conservation partners. Work focused on three main website components—Best Practices Guidelines, Video Library, and Community Forum—which have been fully integrated into the website's existing structure. The improvements to CPC's website over the course of the grant have drastically increased year-over-year website traffic, with the number of unique visitors increasing from 24,000 to 64,641. Additionally, in a community survey sent to CPC partners, 68% of respondents reported they had used RPA resources between 3 to 16+ times in the last 12 months, and 85% of respondents were "likely" or "very likely" to recommend RPA resources to others, with some sharing that they "use these resources all the time and share them with other institutions" and that "[they] send people to RPA fairly frequently when they reach out…for guidance on certain plant conservation topics." As more and more people access, utilize, and share these publicly accessible conservation resources, CPC is fulfilling its mission to advance science-based conservation practices and connect and empower plant conservationists.
Launch of the Applied Plant Conservation Course Module 1
Since 2021, CPC has been leading the development of the Applied Plant Conservation Course— a brand-new professional development resource that will serve to train our current and future botanical workforce in the best practices of rare plant stewardship and conservation. The course will bring the CPC Best Practices Guidelines to life as an educational tool for those working with rare and native plants at any stage in their career. Though the bulk of the course is still in development, CPC staff were pleased to announce at the National Meeting the launch of the first module of the course entitled, Introduction to Rare Plant Conservation. In this module, participants will explore topics including 'Why We Conserve Rare Plants,' 'The Nature of Plant Rarity,' 'Rare Plant Resources and Conservation Ranks,' 'Rare Plant Ecology,' and 'Rare Plants on Public Lands.' The Applied Plant Conservation Course is a free resource accessible to audiences around the world through the Rare Plant Academy platform. Partial funding for the course is generously provided by the Bureau of Land Management offices of California, Colorado, and Nevada, and CPC is thrilled to be working with partners from 18 institutions throughout our network to create course content.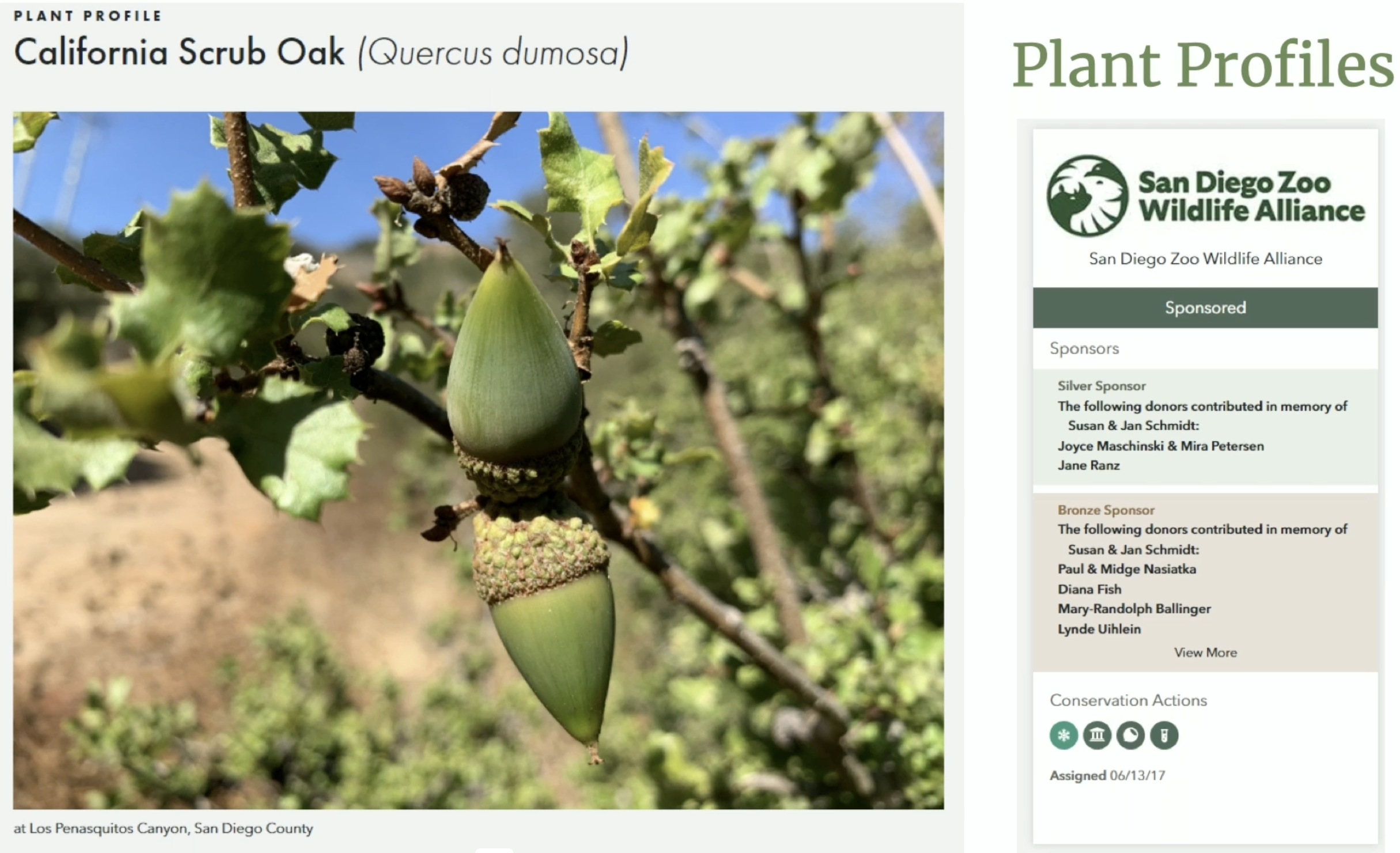 Growing the CPC National Collection Through RPA and Regional Initiatives
CPC has been hard at work growing the National Collection in two significant ways: knowledge and numbers. We are expanding our depth of knowledge of rare plant species in the National Collection by synthesizing our network's collective knowledge and developing robust, informational Plant Profiles on CPC's website for each plant species. These Plant profiles (see Quercus dumosa for an example) contextualize research and conservation actions while integrating RPA video and photo resources, newsletter articles, pollinator and reintroduction database information, and more. By demonstrating the anatomy of a Plant Profile during the National Meeting, CPC wishes to empower our network partners to make regular updates to these profiles to share up-to-date knowledge about the rare plants they steward. Furthermore, we're growing the total number of plant species accessioned in the National Collection, primarily through the California Plant Rescue (CaPR) and Florida Plant Rescue (FLPR) regional seed collection initiatives.
To aid these efforts, CPC has introduced a CaPR database to synthesize information about target California species, from occurrences to accessions. It also features a targeting tool that allows partners to filter based on taxa, protection status, accession information, geographic region, land ownership status, and more for better targeting metrics. In 2022, 156 species were added to the National Collection throughout the network—112 of which were collected through CaPR and 13 from FLPR. These regional initiatives allow us to make meaningful progress toward our goal of securing all 4,400 rare and endangered North American plant species in the National Collection.
CPC Reintroduction Databases
In December 2022, CPC re-launched our CPC Reintroduction Database. This resource represents a harmonization of the CPC International Reintroduction Registry and the more recent REDCap Dataset compiled by Matthew Albrecht and Oyomoare Osazuwa. This database contains over 400 projects involving 187 species across 25 states. Aside from the reinstallation of the new database on CPC's website, work on this database project over the past year led by Dr. Joe Bellis, a recent graduate of Liverpool John Moores University, has produced a public-facing Reintroduction Registry and significant progress on three active peer reviewed manuscripts: 1) the completion of the REDCap synthesis focusing on determinants of reintroduction success, 2) a descriptive account of the database in a special issue of Applications in Plant Sciences (APPS), and 3) an analysis of the effect of spatial factors including climate suitability on reintroduction success.
The REDCap manuscript is in the final round of review by co-authors and will be submitted to Conservation Biology in summer 2023. Key findings from the initial synthesis efforts from this database were shared and a new grant opportunity was announced to help encourage CPC practitioners to test out this improved resource and update records for reintroduction projects submitted in the past.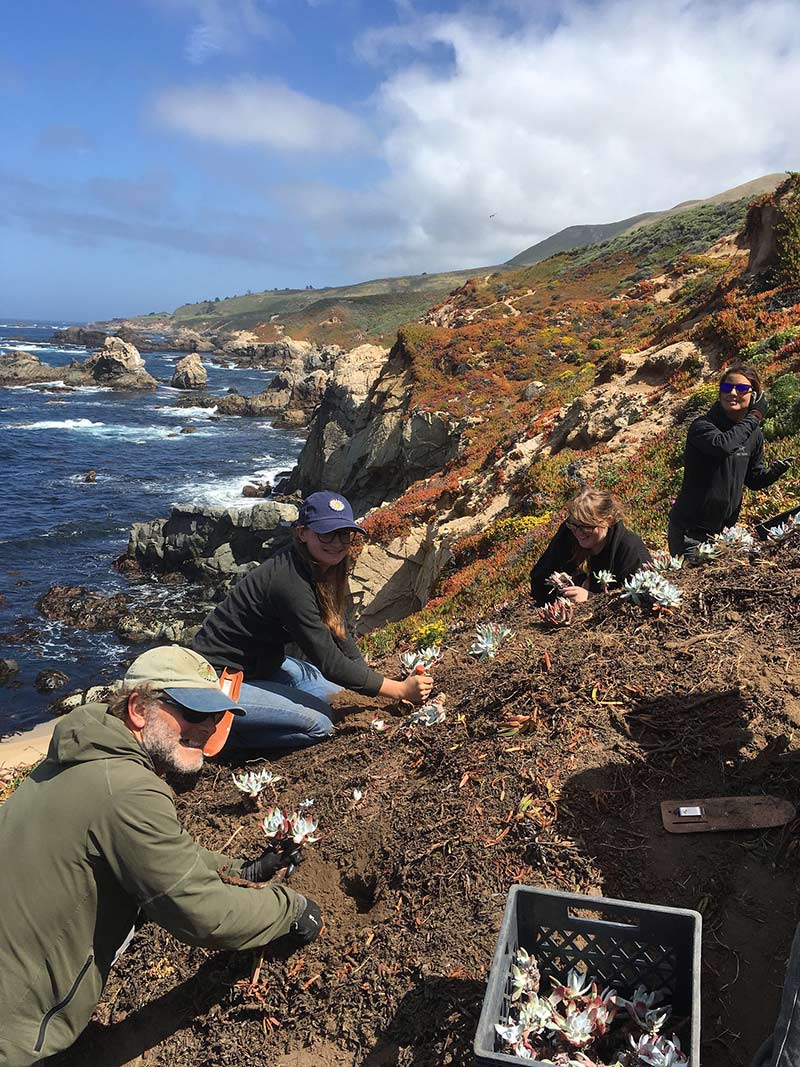 2023 National Meeting
Keynote Address: Agaves and Humans—An Affair for the Ages
The long and interconnected history between plants and humans was a pillar of Wendy Hodgson's keynote address at our 2023 National Meeting, entitled "Agaves and Humans—An Affair for the Ages." As Herbarium Curator Emerita & Senior Research Botanist at Desert Botanical Garden, Wendy's expertise studying native agaves in the area made for a fascinating discussion of the role of agaves in the cultures of Indigenous Peoples north of the U.S.-Mexico border. At least six kinds of agave were domesticated and grown by pre-Columbian farmers in Arizona, and it's possible there were up to 8 kinds or more, dating as far back as 600 A.D. Providing a glimpse into history, many relict agave clones have persisted since their cultivation in pre-Columbian cultures.
Background photo: Sacred Mountain agave (Agave verdensis Hodgson & Salywon). Photo courtesy of Desert Botanical Garden.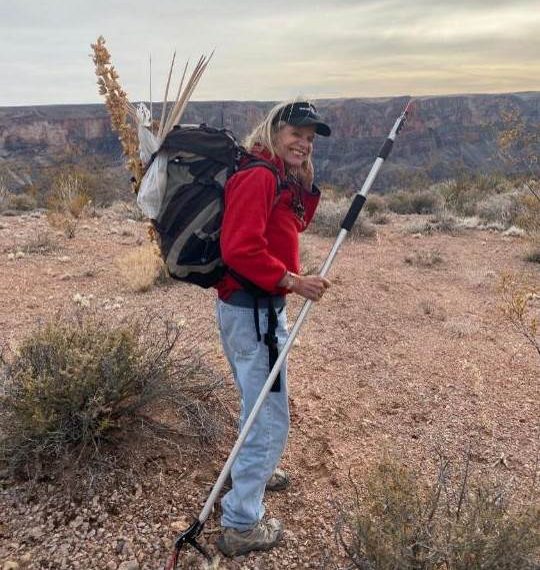 These agaves were and are a critical component of Arizona's indigenous cultures, serving as food, fiber, and hydration. Studying these plants goes hand in hand with studying pre-Columbian nutrition, trade, migration, and agricultural practices. In Wendy's words, "Plants, including agaves and cacti, and Indigenous People have co-adapted remarkably to living in the culturally and biologically diverse Sonoran Desert for millennia. Learning from this mutual relationship can help us meet challenges we are now facing."
After the National Meeting concluded, Wendy led a field trip excursion for conference attendees to Arizona's Verde Valley to view agave sites along with Andrew Salywon, Herbarium Curator and Research Botanist at Desert Botanical Garden. Whether while engaged by her keynote address or while surrounded by agaves in the Verde Valley, Wendy illustrated beautifully the long and continuing history humans share with plants.
2023 Star Award: Steve Blackwell
Following an exciting first day of conference proceedings, CPC was thrilled to present the 2023 Star Award to Steve Blackwell, Conservation Collections Manager at Desert Botanical Garden, at our annual Star Award Banquet. The CPC Star Award honors those who demonstrate the concern, cooperation, and personal investment needed to conserve our imperiled native plants. As a longtime partner in the CPC network, Steve has made many valuable contributions to the field of plant conservation, particularly in support of Southwest species. Among his many successes, his contributions to the Arizona hedgehog cactus (Echinocereus coccineus var. arizonicus) salvage and reintroduction project exemplifies how excellence in conservation horticulture can save imperiled plants at risk of extinction.
Widely known as a passionate, kind, and innovative colleague, Steve brings these invaluable qualities to his work where he goes above and beyond to steward the rare plants in his care­—from overseeing the seed lab and propagating rare plants in the conservation greenhouse, to utilizing scent-detection dogs to locate hard-to-find rare plants in the wild. Steve is a truly remarkable plant conservationist and colleague, and we are proud and grateful to have him as part of CPC's conservation community. Congratulations, Steve!
CPC's 4th Annual National Meeting Photo Contest
Wonderful snapshots of rare plants, researchers in the field, and beautiful habitats took center stage for the 4th Annual National Meeting Photo Contest. Entries were received from across the CPC network, with many beautiful photos competing for top prizes. Brian Harding (Conservation Horticulturist, Fairchild Tropical Botanic Garden) earned first place with a gorgeous photo of the globally critically imperiled Harrisia fragrans (fragrant prickly-apple cactus) blooming in the night.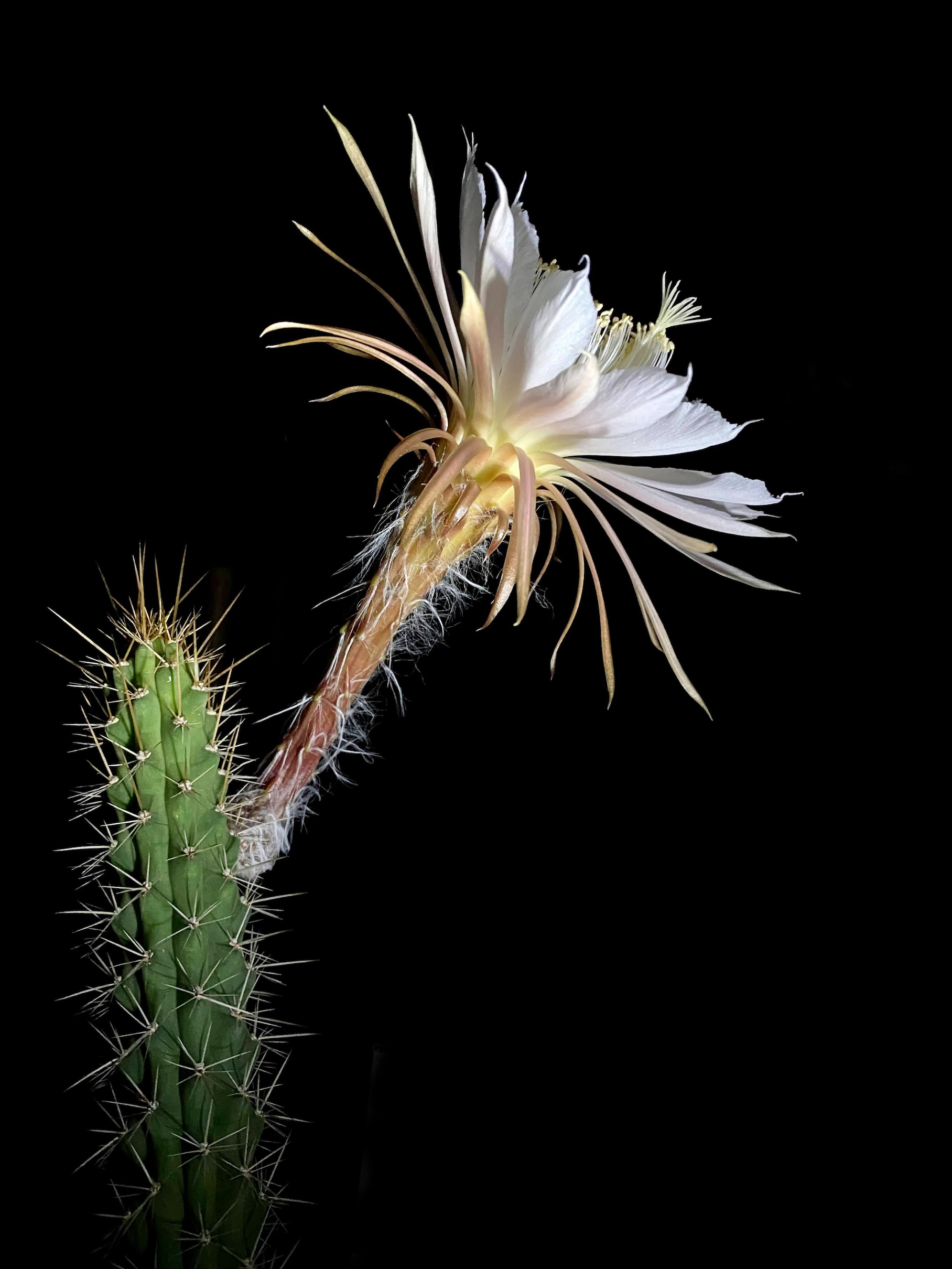 Last year's first-prize winner, Joe DeWolf (Conservation Specialist, San Diego Botanic Garden), took second place with a stunning image of Anza Borrego Desert during a superbloom.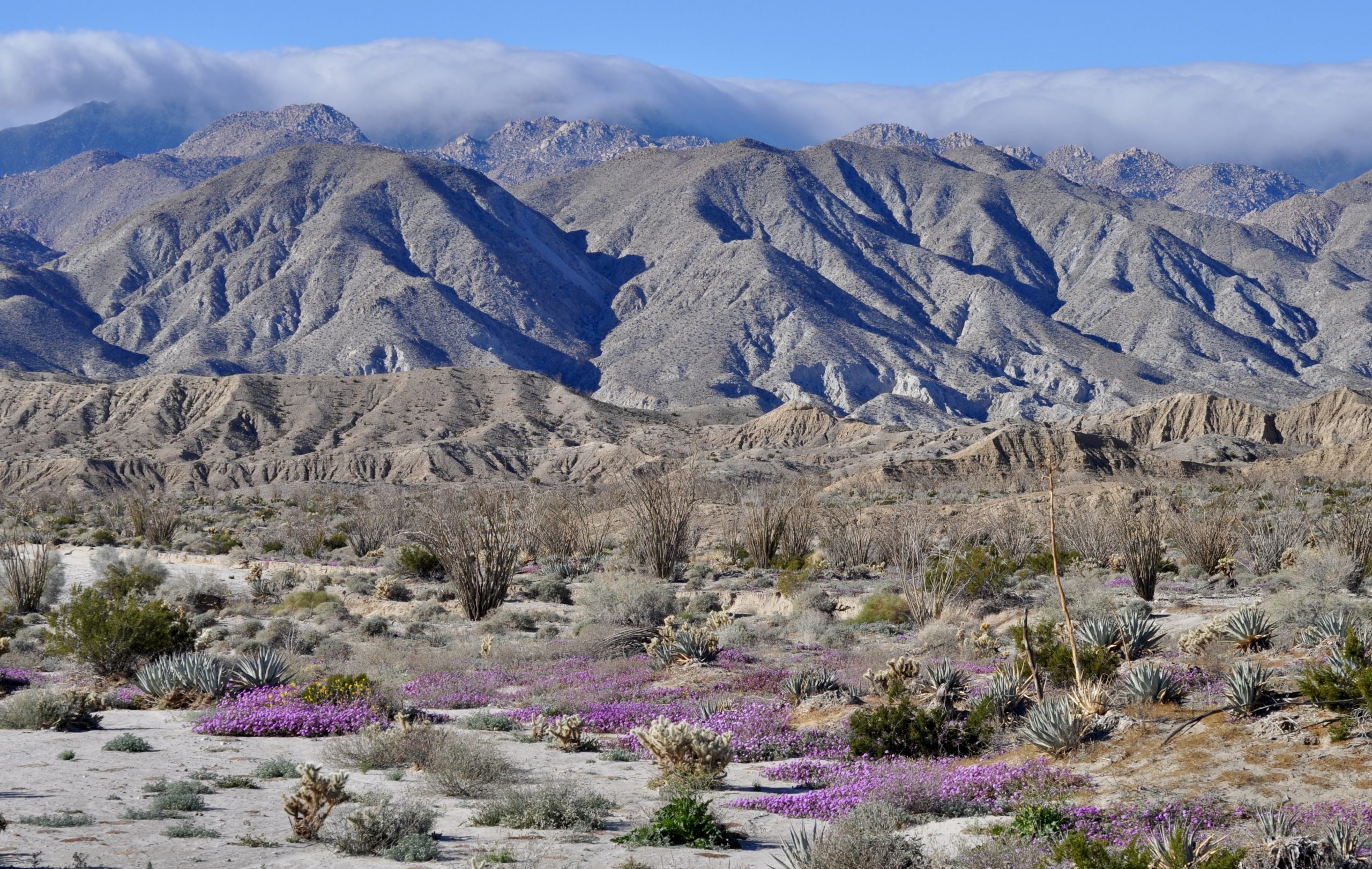 Third place went to Michael Kunz (Associate Director of Conservation Programs, North Carolina Botanical Garden) for his captivating image of Sarracenia purpurea var. montana seeds ripe and ready for collection.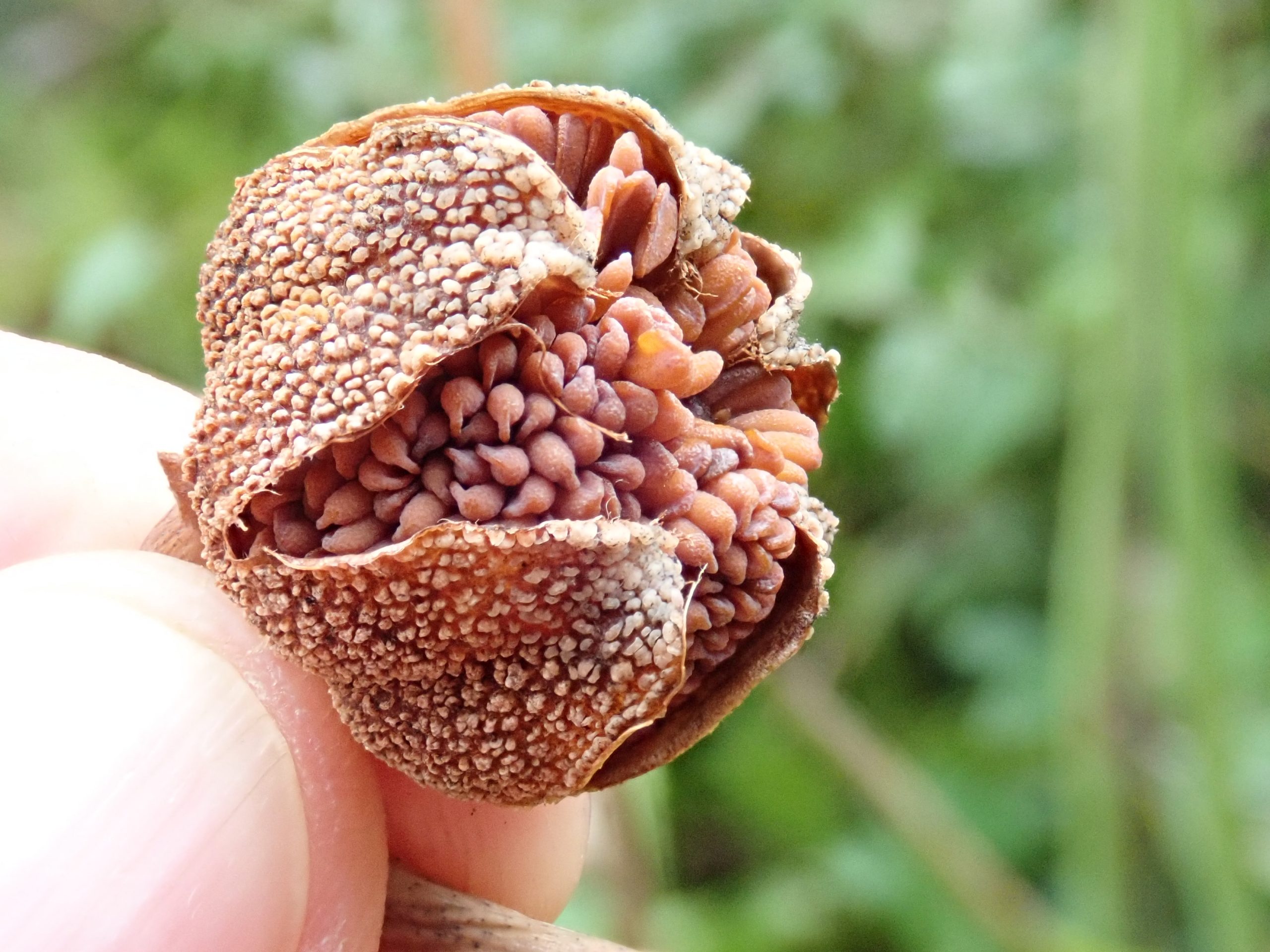 Congratulations to our Photo Contest winners and thank you to everyone who participated!
Center for Plant Conservation
Welcome to CPC: New Participating Institution
The Center for Plant Conservation (CPC) is pleased to welcome a new plant conservation organization to our network of Participating Institutions: Coastal Maine Botanical Garden. Now 74 members strong, the CPC network brings together plant conservationists from across North America and is strengthened by the knowledge and experience that each institution brings. Together, our network makes it possible to Save Plants.
Background photo: Aliciella formosa. Photo Credit: Vida Svahnstrom.
Coastal Maine Botanical Garden
Participating Institution | Boothby, Maine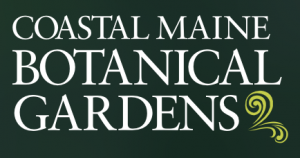 The mission of Coastal Maine Botanical Gardens (CMBG) is to inspire meaningful connections among people, plants, and nature through horticulture, education, and research. CMBG is currently developing a new conservation and research program with a focus on mitigating climate change impacts to plants in Maine's ecoregions. The planned Plant Science and Horticulture Center at CMBG will house a growing team of conservation biologists and horticulturists conducting research alongside labs, a new seed bank and preparation room, CMBG's growing herbarium of 6,000+ specimens, a research library, office space, and connected greenhouses.
CMBG curates living collections of many North American native plants including several rare and endangered species native to Maine and nearby states. In addition to native plant collections in display gardens, CMBG is building an ex situconservation collection of Asclepias (milkweed) species. We are thrilled to welcome CMBG to the CPC network, and are excited to watch their conservation program grow and flourish.
National Collection Spotlight: Canelo Hills Ladies'-tresses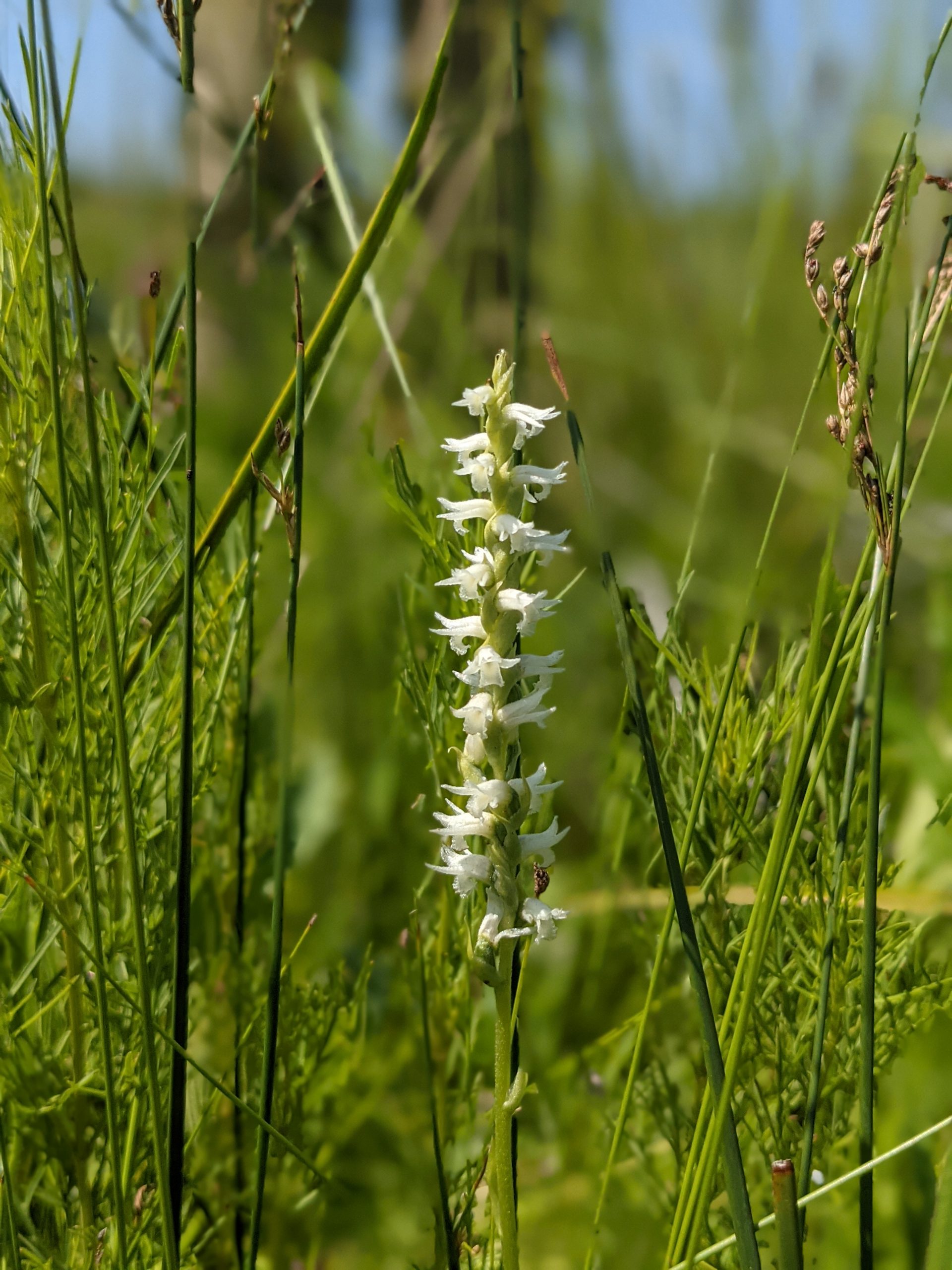 Canelo Hills Ladies'-tresses (Spiranthes delitescens) is a critically imperiled orchid species endemic to southern Arizona. Small white flowers line the twisting inflorescence of this terrestrial orchid, with as many as 40 flowers appearing on each inflorescence. There are currently just two known extant populations of this rare species, and it is listed as Endangered under the federal Endangered Species Act. The cienega habitat, a type of marshy wetland in the Southwest, that this species calls home is limited in availability and the two known remaining populations exist on private land.
Scientists at Desert Botanical Garden have been working with the U.S. Fish and Wildlife Service, the Smithsonian's North American Orchid Conservation Center, and private ranchers to conserve this species through propagation and fungal research. Researchers are also working with trained ecological scent detection dogs to locate new individuals and subpopulations as well as historical populations that have not been documented for decades. This orchid is held in the CPC National Collection at Desert Botanical Garden, Arizona Sonora Desert Museum, and Cincinnati Zoo & Botanical Gardens.
Learn more about conservation actions taken for Canelo Hills Ladies'-tresses on its National Collection Plant Profile, and help support critical conservation work for this species with a Plant Sponsorship.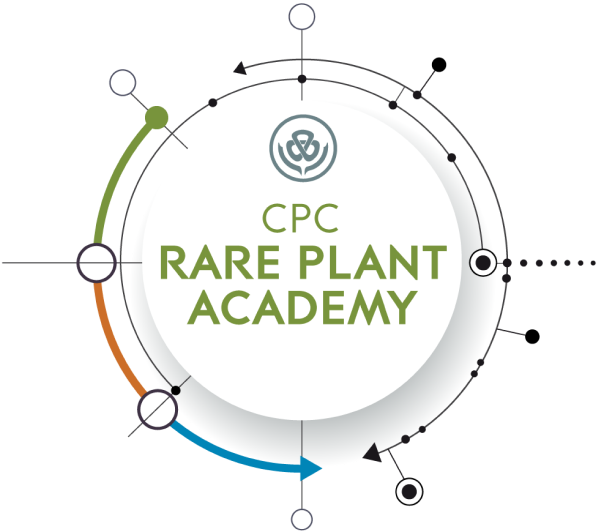 As Seen on CPC's Rare Plant Academy: Revisiting the 2022 CPC National Meeting on RPA's Conference Recordings
Did you know the Rare Plant Academy Video Library hosts many recordings of recent conferences? Recordings of presentations from this year's National Meeting will be available on RPA later this month, but until then, you can revisit presentations from last year's National Meeting at Denver Botanic Gardens! Our 2022 meeting was themed around "Celebrating Conservation Milestones," and presentation topics ranged from advancements in knowledge and practices for conservation methods to progress in leveraging collaboration in conservation, as well as milestones reached for individual species' protection ex situ. View 29 presentations encompassing both recorded in-person talks and pre-recorded online-only talks on the RPA Video Library now! Stay tuned for 2023 National Meeting presentations coming soon.
Get Updates
Don't miss out on current events and updates. Get content instantly by signing up for our newsletters.
Sign Up Today!