Welcome to New CPC Board Members
In the past year, the Center for Plant Conservation (CPC) has been fortunate to add four new members to our Board of Trustees, each bringing a wealth of knowledge, unique professional experiences, and a profound enthusiasm and commitment to CPC's mission to safeguard imperiled plants. We thank them for joining our team and supporting our work to Save Plants!
Flowers bloom in the Anza-Borrego desert, March, 2019. Photo by Caroline Iacuaniello.

Allison Alberts, Ph.D. (San Diego, CA)
Allison served as Chief Conservation and Research Officer at San Diego Zoo Global, where she established a team dedicated to plant conservation and a native plant seed bank. She is Board President of Eden Project USA, serves on the Advisory Board of the Mohamed bin Zayed Species Conservation Fund, and is a Senior Advisor at Ecoleaders LLC. Allison is a member of the IUCN Conservation Planning and Conservation Translocation Specialist Groups and advises the Reverse the Red initiative. She serves on the board of the San Diego Natural History Museum and is a long-time member of the California Native Plant Society. In 2015, she was honored with the Athena Pinnacle Award for excellence in recognition, promotion, and mentorship of women in science.
"Plants are essential to life on our planet and we cannot survive without them.  They make life possible, providing us with clean air to breathe, food to eat, medicine to heal, and so much more.  At the same time, they nurture our souls through their endless beauty and variety." – Allison Alberts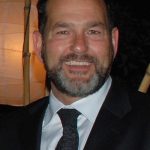 Damon E. Waitt, Ph.D. (Chapel Hill, NC) – Trustee
Dr. Damon Waitt is Director of the North Carolina Botanical Garden and Professor of the Practice in Biology at the University of North Carolina at Chapel Hill. As Director, Damon has broad responsibility for overall leadership and management of the North Carolina Botanical Garden and for ensuring that the Garden fulfills its mission to inspire understanding, appreciation, and conservation of plants and to advance a sustainable relationship between people and nature. Damon came to the North Carolina Botanical Garden from the Lady Bird Wildflower Center in Austin, Texas, where he served as Senior Director and Botanist from 2001-2015. Damon has served on the Invasive Species Advisory Committee of the National Invasive Species Council, as President of the Texas Academy of Science and the Texas Invasive Plant and Pest Council, and as board chair of North Carolina's Plant Conservation Program. Damon holds a Ph.D. in Botany from the University of Texas in Austin, an M.S in Botany from Louisiana State University Baton Rouge and a B.S. in Biology from Tulane University.
"It is important to save plants because plants will be essential to solving the grand challenges of this and the next century, including climate change, sustainability, food security, and preservation of ecosystem services. Safeguarding rare plants through the activities of the CPC is the fundamental first step to protecting all plants upon which all life depends." – Damon Waitt

Alison Luckman (Hailey, ID) – Trustee
Alison is a homemaker, living in Hailey, Idaho. She was born, raised, and lived in Los Angeles until her early forties. While in Los Angeles, she was chairman of the Bel Air Garden Club and participated in a myriad of charitable organizations. Since being in Idaho, she has served on the board of the Sun Valley Music Festival and maintains an interest in several local philanthropies. Her hobbies include hiking the local mountains and maintaining her home landscape and vegetable gardens.
"Answering why it is important to save plants is beyond my scope of words.  I believe that saving our plants is ultimately the most important thing that we can do.  It saves our air, it saves our animals, it saves our lives.  If there is any way that I can be involved in maintaining our plant diversity, I will consider it to be my most important contribution to future generations.  I am very grateful to have been selected to serve on this board." – Alison Luckman

Nancy Ylvisaker (St. Louis, MO) – Trustee
Nancy worked in finance in NYC for 17 years, first at JP Morgan as an investment banker and then President of its Community Development Corporation (CDC), and then at Merrill Lynch as the head of its CDC. Moving home to St. Louis in 2001, she served as President of historic Bellefontaine Cemetery & Arboretum, a Level II arboretum, and public educator on the NRHP. She also headed Bellefontaine's community development affiliate. Nancy is the board chair for The Nature Conservancy in Missouri, and on other boards including the Danforth Plant Science Center Leadership Council, the Harris World Ecology Center, Missouri Botanical Garden Conservation Mission Council and the Garden Club of America Finance Committee. She has a BA in Philosophy from Brown and an MBA from Yale.