Save Plants
CENTER FOR PLANT CONSERVATION
May 2019 Newsletter
Many of you have undoubtedly seen the recent headlines about species at risk. The UN has released a summary of its new report on species loss and the outlook is grim. Current estimates suggest that over a million species face extinction. But the report is not all dark – there is hope to stem the tide of extinction, but only if we act now.
That is why I believe in CPC. We are acting now, and with unprecedented success we are saving plants from extinction. That's measurable progress and a real chance for the future.
I want to personally thank everyone involved for all the hard work that culminated in the very successful CPC May Board of Trustees meeting and CPC National Meeting earlier this month. We have made great strides in recent years and the turnout, enthusiasm and confidence in CPC we saw at the meetings are all a testament to how far we have come. It wasn't that long ago that we were unsure if CPC was even relevant or needed; we now know for certain that CPC remains a vital part of the conservation fabric, both here in the U.S. as well as around the world.
We are saving more plants than ever before, and are poised to do even more in the coming months and years.
I feel the two biggest outcomes for CPC at the meetings are great cause for optimism – the board's commitment to strategic re-imagining for our organization and the network's embrace of Plant Nucleus. Both are vital to enhancing our abilities to Save Plants. Of course there is a lot of hard work ahead, but with the kind of buy-in I witnessed last week, I am confident we are on track and on target.
Onward!
Coming Together in Chicago
CPC 2019 Annual National Meeting
The strength of CPC is the network, the collective knowledge of the Participating Institutions. And the National Meeting is the time for the network to shine. Hosted by the Chicago Botanic Garden, over 100 participants from some 40 institutions came together to share their lessons learned, successes, and struggles in their efforts to save plants. The importance of sharing – methods, stories, data, and more – was a common theme throughout the network. There are more people and institutions to share with each year. The network is growing, with eight new institutions welcomed in 2018 (7 of which were represented at the meeting!), and an additional two already added in 2019. With the expansion of CPC's web resources through Plant Nucleus – a new platform shared with conservation officers for beta-testing at the meeting – we hope to bring this amazing conservation community together virtually year-round.
Background photo: Group photo from the CPC 2019 National Meeting in Chicago. Photo credit: Robin Carlson, courtesy of Chicago Botanic Garden.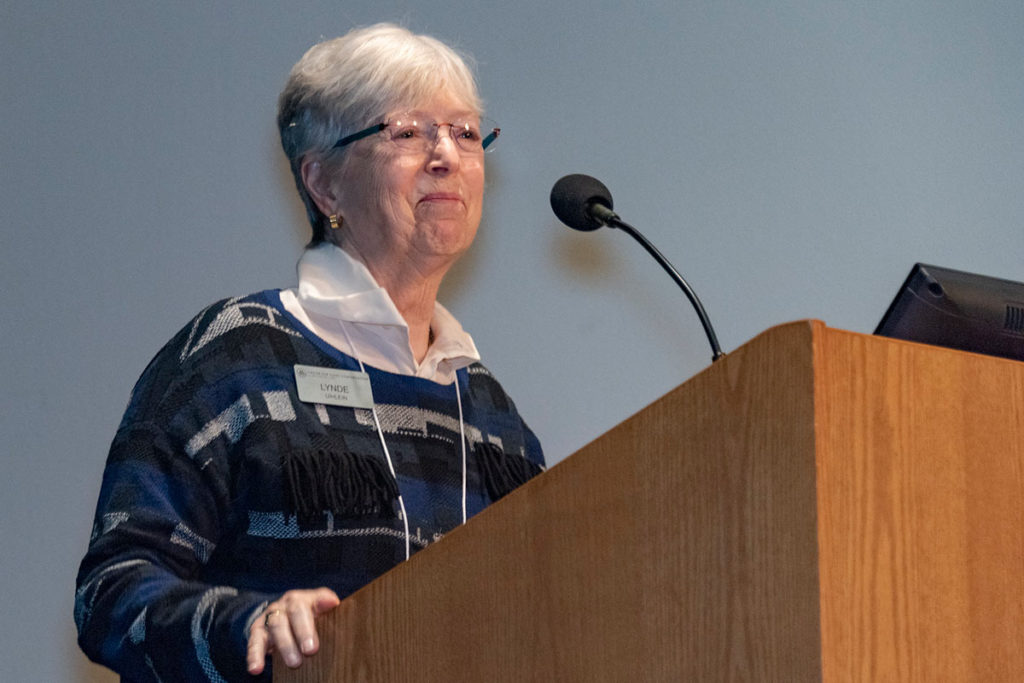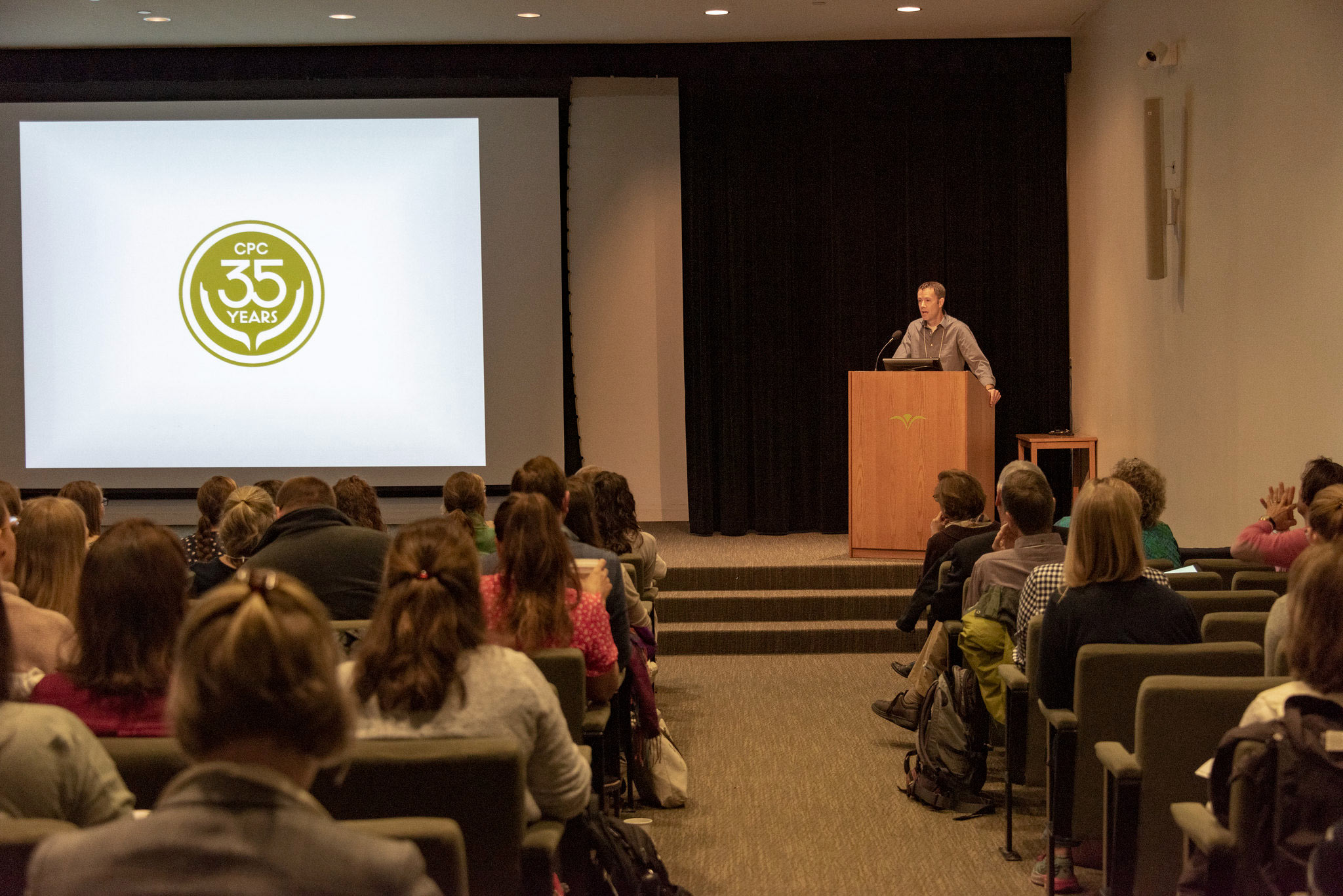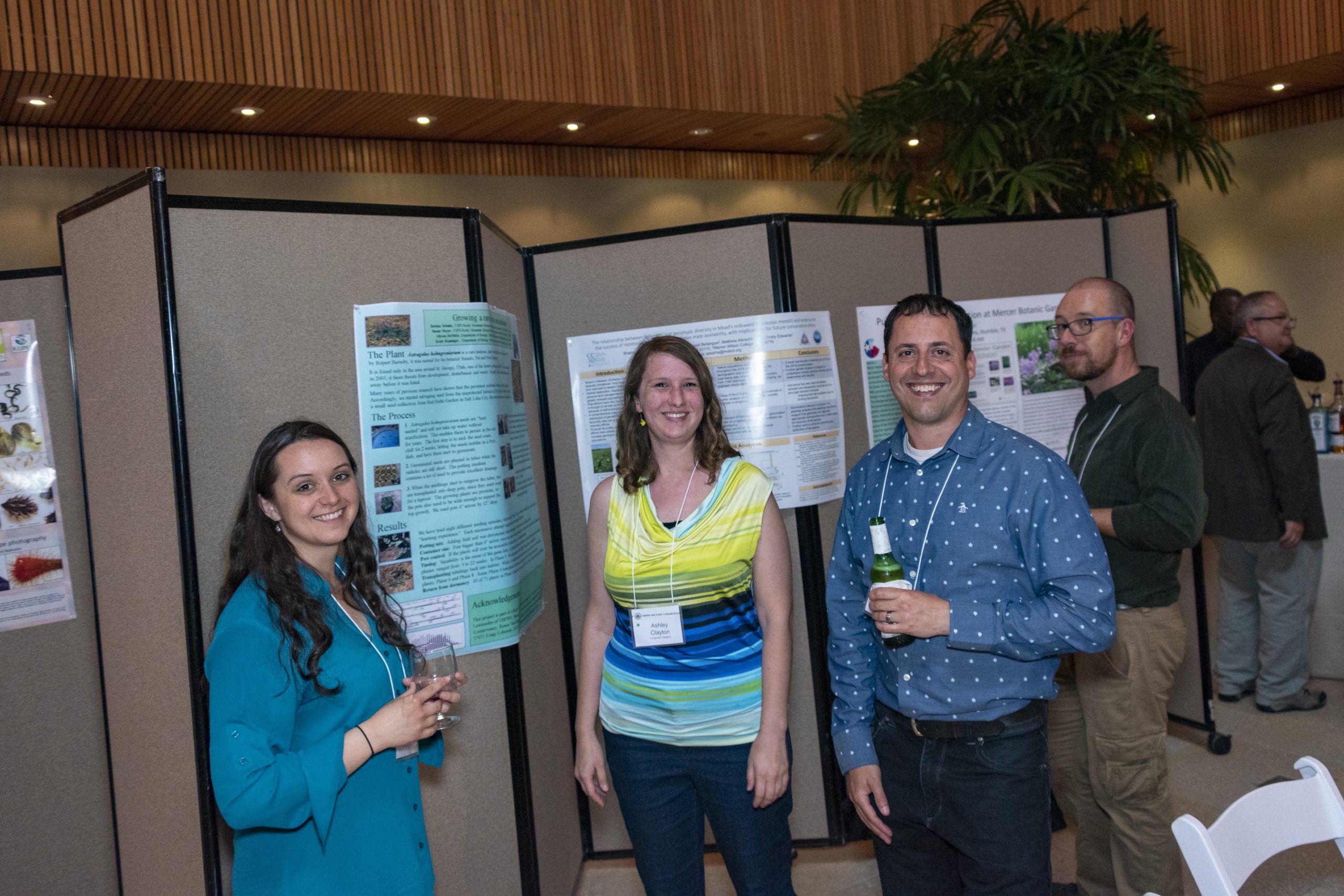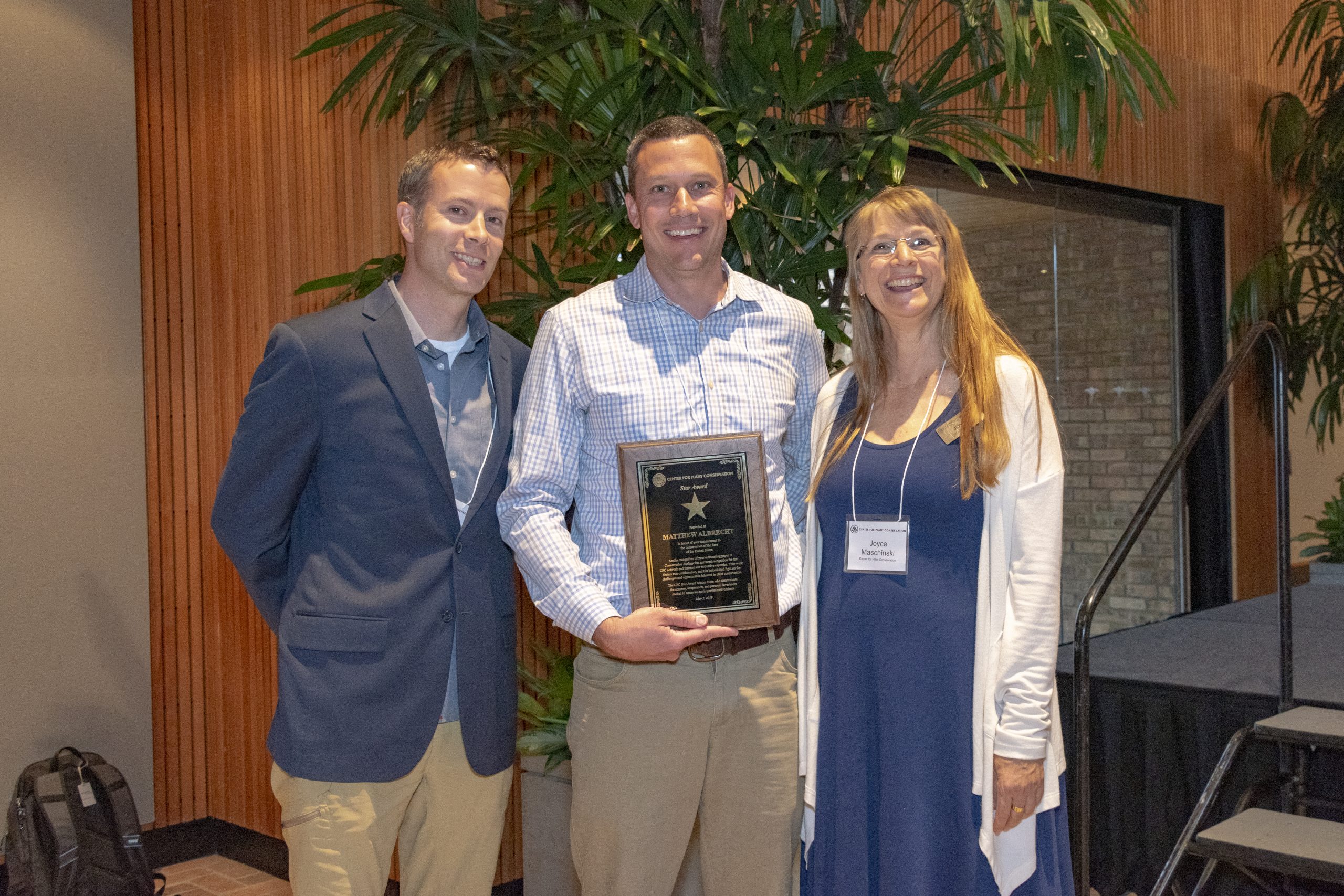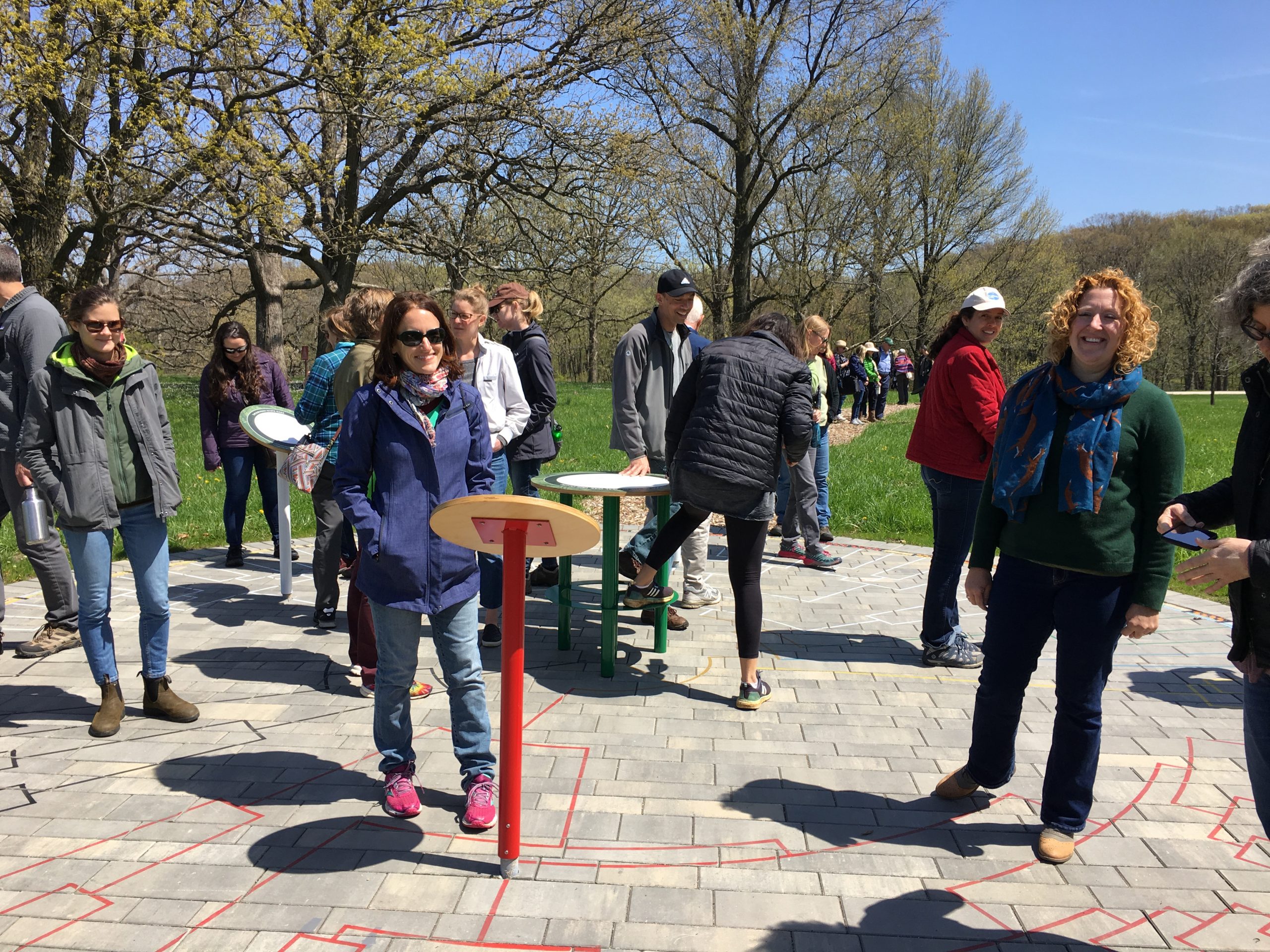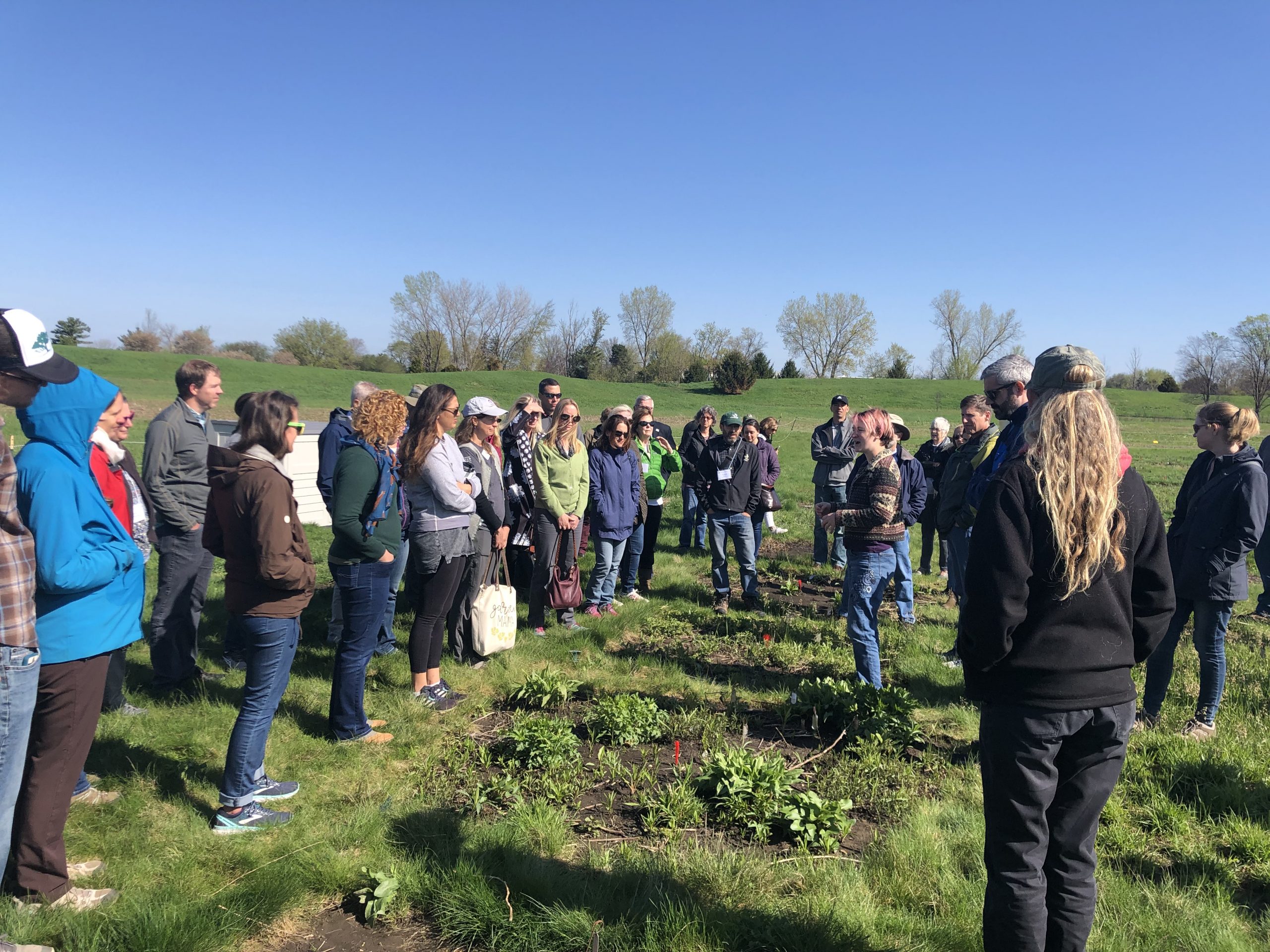 Monitoring and Data Sharing
Educational Series Presentation
Matthew Albrecht, Ph.D., Missouri Botanical Garden
The lightning talks, ranging from 2-5 minutes, have become a highlight of each CPC National Meeting, with each institution able to share a snippet of the conservation activities occurring at their garden. However, some topics demand more time and thus the meeting features an Educational Series Presentation. This year, Matthew Albrecht, Ph.D., shared some of the lessons learned from mining the decades of restoration projects and monitoring results included in the CPC Restoration Database. Focusing on "Monitoring and Data Sharing", Matthew outlined ten key components for every monitoring plan. These components span the life of a project – which is probably longer than you think: determining whether a project is successful or not requires long-term monitoring and an understanding of whether or not the species is reproducing. And of course, following a recurring theme of the meeting, data collected for a restoration project should be shared and leveraged to increase our general understanding of the steps needed for successful plant conservation.
Photo of a Trout lily. Credit: Christa Horn
Keynote Speaker
Daniel Ballesteros-Bargues, Ph.D., Royal Botanic Gardens, Kew
Facing the challenges of wild plant ex situ preservation: The C-Flora and the Kew Cryosphere
Seed banking has long been the cornerstone of plant conservation work. However, many species cannot be secured through seed banking, and alternative methods of saving the rare and threatened species in this category are of increasing interest for many within CPC. During this year's keynote, Daniel Ballesteros-Bargues, Ph.D., discussed some of the work being conducted at the Royal Botanical Gardens, Kew.
Background photo credit: Robin Carlson, courtesy of Chicago Botanic Garden.
The high diversity of plants means there is a high diversity of responses to drying and freezing – and researchers are learning that the number of species, especially trees and rare species, that have desiccation intolerant seeds is not insignificant. Daniel explained some of the dry architecture (how cells desiccate) and the differences in cell biology, especially amounts of chloroplasts and storage lipids, that impact its dry architecture. Beyond that, Daniel expounded on the potential of cryobiotechnology (methods and technologies to understand how living cells and tissue responds to low temperatures and apply this knowledge) to help preserve the rare species that can't be conserved with conventional seed storage. The Kew Cryosphere, a new program in Kew focusing on research and training for securing these exceptional species using cryobiotechnological approaches, is taking on the challenges of learning what it takes to presere these species head-on.
Taking Our Community Online
By Katie Heineman, Ph.D.
It's not easy to learn about rare plants. They are, by definition, scarce, so few people interact with them in nature, and because of their vulnerability, they are the subject of relatively few experimental studies. The CPC National Meeting is a singular opportunity to assemble a national brain trust of rare plant knowledge in one room. Through the Plant Nucleus online community forum, we hope to recreate the support and learning that occurs at the CPC Meeting throughout the year. We envision that the conversations on this platform will form a body of questions and content that will help train the next generation of plant conservationists.
To help ensure success and participation, CPC invites all conservation officers in the network to be co-creators of the Plant Nucleus forum. We have three years of funding from IMLS for web development of this online community, so that we can make adjustments in response to the feedback and behavior of our network. As a first step in this co-creation process, I, as project manager for the Plant Nucleus platform, led two beta-testing sessions of the Plant Nucleus forum at the CPC National Meeting. In the first session, after instructing members on registering for Plant Nucleus and a brief tour, we saw terrific initial engagement: 75 conservation officers created account profiles and posted 90 questions and replies. For the second day of testing, I encouraged members to leave feedback about the platform on the beta-testing channel of the web forum. Conservation officers left 25 specific and constructive comments, many of which will be integrated in our next phase of web development.
We encourage members to continue to use the forum to ask conservation advice of CPC colleagues and give feedback about the platform. In the fall, Plant Nucleus will be open to the broader conservation community and the public – already flush with knowledge. Questions on the forum can help save another conservationist time in the future, and, more importantly, it will save you time in the present by opening up your question to dozens of brilliant scientists! And ultimately, it will help save more plants.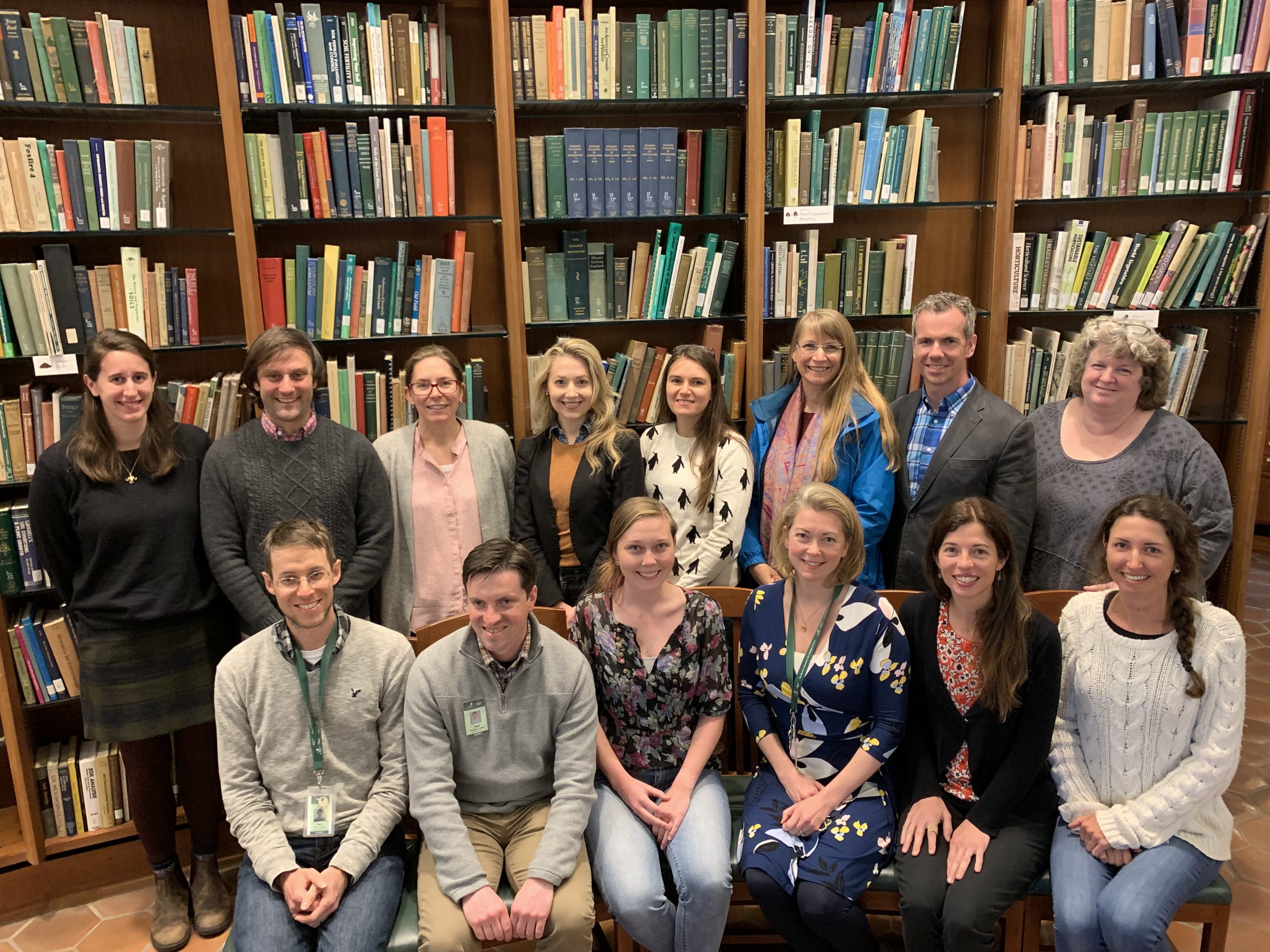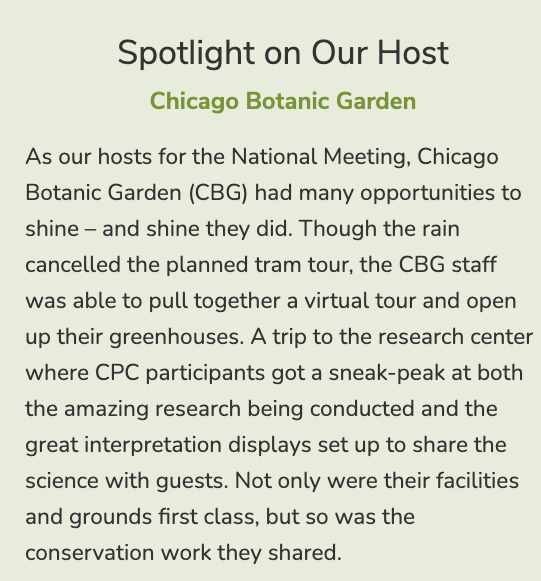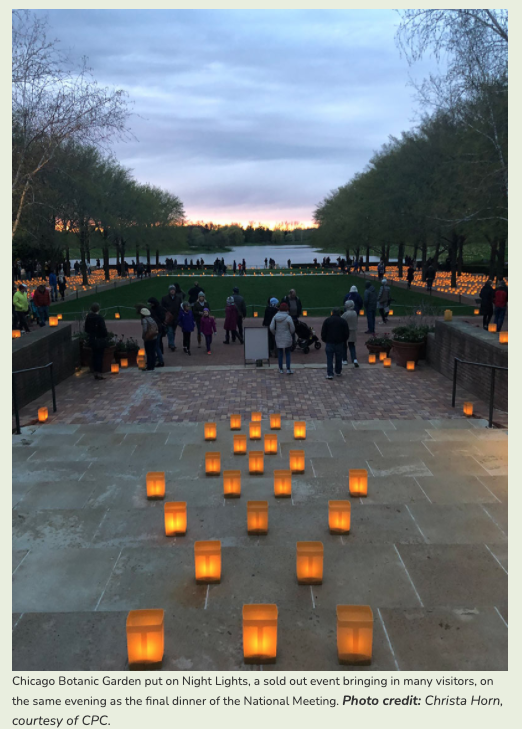 We learned the most about CBG's great conservation work through their host presentation. Kayri Havens, Ph.D., introduced the conservation program and, with additional staff, delved into some signature projects. Dr. Havens shared some of the ecology work on Pitcher's thistle (Cirsium pitcheri) and its role in the pollination network. That a rare plant could be a key resource for a diverse group of pollinators points to the importance of conserving these species on the brink. The Garden's Plants of Concern monitoring program was presented by Daniella DeRose while Jeremy Fant, Ph.D. covered their efforts to use genetic pedigrees to guide ex situ collection curation. Covering a wide breadth of topics, the presentations exemplify that there are many ways for a CPC institution to work towards saving plants.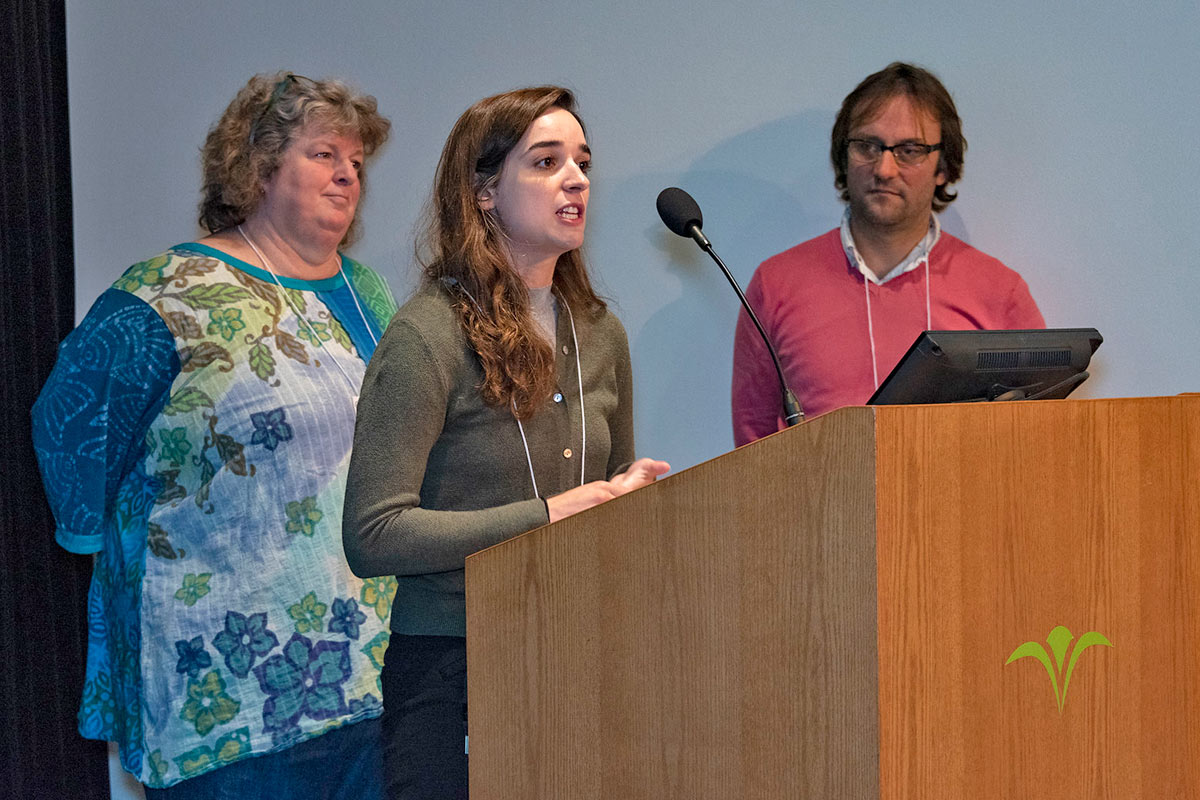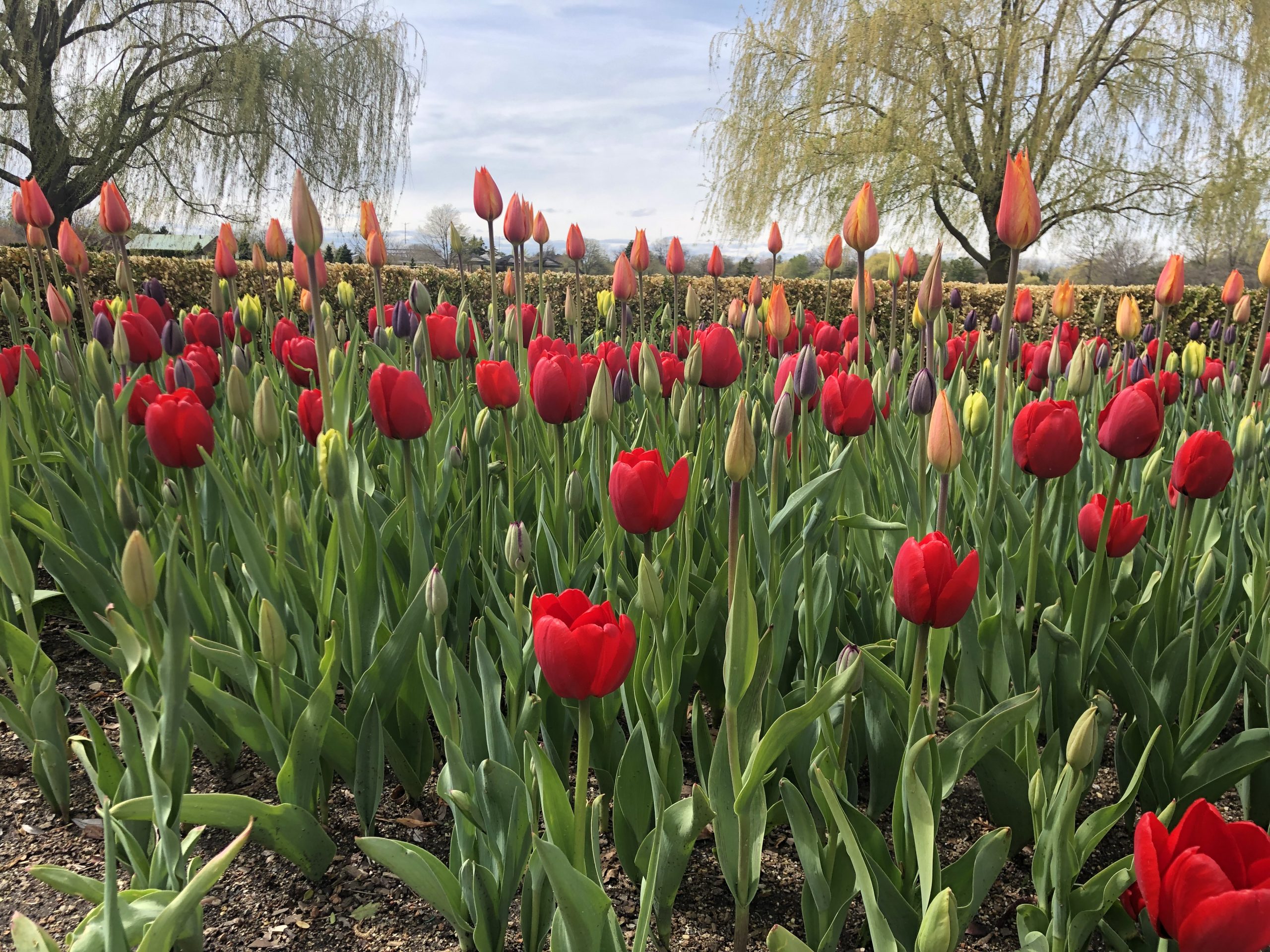 Conservation Champion and 2019 Star Award Winner
Matthew Albrecht, Ph.D.
Associate Scientist in Conservation Biology, Missouri Botanical Garden
CPC awarded Matthew Albrecht the 2019 Star Award in recognition of his dedication to conserving the flora of the United States and for his outstanding scientific paper published this year in Conservation Biology that garnered CPC network expertise, fostered true collaboration, and helped shed light to improve the critical conservation practice of plant reintroduction for the benefit of the world's rarest plant species.
Background photo: CPC Conservation Champion, Matthew Albrecht, Associate Scientist in Conservation Biology, Missouri Botanical Garden
Congratulations on being awarded the CPC Star Award! Is there anything you want to say in response to receiving this reward?
This award wouldn't be possible without all the reintroduction work that has gone on in the network over the years that we synthesized for the paper in Conservation Biology. It simply wouldn't have been possible without the network and their careful documentation of their projects. And it was great collaborating with Joyce to pull it all together.
When did you first fall in love with plants?
I think early on in my life, I was probably first introduced to plants by my grandma, who had beautiful, large gardens. As a child I was introduced to gardening through her. As I got older I really didn't get interested in plants until I took a botany class in college. I really didn't know what I wanted to do in college, in terms of a major, and I took this botany course from this great instructor- and from there I was hooked and wanted to become a botanist.
As I pursued graduate work, I actually wanted to become a teacher, because I was so excited about teaching and telling others about plants. But my work now, which I love, is working to study and conserve them.
What was your career path leading up to your position?
I have a Ph.D. in botany and plant ecology from Ohio University. After I received my bachelors in biology with an emphasis on botany from Southeast Missouri State University I knew I wanted to go to graduate school to become a professional scientist or university professor. I loved forests, and spring wildflowers, so I went east to Ohio and studied in a forest ecology lab. It just so happened, I lucked out, and received a 3-year research assistantship that worked on the ecology of medicinal woodland herbs, which allowed me to spend ample time in the woods conducting research. After my Ph.D., I landed my first job at the Missouri Botanical Garden, and I've been there ever since.
What about working with plants has surprised you?
I think when I first started working with rare plants through the CPC, I was probably naïve in that I thought that if you worked with a species for five years or so, you should know enough to recover and conserve that species. And now I realize, after studying certain species for a decade or more, that you could study these species for a lifetime and still learn something new from them every year. I mean they are so complex – their interactions with the soil environment, with pollinators, with the abiotic environment. So, I think, for me, it's really how complex, and still poorly understood, those relationships are in plants that still puts me in awe sometimes. That we know so little, really.
What is one of the biggest challenges to restoring rare plants?
In terms of restoration of rare plants, again this points to the complexity of rare plants, which often are particular about their micro-environment. Often the habitats of rare plants have changed dramatically or are now severely degraded so it's difficult to understand what the optimum habitat might be. There is a whole world of soil-microbial interactions that the plants have and we know so little about them. I think future research will show the important role of soil microbiome in the successful restoration of rare plant species and in the future we will need to increasingly consider this in our restoration work.
Please tell me more about one of your current restoration ecology projects.
We have a long-term project with Pyne's ground plum (Astragalus bibullatus). This has been a really neat project because it's been going on for almost 20 years. It was started by my predecessor, Dr. Kim McCue who is now at the Desert Botanical Garden. This project has been a great example of an adaptive reintroduction project, where we are constantly testing new techniques in the field and adjusting our methods to improve reintroduction success. It has not been an easy plant to work with – just as we think we've solved one problem, another issue arises that we must solve. It has been a cool project, as we have studied how to maximize the germination of seeds stored in our seed bank, the the optimal transplant season, and the species interactions with herbivores and predators. This work has led us to cage reintroduced plants for at least three years after outplanting to maximize growth and flowering, but to the possible exclusion of pollinators. Now we're getting into trying to understand what kind of pollinators might be limiting reproduction. There's a genetic component to it as well, of how do we properly structure our reintroduced populations genetically. And now we're also getting into soil-microbial relationships, too. There are many different pieces of a puzzle to reintroduce an endangered species and our goal is trying to piece them all together to make sure we are successful in our conservation efforts.
What emerging science (methods, approaches, discoveries) excites you most?
Going back to the microbiota and soil-microbiome relationship between plants and the soil microorganisms. I think that's going to be a really hot area of research for rare species and an area that is really ripe for discovery. I think another interesting area is going to be how we adjust our methods and techniques with rapid climate change and extreme climatic events. We are still in the infancy in thinking about how we do our conservation work in light of climate change and I expect that to be an area of new research and great discovery.
What has it meant to you to be a member of the CPC network?
It's a fabulous network and the greatest thing about the network are the people and the wealth of knowledge and inspiration they bring. I always come away from CPC meetings feeling so inspired and full of new ideas. Everyone is so open and without judgement, an awesome environment where people are interested in problem-solving and finding solutions. We're all working towards a common goal together and it gives me great hope.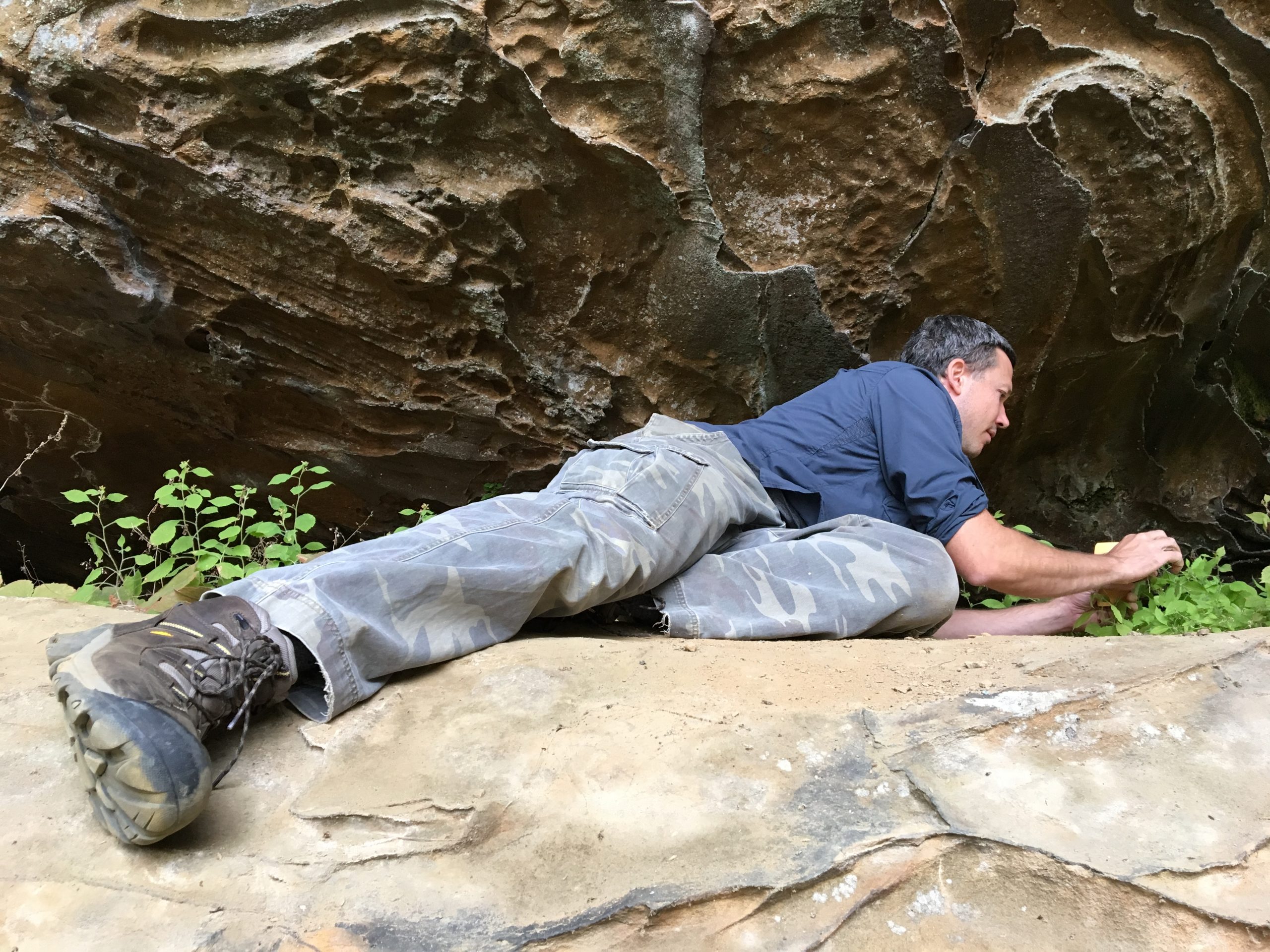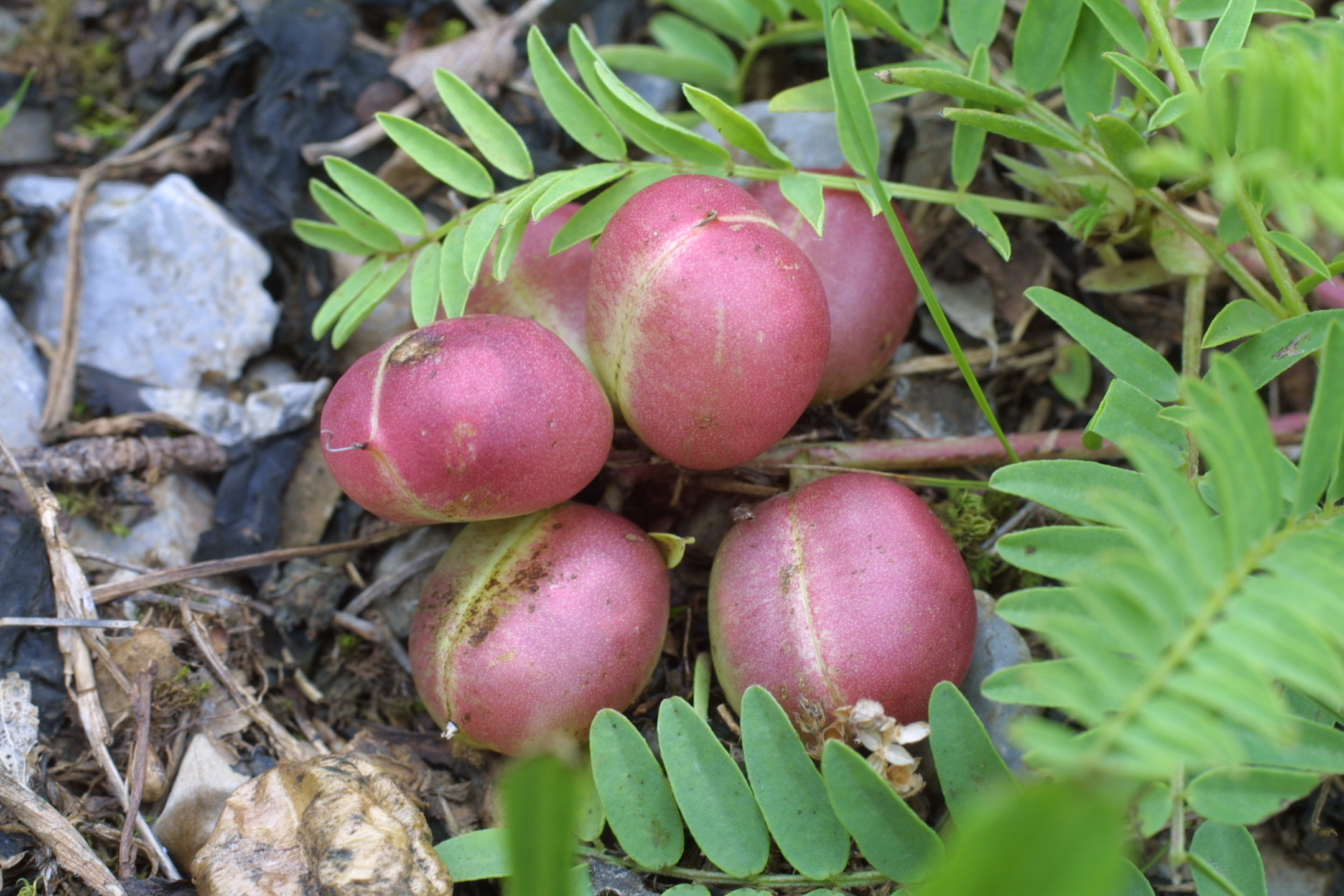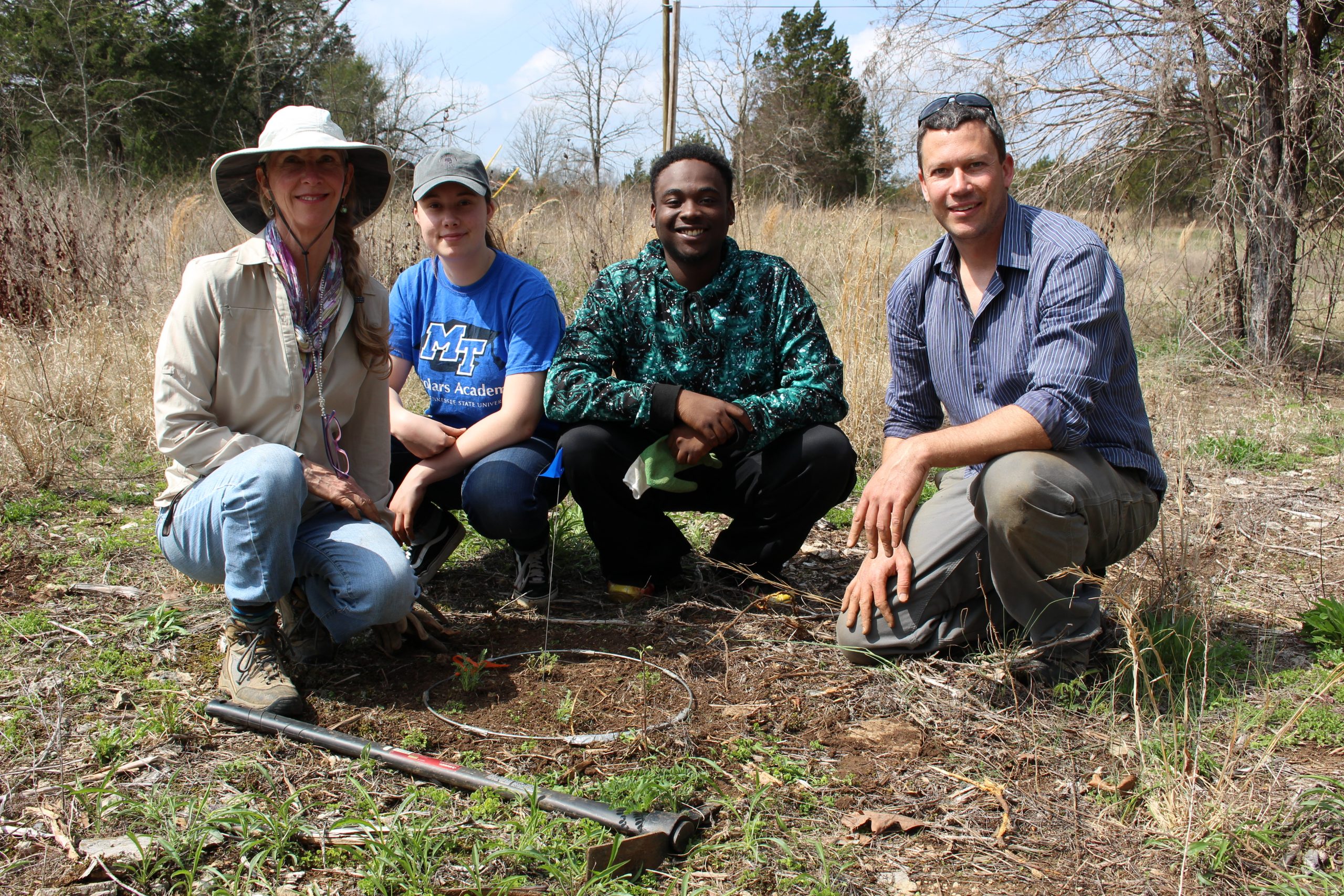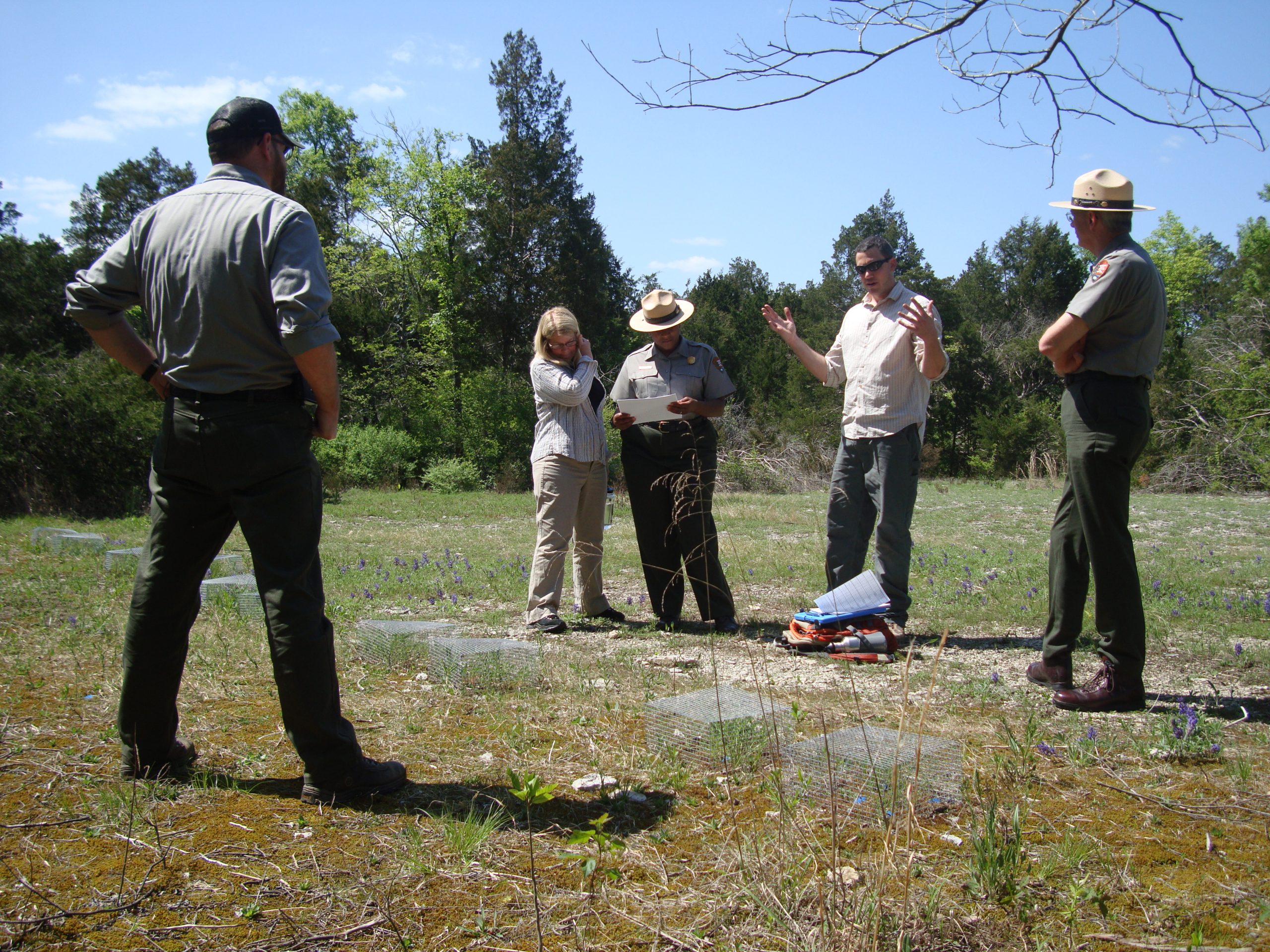 All photos credit: Quinn Long, courtesy of Missouri Botanical Garden.
Get Updates
Don't miss out on current events and updates. Get content instantly by signing up for our newsletters.
Sign Up Today!
Donate to CPC
Thank you for helping us save plant species facing extinction by making your gift to CPC through our secure donation portal!
Donate Today