Desert Botanical Garden
Man's Best Friend Helps Find Elusive Endangered Orchid
Based on Information Provided By Steve Blackwell
Dogs are known for their powerful olfactory senses and have been used by humans over the years to detect objects from drugs to electronics to truffles. This sensory superpower makes them the star of a captivating project at Desert Botanical Garden in Phoenix, AZ, posing the question: can canines be used to locate hard-to-find or dormant rare plants? Could dogs actually help conservationists monitor and locate rare plant populations that have not been observed in recent years or are considered historic? To begin to answer these questions, detection dogs at Desert Botanical Garden were tasked with finding a rare endemic orchid, Spiranthes delitescens (Canelo Hills ladies' tresses orchid), with a challenging twist — the plants are so rare that no samples were available to train the dogs' noses on!
Background photo: Detection dog Circe searching for Spiranthes delitescens in the wild. Photo by Eirini Pajak.
Instead, scientists at Desert Botanical Garden trained the dogs on a closely related species from southern Nevada called Spiranthes infernalis (Ash Meadows ladies' tresses) – infernalis ("from hell" in Latin) because it grows just outside of Death Valley. Ten plants were brought from Nevada to California so that Lauralea Oliver of K9inscentive could train the dogs at their facility. Because the two species are in the same genus, scientists hoped (but weren't entirely sure) that their scent signatures would be similar enough that the dogs would be able to detect both. When the dogs could successfully find the Ash Meadows orchid at the training facility, it was time to take them to Southern Arizona to search for the elusive Canelo Hills orchid.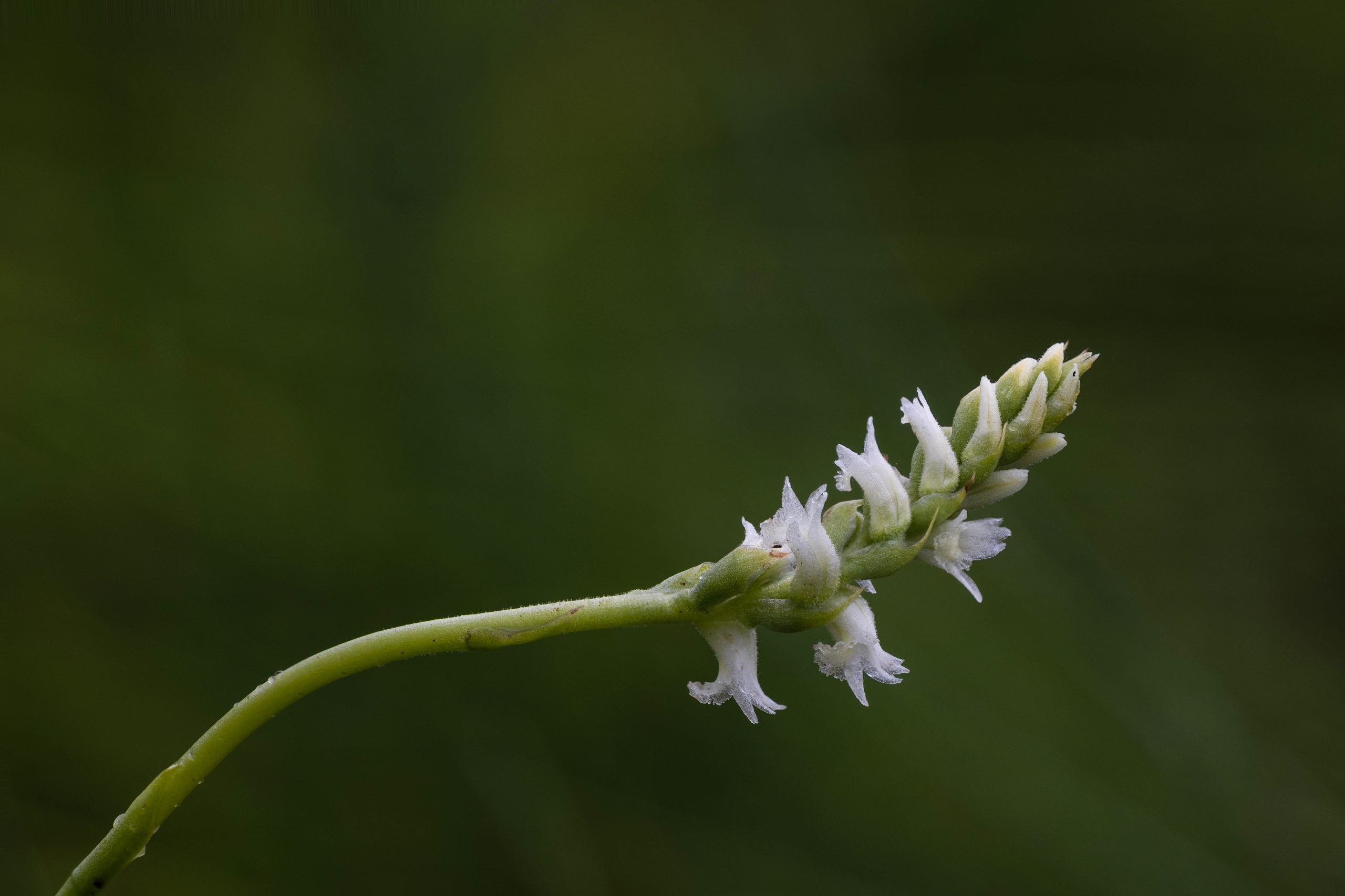 The trip was nerve-wracking. Would the Canelo Hills orchids smell similar enough to the species the dogs were trained on? Would the dogs be able to take the success they had in a controlled off-site environment and replicate it in the wild? In thick vegetation containing dozens of other plant species, along with all the other scents found in nature, the canine noses would be put to a true test. To everyone's relief, the dogs were successful! Not only did they find Canelo Hills orchids that were in flower, they were also able to find plants that had barely emerged an inch from the soil. The scientists actually had to get on hands and knees to find what the dogs were alerting them to. The next step for the dogs will be a trip to two historic sites where the rare orchids haven't been seen in decades, to find out if their monumental orchid-sniffing success can be replicated in an uncertain population.
Conservation of the rare Spiranthes delitescens will be assisted by another grant received by Desert Botanical Garden, supporting the collection of seeds for banking as well as propagation. In situ, orchids require a specialized fungus that assists with seed germination and provides the plant with nutrients.
Without this fungus, in vitro propagation (tissue culture) is necessary for the plant to reproduce. This method requires the use of specially formulated media to provide the nutrients the fungus would otherwise provide. Desert Botanical Garden scientists have now worked out the protocols for growing Canelo Hills orchid plants in culture and will move to propagating them ex vitro, using media inoculated with its associated fungus.
This work has benefited from collaboration with researchers at the Smithsonian Environmental Research Center (SERC) and North American Orchid Conservation Center (NAOCC), who have been identifying and culturing the fungus using orchid roots provided to them by Desert Botanical Garden. NAOCC and SERC have since sent back samples of the fungus, which will be grown and used to inoculate the soil mix. The end goal of this project is to be able to produce hundreds — if not thousands — of Canelo Hills orchid plants, which will then be used in reintroduction projects in suitably restored habitat where they once occurred.