Save Plants
CENTER FOR PLANT CONSERVATION
July 2021 Newsletter
The Center for Plant Conservation is a community of practice – collectively working to improve best practices and support on-the-ground actions that Save Plants. In this issue, we are pleased to welcome and showcase three new plant conservation partners to our network: Florida Native Plant Society, Mattole Restoration Council, and Mt. Cuba Center. Now 68 members strong, the CPC network brings together plant conservationists from across North America and is strengthened by the knowledge and experience each institution brings. As a community, we work together to support our vital mission to Save Plants. One avenue of support is the Rare Plant Academy forum, where members may post inquiries and answers to pressing conservation questions. Another avenue of support is our plant sponsorship program, which in this issue features the coastal sage scrub oak, Quercus dumosa. At the National Office, we extend our gratitude and best wishes to all.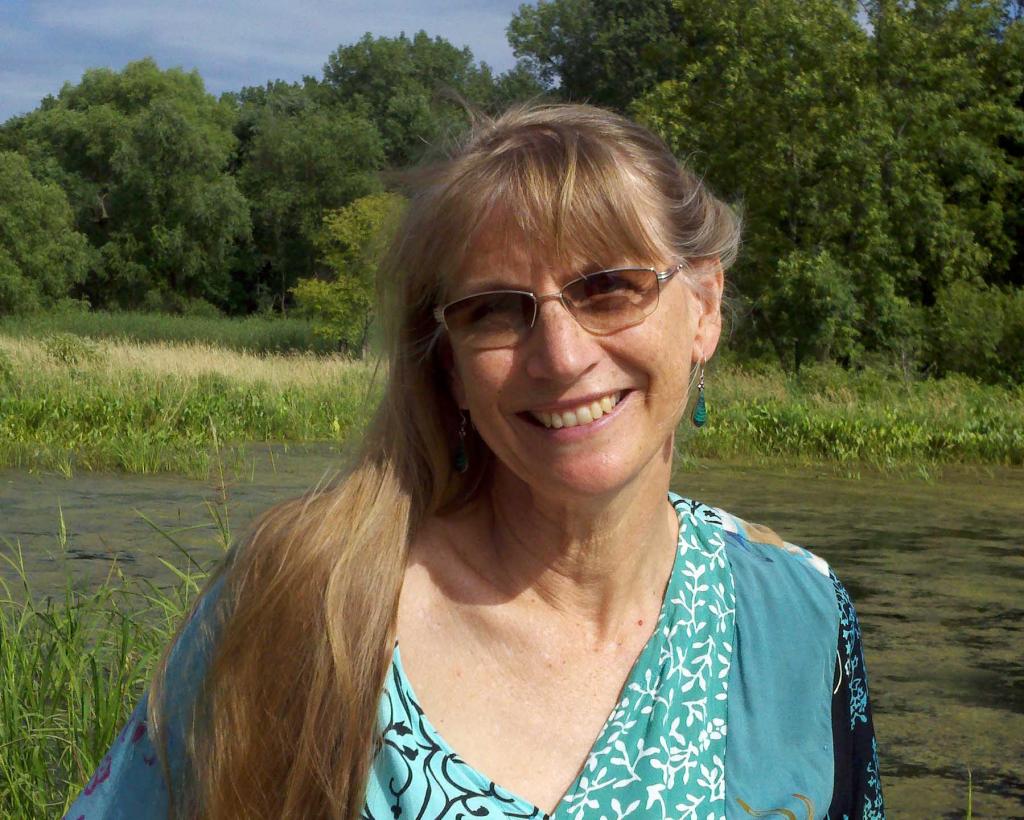 Joyce Maschinski
CPC President & CEO
Welcome to CPC: New Participating Institutions
The Center for Plant Conservation is pleased to welcome three new plant conservation organizations to our network of Particpating Institutions: Florida Native Plant Society, Mattole Restoration Council, and Mt. Cuba Center. Now 68 members strong, the CPC network brings together plant conservationists from across North America and is strengthened by the knowledge and experience that each institution brings. Together, our network makes it possible to Save Plants.
Florida Native Plant Society
The Florida Native Plant Society (FNPS), with 33 local chapters across the state, works for the statewide conservation, preservation, and restoration of the native plants and native plant communities in Florida. Collections of cuttings and seeds of native plants maintained by FNPS are used for population introductions in plant restoration projects on public lands. Through land acquisition and extensive partnerships, FNPS protects and preserves native species in their natural habitats and aids the Florida Department of Environmental Protection in land management reviews of the state's conservation lands. One species benefiting from FNPS's land ownership is the Floridian clasping warea (Warea amplexifolia), a rare and endangered plant thriving on land owned by FNPS and nearby partners (private landowners and local land conservancies).
Background photo: Warea amplexifolia. Image courtesy of Florida Native Plant Society.
To engage with local communities and encourage private conservation efforts as well as support scientific research, FNPS funds annual conservation and research grant awards and has hosted an annual conference for 40 years now featuring speakers, workshops, field trips, and more. Along with programs in conservation research and plant preservation, the FNPS also works to institute protective policy aiming to safeguard Florida's native species for years to come. With great passion for the state's native plant communities, FNPS envisions a future where Floridians and visitors alike know about and value Florida's extraordinary native flora and native plant communities, which are essential to the healthy ecosystems that support wildlife and people.
Mattole Restoration Council
Since its founding in 1983, the Mattole Restoration Council (MRC) has been devoted to the restoration and conservation of the Mattole Watershed with the goal to protect and maintain healthy natural systems and native species populations through its ecosystem restoration projects. MRC's Native Plant Nursery collects native plant seeds and propagates native species for installation on restoration sites and for sale to the general public, with the capacity to propagate up to 200,000 plants. In addition to the storage and propagation of native plants, MRC also oversees the removal of invasive species and works with the Bureau of Land Management to collect native seed region-wide.
Background photo: The Mattole River and Estuary by Hugh McGee
Working in and near the King Range National Conservation Area, MRC's conservation efforts encompass a largely under-studied region of the California coast and provide a promising path to a future where the Mattole Watershed species thrive. Since beginning to gather seed in the 1980's, MRC has developed an impressive collection of over 120 indigenous species from the Mattole Watershed and King Range area. In partnership with other local conservation and education groups, MRC represents a crucial component of the King Range Alliance, restoring the Mattole Watershed and surrounding ecosystems.
Mt. Cuba Center
Nestled within the Eastern Temperate Forest, Mt. Cuba Center presents a haven for native species of the mid-Atlantic across their 1,083-acre property. With roots dating back to a private estate and gardens in 1935, Mt. Cuba Center celebrates its heritage with historic gardens home to plants beloved by the original owners, the Copeland family. In 2002, the iconic gardens opened to the public, incorporating native plant gardens and protected land with the existing historic gardens. Mt. Cuba Center exists with great passion for their founding mission, to encourage visitors to explore the native plants of the region and become conservators themselves. This mission is achieved through gardens and trails open for public use and natural areas managed for educational, scientific, and conservation purposes, as well as programs integrating citizen science efforts.
Background photo: Trillium is one of the core collections at Mt. Cuba Center. Least trillium (Trillium pusillum) shown in the garden is a species with several varieties of conservation importance. Amy Highland, Mt. Cuba Center's Director of Collections, participated in a seed collecting trip in North Carolina along with partners in June 2021. She gathered fruit from Ozark least trillium (Trillium pusillum var. ozarkanum) in its native habitat. Mt. Cuba Center plans to propagate plants from seed and use the plants to enhance the diversity of this variety in its Trillium collection. The populations of North Carolina represent the eastern-most edge of the species range. In addition to ex situ conservation importance, these eastern populations are geographically distinct from the core populations located in the Ozark Mountains and warrant further taxonomic study. Photo by Tom Potterfield.
Additionally, Mt. Cuba Center pursues conservation activities that resonate beyond its gates and its own organization by embracing opportunities to collaborate with professional peers.  Mt. Cuba Center's greenhouse is involved in rigorous studies to determine how to propagate difficult or underutilized plants so they can be re-established in the natural landscape. Several greenhouse projects are ongoing with agency collaborators, including plant production for habitat restoration.  By providing fellowships and funding plant research, Mt. Cuba Center invests in the future of Delaware's native species, ensuring their conservation and paving the way for these plants to flourish.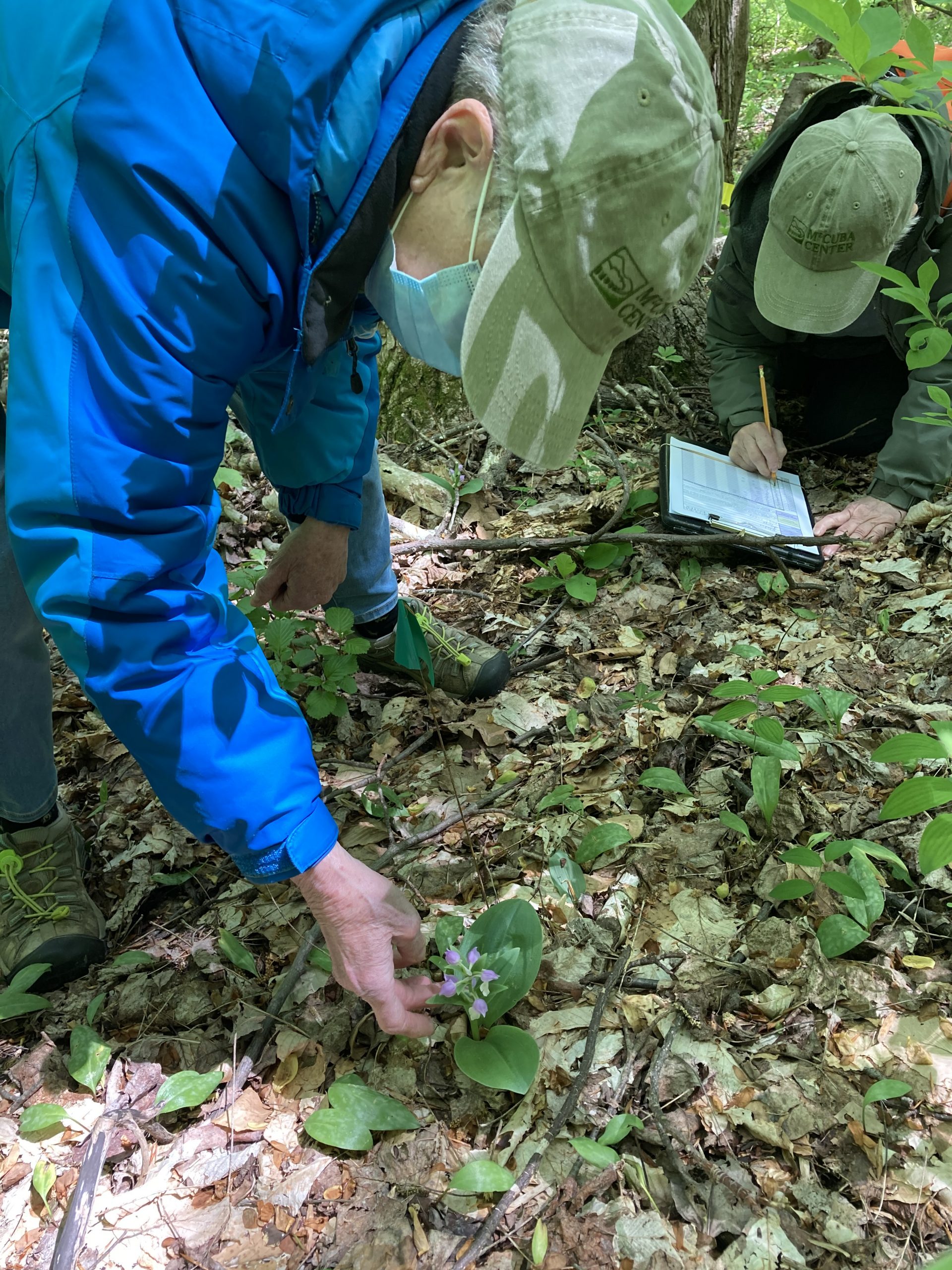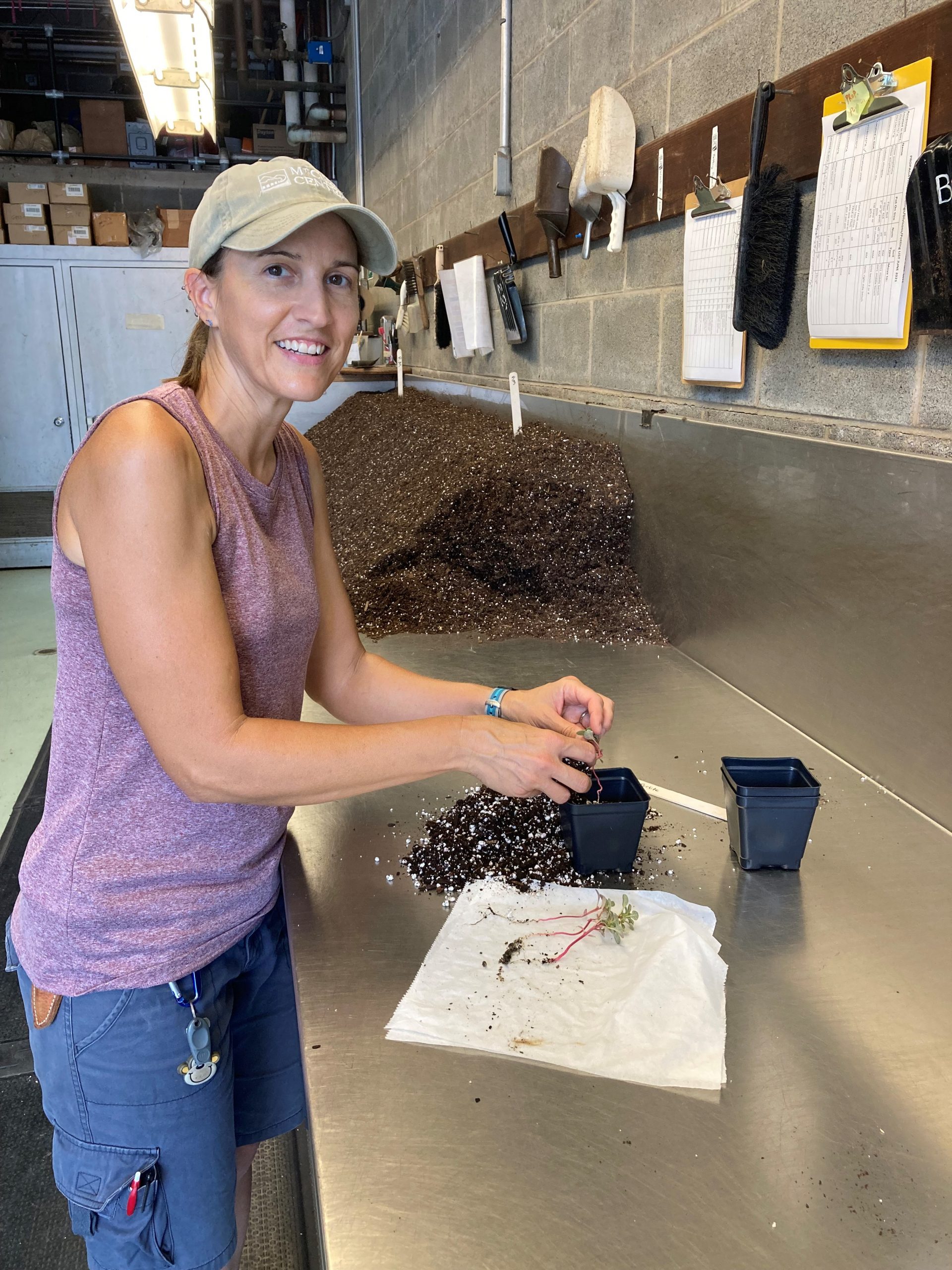 Center for Plant Conservation
Supporting Our Community of Practice Through Plant Sponsorships
A Message from Dr. Joyce Maschinski, President & CEO
The Center for Plant Conservation's plant sponsorship program is an essential component of our work – fueling our community of practice by ensuring our network of Participating Institutions have the resources and funds needed to Save Plants.
When a Participating Institution accepts responsibility for a plant species in the CPC National Collection – a living conservation collection of imperiled plants that serves as an emergency backup in the event a species becomes extinct or no longer reproduces in the wild – it makes a long-term commitment to help secure and recover the species for future generations. They invest significant resources and effort in securing and holding the imperiled plant material, and drive the research and new technologies on the best ways to grow, manage, and restore these rare species.
To offset some of the expenses of collecting, growing, and researching these species, CPC created the plant sponsorship program to provide the Participating Institution responsible for the named species, steady, stable funding for the long-term work. A sponsorship does not cover all the expenses, but it provides significant help and stability, and has a critical and lasting impact on plant conservation efforts. Plant sponsorships can also serve as a meaningful way to honor loved ones.
Quercus dumosa budding in the spring. Photo by Caroline Iacuaniello
I am sad to share with my CPC Network that my brother-in-law and sister both passed away in the past 13 months. As the person responsible for handling their affairs, I could think of no better way to honor their legacy than a plant sponsorship. I selected the coastal sage scrub oak, Quercus dumosa, because it is a San Diego County species that supports a broad community, as Joe Ree elegantly describes in this newsletter.
My brother-in-law, Jan Newsom Schmidt, worked as a pharmacist for Rite-Aid for over 30 years. A lover of classical music, sushi, cigars, and a good beer, Jan settled in San Diego County and helped many in need. My sister, Susan Carol Maschinski Schmidt, oversaw pupil services for the South Bay School District – caring for students with special needs and bringing together community services into a hub that easily supported families and children. Among her finest qualities were her vibrant, indomitable spirit and outstanding leadership. CPC reaped the rewards of her wisdom.
In lieu of perishable flower arrangements, friends wishing to honor Susan and Jan Schmidt – and make a lasting impact to save an endangered plant (Quercus dumosa) – can make a donation online at www.saveplants.org (choose dedicated donation, in memory of and indicate your intention for the gift in the notes section) or mail a donation to the Center for Plant Conservation at 15600 San Pasqual Valley Road, Escondido, CA 92027.
San Diego Zoo Wildlife Alliance
Safeguarding the Coastal Sage Scrub Oak
From sandstone cliffs along the ocean to grooves between inland hills, life flourishes where the coastal sage scrub oak (Quercus dumosa) grows. Its boughs offer shelter from the sun's intense rays during summer and a shield from winter's biting winds. The roots of the oaks grow deep in search of underground aquifers, drawing up vital water to keep themselves and other plants alive through the dry season. A network of roots holds the soil in its grip, preventing the creation of choking dust clouds.
Quercus dumosa in the field. Photo by: Joseph Ree.
As coral reefs create homes for multitudes of life in the sea, so too do the elegant forms of coastal sage scrub oaks on land. Flora and fauna dwell between their trunks or among their boughs. Creeping vines grasp oak branches for support as they stretch toward the sun. Birds call out as they flit from branch to branch in search of insects and nesting material. Lizards shuffle through piles of fallen leaves, hiding from the searching eyes of camouflaged roadrunners. On the tallest tree, a peregrine falcon stands sentinel, scanning its domain. With every breeze, the wind brings the smell of sun-scorched earth and wildflowers.
Though many plant species help form this life-rich environment, the coastal sage scrub oak is an essential – and endangered – keystone on which other species depend. Coastal sage scrub oaks currently exist in many fragmented populations, all facing pressure from wildfire, disease, climate change, and human expansion.
Although these threats will continue for the foreseeable future, we have several means available to alleviate stress on the coastal sage scrub oak right now. Tissue culture – the science of cultivating plants under aseptic conditions in sealed jars – can keep samples of these trees alive and isolated from environmental pressures. By pairing it with cryopreservation, tree tissues can be preserved long-term in liquid nitrogen until they are thawed, grown out, and returned to the environment at an appropriate time and place.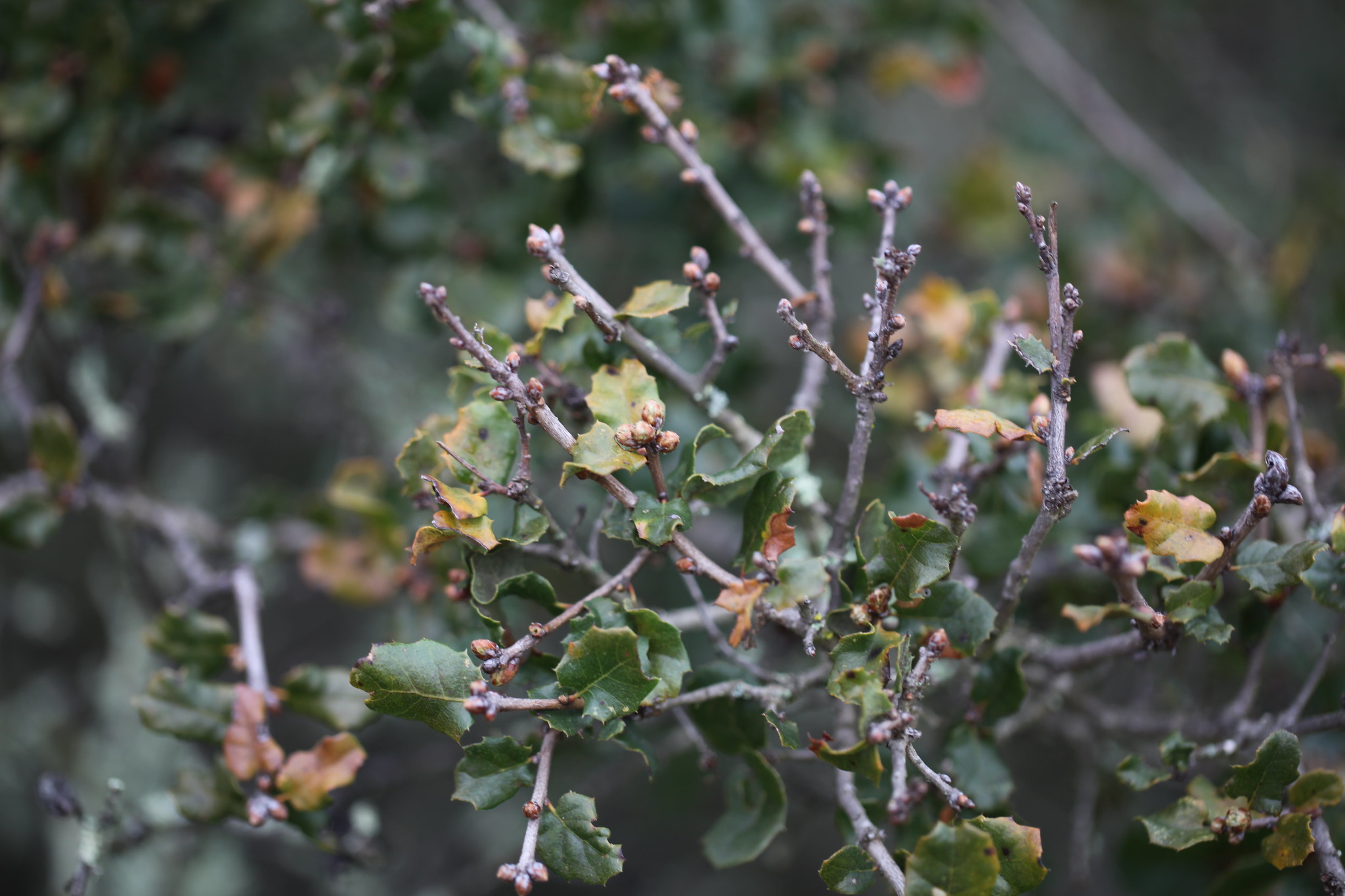 With the help of these technologies, we can ensure that the coastal sage scrub oak will survive for generations to come.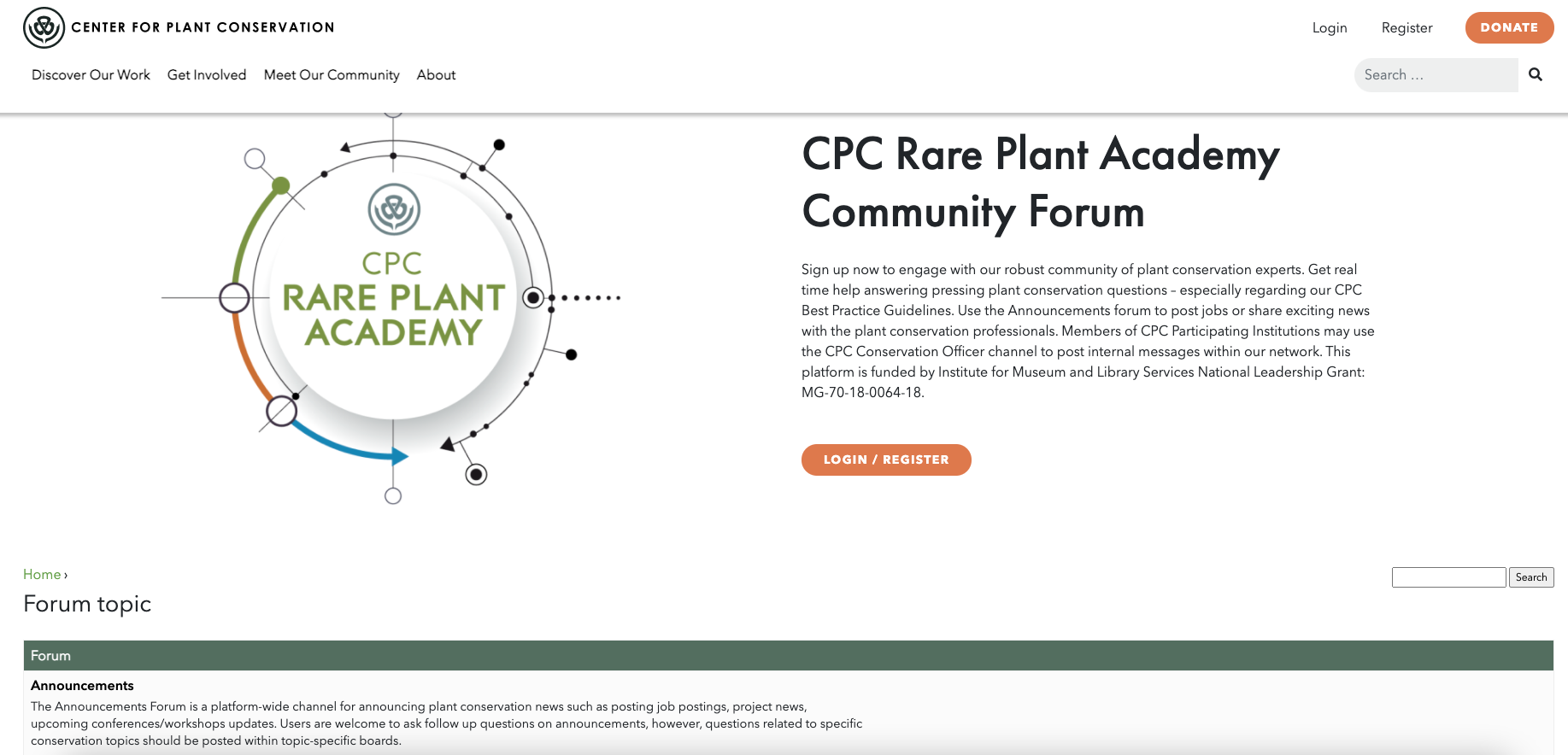 As Seen on CPC's Rare Plant Academy: Community Forum
The Center for Plant Conservation advances work to Save Plants by bringing together a world-class network of plant conservationists from botanical gardens, arboretums, and other plant-focused organizations, facilitating collaboration and harnessing collective data, science, and experience. CPC membership provides access to resources and support, allowing you to draw on a community of experts through our members-only online Rare Plant Academy forum. In the forum, you can receive real-time help answering plant conservation questions, share information and research, contribute to robust discussions, and much more–all with fellow plant conservation professionals. Join a forum and start connecting today!
Get Updates
Don't miss out on current events and updates. Get content instantly by signing up for our newsletters.
Sign Up Today!