Forging on Despite Lonely Labs
Based on information from Kayri Havens, Ph.D., Chicago Botanic Garden; Joe Ree, Ph.D., SDZG
As I entered the Beckman Center of the San Diego Zoo's Institute for Conservation Research (ICR) for a quick gear pickup, the empty eeriness of the building was striking. The building contains many lab spaces that are designed to be shared and often bustle with activity. But the labs have largely been idle since March, when California instituted its COVID-19 stay-at-home orders.
Background photo: The Daniel F. and Ada L. Rice Plant Conservation Science Center houses lab facilities to support molecular genetic work, seed biology, pollination biology, paleobotanical studies, an active seed bank and herbarium, and more. Like the microscopy lab above, no research staff have been using these important facilities during stay at home orders. Photo credit: Courtesy of Chicago Botanic Garden.
Most of the ICR's labs are now fully shut down, with exceptions for those involved in animal care. The shutdown took effect quickly and a bit unexpectedly, following a possible COVID-19 case amongst staff. The safety team put strict sanitary measures into place and limited building access while projects were being shut down. Looking forward, as orders are lifted but health concerns remain, we also face changes in how the labs will be used in the future.
Other labs around the nation have had similar experiences. Our colleagues at Chicago Botanic Garden (CBG) spent the days before their shutdown orders moving plants from growth chambers to greenhouses, shutting down tissue culture work, prepping the seed bank for closure, and more. A small number of horticulture, natural areas, and grounds staff remain on site to keep collections alive. Security staff have also now been allowed back in the garden.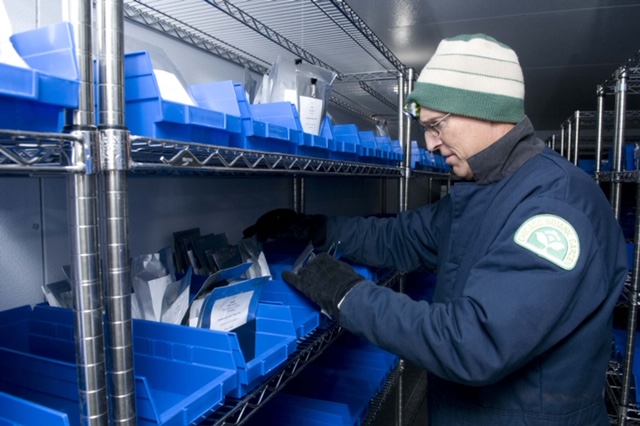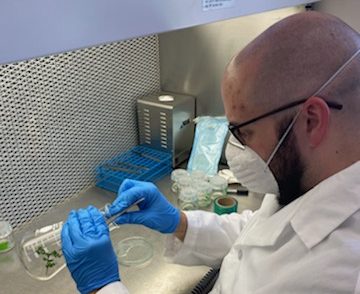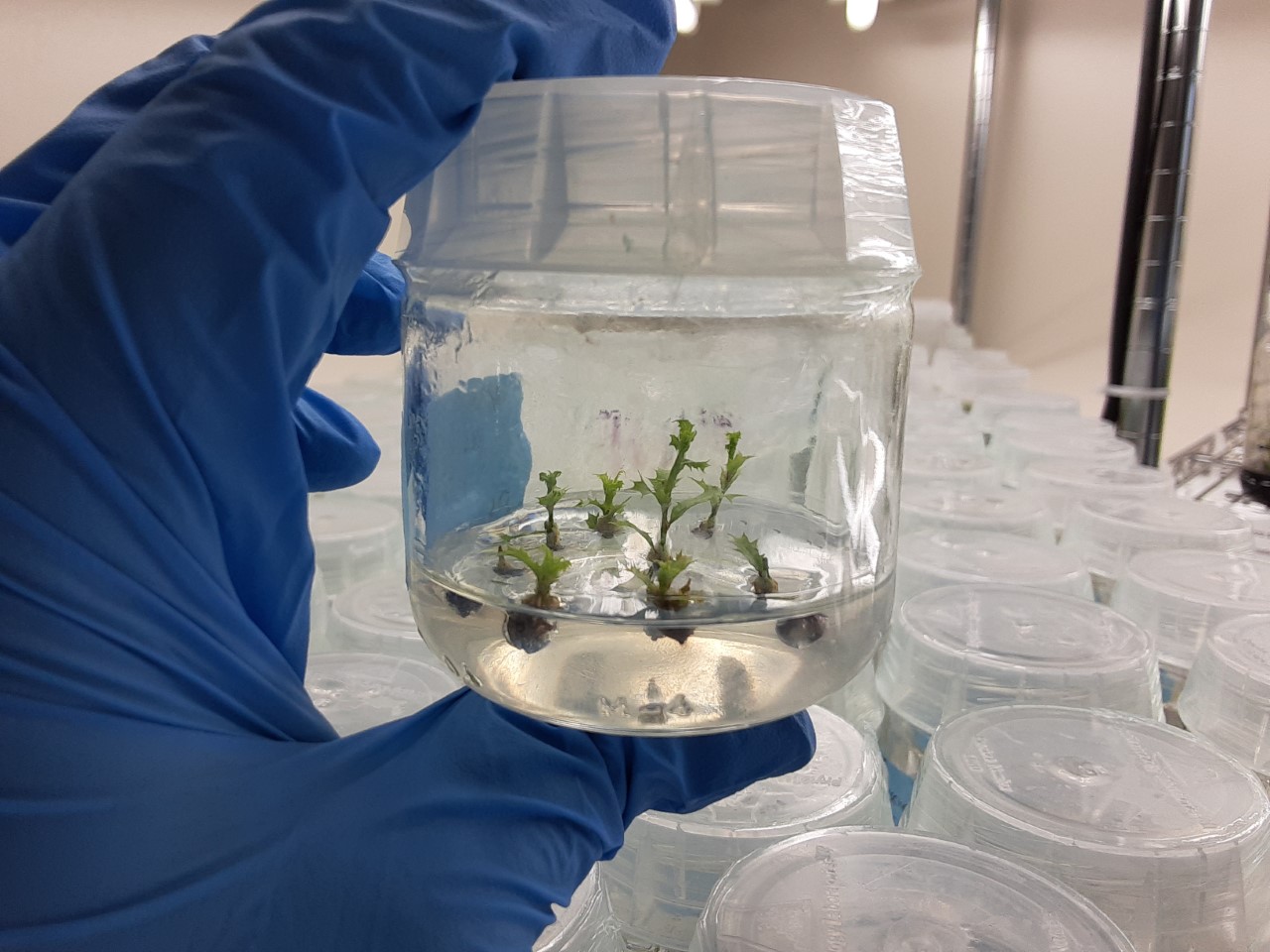 In contrast, sporadic access to ICR facilities has been allowed in San Diego. Visits are carefully scheduled – and heavy on PPE (personal protective equipment) and sanitation – to allow very limited tissue culture work to proceed, albeit at a slower pace. Post-doctoral fellow Joseph Ree is continuing his care of endangered Nuttall's scrub oak (Quercus dumosa) plants (deemed essential) as well as experiments in controlled aseptic conditions. The tissue culture area, located in a separate facility from most of the other ICR labs, is an isolated room now limited to one person at a time. Cleaning all surfaces after each visit drastically reduces the chances of viral transmission. In fact, the lab space, by nature of its purpose, was already a "clean" room.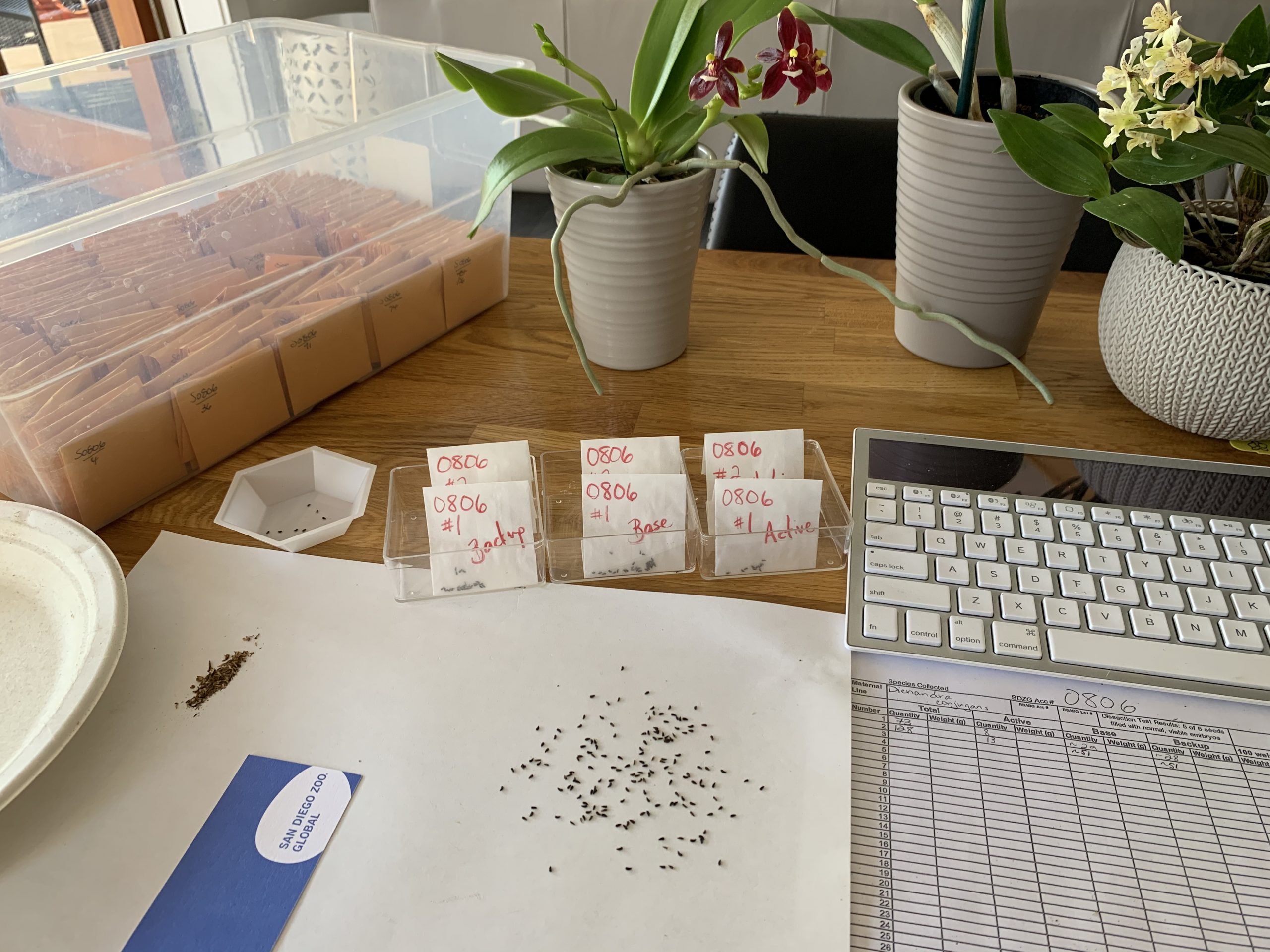 Although many labs in CPC's Participating Institutions are currently idle, the researchers are certainly not. At the Chicago Botanic Garden,  staff pivoted to a new focus when their molecular genetic work was put on hold. CBG's IMLS-funded pedigree management project (featured in the November 2018 Newsletter) forged ahead, with a focus on database and software development, as well as creating a project website, conducting literature reviews on target taxa, and any other aspect of the project that could be tackled from home.
Other projects within CBG's conservation programs have dived deep into tech development. New websites and mobile apps for community science projects, Budburst and Plants of Concern, have been tackled in home offices. And, of course, writing grant proposals and papers are taking a front seat. Another silver lining is that the reduction of lab work provides more time to research the literature and better design upcoming high-impact experiments.
At ICR, the seed bank team has taken to turning home offices into small seed-processing labs. Working with one accession at a time, and with care to keep seed cool and dry, the team has been processing seed lots in sieves and by hand at home. With sporadic visits to the regular seed processing lab (also a separate facility), processed seed is quickly returned and a new accession is taken home. The work is slow, and the help of volunteers is missed, but the conservation work continues.
COVID-19 prompted stay-at-home orders have led to some porch-side seed cleaning efforts at home. Here Joe Davitt of SDZG uses a hose and food mill to clean seed of lemonade berry (Rhus integrifolia), a common species which will be used for habitat restoration at a state park. To ensure seed is ready for projects, the SDZG seed bank team has taken to cleaning seed at home. The setting may be different (a porch instead of a lab sink), but the tools (here, a food mill and water to remove fleshy fruit) are the same. Photo credit: Courtesy of San Diego Zoo Global.
Even as stay-at-home orders are being lifted, restraints on lab time will persist. Social distancing and hygiene adjustments will alter how people work. In Chicago, Kayri Havens, Ph.D., and her team are preparing for a partial reopening this month. They have determined the maximum number of people for each lab and are scheduling access accordingly. Priority access is given to graduate students, who need to finish projects to graduate, and post-docs who also have time restraints. Only a couple of staff will be on site, largely to oversee the labs and ensure that safety procedures (i.e. masks, social distancing, and cleaning surfaces) are followed. For the busier labs at ICR, a similar approach is being planned. Time in the genetics lab will be in particularly high demand for both plant and animal teams.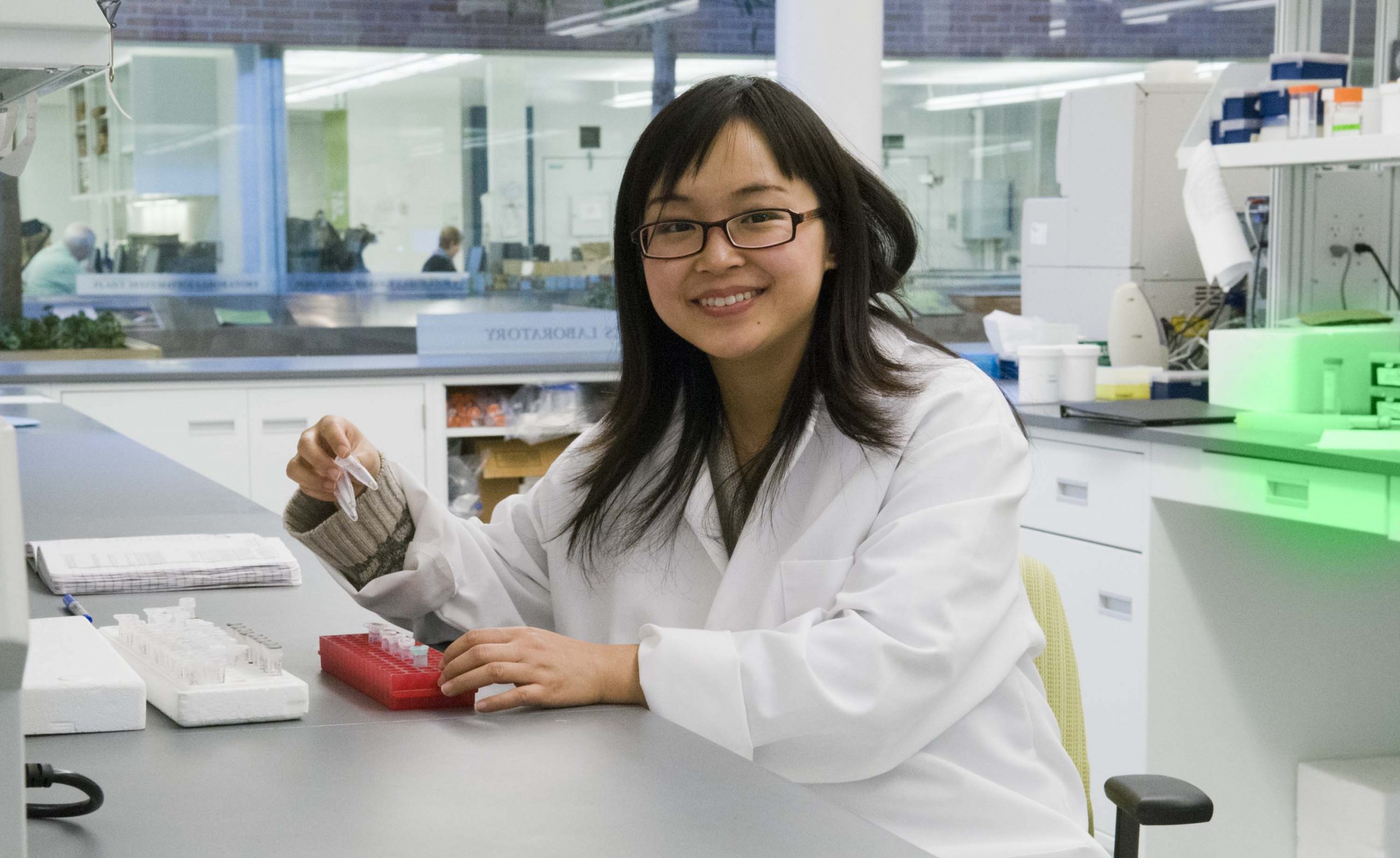 Happily, the important conservation work of these institutions continues, despite the necessity of a slower pace. Changed timelines will clearly need to be addressed. Chicago Botanic Garden is already requesting no-cost extensions for several grant-funded projects.
Many CPC institutions, finding their conservation programs similarly constrained, are facing significant impacts on project timelines and budgets. But for none of them has the waiting time become time lost. Researchers are digging deeper into the literature, formulating new projects and experiments, and getting creative in their stay-at-home tasks. Our collective passion for plants is undaunted. Our work to conserve them continues.