Newfields
Beyond Beauty: Blending Art and Nature to Engage
Based on interview with Jonathan Wright, The Ruth Lilly Director of The Garden and Fairbanks Park
Plants are beautiful and inspiring. They feature prominently on museum walls everywhere, from colorful flower arrangements to expansive landscapes covered in grasslands or dotted with trees. But it is rare for an art museum to actively connect art and nature, moving beyond galleries into gardens and natural parklands. Newfields is such a museum, shaping itself over recent decades to be a place for nature and the arts. Engagement with art and nature creates an aesthetic experience, inviting reflection, critique, and appreciation. Throughout the museum's facilities, visitors are encouraged to view and interact with the plants and other elements of nature that make the Newfields experience unique.
Background photo: Visiondivision (Swedish, founded 2005), Chop Stick, 2012, yellow poplar tree, H: 100 ft. The Virginia B. Fairbanks Art & Nature Park: 100 Acres at Newfields, Commissioned by the Indianapolis Museum of Art.
Within the 100 acres of The Virginia B. Fairbanks Art & Nature Park, Newfields manages both landscaped and natural lands, supporting a beautiful, functioning ecosystem that hosts spring wildflowers, feeds birds, and inspires guests. Throughout Fairbanks Park, permanent and temporary works of art – many site-responsive, inspired by the grounds themselves – invite people to think about their connection to nature and respond to the art and its surroundings.
"Chop Stick" is a visitor favorite. Designed by the architecture duo Visiondivision, the outdoor pavilion was crafted almost entirely from a single tulip tree, the state tree of Indiana. Incorporation of the tree's form in the supports for swings, and its rough bark in the siding and shingles of a refreshment shack, retains the beautiful shapes and textures of the original tulip tree while enabling a clear view of all of the pavilion's features. Yet this beautiful piece is not meant to last forever. To reflect the real world, it changes with the passage of time, with pieces deteriorating and being removed as they become unsafe. Some pieces are more ephemeral, while others are relatively permanent – a spectrum shared by features in nature.
In other spaces, the role of plants in the art is less obvious. For example, "Park of Laments," by Alfredo Jaar, has thousands of individual plants – all native to Indiana – which play an integral role in providing a particular setting for the piece. Visitors walk down a ramp and through a dark tunnel to emerge in a small, isolated park. Here nature serves as an insulator to create a safe place for contemplation. Throughout the park, visitors are encouraged to slow down, exhale, and take in the visuals and the total experience of each setting.
Plants have also helped guests to slow down inside the galleries of the Indianapolis Museum of Art at Newfields. During the inaugural Art in Bloom event, colorful floral creations by local artists are displayed alongside the permanent art collection pieces that inspired them. Staff see visitors slow down as they move through the galleries, considering the florists' intentions – looking at both flower arrangements and art with different eyes. Upcoming Art in Bloom event managers will seek to evaluate this behavioral change, to better understand the synergy of how people interact with the beauty and power of plants and art.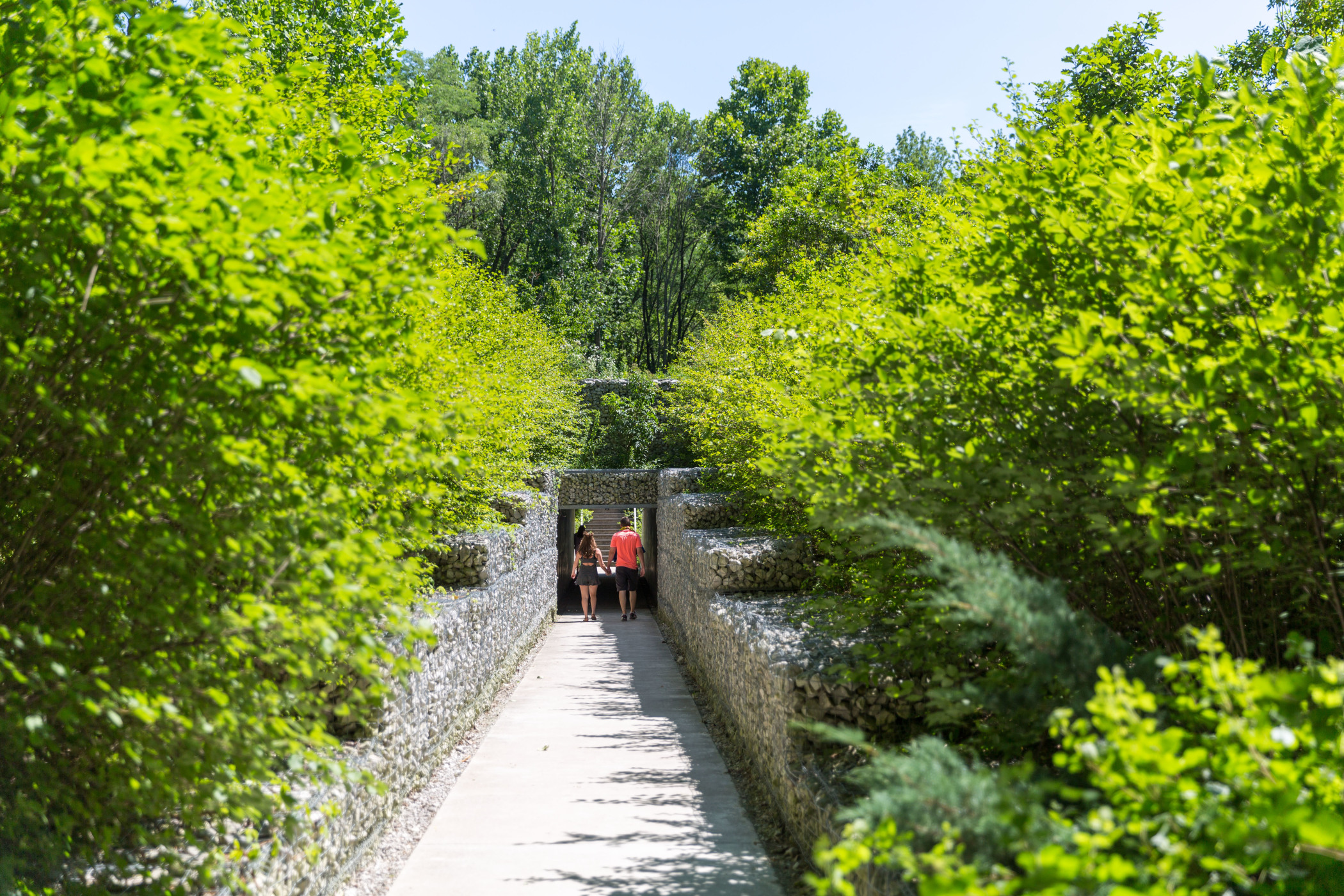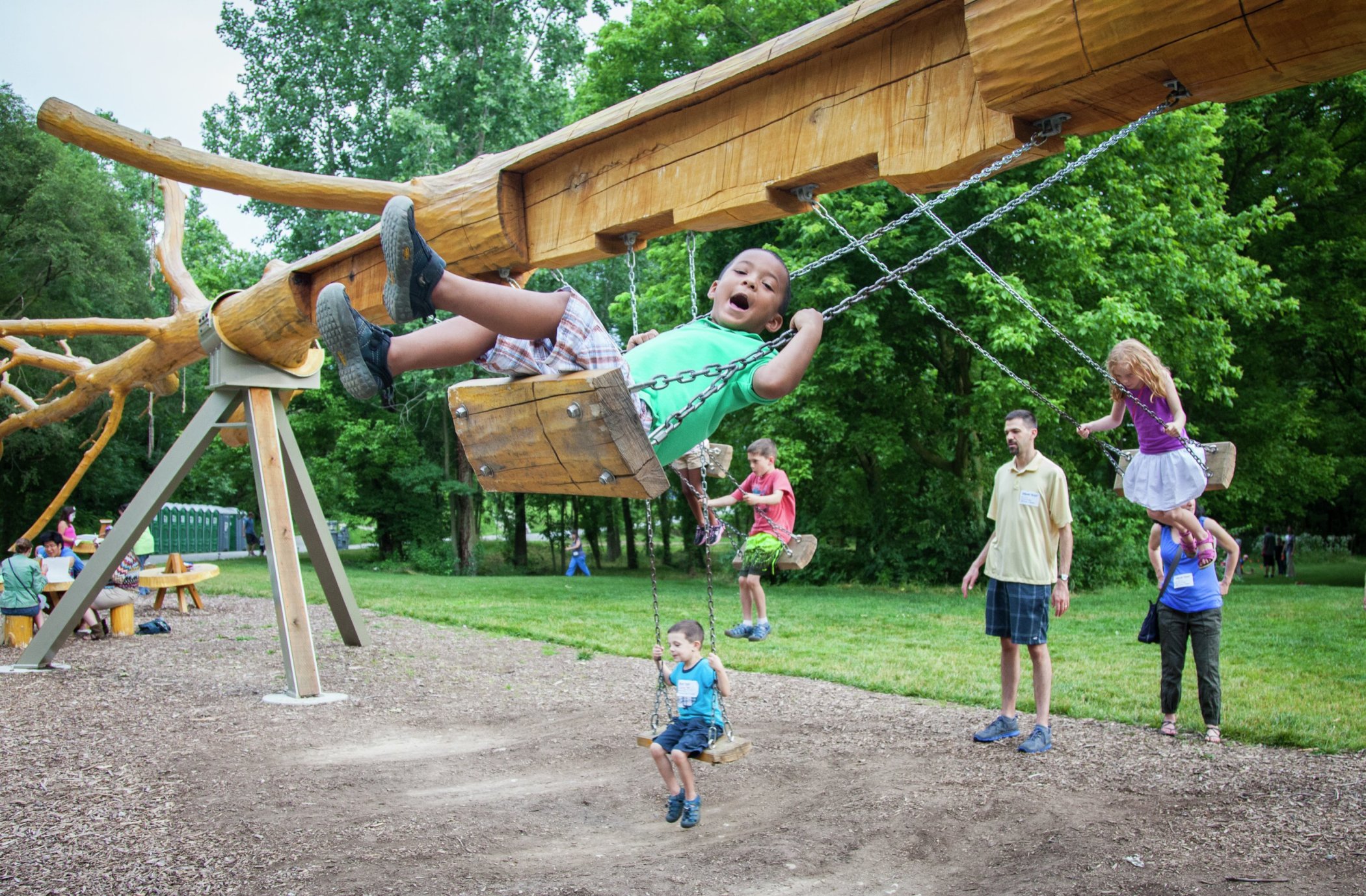 Beyond inviting visitors to expand their enjoyment of Newfields' assets, many of the experiences are designed for other behavioral changes and learning outcomes. These range from interpretation and stories to providing resources, such as information about the Indiana Native Plant Society. Education programs start young, with annual summer camp programs focused on bridging art and nature. Lectures and symposiums connect adults to broader subjects, including how climate change will impact the plants they see.
The upcoming installation of a native flora pollinator garden in Fairbanks Park will provide further opportunities for Newfields to share climate change stories, drawing on the aesthetic appeal of wildflowers. The project will transform an area that was heavily impacted by previous land uses and covered in invasive plants, including a view-blocking tree of heaven. By replacing these invasives, beautiful native blooms will add resiliency to the floodplain habitat. The visually appealing natives will be in sight of the historical Lilly House, inviting people drawn to Newfields' art and historical assets to experience the Park. During blooming season, attention garnered by the garden planting will provide opportunities for team members to share stories of the benefits of these native plants and lessons learned from becoming ecologically-minded land managers at Newfields.
The aesthetic appeal of plants is undeniable in all of its manifestations: blending into a landscape; bringing pops of color to a field, painting, or garden; or in creative floral art. As with art, experiences with plants and nature can be varied, inviting people to engage in spaces like museums, gardens, and parks. By drawing art-goers out into their beautiful grounds, Newfields has intertwined plants and art and made both more approachable.