Atlanta Botanical Garden
White Fringeless Orchid: A Holistic Approach to Plant Conservation
Based on Information Provided by the Atlanta Botanical Garden Conservation & Research Department
The white fringeless orchid (Platanthera integrilabia) makes its home in acidic seeps and boggy areas near the heads of streams in open to partially shaded settings across Alabama Georgia, Kentucky, Mississippi, Tennessee, and historically, in the Carolinas. Like many rare orchids, the white fringeless orchid has limited occurrences across its native range—most of which occur on public lands—and it faces myriad threats to its survival in the wild, including illegal poaching and destruction from feral hog activity. Today, this species is ranked as G2 – Imperiled by NatureServe and is listed as Threatened under the Endangered Species Act by the U.S. Fish and Wildlife Service (USFW). For the past decade, the Atlanta Botanical Garden Conservation and Research Department has been supporting the conservation and recovery of the white fringeless orchid through a multi-faceted, holistic approach that encompasses ex situ collections, field work, fungal research, reintroductions, and conservation partnerships—providing a model for a collaborative, comprehensive approach rare plant conservation.
Background photo: Platanthera integrilabia from wild population in Georgia. Photo credit: Ian Sabo.
The Conservation Seed Bank at the Atlanta Botanical Garden's (ABG) is the foundation of its white fringeless orchid ex situ collections and holds more than 100 maternal lines, each contributing to a collection of well over 10,000 seeds. These seeds were collected from various locations, including Talladega National Forest in Alabama, Cherokee National Forest in Tennessee, Desoto State Park in Alabama, and two privately owned populations in the Piedmont region of Georgia. Seed banking orthodox seeds like that of white fringeless orchid involves careful curation and several key steps, including removing seeds from their capsules followed by desiccation for a week at 15% relative humidity before storage at a frigid -20°C to maximize their long-term viability. With this robust collection at its core, ABG has been able to further expand its conservation activities and research in support of this rare orchid species.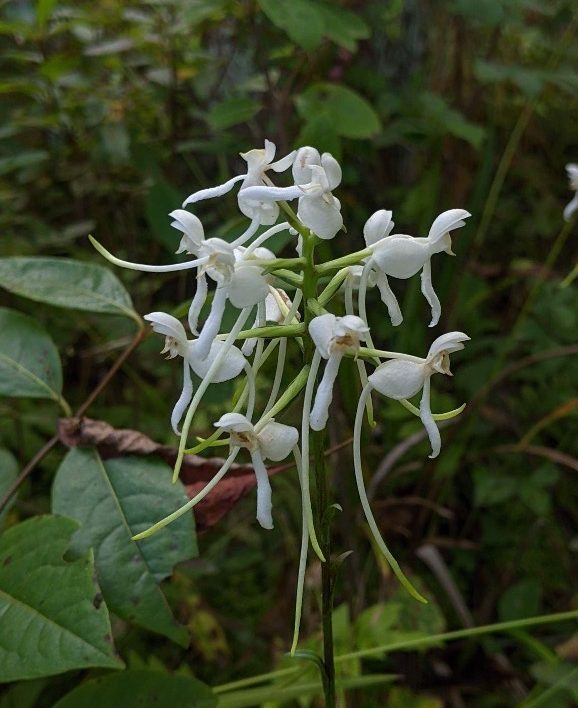 ABG's current work with the white fringeless orchid focuses on the experimental reintroduction of extirpated populations using asymbiotic and symbiotically cultivated material and increasing ex situ collections. Beginning in 2017, the ABG team began collecting roots of white fringeless orchids to conduct research on orchid mycorrhizal fungi, which can be utilized to improve seed germination methods—often reducing the germination and growth time in half compared to asymbiotically cultivated specimens—and enhance survival rates of plants reintroduced to their natural habitats. In 2021, ABG identified a diverse range of fungi, including Calonectria, Ilyonectria, Agaricales, Pestalotiopsis, Sordariales, Hypoxylon fuscum, Hypoxylon fendleri, and Xylariaceae, and in 2022, the team collected additional roots from the Talladega National Forest in Alabama and the Cherokee National Forest in Tennessee.
Once roots were brought to the lab, staff meticulously cultured mycorrhizal fungi through a well-defined process, including soil debriding, surface sterilization before placement on Fungal Isolation Media, peloton extraction, culturing, and crucial genetic identification. Further attempts to identify and isolate known orchid mycorrhizae have been made this year with early success. This research on mycorrhizal fungi has proven essential to reintroduction efforts, not only in expediting the germination process and increasing plant survival rates in the wild, but also in helping to identify fungi strains found in specific habitats. Isolating habitat-specific orchid mycorrhizal fungi can augment and better support reintroduced plants in their natural habitats and has the potential to propagate other orchid species in the same habitat. As this research continues in the lab, efforts are also underway in the field to preserve the white fringeless orchid.
Collaboration and cooperative management are central to ABG's conservation efforts. This is particularly helpful in managing a species like the white fringeless orchid which has populations spread across multiple states. In Alabama, ABG is working with partners to assess wild populations through the Southeastern Plant Conservation Alliance (SE PCA), with funding from the USFWS. Leveraging SE PCA partnerships enhances effective stewardship of resources and funding and maximizes conservation success for the species. Recent funding will contribute to expanding the footprint and impact of work with additional collaborators, incorporating new project sites in Alabama, Kentucky, and hopefully Mississippi.
Alabama populations, some recently discovered through predictive modeling conducted by the Natural Heritage Program at Auburn University and by Alabama Power, have been the highest priority to date for the SE PCA. Since 2020, site assessments and monitoring have been conducted by multiple partners, including Atlanta Botanical Garden's Southeastern Center for Conservation, Auburn University's Davis Arboretum, the Alabama Natural Heritage Program, USFWS, the USDA Forest Service, the Tennessee Valley Authority, and Alabama Power. These site assessments have informed management recommendations and planning with landowners, including Talladega National Forest and Mountain Longleaf National Wildlife Refuge, as well as state lands and powerline right-of-way sites. The accessioning of maternally-tracked material into ex situseed and leaf samples into ABG's Conservation Seedbank and DNA Biorepository adds further value to the project and will be a source of material for genetic research and potential future reintroduction work.
Additionally, ABG has led the management and restoration of Piedmont bogs and seeps on public and private land in Georgia and has seen populations rebound after decades without flowering, including one thought to be extirpated on the Chattahoochee National Forest. The Kentucky Natural Heritage Program, within the Office of Kentucky Nature Preserves, is actively managing habitat containing this species. The Kentucky Natural Heritage Program and North Carolina Plant Conservation Program have partnered with ABG to reintroduce material propagated ex situ to sites of extirpated populations. If successful, these reintroductions will inform management guidelines for action that can be shared through the Piedmont Prairie Partnership and Southern Appalachian Bog Learning Network. These partnerships and collaborative efforts facilitate the sharing of knowledge and expertise, help address immediate conservation concerns for the white fringeless orchid, and guide future conservation actions for the ABG team.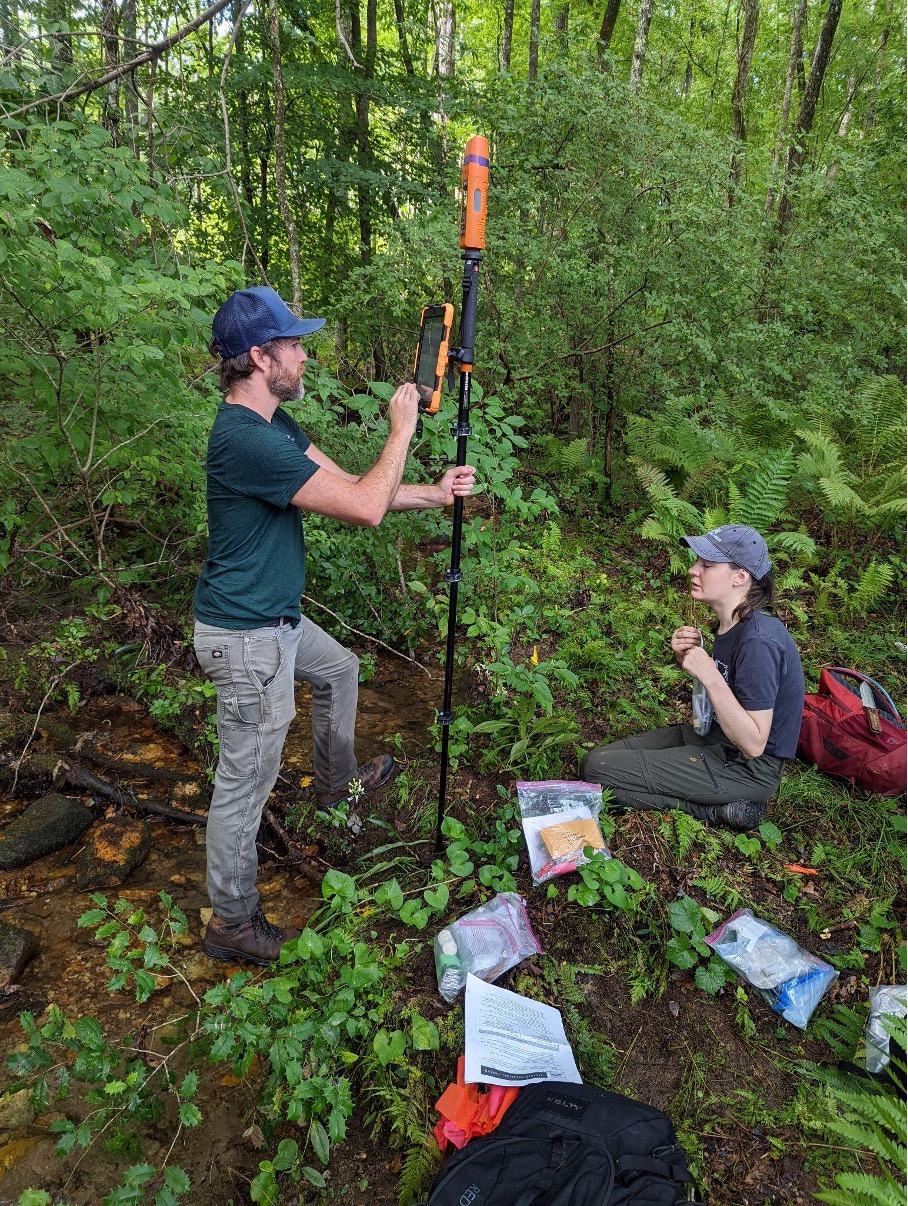 Future work for conserving the white fringeless orchid includes plans to collect new seed this fall from six populations on Tennessee Valley Authority and Alabama Power powerline right-of-ways, Weyerhaeuser Company land, and other privately owned lands in Alabama that have never been accessioned into a seed bank. The continued growth of ABG's ex situ collections (seed, leaf DNA, and root materials) will be utilized in ongoing research that informs additional propagation efforts and supports experimental augmentation and reintroduction—helping to bridge gaps between in situ and ex situ approaches to conservation and research that create success for species recovery and habitat restoration. This is facilitated through region-wide discussions through networks including the SE PCA that help to share knowledge about applied conservation and habitat management.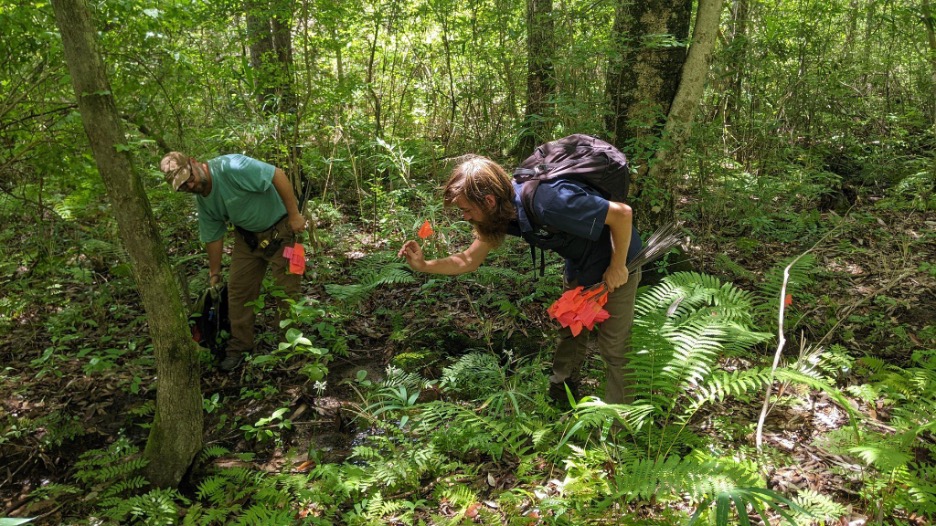 Through its work with the white fringeless orchid, the Atlanta Botanical Garden serves as a model for successful rare plant conservation whether in the lab, in the field, or in partnership with stakeholders—establishing a holistic and collaborative approach to conservation. The positive impacts of this work will be far-reaching for the survival of the white fringeless orchid and many other rare and endangered species under Atlanta Botanical Garden's management and care.
Atlanta Botanical Garden wishes to recognize and thank their financial supporters, grant funders, and collaborators who have supported and contributed to this work: 
NFWF (National Fish & Wildlife Foundation)
USDA-FS (United States Department of Agriculture – Forest Service)
USFWS (United States Fish and Wildlife Service)
NC-PCP (North Carolina Plant Conservation Program)
OKNP (Office of Kentucky Nature Preserves)
Patrick Thompson, Arboretum Specialist | Auburn University, Donald E. Davis Arboretum
Katelyn Lawson, GIS Specialist | Auburn University, Alabama Natural Heritage Program
Al Schotz, Botanist/Community Ecologist | Auburn University, Alabama Natural Heritage Program
Ryan Shurette, Forest Biologist | USDA-FS, National Forests in Alabama
Jonathan Stober, Wildlife Biologist | USDA-FS, Talladega National Forest
Allison Cochran, Wildlife Biologist | USDA-FS, Bankhead National Forest
Steven Trull, Refuge Manager | USFWS, Mountain Longleaf National Wildlife Refuge
Geoff Call, Supervisory Biologist | USFWS
Kerri Dikun, Fish and Wildlife Biologist | USFWS
Brittney Hughes, Park Naturalist | Alabama DCNR, DeSoto State Park
Dylan Shaw, Biologist | Alabama Power Company
Dan Perry, MSAL/MSLA EMS Manager | Weyerhaeuser
Mark Pistrang, Botanist | Cherokee National Forest, now USDA Forest Service Southern Region
Jimmy Rickard, Forest Ecologist | USDA-FS, Chattahoochee-Oconee National Forest
David Vinson, Wildlife Biologist | USDA-FS, Chattahoochee National Forest
Lesley Starke | formerly with the NC Plant Conservation Program
Tara Littlefield Barry | Office of Kentucky Nature Preserves
________________________________
Special thanks to the Atlanta Botanical Garden Conservation & Research Department for their contributions to this article: Laurie Blackmore, Conservation & Research Manager; Dr. Emily Coffey, Vice President, Conservation & Research; Jason Ligon, Micropropagation & Seed Bank Coordinator; Dr. William Grant Morton, Conservation Seed Bank Curator; Carrie Radcliffe, Conservation Partnerships Manager; and Ian Sabo, Senior Field Biologist