United States Botanic Garden
U.S. Botanic Garden Update: Partnership Rediscovers Extinct Oak
The U.S. Botanic Garden (USBG) collaborates with other public gardens, federal and municipal agencies, and nonprofit organizations to achieve shared goals through projects that have wide-reaching impacts. These partnerships range from conservation of U.S. native rare plants and crop wild relatives to trainings and toolkits in urban agriculture and the use of school greenhouses and gardens. For several years, the USBG has partnered with The Morton Arboretum and the Global Conservation Consortium for Oak to expand efforts to study and protect five of the most threatened U.S. native oak species. Recently, one of these projects yielded an exciting find in the backcountry of southwest Texas.
Researchers search through the backcountry of Big Bend National Park. Photo by Bartlett Tree Research Laboratories and Arboretum.
In May 2022, researchers led by The Morton Arboretum and the USBG were thrilled to find a lone specimen of Quercus tardifolia, an oak previously thought to be extinct. The 30-feet-tall tree was found within Big Bend National Park in Texas, though it is in poor condition and in immediate need of conservation. First described in the 1930s, the species was believed to have gone extinct in 2011.Q. tardifolia is considered one of – if not the – rarest oaks in the world.
"The United States Botanic Garden is thrilled about the success of this collecting trip that rediscovered such a rare oak species," said Susan Pell, Ph.D., acting executive director of the U.S. Botanic Garden, which is funding and collaborating on the project. "This collaborative discovery highlights the importance of partnerships in bringing together diverse expertise to save imperiled species."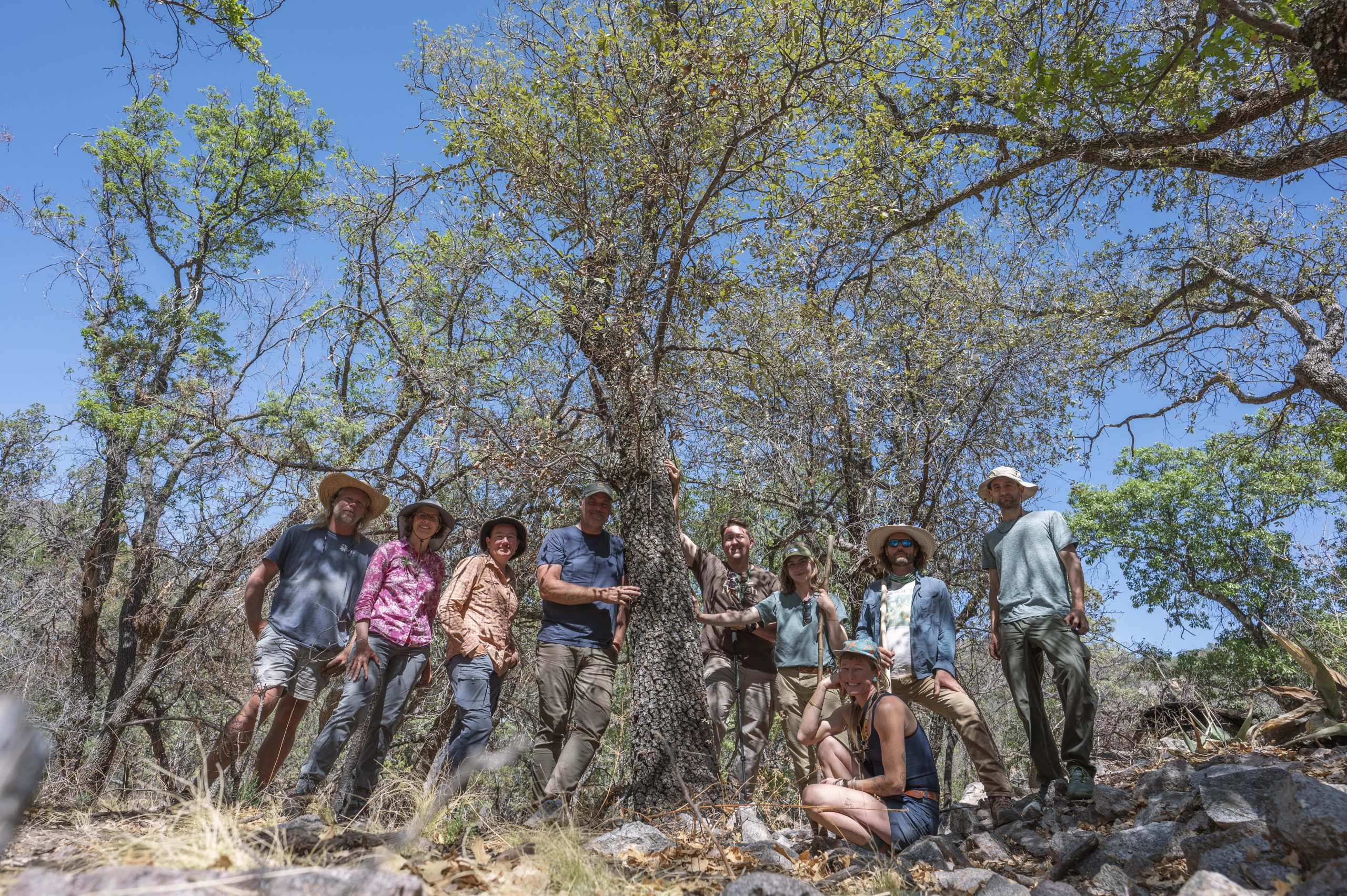 The team that made the discovery described the trunk as scarred by fire and showing signs of severe fungal infection. A drought or fire has the potential to end its life, and climate change makes this outcome more likely every year. The collaborators are now working with the National Park Service to reduce the immediate wildfire threat to the tree. Conservationists in this collaborative are moving quickly to return to search for additional trees, take cuttings and collect acorns.
"This work is crucial to preserve the biodiversity that Earth is so quickly losing," said Murphy Westwood, Ph.D., Vice President of Science and Conservation at The Morton Arboretum. "If we ignore the decline of Q. tardifolia and other rare, endangered trees, we could see countless domino effects with the loss of other living entities in the ecosystems supported by those trees," she said.
Preserving oaks is critical to ecosystems
Oaks are considered "exceptional" species for genebanking purposes because their acorns cannot be preserved using traditional seed banking methods such as cryopreservation and/or desiccation. Oaks, like many large-seeded fruit and nut trees, must be maintained in the wild or in cultivated living collections – which is why the involvement of botanic gardens is critical to their conservation. The researchers who found the Q. tardifolia tree are concerned that it is not producing acorns. Other methods of propagation, including grafting, are being pursued to preserve the oak's future.
Oaks serve as an ecological anchor cleaning air, filtering water, sequestering carbon dioxide, and supporting countless fungi, insects, birds and mammals. Conservation efforts such as this benefit greatly from collaborative initiatives that include botanic gardens, conservation organizations, land holders, and a variety of scientists and horticulturists to secure a future for endangered species.
"In many ways, this tree is an ancient relic. Due to the changing climate, the world is completely different now than when it evolved," said Wesley Knapp, chief botanist at NatureServe, who participated in the expedition. "It is incumbent upon us to learn from it and protect it while we still can in order to inform future conservation efforts," he said. "Nature rarely hands us a second chance, and I doubt we'll get a third. We won't waste it."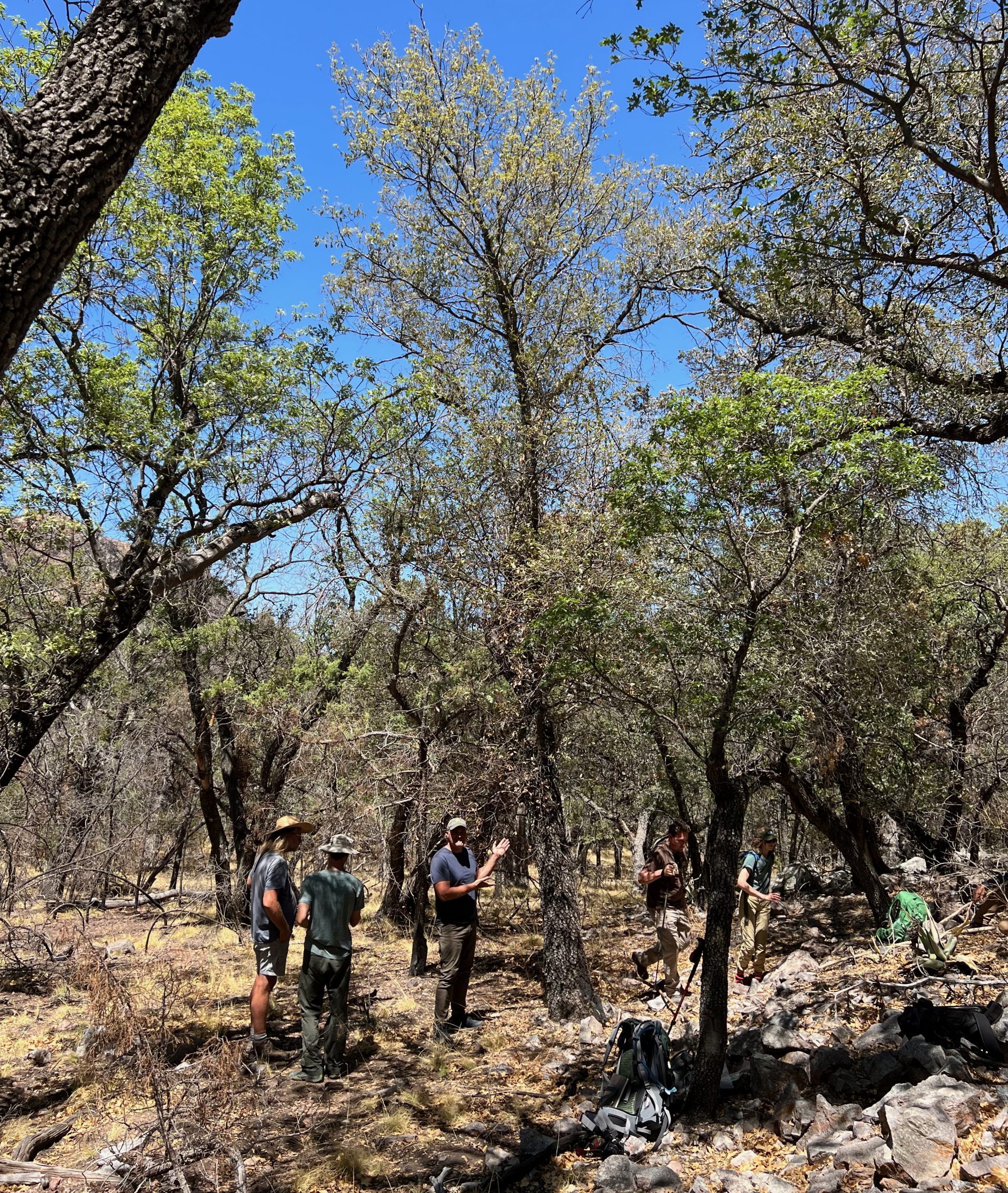 Learn more about the USBG's many plant conservation, scientific research, training and education, and urban agriculture partnerships at www.USBG.gov/Partnerships.