Marie Selby Botanical Gardens
Treasured Collections
Written by Shawn McCourt, Ph.D., Botanist and Plant Records Keeper, and edited by Christa Horn & Bruce Holst
Orchids have proven enduringly popular, and they have been called the "pandas of the plant world" because of their rarity and beauty. In many cases, they also serve as a flagship for conservation, raising public awareness of the need to protect rare plants and their fragile habitats. At Marie Selby Botanical Gardens, an impressive collection of orchids rotates through display areas so that the public can enjoy the wonders that the Gardens' researchers have brought back from the tropics and subtropics. Like the other collections at Selby, they serve the broader purpose of elucidating patterns in plant diversity and distribution.
Background photo: Close up photo of a Ila epidendrum flower, a species now believed to be extinct in the wild in its native Ecuador. Photo by: Wade Collier, courtesy of Marie Selby Botanical Gardens.
Ex situ collections of wild species are important for conservation efforts as global biodiversity continues to decline at an alarming rate. To this end, Selby Gardens aims to be a leader in programs of research and conservation, and to help stabilize or restore wild plant populations. As the world's only botanical gardens dedicated to the study and display of epiphytes (plants which grow on other plants), the majority of Selby Gardens' collections consist of species from epiphyte-rich plant families – including Orchidaceae, but also, Bromeliaceae, Araceae, Cactaceae, and Gesneriaceae, and various families of ferns and lycophytes. Much of Selby Gardens' living collection is housed behind-the-scenes, in over 20,000 square feet of greenhouses, though collection plants often rotate on display in the public Tropical Conservatory. Fittingly for one of the largest families of flowering plants, the Orchidaceae has the most representatives in Selby's living collection, with over 1,300 species represented, originating from more than 50 countries.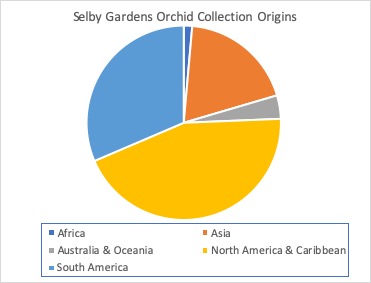 Not only do these collections increase our knowledge of the orchid family as a whole, they help staff learn more about the biology and horticulture of these species to support conservation efforts. Conservation has been a part of Selby Gardens from the very beginning. The Gardens was founded in 1973, and one of the senior scientists and founders, Dr. Calaway Dodson, was already showing off a flat of the extremely rare orchid, Epidendrum ilense, being prepared for out-planting in the wild in 1978 (pictured below). Similar work continues today, as Selby Gardens endeavors to not only build up their living collection, but to employ their botanical and horticultural skills in support of rare plant species in Florida and around the world.