The Morton Arboretum
Provided by Cathy Bechtoldt and Andrew Hipp
Experimental Prairie
Ecological restoration is a critical component of conservation. Unfortunately, restored sites often fall short of common restoration goals such as maintenance of biodiversity over time, increased ecosystem function, and resistance to invasion by exotic weeds. The goal of this project is to test whether considering phylogenetic diversity, a measure of biodiversity that takes into account evolutionary history, can advance the ability to restore diverse, highly functional, resilient communities. In this project, they are installing two experimental prairies, one at The Morton Arboretum and one at Prairie Moon Nursery (Winona, Minn.); analyzing existing restorations as well as remnant prairies; and collaborating with colleagues at Chicago Botanic Garden, Northern Illinois University, and the University of Minnesota to investigate the effects of planted species diversity on restoration outcomes and function of restorations.
Background photo: Planting plugs. Approximately 18,000 plugs were planted in August 2016 by 5 staff, a graduate student, and more than 40 volunteers.
As part of a five-year National Science Foundation grant, The Morton Arboretum Plant Systematics Lab designed and installed an experimental prairie in 2016 measuring about a 3/4-acre. The prairie is designed to investigate the effects of phylogenetic, or evolutionary, and functional diversity of plants installed in prairie restorations on the restoration outcomes. There are 127 species included in the experiment, planted in 144 treatment plots and 254 monocultures.
Outcomes investigated include:
Productivity (estimated by measuring biomass and spectral vegetation indices)
Maintenance of biodiversity
Resilience to interannual drought
Resistance to invasion
Effects on soil microbial diversity
The experiment endeavors to quantify the degree that the diversity and identity of what is planted in restorations can increase the probability of restoration success as well as decrease maintenance costs over time. The experiment is currently being utilized by researchers at The Morton Arboretum, Chicago Botanic Gardens, University of Minnesota, and Northern Illinois University.
There is also collaboration between PI Andrew Hipp and colleagues at Downers Grove North High School in Illinois where approximately 100 to 120 Advanced Placement biology students gain experience in prairie ecology and experimental design.
Background photo: Organizing plugs for shipment, at Pizzo and Associates. Every plot in the experiment was designed precisely, with random locations identified prior to any plants going into the ground. Each of the 72 treatment plots of 15 species and 254 monoculture plots was organized by flat prior to shipping. The plant producers, Pizzo and Associates, LLC, were fantastic collaborators on this, allowing our group space to work during the several weeks leading up to shipment and taking a long-term interest in all aspects of the experiment.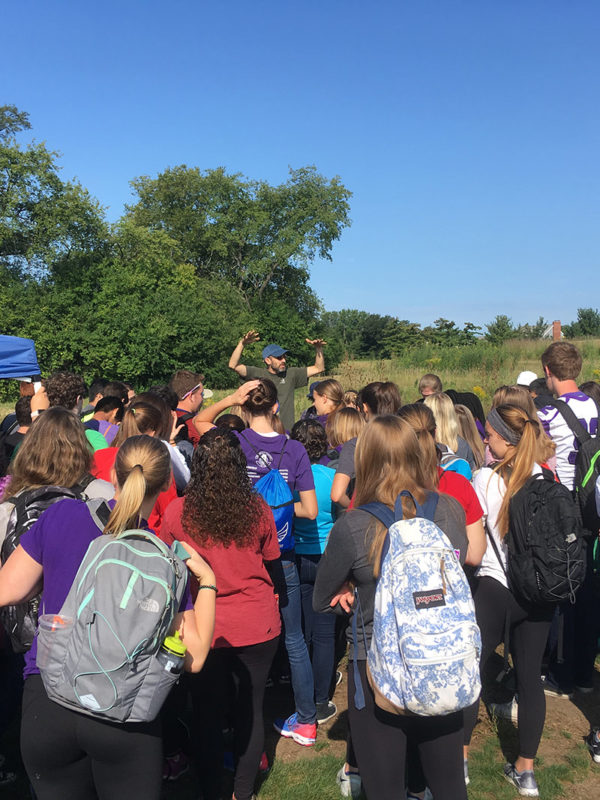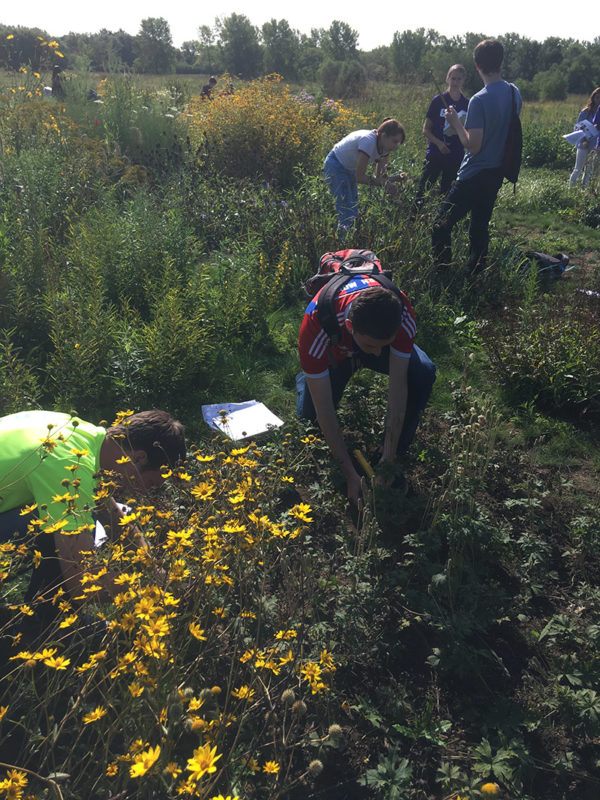 High School students gathering trait data in the experiment. The Morton Arboretum Herbarium and Systematics Laboratory have been collaborating with the AP Biology program at nearby Downers Grove North High School for approximately 6 years. In the past three years, our work with them has been focused on our prairie experiment and beginning in 2017, the students' curriculum involves a field trip to the prairie to gather data on plant traits, by species. Students then work with the PI on this experiment, Dr. Andrew Hipp, and a postdoc on the project, Dr. Rebecca Barak, during a semester-long inquiry into prairie ecology and the practice of conducting ecological research. The semester culminates in group projects in which the students generate and test hypotheses, then present their work in a poster session. Through this work, more than 650 students have gained training in plant biodiversity science, and each of the past three years, two of these students have been hired to work in the Systematics Laboratory during the summer as research interns.