Strategizing Collections with Genetic Research Montgomery Botanical Center
Based on interview with Patrick Griffith, Ph.D. – Executive Director of Montgomery Botanical Center
Trekking around the world to amazing habitats palms and cycads call home to make collections, the staff at Montgomery Botanical Center strive to make sure those collections truly conserve the genetic diversity of these diverse and fascinating groups of plants. Patrick Griffith and his team are using model species to study the genetics of collections to help them tackle the fundamental problem on developing conservation collections — which plants and how many?
The 120 acres of the Montgomery Botanical Center (MBC) on the bay in a quiet neighborhood in Coral Gables, Florida, are home to thousands of palms and cycads, as well as other tropical species in their care. Many of these majestic plants are part of conservation collections, that is a collection of seeds, tissue or whole plants that supports species' survival and reduces extinction risk. But conservation collections require many plant individuals from the same population to fully conserve the genetic diversity of the species that occurs in the wild, and 120 acres quickly seems small when you're trying to conserve several species. Space and other limited resources drive fundamental questions about these collections that beg answers: which plants should be grown? How many plants do you need to collect to maintain a conservation collection? Fortunately, MBC had the staff and funding support, including a few key Institute of Museum and Library Services (IMLS) grants, to start answering these questions.
Starting with key thatch palm (Leucothrinax morrisii) as a model, Patrick Griffith, director of MBC, and his staff set to work trying to figure out just how many palms were needed to capture the genetic diversity found in the wild. To do this they looked at microsatellites, or distinct repeats within a sequence of DNA that have relatively high rates of mutation, to identify population genetic markers and compare the ex situ (off-site, not wild) collection with its wild counterpart. They found that the more individuals in the collection, the more genetic diversity saved – up to a point. Eventually the benefits of adding another individual to the collection start to taper off… and for key thatch palm this occurred at a surprisingly few number of plants (15!). Key thatch palm was a good general model because it is a monoecious, (having both male and female organs in same plant) wind-pollinated, and widely distributed species, but many species – especially many rare species – don't fit that model, limiting its application. So, for the next round of research they moved on to rare cycads with very different biology.
Key Thatch Palm, Leucothrinax morrisii, in the Florida Keys background photo credit: Carl E. Lewis, licensed under Creative Commons 2.0.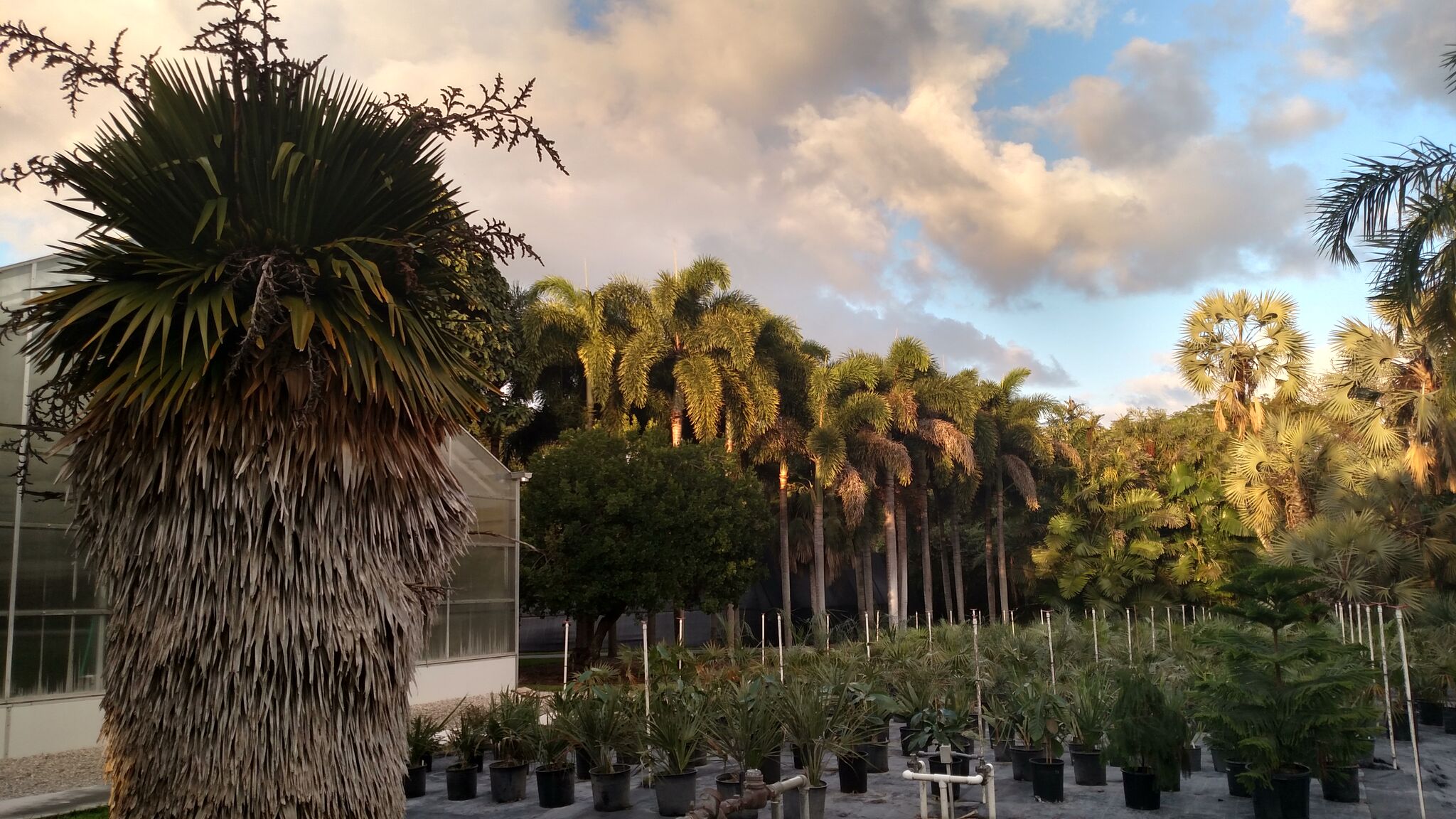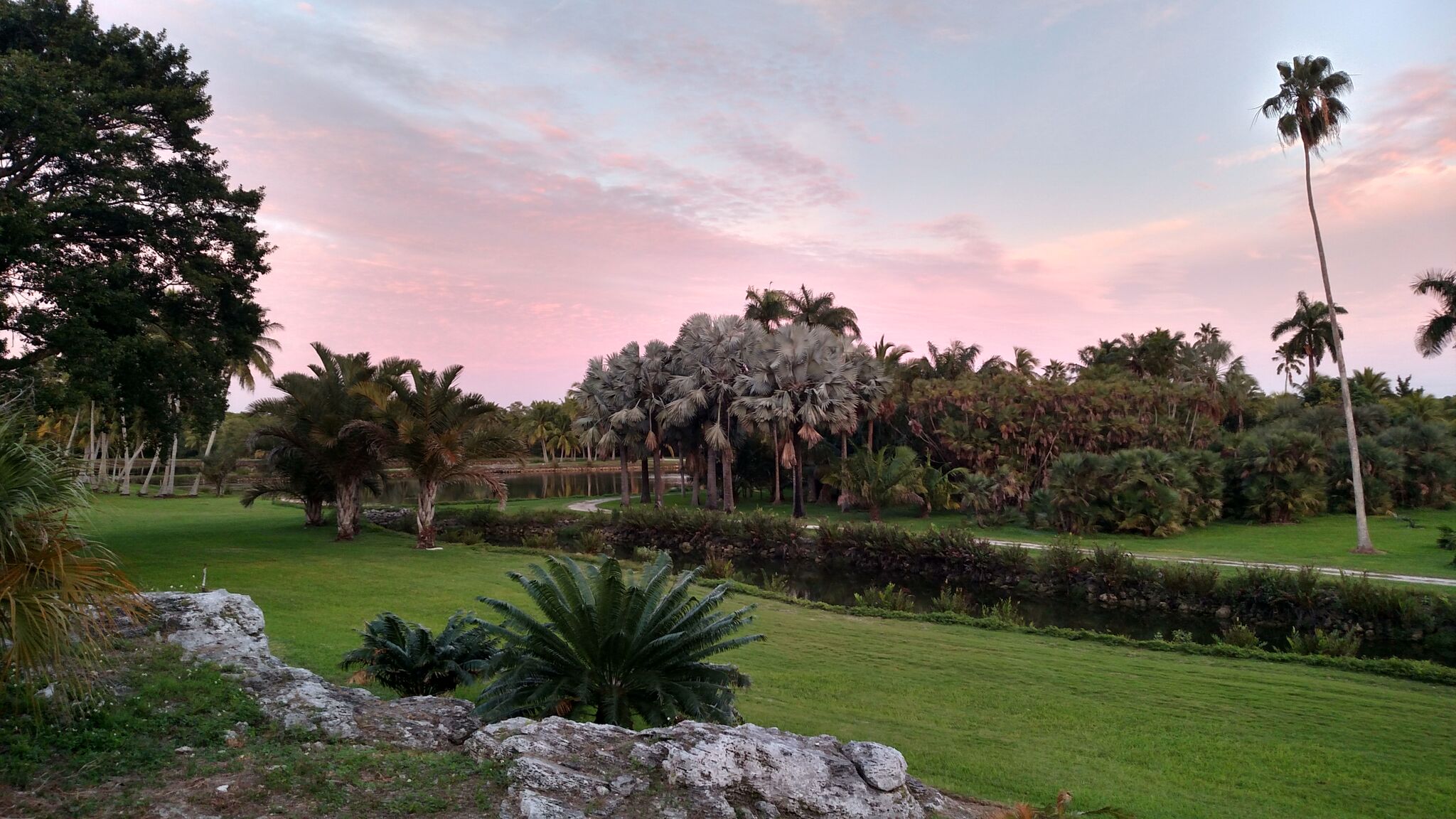 They turned to sinkhole cycad (Zamia decumbens), a rare species occurring with just a few small populations in southern Belize. Partnering with the Belize Botanic Garden and drawing on the support of Dr. Lin Lougheed and his generous support of MBC's Plant Exploration Fund, Dr. Griffith and his staff collected genetic samples from the ex situ (collections) and in situ (wild) populations of the cycad. Using the same techniques as with key thatch palm, they found that the added genetic value of collecting more individuals tapered off at over 200 individuals… a far cry from the palm's result. It was at this point that Dr. Griffith realized that there was not going to be one right answer: people making conservation collections will need to consider the circumstances and biology of the plants they are striving to save.
Some general guidelines did emerge – that populations should be managed separately, that gardens should collect and maintain multiple accessions, and collect over multiple seasons. For sinkhole cycads, a consideration of its reproductive biology pointed to the need to make collections over multiple years, as only a handful of cycads may be producing seed in any given year.
Every plant species is unique, but that doesn't mean there isn't value in learning more from model species. Comparing sinkhole cycad to a related cycad, bay rush (Z. lucayana) with very different circumstances (one continuous population in a restricted habitat, a different life history, etc.), reinforced the idea that each species' biology should be considered. Yet, still a very high number of individuals would be needed to capture diversity. It proved very valuable to do a pair-wise comparison of these related cycads to better inform collection strategies for other similar species.
Now MBC is moving forward with the pair-wise approach under a new IMLS National Leadership Grant, along with several US and international partners. MBC will work with the Bahamas National Trust, the Rafael Moscoso Botanical National Botanical Garden in the Dominican Republic, Belize Botanic Gardens, and the USDA-ARS to examine two more rare palms, buccaneer palm and cacheito (Pseudophoenix sargentii and P. ekmanii). Meanwhile, Chicago Botanic Garden, CPC, BGCI, National Tropic Botanic Garden, and the Morton Arboretum will tackle the genetics of oaks, magnolias, and hibiscus – each in a pairwise comparison. Though a broad spectrum of trees, all of these are long-lived species with limited seed banking potential, the types of species where the questions of which plants and how many are particularly important for ex situ collections. The project is already generating some good results. Soon, there will be more information out there on determining optimal level of genetic capture for trees that can be managed within a garden's resources… helping more gardens save more plants.