California Botanic Garden
Reintroductions of Nevin's Barberry (Berberis nevinii) in the Angeles National Forest
Based on an Interview with Naomi Fraga (Director of Conservation Programs) and Billy Sale (Restoration Project Manager) of California Botanic Garden
Most known populations of the globally rare California endemic Nevin's Barberry (Berberis nevinii) are small populations consisting of very few individuals. One population in the Angeles National Forest at San Francisquito Canyon, however, is larger in size and quite healthy. California Botanic Garden (CalBG) has been working with this species for decades, and has monitored the plants in the Angeles National Forest since 1991. In their work with the species, they learned that this healthy San Francisquito Canyon population was not in fact originally native to the site.
Background photo: Berberis nevinii restoration site two years after installation. This site was designated by the model to not be an unsuitable site. Photo by: Adam Corey Thomas, TreePeople.
When the St. Francis Dam catastrophically failed in 1928, 12.4 billion gallons of water flooded through San Francisquito Canyon. The dam failure caused disaster for the area and its nearby communities, and decimated the flora of the canyon. Following this tragedy, California botanist Theodore Payne revegetated the area with many native plants, and knowing that nearby native populations of Berberis nevinii were threatened by development, planted a new population of this rare species in San Francisquito Canyon. A genetic study of the population revealed that it was very genetically diverse, on par with the genetic diversity of the largest native extant population. After the 2002 Copper Fire swept through the Angeles National Forest, California Botanic Garden ramped up their work with Nevin's Barberry to ensure it is safe from future wildfires and find out what is required to successfully establish a new population.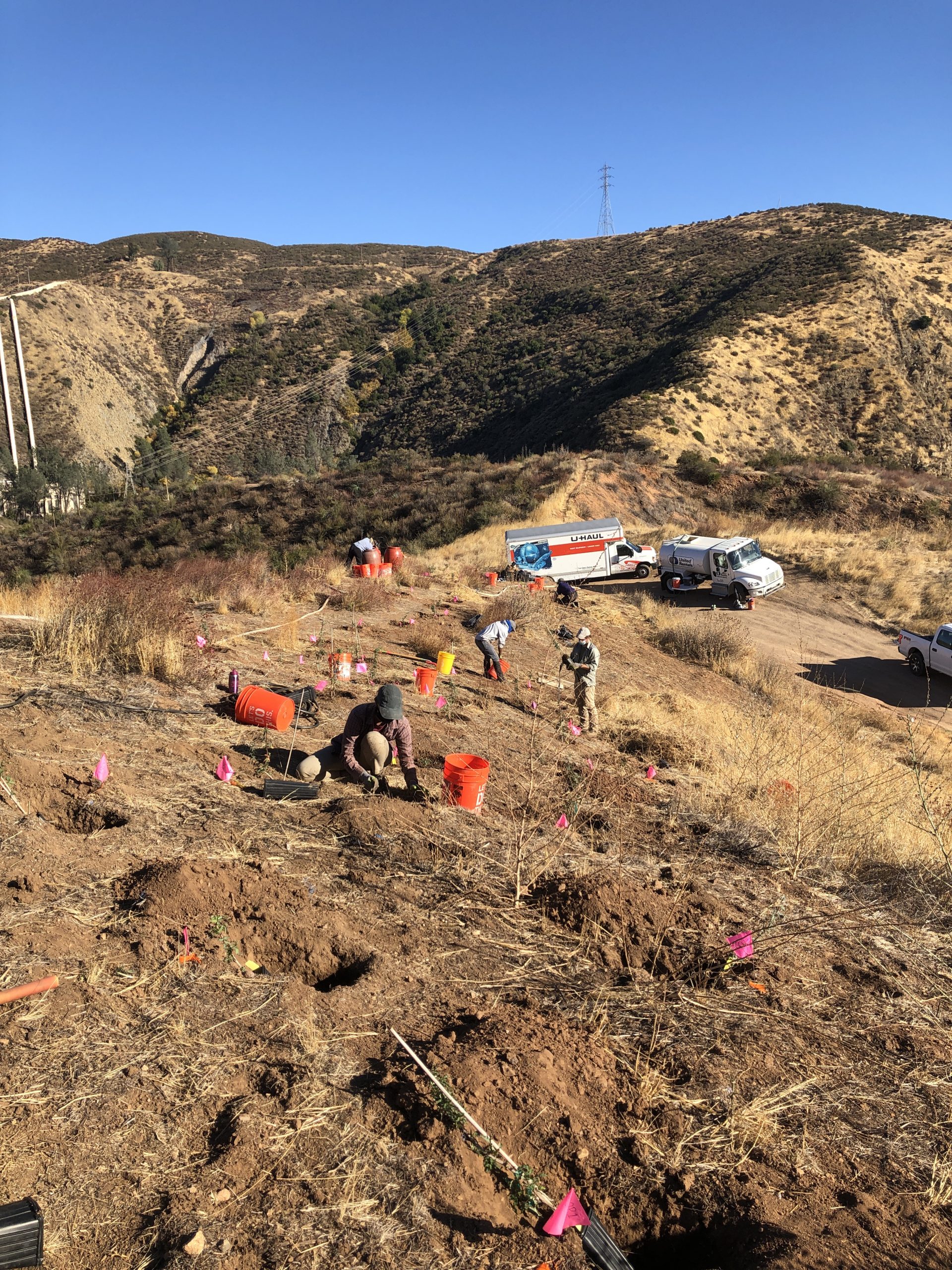 Since 2014, CalBG has worked with the Angeles National Forest to study the species and its potential for reintroduction, including monitoring populations, collecting seed from wild individuals, propagation trials, and genetic studies of the species. Prior to conducting their plantings, ex situ research helped prepare the team and their partners for a more successful reintroduction. In preparation for restoration efforts, genetic analysis provided a list of the most genetically distinct mother plants from which seed could be collected and grown out for use in reintroductions. To choose sites for reintroductions, a habitat suitability model was created which showed what sites would be most ideal. The researchers from CalBG added an extra experimental layer to determine efficacy of their model: planting not just in areas designated by model, but also in areas the model found unsuitable. Outplanting of the plants was conducted similarly to other chaparral species in sites not far from mother populations with an impressive 95% success rate. Plantings in sites deemed unsuitable by the model ended up healthy too, allowing the researchers to potentially fine-tune the model with new variables and combinations for future plantings.
Sparse and stressed populations of Nevin's Barberry present a challenge to ex situ observation and reintroduction efforts. Throughout its native range, many individuals of the species are not producing any seed, likely because the populations are too small. For this rare plant, seed is necessary in order for genetic material to be preserved and reintroduced. Vegetative cuttings have a low success rate, and making it very difficult to conserve genetic material from plants in populations which are unable to produce seed. CalBG's reintroduction sites could provide a model for what to do at future sites when these challenges appear and supplement knowledge for Berberis nevinii conservation.
When it comes to rare plant conservation and reintroductions, Naomi Fraga, Director of Conservation Programs at California Botanic Garden, notes how crucial partnerships are to success. For this project, CalBG collaborates with the Angeles National Forest, the American Conservation Experience, Long Beach Conservation Corps, National Fish and Wildlife Foundation, National Forest Foundation, and TreePeople. These collaborations allow the project to flourish and grow, with extra hands in plantings, monitoring, and funding. Nevin's Barberry being a hardy and typical chaparral plant allows for easier partnership in caring for plantings – the species has established horticultural procedures and survives well in gardens.
Future directions for this species would see conservation attention given to small and stressed native extant populations. In Lopez Canyon, where one lone individual survives, California Botanic Garden would like to see existing seed used to supplement the extremely small population of one. There are also genetically distinct populations in Riverside County where seed collections can be conducted to supplement ex situ genetic material and reinforce diversity in future reintroductions. Outside of the efforts of California Botanic Garden and their partners, Nevin's Barberry has already seen a natural sort of reintroduction in the Claremont Hills Wilderness Park, where a small population has popped up. This new population near California Botanic Garden's grounds was likely "planted" by birds with seed sourced from CalBG's living garden, evidence of yet another ever-present partnership in conservation.