National Collection Spotlight: Gierisch's Globemallow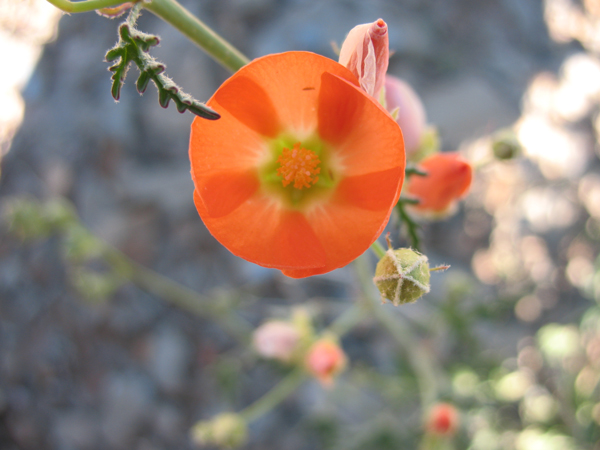 The Gierisch's globemallow (Sphaeralcea gierischii) is a federally endangered perennial forb that can grow up to 100 centimeters tall, producing eye-catching, bright orange flowers along woody, dark reddish-purple stems. This species is endemic to a small area straddling the Utah-Arizona state line, in northwestern Mohave County, AZ, and closely adjacent Washington County, UT. It grows on low terraces abundant with gypsum-containing biological soil crust substrate, around 1,090 meters in elevation.
Five occurrences of this species are known: four in Arizona and one in Utah. The two largest occurrences in Arizona represent over 90% of the total population. Both of these occurrences are threatened by active gypsum mining operations, which can completely destroy the plant's habitat. The Utah occurrence is threatened by increasing OHV use, illegal dumping, and impacts associated with target shooting.
Gierisch's globemallow is secured and stewarded by CPC Participating Institution, Red Butte Garden. Learn more about this endangered species on its National Collection Plant Profile and support its conservation with a Plant Sponsorship.