National Collection Spotlight: Florida Scrub Bluecurls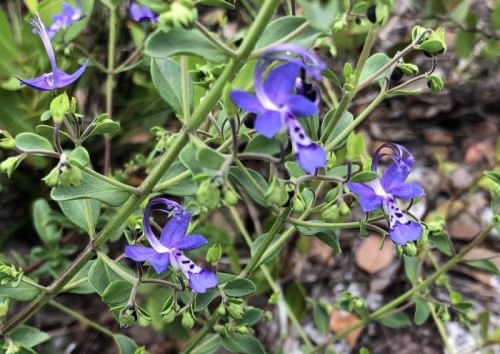 Florida Scrub Bluecurls (Trichostema suffrutescens) is a Florida endemic rare plant from the mint family, with captivating royal blue blooms. This plant thrives on coastal and inland uplands of the Floridian peninsula. Its curled, deep blue flowers feature a patch of white covered in dark blue spots – hence the fitting name of bluecurls.
This is one of the pilot species of the Florida Plant Rescue (FLPR) seed collection initiative. In FLPR's inaugural collection season, Bok Tower Gardens gathered seed from 27 maternal plants of this species, all members of a population scouted months prior. Although difficult to spot outside of flowering season, when in bloom Florida Scrub Bluecurls stand out with a flourish!
Learn more about conservation actions taken for the charming Florida Scrub Bluecurls on its National Collection Plant Profile, and help support its conservation with a Plant Sponsorship.