Learning from Monitoring: Improving Plant Reintroductions Over Time Missouri Botanical Garden
Contributed by Matthew Albrecht, Ph.D., Conservation Scientist
Reintroductions are tricky, but also an important opportunity to learn about the species being reintroduced. Using lessons learned from nearly 20 years of working with Pyne's ground plum, and drawing on information about reintroduction efforts from across the CPC network, Dr. Matthew Albrecht has learned the importance of using long-term monitoring to learn more about rare species and using that knowledge to manage their reintroductions.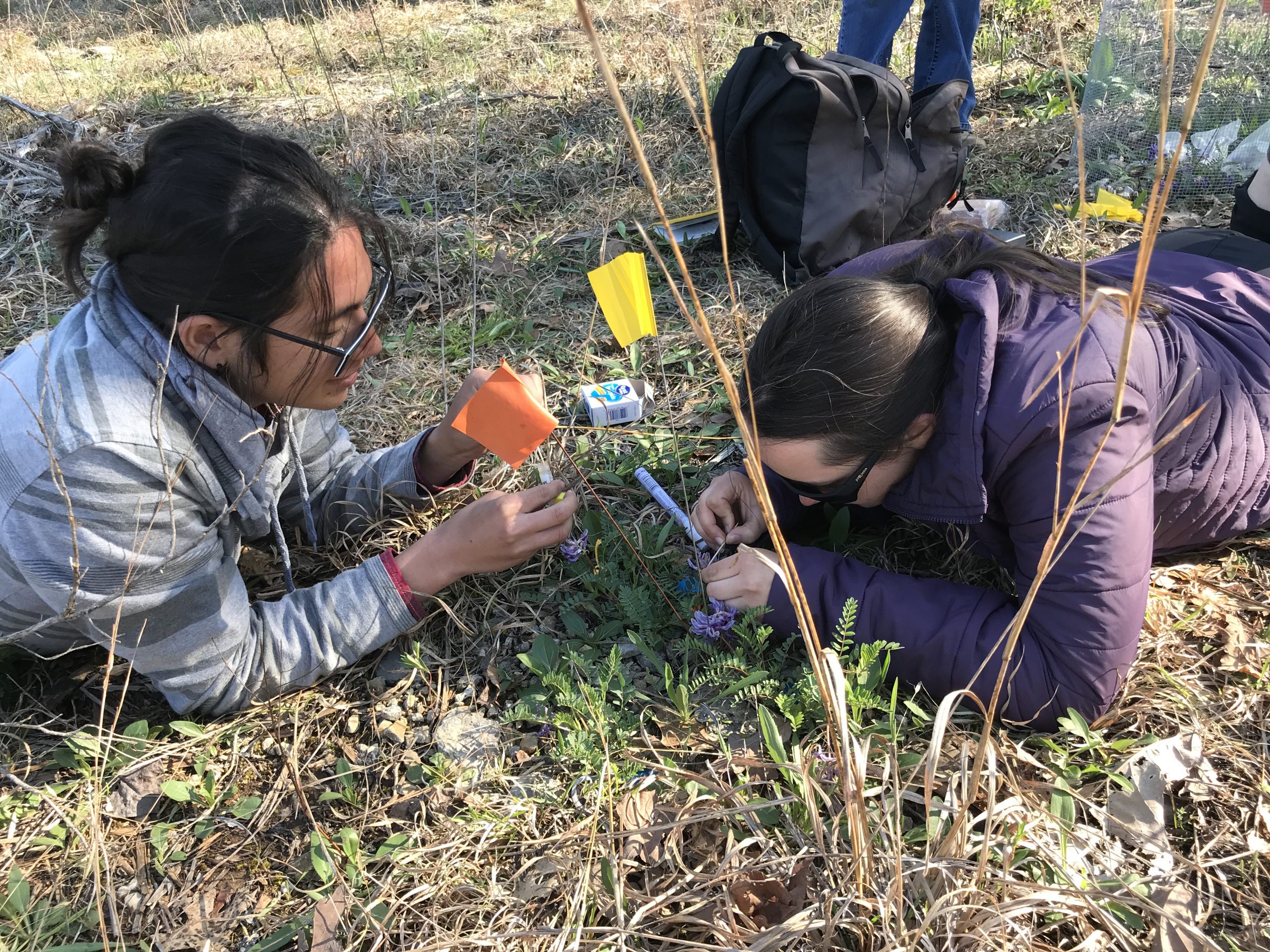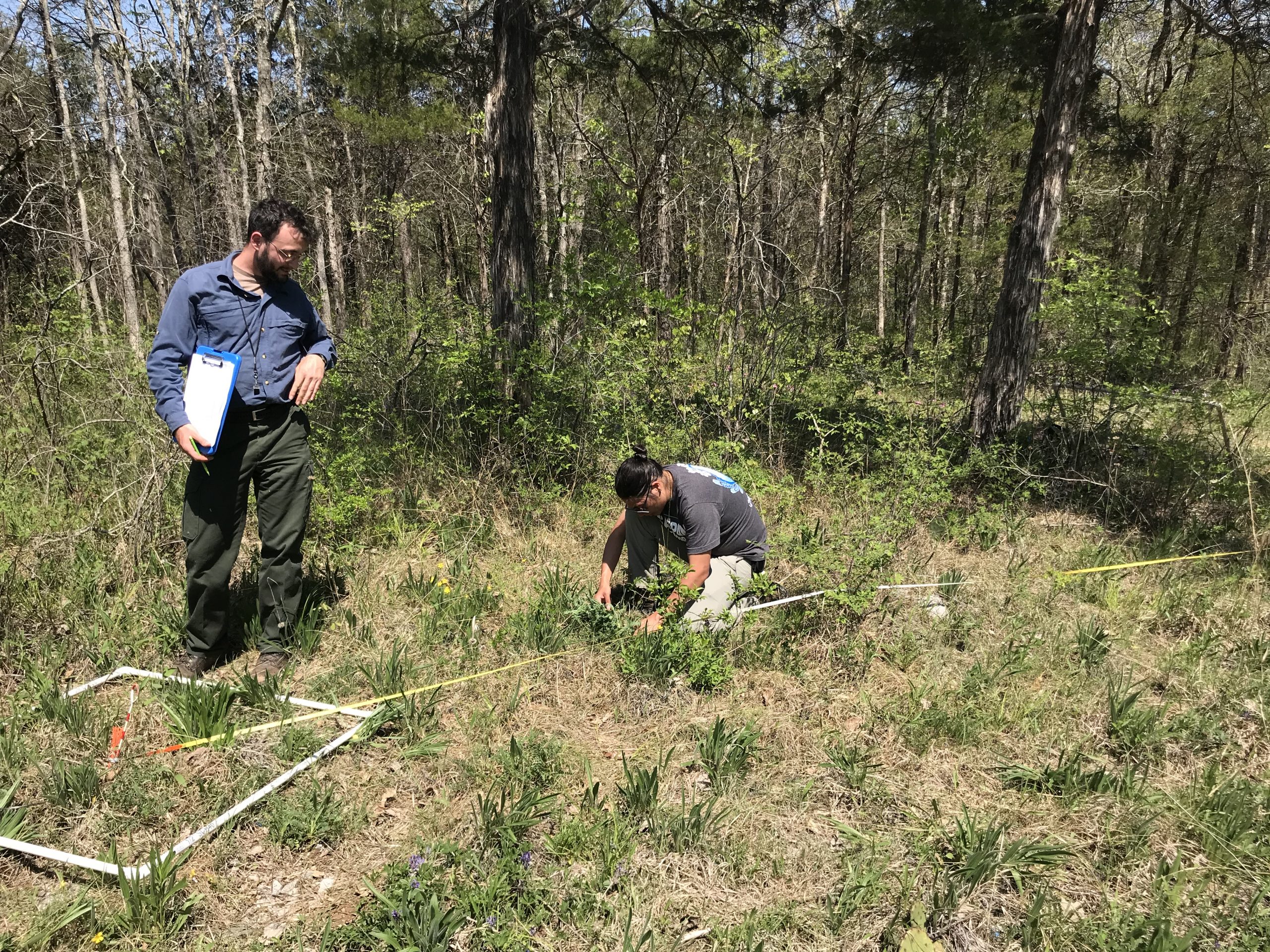 John Harper, the world-renowned British botanist and ecologist, once famously said that "plants stand still and wait to be counted." Many of our conservation colleagues in the CPC network know this quote well: we have spent many hours in the field bending over, crawling on rough terrain, and sometimes contorting our bodies in unimaginable yoga-like positions to locate, measure, count, and monitor imperiled plant species. Year after year we revisit the same population sites, tracking the survival, growth, and flowering of individual plants. Over time, this seemingly mundane task helps us understand the long-term health, status, and population trends of our beloved wildflowers. Importantly, monitoring reveals whether our conservation actions are making a positive difference, or whether we need to adjust our methods and techniques to improve the long-term survival prospects of a species in the wild, a process known as adaptive management.
For nearly 20 years, the conservation team at the Missouri Botanical Garden has been involved in monitoring populations of the endangered wildflower, Pyne's ground plum (Astragalus bibullatus). In 2001, my predecessor Dr. Kim McCue (currently Director of Research, Conservation, and Collections at Desert Botanical Garden), initiated an experimental project to reintroduce populations of Pyne's ground plum, which was tottering on the brink of extinction, to select sites in Tennessee. Although those reintroduced populations eventually dwindled in size, they were not without benefit. Careful monitoring revealed important information on how individuals performed when planted at different times of the year and from different genetic origins – information that was applied in subsequent reintroductions. Through repeated experimentation and monitoring, the process of adaptive management has continued and taught us those early reintroductions dwindled because the geology and hydrology was unfit for Pyne's ground-plum at those sites. More recent experiments show the importance of herbivores, soil microbes, pollen limitation, and light-gaps on growth, flowering, and fruit set; data that will influence the design of future reintroductions.
Many of our CPC colleagues are similarly involved in long-term reintroduction projects that apply an adaptive management framework. They have generously shared monitoring data with me and my team of collaborators so we can learn more about what helps plant reintroduction succeed and share that information more broadly. With this wide-ranging data set we looked at how different life-histories, pollination mechanisms, seed dispersal syndromes, seed production rates, and so on, might influence rates of seedling recruitment in plant reintroductions. Seedling recruitment is an important indicator of success, as it demonstrates that reintroduced plants can cross-pollinate, set seed, and that the site conditions can support the next generation. Early work on reintroduction success of CPC species focused mostly on the establishment of ex situ propagated plants at reintroduction sites, rather than on longer-term success metrics. But the true goal of reintroduction is to establish a healthy, self-perpetuating population, which isn't always a given once propagated plants have established.
Previously, CPC's guidelines simply recommended monitoring reintroductions for a minimum of three years and, if possible, for ten years. Yet our analyses of the CPC reintroduction data, recently published in Conservation Biology, suggests this timeframe is probably far too short for some imperiled species. It turns out that some plants live life in the fast lane. Individuals of these species are short-lived, grow and reproduce quickly, and recruit new seedlings within a matter of a year or two after reintroduction. For example, species adapted to fire often had the highest recruitment rates. Other plants live life in the slow lane. These tend to be species with long-lived individuals that grow very slowly, investing in large root reserves to survive in place over the long haul. Such species often experience long lag times before new seedlings ever appear in reintroduced populations. A classic example is the reintroductions of Mead's milkweed by our colleagues, Marlin Bowles and Tim Bell, at the Morton Arboretum. This slow-growing grassland endemic takes many years before reintroduced individuals reach reproductive maturity. Once they flower and set seed, though, another decade or longer may pass before a seedling recruit makes an appearance. CPC's updated guidelines reflect the difference in monitoring requirements for different species to ensure long-term success.
Back in Tennessee with our Pyne's ground-plum reintroduction program we are beginning to see glimpses of success, after repeated cycles of adaptive management. Recently reintroduced populations are thriving and flowering, but we now know that Pyne's ground plum lives life in the slow lane. Like Mead's milkweed, monitoring must continue for several years before we will likely ever observe a new seedling recruit. The lessons we have learned from this project and those of our CPC colleagues reminds me of Ralph Waldo Emerson's call to "Adopt the pace of nature: her secret is patience."