National Laboratory for Genetic Resources and Preservation
IMLS Seed Longevity Study: Researching the Aging of Rare Plant Seeds
Hannah Tetreault, Chris Walters, & Lisa Hill
How do you know when genebanked seeds need to be regenerated—or recollected? If the stored seed doesn't germinate, is it dead or dormant? Successful genebanking depends on ensuring seeds stay alive in storage, but knowing how long rare seeds survive in frozen storage is hard to predict. In general, it is harder to genebank seeds from wild compared to cultivated species because there isn't a lot of prior knowledge and wild seeds are more heterogeneous. In collaboration with the Center for Plant Conservation (CPC) and its network of botanic gardens in a study funded by the Institute for Museum and Library Services, we at the National Laboratory for Genetic Resources and Preservation (USDA-NLGRP) are using a new way to track aging rates of seeds from wild rare plant species. This work applies the usage of RNA integrity number (RIN) as a metric for seed aging, initially demonstrated for crop species.
Background photo: Testing viability of fresh and stored seeds requires breaking dormancy. In this example, we find that nearly all seeds from a 2021 sample of Amaranthus pumilus (from NCBG) germinate vigorously after a 4-month stratification at 5C. Photo credit: Shaimaa Ibrahim.
Given the enormous variation wild seeds display in germination requirements and storage behavior, the adaptation of the RIN assay to measure seed health has been of interest and a focus of this collaboration. Our goal was to compare germination and RNA integrity (RIN) of fresh and stored seeds to see if measured changes correlate. This provided CPC partners the opportunity to recollect fresh seeds from the same plant populations as those visited over 15 years ago. The old seeds were stored dry at -18C, and so we could also ask which samples maintain high viability during storage—proof of concept that seed banking works.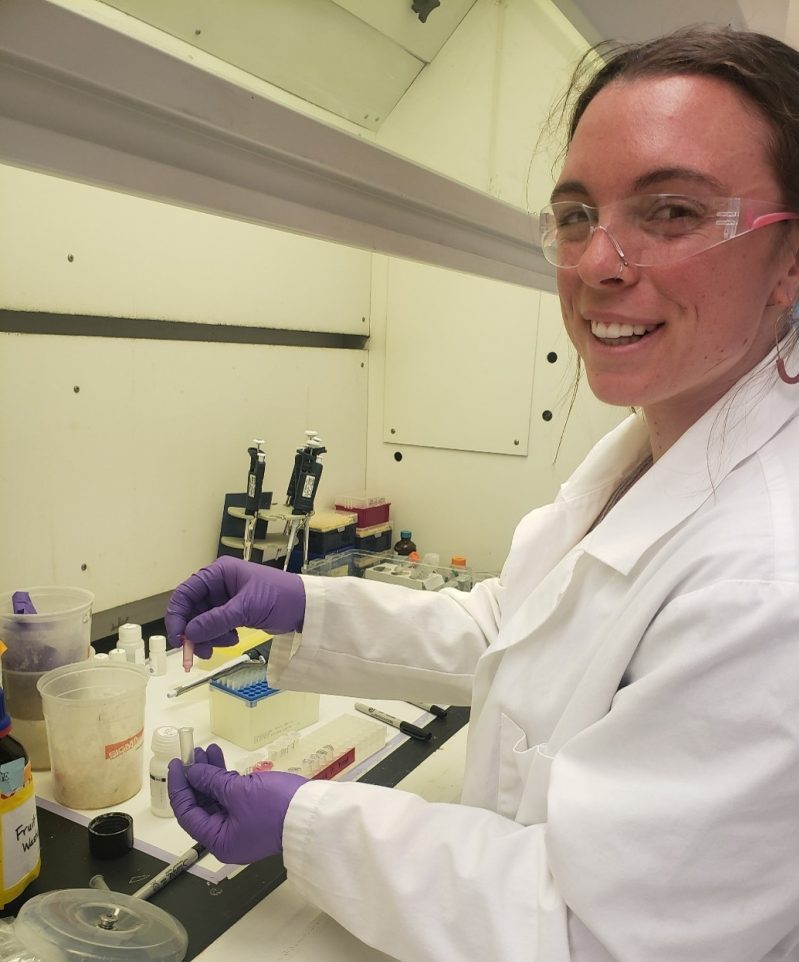 Genebanked seeds need an 'exit plan' in which they are used for restoration before they die in storage. Therefore, testing seed viability is a necessary, recurrent, and costly activity that consumes precious samples—especially for rare and endangered species. Unlike the traditional sigmoidal decline of proportional seed viability data, RNA integrity appears to decline continuously and linearly with storage time, opening the door for predictive modeling of seed health decline. RNAse activity is low in dry seeds and so fragmented RNA molecules accumulate and can be detected by extracting RNA using extraction kits and electrophoresing fragments using an Agilent Bioanalyzer (Agilent Technologies, Inc.) to measure molecular size. Each RIN assay requires about 8-10 mg of seed tissue, preferably not including the seed coat.
Applying RIN techniques to CPC species has introduced new variables that need optimization. For example, seeds from wild rare plants are diverse with variability in seed coat, seed size, and seed filling. Trying the easiest methods first, we extract RNA from fresh seeds with seed coats on using the standard Qiagen Plant RNAeasy RNA extraction method (Qiagen, Inc.). If the RNA quality is poor, we consider additional steps like removing the seed coat or using alternative RNA extraction kits such as Fruit-mate (Takara Bio USA, Inc.) followed by Nucleospin RNA Plant extraction kit (Takara Bio USA, Inc.) to avoid interference of polysaccharides or polyphenols (common when working with grasses or sedges).
Time is needed to dissect seeds or remove seed coats prior to RNA extraction to ensure high quality starting material for a successful RNA extraction. Each seed should be checked manually for the presence of an embryo, because extracting RNA from empty seed does not provide a RIN measurement that is representative of the seed health. About 1.5 years into the study, we have successfully extracted and analyzed RNA from both stored and fresh seed from 80 wild rare plant species, and we are aiming to complete the work using 100 species. The good news is that high quality RNA was obtained from older seeds in about 70% of the species pairs, suggesting that aging during storage was negligible or slight.
Germination assays use different amounts of seed than RIN and give different kinds of data. For starters, a germination assay may take months to complete and it requires 50-100 seeds, which can be a lot more seeds than RIN assays for large seeded species. Germination results can be inconsistent for the fresh and old seeds, leading to inconclusive information about the longevity. Overall, decline in germination and RIN appear similar, suggesting that RIN is a promising method to detect seed health in native endangered species. We are glad to be working with CPC to solve this difficult problem of seed longevity which will make genebanking of rare seeds more effective.