National Tropical Botanical Garden
Hanging on the Edge and Flying High
Based on an interview with and material from Ben Nyberg, GIS and Drone Program Coordinator
While dangling from ropes on a cliffside in Kaua'i, Research Biologist Ken Wood made an exciting discovery – a previously undescribed species of hau kuahiwi, or mountain hibiscus (Hibiscadelphus), a rare genus found only in Hawai'i. The 1991 discovery took place during a series of intensive surveys of Kaua'i's Kalalau Valley by the National Tropical Botanical Garden (NTBG). Only four plants were found in this inaccessible spot. As much information as possible was collected, and the species was eventually named H. woodii after its discoverer.
Background photo: Ben Nyberg above Kalalau Valley on Kaua'i'. Photo credit: Ken Wood, courtesy of National Tropical Botanical Garden.
Sadly, only a few years later a rockslide would wipe out three of the individuals. The last one was found dead in 2011. Though the species was declared extinct, the NTBG knew more pockets of the plants might exist on the steep cliffs of Kauai'i's valleys. But the dangers and time commitment required to explore the hazardous area (even for the intrepid Mr. Wood) were daunting – until Ben Nyberg and his drones came into the story.
Ben joined NTBG as a GIS specialist, but also brought experience in flying drones from his previous consulting work. Seeing great promise for the use of drones in plant conservation, Ben navigated the ever-changing landscape of flight regulations and permits – an 18-month process – and launched a drone program on Kaua'i in early 2017. Initially the drones were used for aerial imagery and data capture for elevation models, and to assist with surveys for the Limahuli Garden and Preserve (an NTBG property). The power of drones in rare plant surveying quickly became apparent. The drones located several critically endangered plants early on, including laukahi (Plantago princeps var. anomala) and Euphorbia eleanoriae. To leverage this early achievement, he sought to upgrade the drones and expand the program.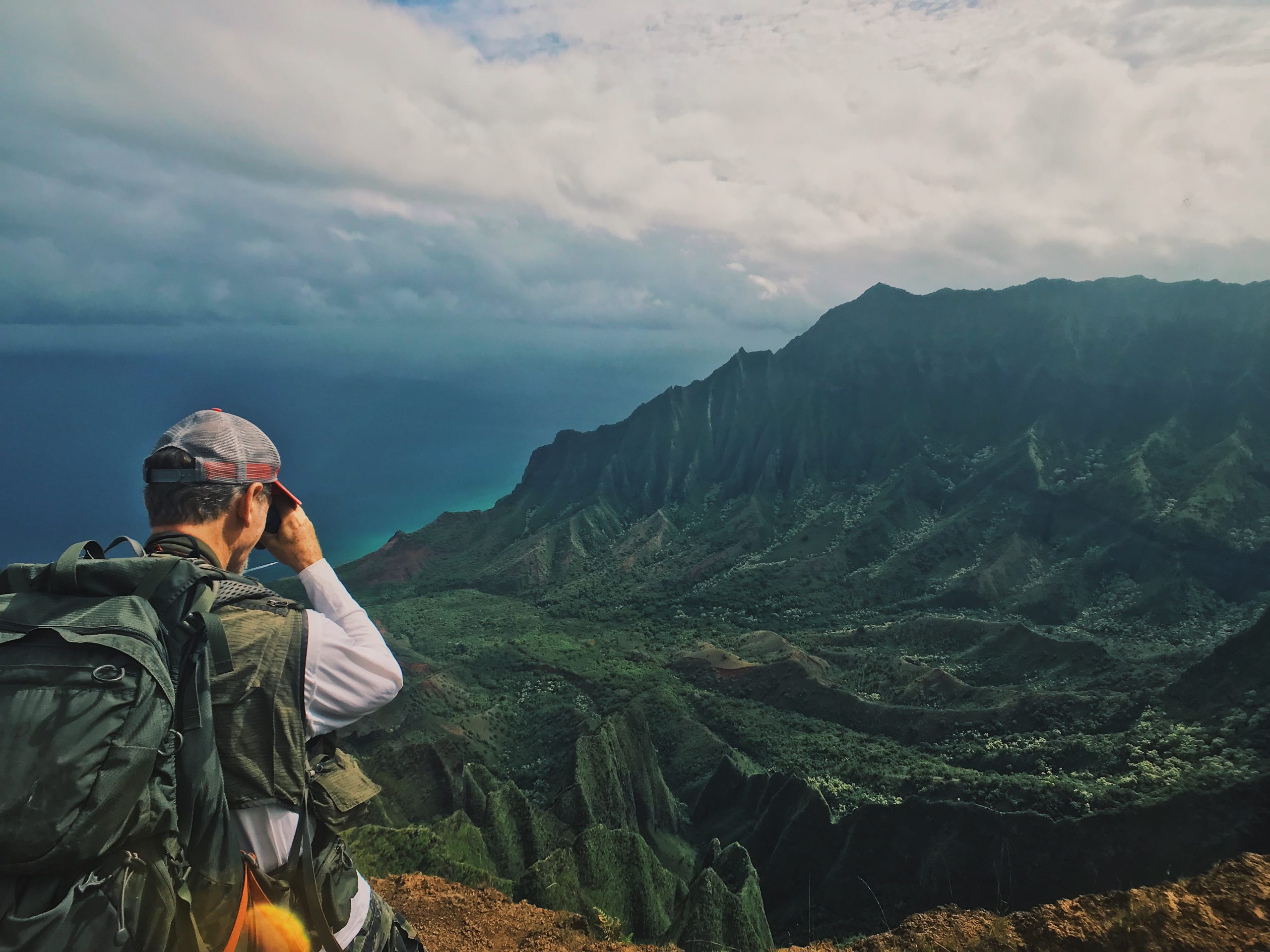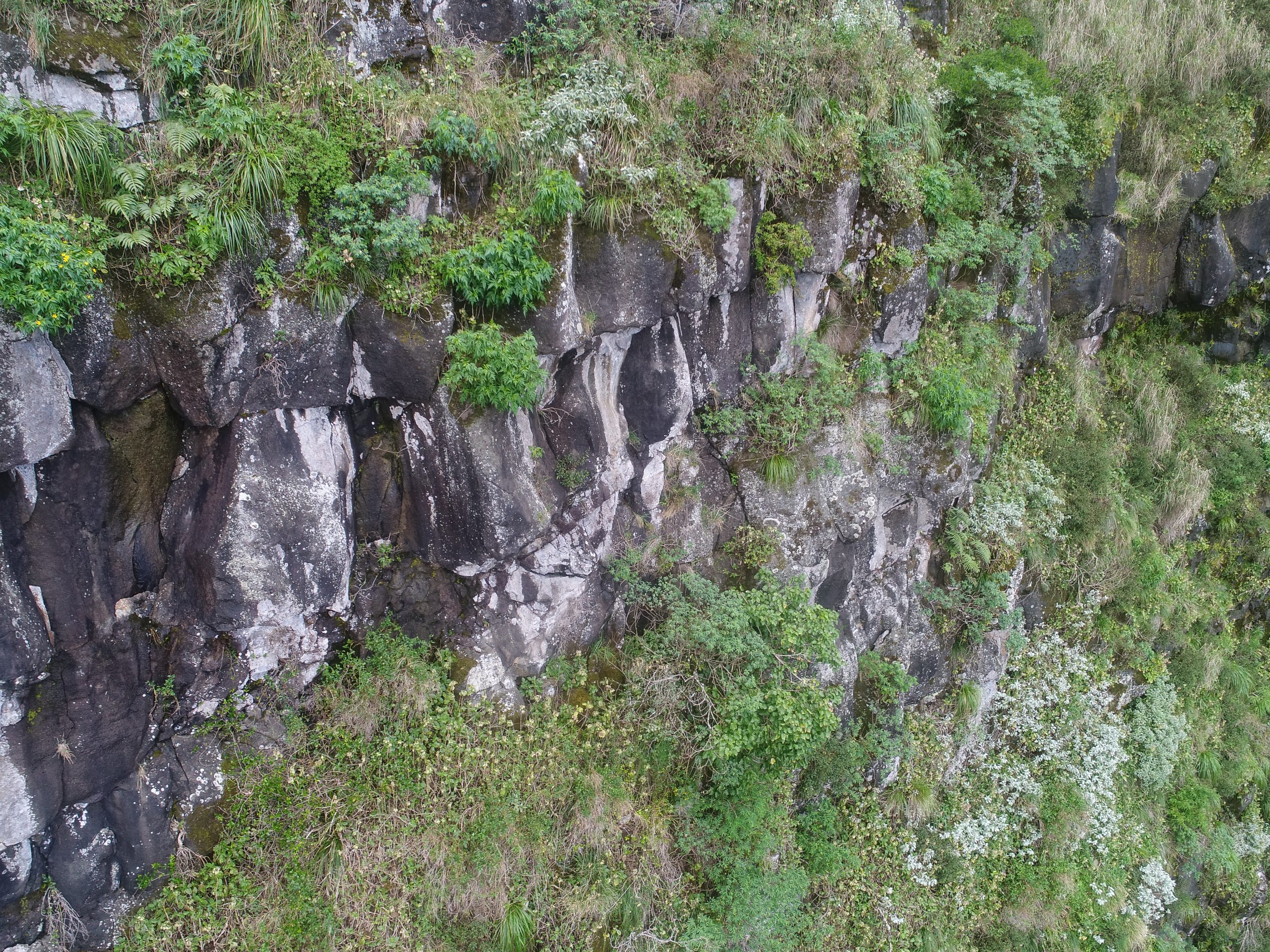 The NTBG team successfully applied to the Mohamed bin Zayed Species Conservation Fund for a grant to aid in the rediscovery of H. woodii. With these funds, they were able to purchase a new, more portable drone with a 20-megapixel camera. The team identified potential habitats and selected accessible drone launch sites. Now experienced with piloting rare plant surveys and not rely solely on automated grid patterns for his flights, Ben focused on quality habitat on the cliffs as he searched for the rare tree. But the weather and limited battery life were still challenges that impacted survey time.
The surveys began, and the team anxiously awaited results. An initial scan for H. woodii in the vicinity of the original population came up dry. For a long stretch, further surveys of this area and the next few valleys over were delayed by rain – but the results were worth the wait. In January 2019, a drone flight caught the first glimpse of the species in nearly a decade.
It wasn't instant cheers and celebrations, however. Ben and the botanists with him didn't notice the rare specimen on the live view of the drone controls. It wasn't until Ben was back in his office, scouring photos from the previous day's work, that he noticed a promising tree-like plant with round leaves in the right hand corner of one image. Ben is not a botanist – though he has enjoyed learning to identify many plants during his time at NTBG – so he ran it by his colleagues to be sure. Who would be better for this than the plant's namesake himself? Ken Wood worked with Ben to compare the drone photo to old photos and confirmed the find. This prompted a return visit to further examine the area. In the end, three individuals were confirmed, reviving hope for the species.
As with any rare species, location and abundance information is a huge step. But with H. woodii still out of reach for humans, the next steps for its conservation may also lie with drones. NTBG is partnering with engineers at University of Sherbrook and University of British Columbia, Vancouver, to explore the possibilities of adding cutting mechanisms and arms to the drones under a grant from National Geographic. Collecting genetic material, pollen, or even seeds of this rare species – or conversely painting flowers with pollen – could help move forward important conservation work. Ben is also looking into adding different sensors to the drone to collect more data than the typical photograph. Multi- and hyper-spectral sensors that record different wavelengths of light could help classify vegetation and identify plants, soils, and more.
Ben is also talking to the folks at Adobe, the developers of the Lightroom photo software, and ESRI, the mapping software company. Adapting these two pieces of software to better communicate the data from the photos would be helpful for NTBG and many other users. Also on the software side, artificial intelligence or machine-learning technologies may eventually be developed to shorten the times required for both field and office work by helping to identify good habitat and recognize target species.
For now, there are more rare plants to hunt! Guided by the Plant Extinction Prevention Program in Hawai'i and NTBG staff, Ben has a target list of cliff dwellers for which drones can play a useful survey role. He is also training other program teams to do botanical surveys with drones, increasing the efficiency of their field operations. The possibility that some of the plants discovered might be able to be brought into ex situ (off-site) collections for conservation work, like some of the other populations discovered via drone, is an exciting one. Meanwhile, the drones are playing a vital role in helping us to understand the distribution and abundance of these rare plants.