San Diego Botanic Garden
Growing a Rare Shrub and a Program
Based on information from Tony Gurnoe, Director of Conservation Horticulture
San Diego Botanic Garden (SDBG) has long displayed rare and native plants and supported conservation work as opportunities arose. A few years ago, the team initiated a more active search for projects to support native plant conservation efforts. With San Diego County's rich diversity of rare plants, the possibilities were great. Director of Conservation Horticulture Tony Gurnoe decided to leverage a good relationship with the City of Encinitas, home to SDBG, to support a rare dioecious (having separate male and female plants) shrub, Encinitas baccharis (Baccharis vanessae).
Encinitas baccharis is a rather inconspicuous evergreen shrub. Tony notes, "People would walk past it a thousand times without noticing it as anything other than a plant." This seems to endear Tony and others to the shrub. He described how one individual is dramatically sheared annually during trail work, yet persists as just one of 26 in its population. "Somehow these plants are delicate, wispy, and wimpy while also being resourceful, rugged, and tenacious."
Background photo: Encinitas baccharis was previously extirpated from the natural area maintained at the San Diego Botanic Garden, but 2020 marked their return with a reintroduction project. Credit: Tony Gurnoe
The first step to help conserve this species is collecting seed. SDBG's strong relationship with the City of Encinitas enabled Tony to secure permission to collect at Oak Crest Park. He also obtained permits from California Department of Fish and Wildlife. With detailed location data, provided by local botanist Jessie Vinje of the Conservation Biology Institute, the team began to keep an eye on the plants and make their own maps to collect relevant data. Taking advantage of the close proximity of the wild population to SDBG, Tony would often do the monitoring work on his lunch break.
Initial efforts were fruitful, with the team collecting seed from ten maternal lines. Nine of the lines turned out to have viable seeds—not bad for a small population of only 26 male and female plants! Following the seed collection in Encinitas, Tony collaborated with staff from San Diego Zoo Global to collect from a larger population. Despite several times as many plants, however, these shrubs were less productive, providing many fewer seeds per individual. One cause might be the dramatically different environmental conditions of the Encinitas population, where this baccharis faces unique pressures—namely trampling from park visitors—but otherwise thrives in a way not seen in the other locations.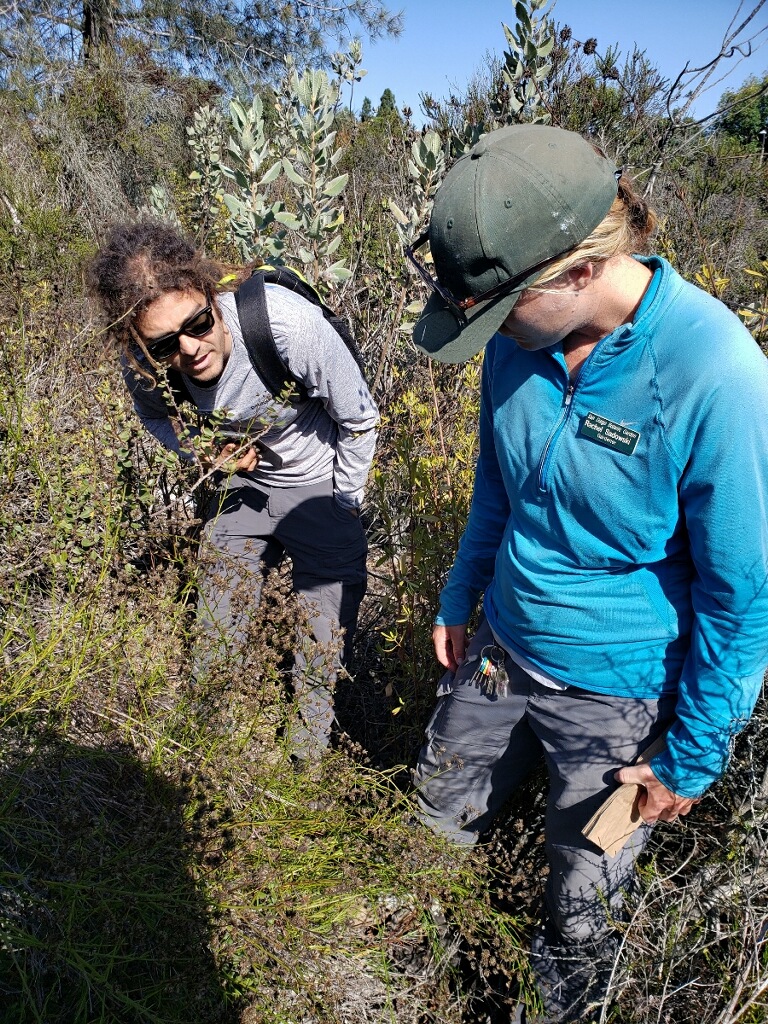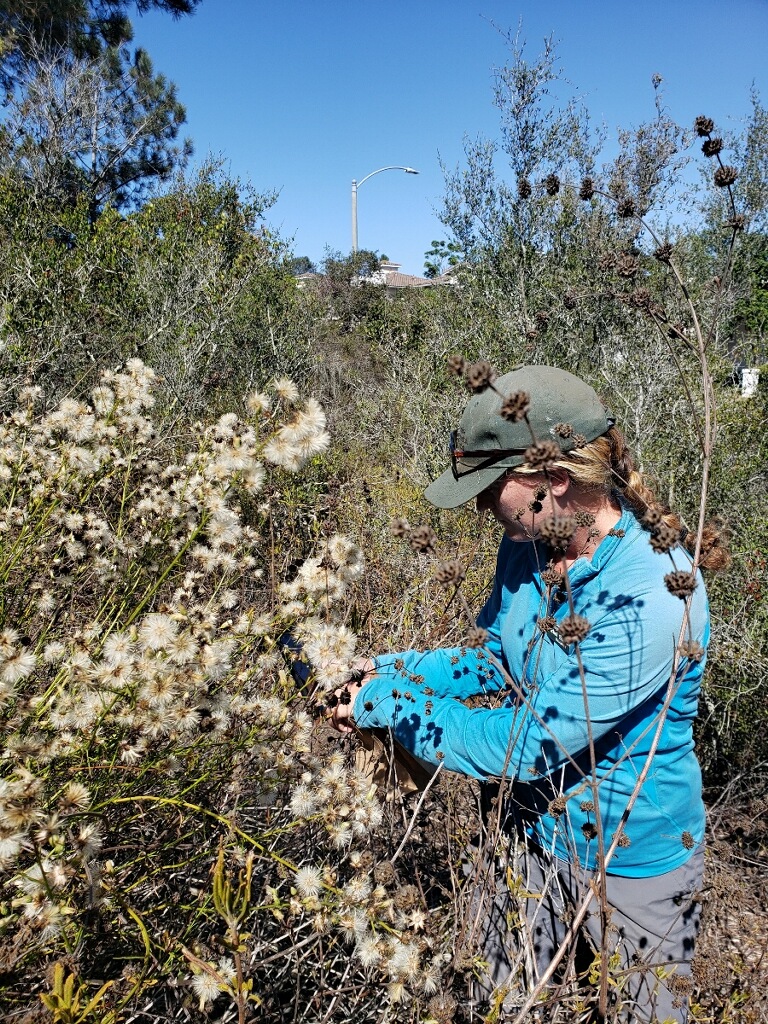 After processing the Oak Crest Park seeds, the collections were divided and sent to San Diego Zoo Global and NLGRP for long-term seed banking. Some of the seed was portioned out for immediate propagation. With so few mother plants represented, the horticulture team has been careful to track seeds and seedlings to their maternal sources, mapping to specific plants in the field. Happily, within a single growing season, many of the hundreds of successfully started seedlings began to flower in the nursery.
The propagation success came quickly without a need for experimentation. According to Tony, the team "happened into something that worked right away"—yet it was more than just
happening upon a formula. Tony considered the environment and lifecycle of the plants in their natural habitat from a horticultural lens, as recommended when attempting to grow an infrequently or never-before propagated native. He reviewed soil texture, natural rain patterns, condensation, and more. The basic nursery germination protocols developed by the SDBG team consistently provided ~80% germination and resulted in more than 95% of the seedlings surviving their initial potting up.
Despite their inconspicuous nature, the Encinitas baccharis plants are now finding homes and getting attention. Within the garden, several dozen were planted along the trail in the 'Native Plants, Native People' area with interpretive signage, as well as in the garden's natural area. Many are finding their way to other gardens, including San Diego Zoo, Santa Barbara Botanic Garden, California Botanic Garden, and Regional Parks Botanic Garden. The mayor and several city council members have lauded the project in their newsletters. And, of course, the garden is educating their visitors and social media followers about this tenacious shrub.
While having seeds in seed banks and plants in gardens makes Tony feel a bit more secure about the imperiled state of this population of Encinitas baccharis, he's hoping that his program can do more. And that is one reason he is trying to kill them! Or rather, a few of them. He asked his team to alter their care of some of the plants to begin determining where their tolerances lie. Such research is especially helpful given the looming threats of drought and climate change in a landscape impacted by development. Tony hopes to find funding to set up an adaptive traits trial using material from several populations that appear to be significantly different genetically. Putting plants grown from different populations through a gauntlet of stress factors will provide information on whether genetic differences found in a recent USGS-led genetics study represent any real world adaptive advantages for any particular population.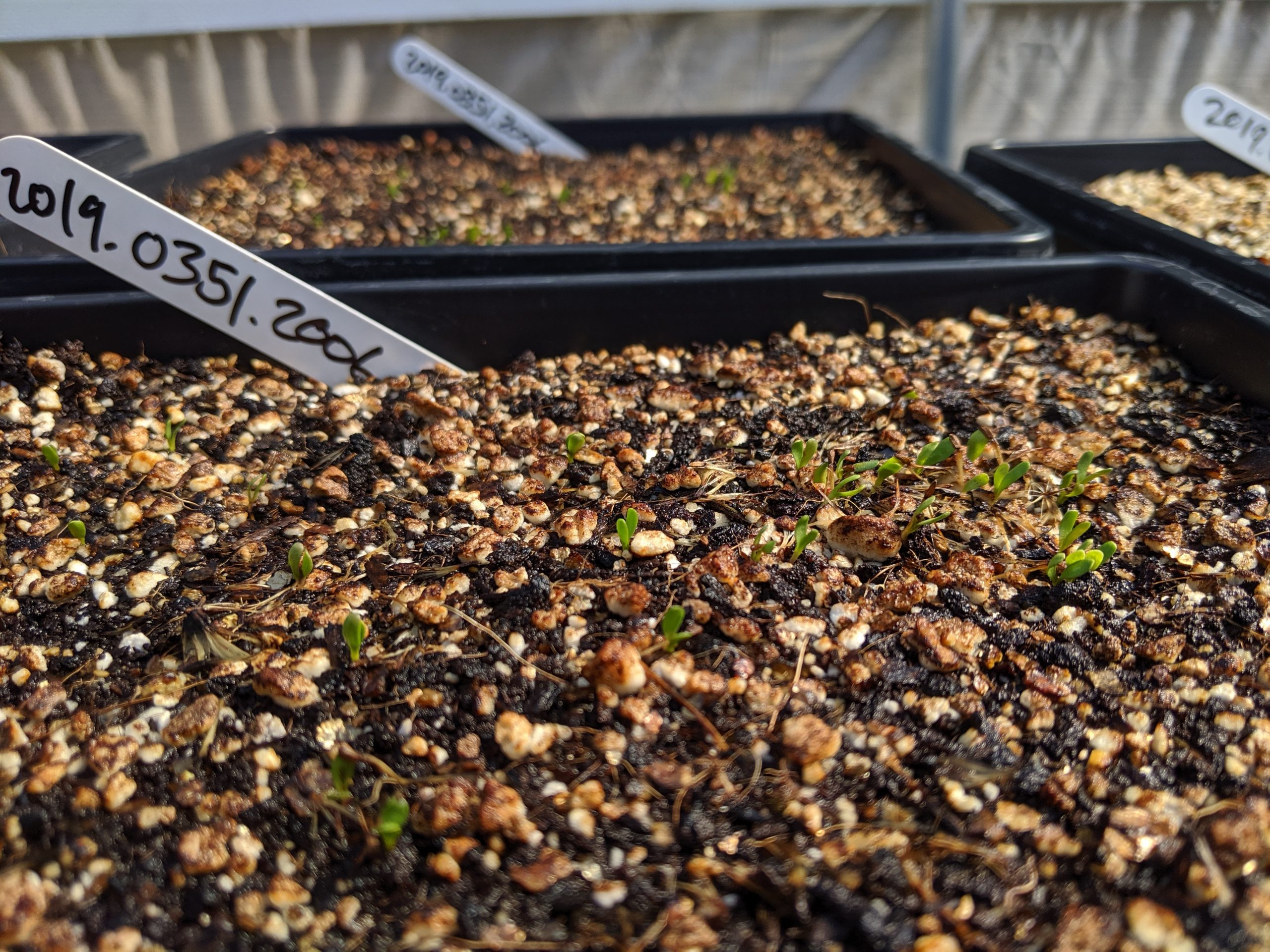 Beyond horticulture-based research, Tony hopes to find support for a population reinforcement project at Oak Crest Park. In the meantime, the SDBG team will keep working to collect seed from other unrepresented populations and continue to refine the horticultural protocols related to this species. As the SDBG conservation horticulture program grows, so does the hope for Encinitas baccharis to survive and thrive.