Florida Plant Rescue: FLPR Makes a Splash with Florida Rare Plant Collections
The Spanish bestowed the name La Florida on the region later known as the state of Florida, in acknowledgement of the verdant landscape and many flowers, or flores. The name was apt: Florida supports one of the highest levels of plant diversity in the country, with 3038 native species. Unfortunately, 14% of these plants are at a high risk of extinction. Climate change is particularly concerning in Florida, where hurricanes, sea level rise, and increasing temperatures threaten rare plant populations already constrained by urban development. These threats do not loom in the future, but are being felt today.
Photo: Calopogon multiflorus. Photo Credit: Jared Franklin, Naples Botanic Garden.
Saving seeds, spores, or other plant tissues in conservation collections at botanical gardens is the primary means by which these species can be safeguarded against extinction. CPC members have been working in Florida for decades and have the facilities and knowledge to make these collections and in fact, hold ex situ collections of 147 of Florida's rare plant species. Yet,over 160 plant species in Florida are considered globally rare and are not currently secured in conservation collections.
To ensure the rarest plants in the state find their way into ex situ collections, CPC has brought together the Participating Institutions that have made conservation collections in Florida to form the Florida Plant Rescue (FLPR) initiative. With funding by generous donations from two private donors and the BAND Foundation. CPC hired Hanna Rosner-Katz to coordinate the FLPR, to establish a shared collections database, and to facilitate future seed collections. The group already has the capacity to collect, process, and store a variety of sensitive taxa safely for generations and is poised to hit the ground running on this statewide seed collection initiative.
The first official FLPR meeting occurred in December 2021, but the initiative began to take shape well before. A year ago, the group began evaluating which of Florida's many rare plants should be prioritized for collections. As a result, four members took on contracts with CPC to make collections of some key target species. The first of these collections were secured in the summer and fall of 2021, adding several never-before-banked species to the regional seed banks.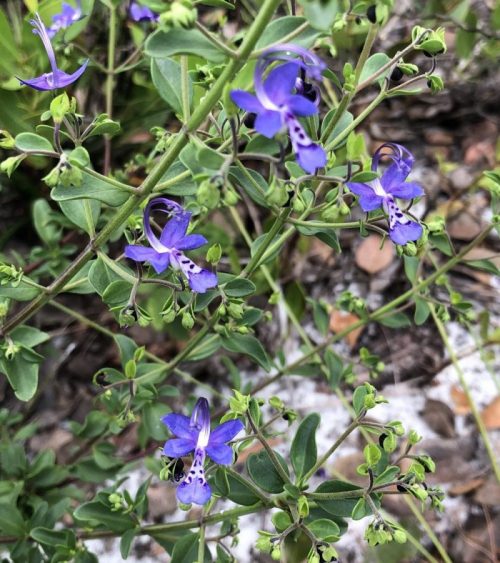 The project will ramp up in 2022, with more collections funded.  Member will contribute their data to a new database. Working together, FLPR institutions will be able to botanize across the famously long state gather at the April 2022 Florida Rare Plant Task Force Meeting, jointly fundraise, and secure more of Florida's unique plants against future challenges. The project and its initial successes bode well for the flora of Florida!
The Plants
The plants benefiting from FLPR's efforts in 2021 include some real showstoppers.
The white flowers of Pineland blackanthers (Melanthera parvifolia) develop in clusters arranged like a starburst. New florets emerge from the center and push the older ones to the margins. In the fall of 2021, Fairchild Tropical Botanic Garden was able to add Pineland blackanthers to the National Collection. Found on the endangered pine rockland habitat, this herbaceous plant was doing well on a piece of habitat that is maintained by Zoo Miami and had undergone a prescribed burn two years earlier. Because the seeds ripen continuously over a period of months, the Fairchild team used drawstring organza bags to capture seed that ripened between their trips.
Florida scrub blue curls (Trichostema suffrutescens), found in the Florida scrub, does in fact have startling blue flowers with a bit of curl to their petals. Bok Tower Gardens staff successfully made the first seed collection of this species from Lake Wales Ridge. Though initial scouting of the site only located a few plants, a later visit when the plants were in full bloom revealed a suitable population for seed collection. Timing is crucial for monitoring and identification! To estimate the timing of fruiting, the team observed a closer, smaller population that was easy to monitor. Differences in locations proved larger than anticipated, with the target population setting seed earlier than its closer counterpart. Fortunately, the team didn't wait for their reference population, and had decided to check on the target population – and secure bags to the plants to capture seed – just in time!
The Members
A long-time memberof CPC, Bok Tower Gardens hosts 64 of Florida's rarest plant species as part of the CPC National Collection. They care forliving material and send seeds for long-term storage to NLGRP.
Fairchild Tropical Botanic Garden
Since the early 1990s, the Fairchild Tropical Botanic Garden's (FTBG) Conservation Team has worked to safeguard germplasm of the Miami region's rare plants and maintain a seed bank for long-term storage.
One of CPC's newest Participating Institutions, the Florida Native Plant Society is engaged in rare plant conservation projects throughout the state. They are experienced at seed banking and work with partners to collect and safeguard Florida torreya seeds and cuttings.
Selby's primary focus is on the research and conservation of epiphytes or "air plants" (including orchids, bromeliads, ferns, and gesneriads); while also providing bayfront sanctuaries that aim to connect the public with Florida's natural heritage and history.
Montgomery's mission focuses on tropical plants, with an emphasis on palms and cycads. Its Seed Bank has put significant research resources into improving the genetic representation and maintenance of ex situcollections.
Naples Botanical Garden works with local, state and federal organizations to conserve Southwest Florida's native flora, both in the Garden and in native habitat. The Garden also documents plants throughout the Caribbean and Latin America. In previous seed collection work, the team collaborated with partners to collect seeds from local bay trees.
Based in Florida's neighbor state of Georgia, Atlanta Botanical Garden's Conservation Seed Bank focuses on the collection and preservation of germplasm of imperiled plant species ranging from the southeastern United States to the Caribbean and Ecuador.
We are also pleased to be working with two important database network partners, Florida Natural Areas Inventory and the Institute for Regional Conservation.