Institute for Applied Ecology
Conserving the Arizona Willow
Based on an Interview with Tyler Turk, Southwest Ecologist at IAE
In the summer of 2022, while wildfires raged across much of New Mexico, the Southwest Office of the Institute for Applied Ecology (IAE) planned to collect material from the imperiled Arizona Willow (Salix arizonica). IAE's mission is to conserve native species and habitats through restoration, research, and education. The Southwest branch has been engaged in conservation of rare plant species in New Mexico and Arizona since 2016, including developing conservation strategies and collecting seed from native rare plants. Salix arizonica is a globally imperiled plant occurring in Arizona, Colorado, Utah, and New Mexico, with most populations existing on US Forest Service (USFS) land. In New Mexico, this species is classified as critically imperiled (S1), and USFS considers Salix arizonica a Sensitive Species in all USFS Regions it occurs in. Last year, IAE received funding through the Center for Plant Conservation – US Forest Service Region 3 rare plant seed banking agreement and set out to make conservation collections of Salix arizonica in New Mexico.
Background photo: Streamside and wet meadow habitat containing Salix arizonica in the Cabresto Park area in Carson National Forest. Photo by Tyler Turk.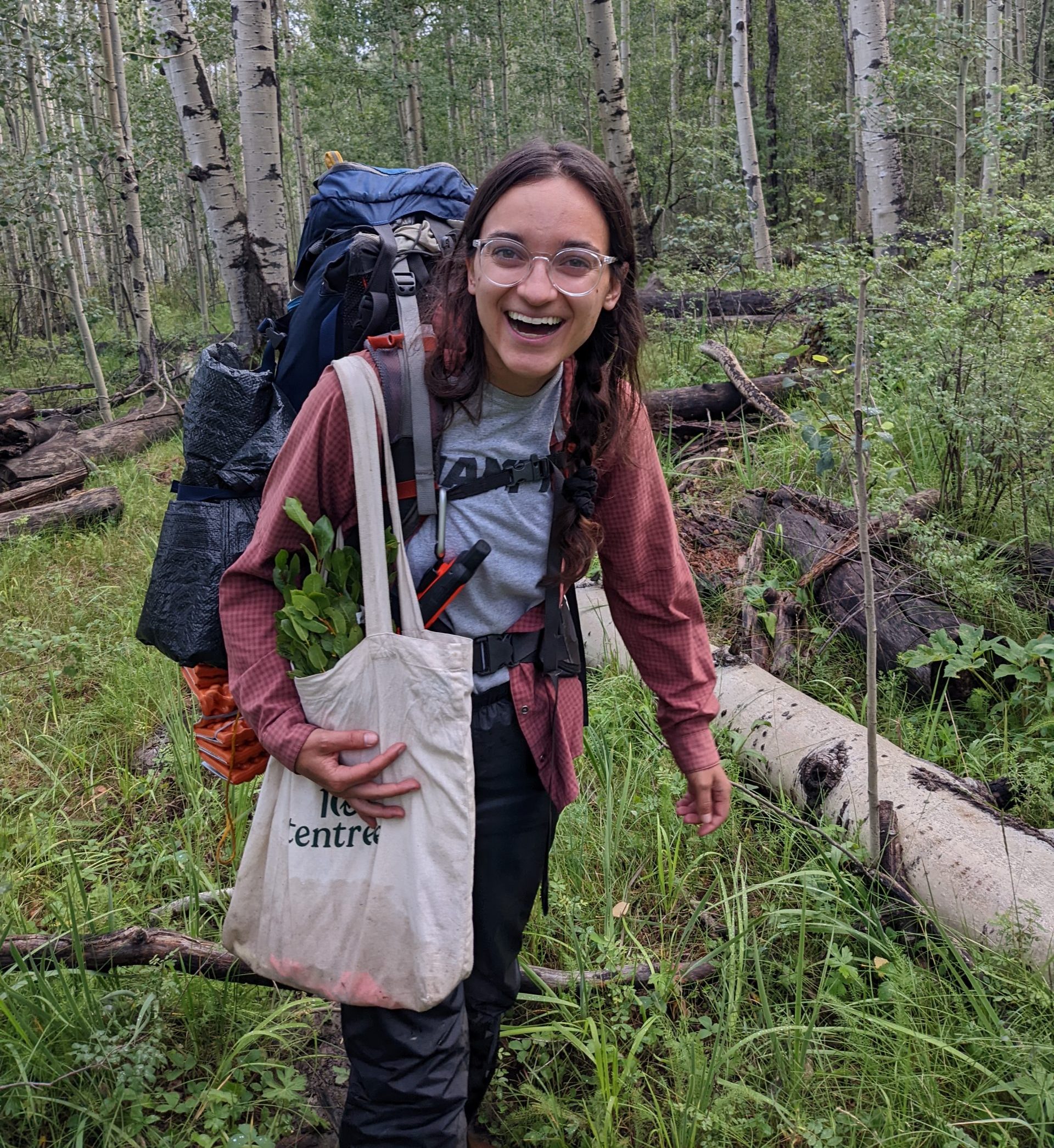 The team from IAE began their collections journey in July, postponed a month by the fires sweeping through the state. Most of the high elevation wetland habitat occupied by Salix arizonica exists in remote wilderness areas, where motorized equipment is not allowed. For this reason, a two-person team from IAE backpacked their way through US Forest Service land in northern New Mexico carrying limited supplies and hiking up to 14 miles a day.
While fire closures blocked access to parts of the willow's habitat, preventing them from making collections at all of their intended sites, the IAE team was able to collect cuttings from three metapopulations of Salix arizonica occurring in both the Carson and Santa Fe National Forests. Nearly 250 cuttings from 123 maternal plants were collected and are currently being maintained on a propagation block at the Pueblo of Santa Ana Nursery, a frequent partner of IAE's Southwest Office where IAE's native seeds are frequently propagated for restoration. The conservation cuttings, which were placed in soil shortly after returning from the field, consistently grew roots within a few weeks and are continuing to do well.
While they were in the field journeying through Salix arizonica habitat in New Mexico for this collection expedition, IAE simultaneously surveyed the species' populations. Many of the willow's existing known sites were historical and needed updated threat assessments so land managers and conservationists can adjust management practices for the species' current state.
One site which had not been surveyed since 2001, when it had been a healthy population, was unfortunately found extirpated; the hope is to prevent future losses. IAE received crucial information on historical populations and population access from USFS, the New Mexico Energy Minerals and Natural Resources Department, and the US Geological Survey. The Arboretum at Flagstaff provided protocols for field collection of cuttings. This emphasizes the importance of partnership in conservation. The CPC – USFS agreement which funded this conservation collection supports rare plants located on USFS Region 3 land, funding conservation collections to be stored in CPC member institutions.
While conducting surveys, IAE found Salix arizonica to be heavily impacted by grazing and browsing by cattle and elk, as well as hydrologic changes. IAE plans to survey the populations they were unable to access due to last summer's fires in the coming field seasons. Next steps in the conservation strategy for this species should include addressing the amount of grazing on vulnerable populations and potentially hydrologic restorations in degraded sites. In the far future, IAE's Southwest Office would ideally be able to plant grown out seedlings or cuttings to help boost wild populations.