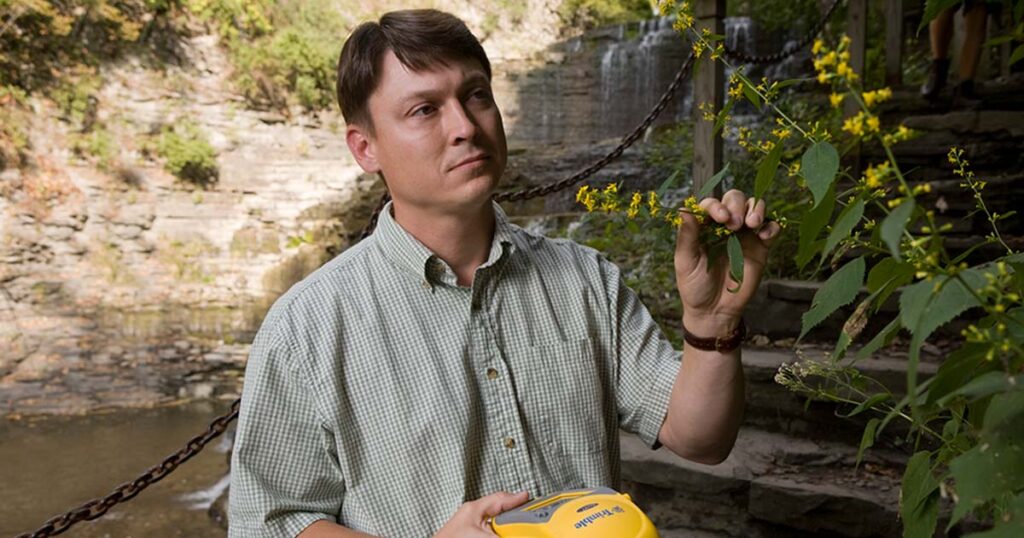 CONSERVATION CHAMPION
Todd Bittner
Director of Natural Areas, Cornell Botanic Gardens
Charged with the stewardship of 3,600 acres of breath-taking beautiful natural areas at Cornell Botanic Gardens, Todd Bittner has the joy and challenge of overseeing a diverse landscape, which includes gorges, bogs, glens, meadows, wildflower preserves, lakes, and old-growth forests. His careful attention to his charges, including federally endangered plants, and his wonderful commitment to engaging students and the public to connect and care for nature are exemplary.
When did you first fall in love with plants?
Growing up on a small Midwestern farm, my connection to plants formed early. But what really sparked my interest was my first experience walking through a restored burr oak savanna in northern Illinois. This once common community type is now among the rarest globally. Learning that we were responsible for their destruction, but could have a role in bringing them back, was transformational for me.
What was your path to becoming a Director of Natural Areas at a botanic garden?
I have had the privilege and benefit to have so many amazing mentors throughout my career. I owe each one a debt that I am working to pay forward to this next passionate generation. Learning from and engaging with plant conservation partnerships and networks throughout my career has been foundational for me personally, allowing me to grow professionally and contribute to the science of plant conservation and ecological restoration. Striving to conserve our collective natural heritage has been a goal that I brought to each stage of my career, whether it was organizing a volunteer effort to restore U.S. Forest Service shale barrens in Southern Illinois as a graduate student or working toward recovery of the Federally threatened prairie bush clover (Lespedeza leptostachya) as a U.S. Fish and Wildlife Service Recovery Team Member. Working with and for a diversity of conservation organizations, including not-for profits, state or federal agencies, and education-focused institutions, has been tremendously valuable, allowing me to gain perspective through various lenses. My most formative professional engagements were with Southern Illinois University at Carbondale, The Nature Conservancy, the Illinois Plant Society, the Illinois Department of Natural Resources, and presently with Cornell University and its Botanic Gardens.
What about working with plants has surprised you?
Resilience. I am typically hesitant to share this perspective, as I fear some in our society will take this out of context to justify conservation inaction, or worse. Yet I am astounded regularly with the resilience our native flora has had in the face of so many stressors. It gives me hope that our collective conservation and education work, coupled with nature's resilience, will be a successful recipe for a new paradigm in our relationship with nature.
What is your biggest challenge in managing the natural lands at Cornell Botanic Gardens?
When I talk to and teach Cornell students, I encourage them to not only become subject matter experts for their particular field, but also learn and develop effective communication skills. One may think that, in managing 3,600 acres of natural area holdings across dozens of preserves (including a third of the campus), managing the resource is the primary work. It does take a fair amount of my time, but managing people – and their positive or negative interactions with the environment – is paramount. Accommodating and balancing recreation, academic use, community benefits, volunteer and staff stewardship, neighbor relations, and politics is all about communicating with people effectively, and it constitutes a principle strategy toward conservation.
In your experience, how are horticulture and landscape design connected to natural lands management?
One of the great revolutions underway in our higher education systems is breaking down some of the artificial constructs we previously created for disciplines, degrees, and careers. Today, students are increasingly pursuing interdisciplinary studies. This is a welcome change, as anyone involved in natural land management would benefit from the intimate knowledge gained from horticulture, landscape design, or other related fields. Equally beneficial, I see an increasing cross-pollination of knowledge and practice from natural land management outwards to these sister disciplines, as well as to studies in global development, sustainability, and international conservation agriculture. Cornell Landscape Architecture students, as an example, have used the Gardens' natural areas as living laboratories for their capstone studio planning and design course. The more we recognize and model our natural systems in our cultivated and built environments, the better it is for nature and for ourselves.
Why do you think it is important for students and the public to engage with natural lands?
Your question reminded me of the quote from Baba Dioum, "In the end we will conserve only what we love, we will love only what we understand, and we will understand only what we are taught." Nature can be a wonderful mentor in her own right, and often our role initially is simply to invite and foster a connection. As appreciation and curiosity grows, we can then cultivate a deeper understanding of the all the values that nature provides – spanning the intrinsic to the personal. This connection then becomes infectious, but in a good way, as connection evolves into engagement and action.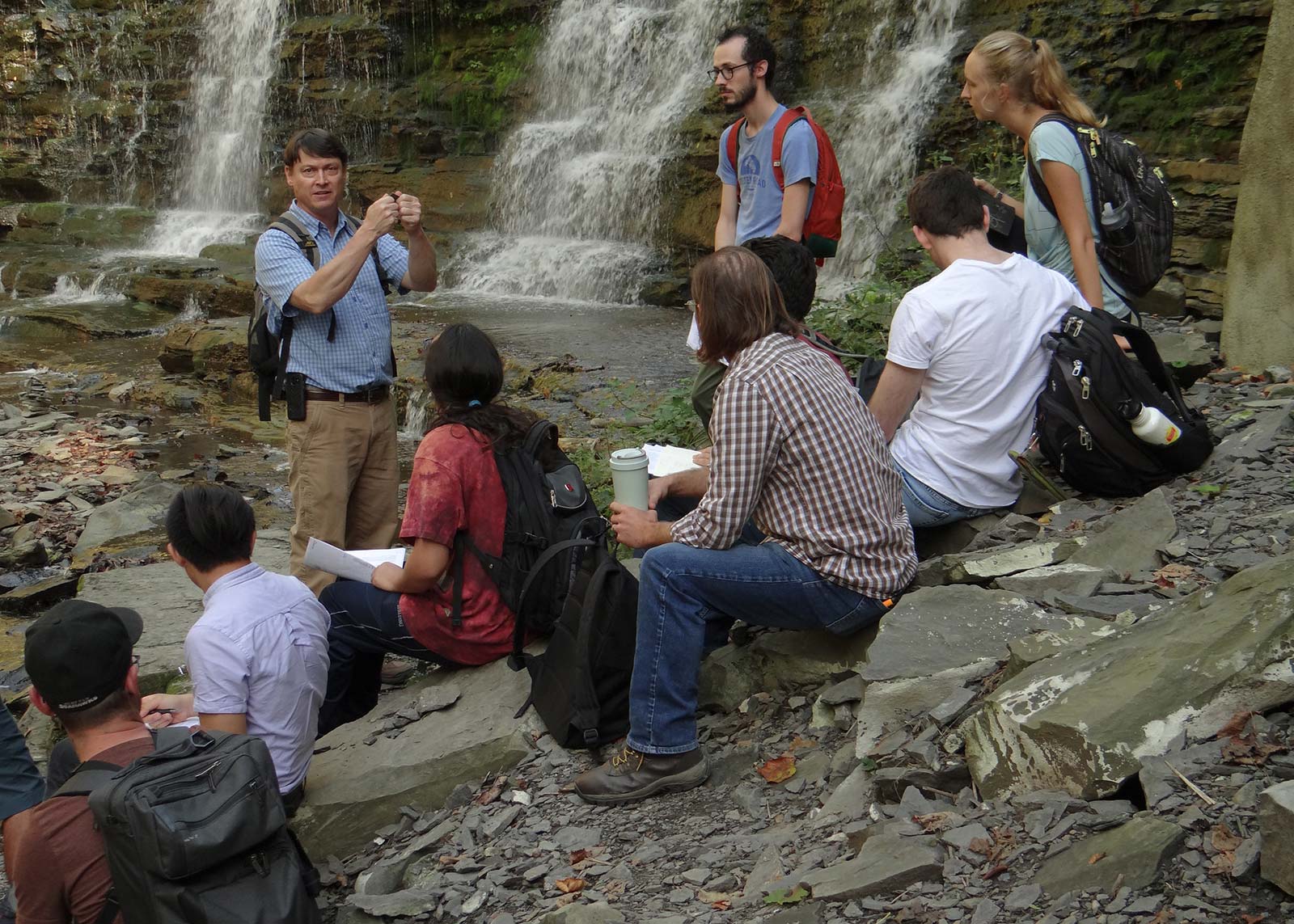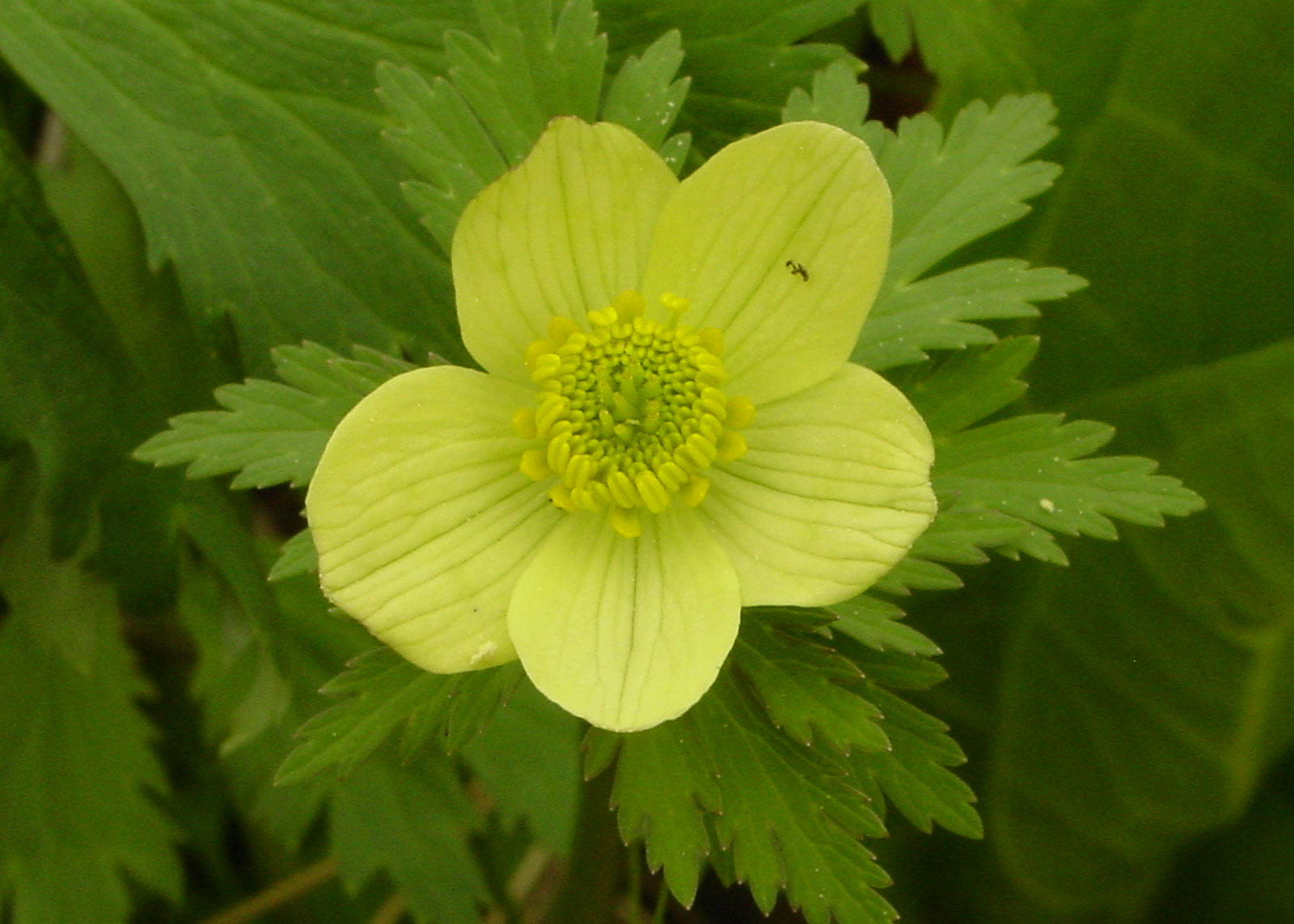 What current approaches or research in conservation excite you most?
I am keenly interested in how we can adjust our land management practices to concurrently address biodiversity conservation and climate change mitigation strategies. In the Northeast, our forest systems are under stress from climate extremes, including increased average and extreme precipitation events, multiple invasive forest pests, and white-tailed deer overpopulation. At the Botanic Gardens, we are experimenting with reshaping how we manage our landscapes to address these challenges at different spatial scales.
At the private landowner scale, we are focusing on habitats and landscaping that benefit pollinators and wildlife, through demonstration sites with accompanying "how-to" planting guides. We also strive to conserve our rarest flora. Here the American globeflower (Trollius laxus) and Leedy's roseroot (Rhodiola integrifolia ssp. leedyi) have been a focus for seed bank collections, ex situ propagation, and augmentation and introduction projects.
On a regional level, we have been at the cutting edge of testing and assessing novel approaches to managing deer overpopulation in urban, suburban, and rural landscapes.
At the ecosystem level, we have been partnering in the development of various biocontrol agents to address the invasive hemlock woolly adelgid, an aphid-like insect threatening eastern hemlocks (Tsuga canadensis) and associated biodiversity in hemlock-dominated forests.
And at the global level, we are embarking on an initiative we call Future Forests, to augment and replant trees that will be more resilient in a future climate and sequester carbon for years to come.