Conservation Champion
Meg Engelhardt
Seed Bank Manager, Missouri Botanical Garden
Our August Conservation Champion, Meg Engelhardt, brings both an innovative and dedicated approach to rare plant conservation. As Seed Bank Manager of the Missouri Botanical Garden, Meg integrates technology and out-of-the-box thinking with established conservation best practices to safeguard the rare plants in her care. By utilizing x-ray imagery to examine seed quality, Meg and her team are able to see exactly how many healthy seeds are available and make informed decisions about how to best use them–saving precious time and resources. We are fortunate to count Meg as a partner in our shared mission to Save Plants from extinction. As she states, "whether you are new to plant conservation or it has been your lifetime career, we all have so much to learn from each other."
Background photo: Meg explaining seed x-ray. Photo credit: Nathan Kwarta.
When did you first fall in love with plants?
Despite growing up in an urban area, I always had a special fondness for exploring wild landscapes. It is hard to pinpoint the exact moment that I fell in love, but the 'seed' was likely planted somewhere between hiking through the forests at Girl Scout Camp, smelling the gardenias in my grandpa's garden, and seeing the film FernGully on the big screen as a child. That seed became deeply rooted during my participation in the Ecological Restoration Corps, a high school summer internship program through the Missouri Botanical Garden.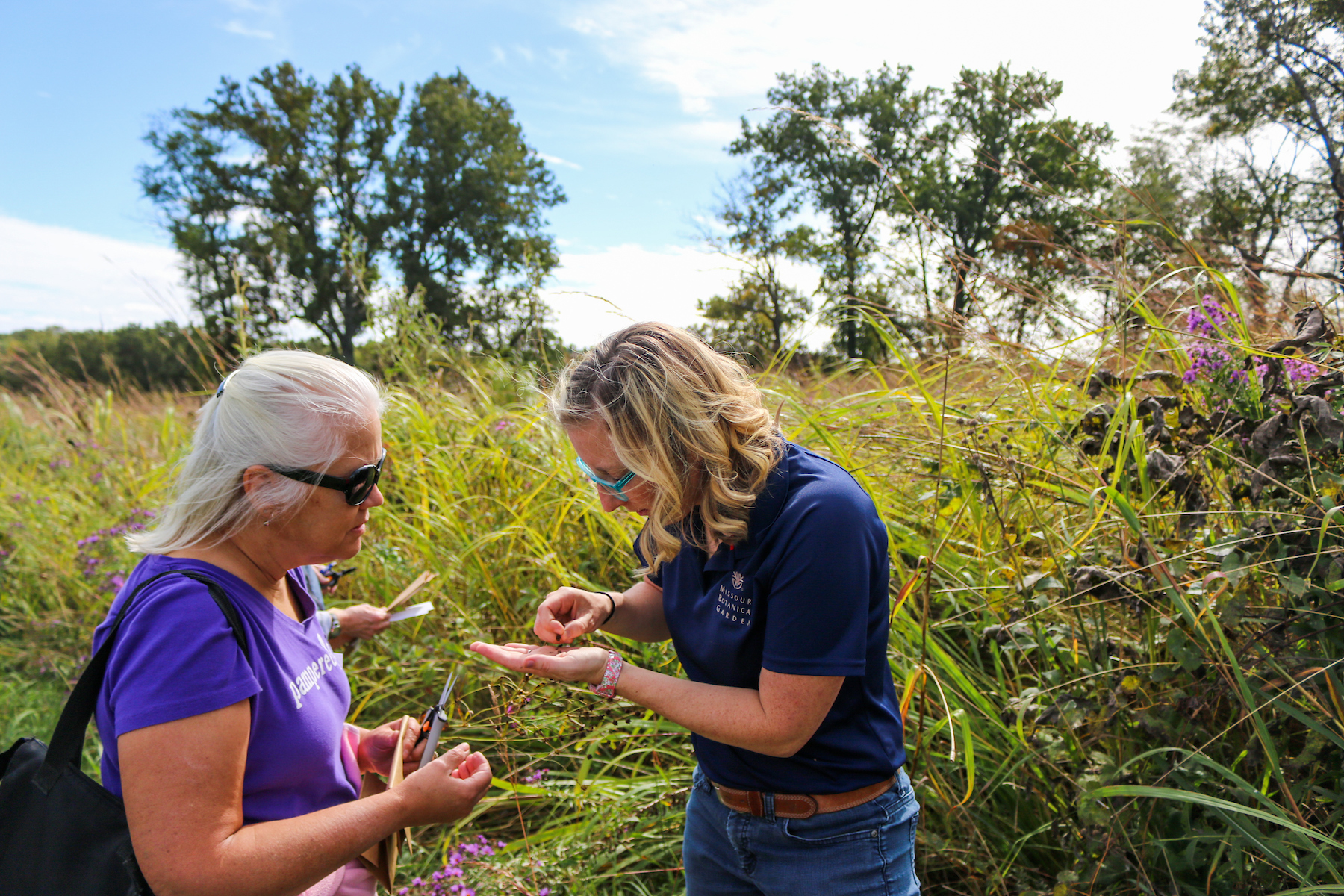 What was your career path to Missouri Botanical Garden?
While studying music at Millikin University, a scheduling fluke put me in the biology major's first-year course, taught by Dr. Judy Parrish, a plant ecologist. I was hooked! I then took all the core biology classes and plant classes and served as her TA and undergraduate research fellow. I still earned that music degree but went on to earn my master's degree in Conservation Biology with Dr. Roger Anderson at Illinois State University, where I studied invasive plant species phenology. After spending a summer surveying forest vegetation deep in the Missouri Ozarks, I spent several years identifying new high-quality natural communities for the Illinois Natural Areas Inventory Update. From there, I stayed on staff at the Illinois Natural History Survey as part of their wetland delineation team. Eventually, I was ready to take on a role where I could have a stronger impact in plant conservation. I was so happy to return to my hometown of St. Louis in 2014 when I took the position of Seed Bank Manager at the Missouri Botanical Garden.
In your experience, what are some of the pressing conservation needs impacting Missouri's rare and native plants?
With climate change rapidly exacerbating habitat degradation, the pressure to understand and conserve our natural environment is greater than ever. Cooperation and communication between researchers, practitioners, and policy makers is critical, but there are many challenges to effective collaboration. Key issues include inconsistent taxonomic designations, incompatible databases, and limited staffing. Prioritizing development of modern methods and technologies may be crucial to alleviating some of these challenges, creating smoother collaboration to achieve conservation goals.
What conservation project(s) are you currently working on? What successes or challenges have you encountered in your work?
In addition to seed banking species of global, national, and regional conservation concern, I have been collecting and banking seeds from the 2,200+ species native to the state of Missouri. One problem we discovered along the way is that we have not always had a good understanding of the quality or viability of our seed collections—occasionally resulting in misspent time and resources. Taking the time to thoroughly test these collections back in the lab has resulted in better use of limited natural and economic resources, as well as increased success in subsequent collection attempts.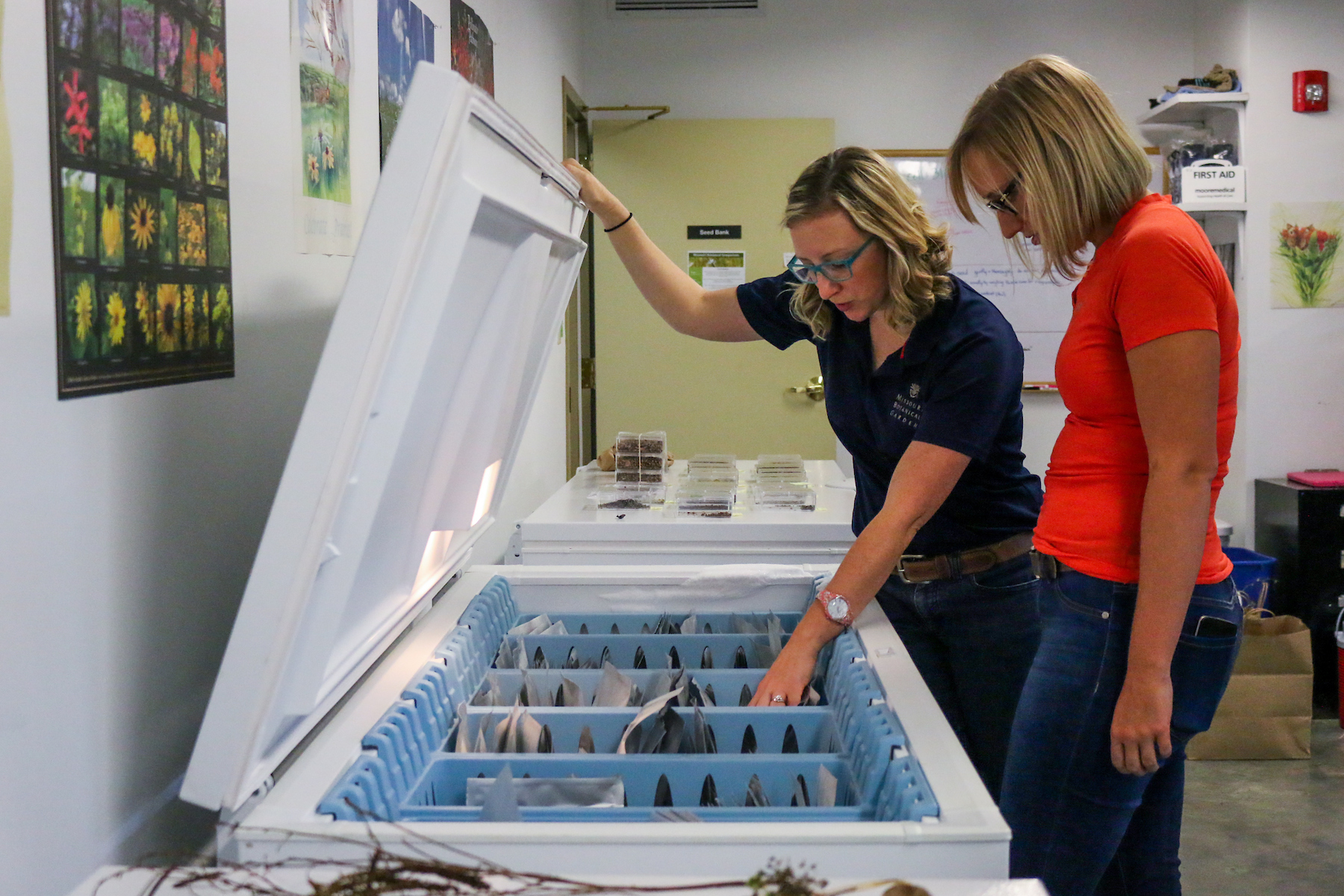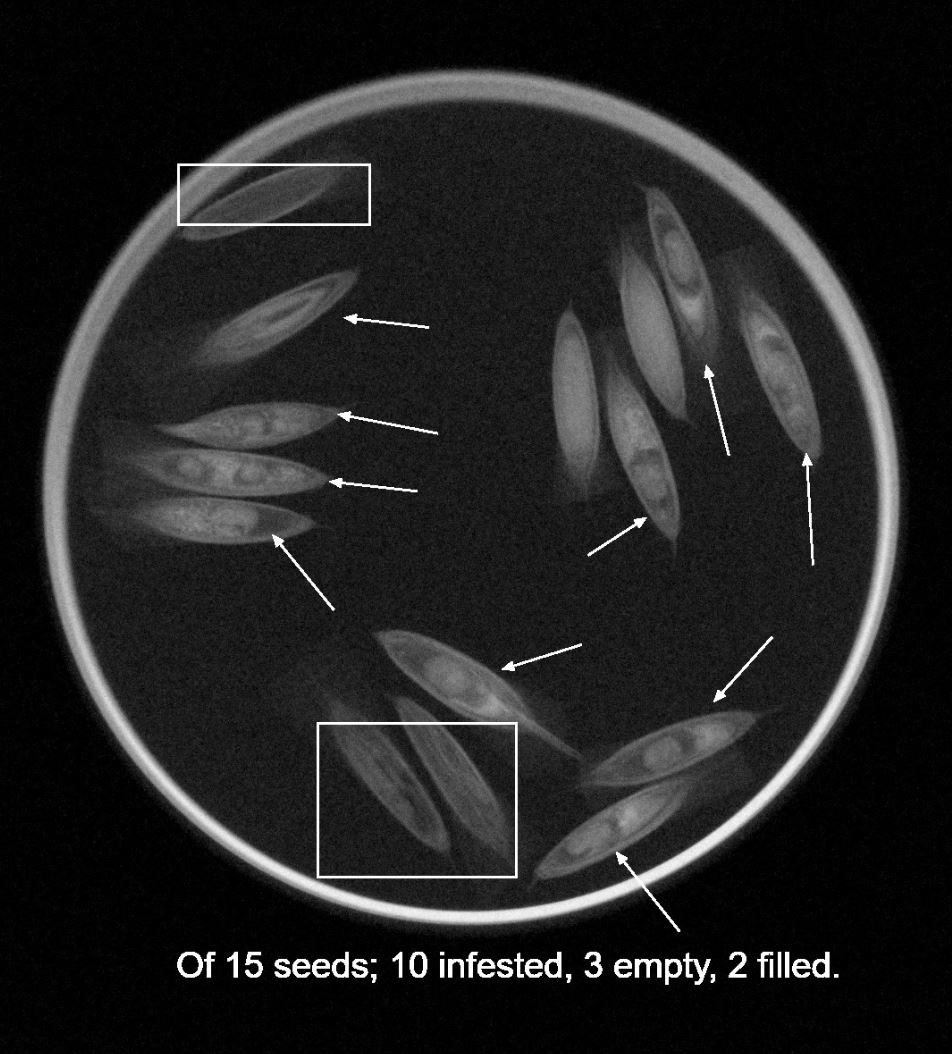 How does technology impact and advance your work in seed bank management?
Knowing exactly how many healthy seeds we have available is critical to making decisions about how to best use them. Inspection by cut tests involves dissecting seeds to visually evaluate development of inner tissues. Yet this method, while effective, is destructive and inappropriate for small collections of highly sensitive, rare species. As an alternative, x-ray imagery of a seed sample allows visual inspection of seed quality without incurring damage. Seeds are categorized as full (healthy), empty, insect-infested, or underdeveloped. After seeing seed x-ray machines in action at Chicago Botanic Garden, Bend Seed Extractory, and Millennium Seed Bank, I knew this was the next step we needed to take in our own seed bank. Using x-ray imagery to examine seed quality has been a game changer in our ability to understand the quality of our collections.
What has surprised you about working with and learning more about rare plants?
I was pleasantly surprised to find out that most of our seed collections are of acceptable quality and viability, despite varied collection and management histories. Of the 2,400 collections that have been x-rayed to examine seed fill, only 39 collections (1.6%) were found to have no filled seeds. Encouragingly, about one-third of all collections examined have seeds that are 100% filled, giving us a good understanding of the resources available for potential research and reintroduction projects to support these species in the wild.
What advice would you give to those who wish to learn more about how they can help save imperiled plant species?
Whether you are new to plant conservation or it has been your lifetime career, we all have so much to learn from each other. I would recommend prioritizing opportunities to interact with other people and organizations to learn about their experiences, needs, challenges, and successes. I am grateful for organizations like the Center for Plant Conservation, which provide a hub for sharing knowledge in support of rare plant conservation.
Learn more about the Missouri Botanical Garden Seed Bank's seed quality and viability testing of CPC National Collection species in Meg Engelhardt's 2023 National Meeting presentation.