Polly Hill Arboretum
Building a Flora on the Vineyard
Based on contributions from Tim Boland, Executive Director
The island of Martha's Vineyard, which lies five miles off the coast of Cape Cod, Massachusetts, is many things to many people: a place of magical beauty, a historical landscape, an environmental habitat, a summer vacation spot, a year-round home. And, despite being subject to wide-scale deforestation several times since European settlement in 1602, it is home to habitats rich in biodiversity – a fact that speaks to the resiliency of nature. In particular, the scrub oak (Quercus ilicifolia) dominated frost bottoms (unique pockets of habitat prone to frost) and outwash plains sustain globally rare moths and butterflies, and several rare plants. The island even supports the rarest ecosystem found in Massachusetts: sand plain grasslands, a system that supports a high concentration of rare plants. Yet, the rich flora of the island is understudied.
Background photo: The New England Blazing Star (Liatris scariosa var. novae-angliae) in the sandplain grassland with Little Bluestem (Schizachyrium scoparium) on Chappaquiddick Island, Martha's Vineyard. Photo credit: Tim Boland, courtesy of Polly Hill Arboretum.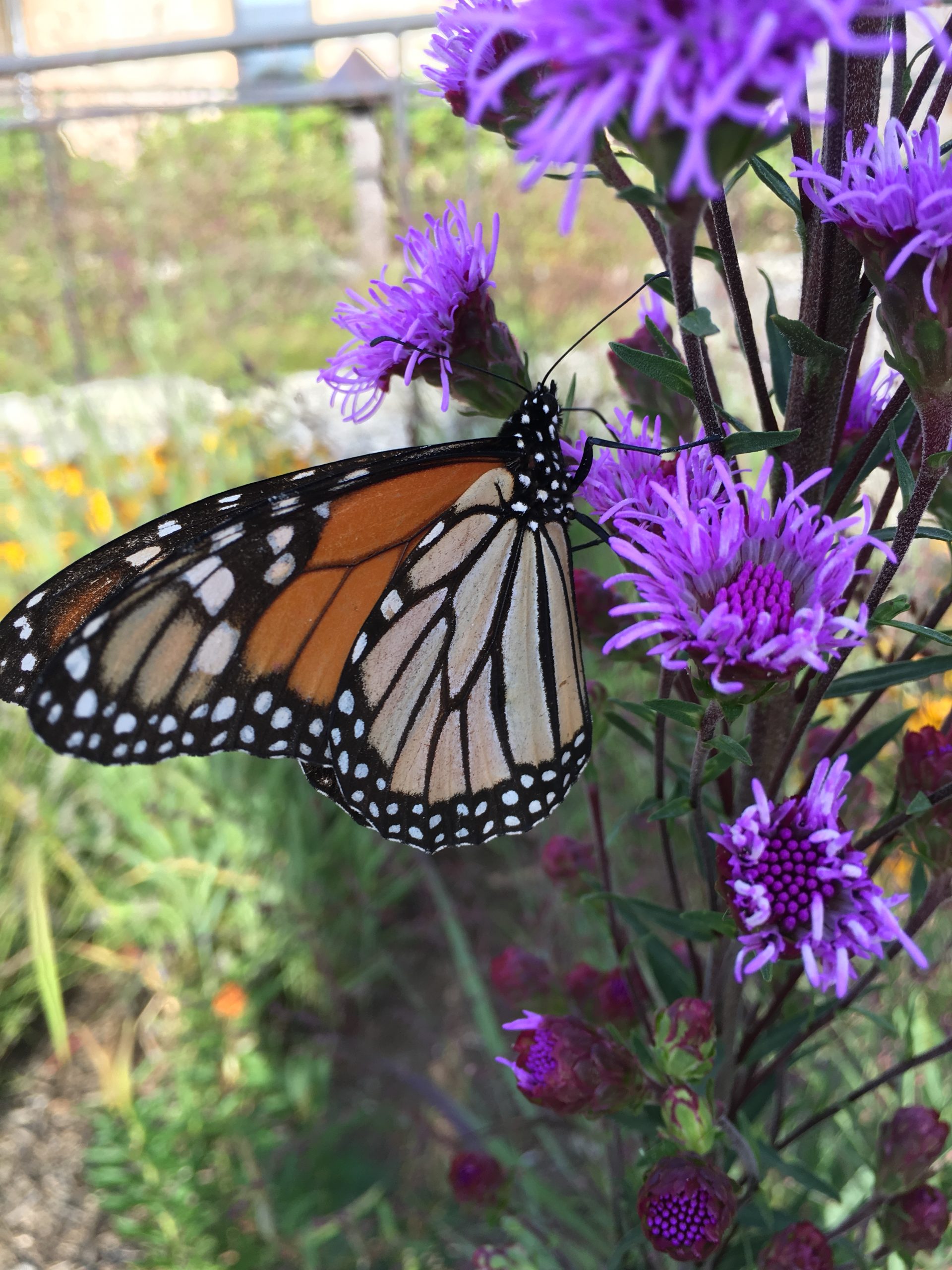 An understanding of what plant species are present and where they are found, as learned through a floristic survey, provides a foundation for plant conservation work. The original flora of Martha's Vineyard was published in 1997 by Debra Swanson and Carol Knapp (PHA's first research associate, serving from 2001-2005). With the appointment of botanist Mellissa Cullina as research associate in 2001, Cullina and Executive Director, Tim Boland, conducted a five-year herbarium voucher study at the New England Botanical Club (NEBC) herbarium at Harvard University examining the historical collections of Martha's Vineyard. This laid the groundwork for the vouchered based flora in progress today!
Thus, in 2013, Polly Hill Arboretum (PHA) began a floristic study program, called ConServator, that allows their staff, research associates and volunteers, as well as many conservation partners throughout the island to contribute data via a web-based geographic information system (GIS). The software program, a cloud-based platform, called ArcGIS Online, is augmented by a customized program designed by PHA that allows multiple conservation organizations on Martha's Vineyard to record and map plant locations and additional data in the field.
To date, the ConServator program has enabled the mapping of nearly 1,200 plant locations, and associated each location with a herbarium voucher and associated data. PHA will use the data collected to create a modern flora of Martha's Vineyard and the adjacent islands. The conservation groups collaborating with PHA manage close to 14,000 acres of land, and some of the rarest plants are found on the properties they steward. The groups focus on the enumeration of the island's flora lending itself well to the documentation of rare plants, their protection, or re-introduction when appropriate.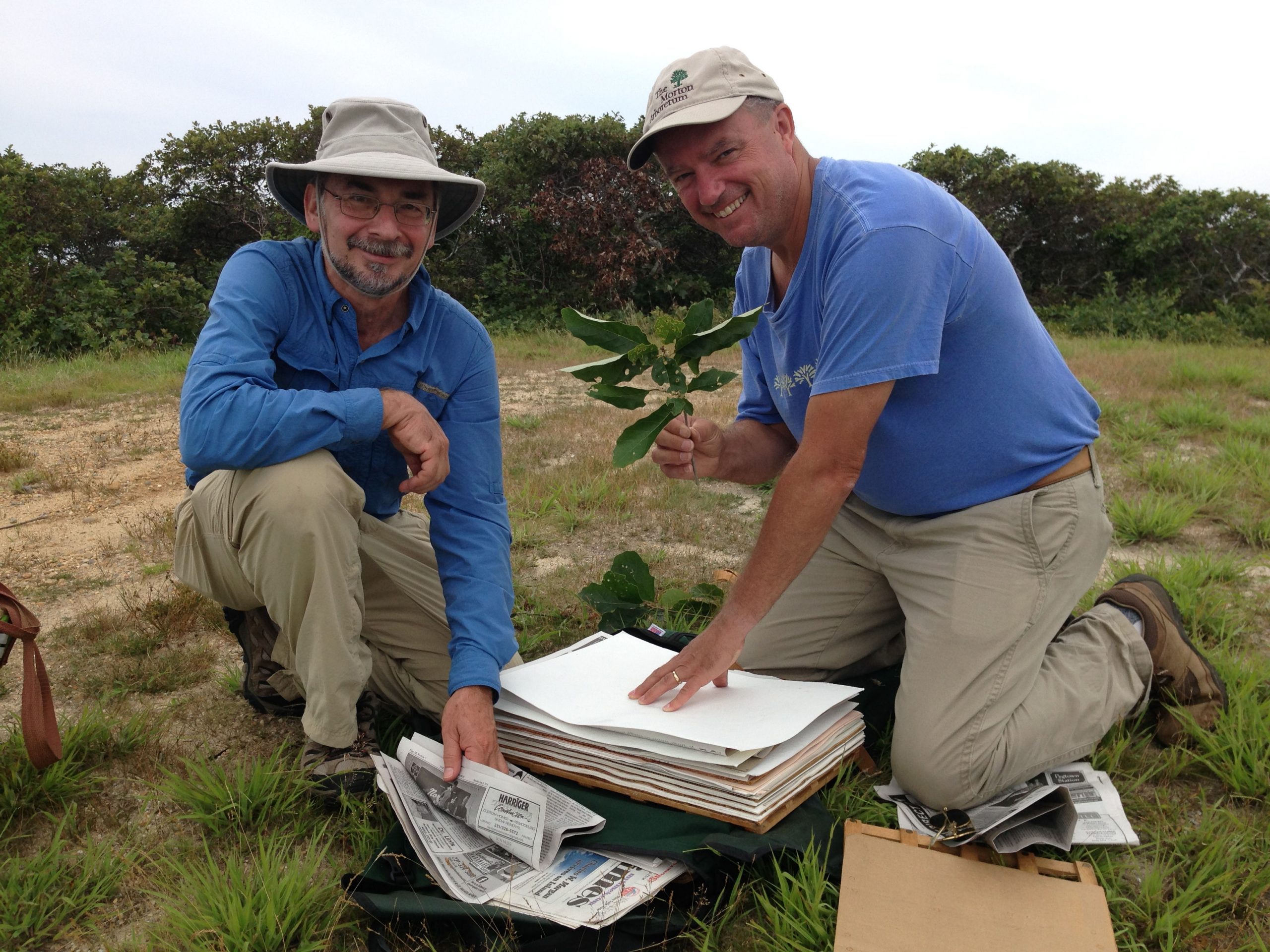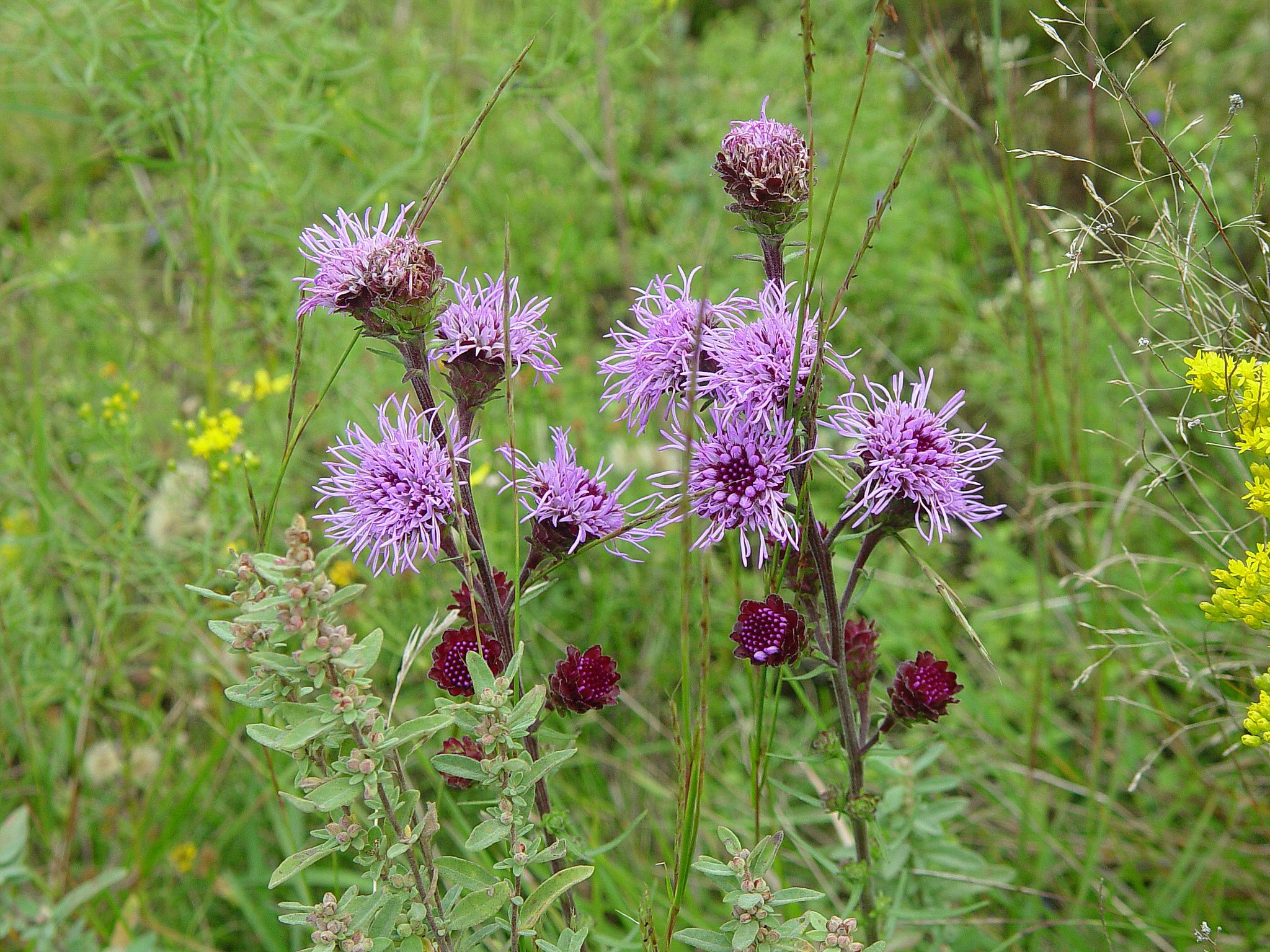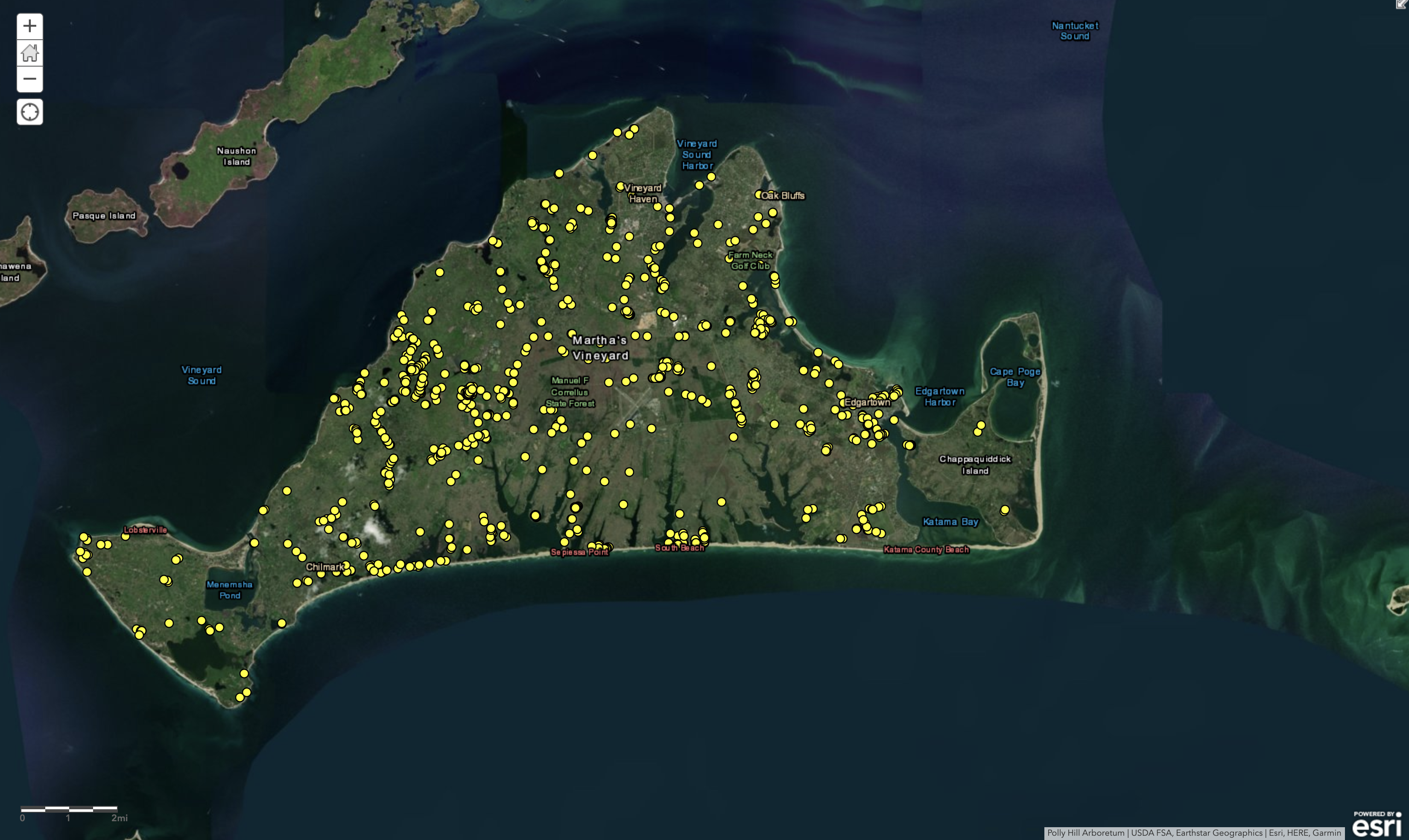 As a result of being able to document the rare plants, an outgrowth of the mapping program has been PHA's work propagating rare plants in its nursery production facility, and working on restoration projects with local conservation organizations and at the Polly Hill Arboretum. And some of these rare plants certainly need the help. The finite landscape of Martha's Vineyard is already under developmental pressures for large secondary vacation homes and, or commercial development. The island also supports an extreme density of deer, an estimated 50 per square mile, which threaten rare plants with their browsing. The issue of limited space on the island may only be exacerbated by climate change. Throughout the world, the traumatic effects of climate change are particularly evident on islands. Sea level rise coupled with severe coastal erosion and the omnipresent threat of hurricanes in this region of New England is a great cause for concern.
One of PHA's earliest efforts was to develop the propagation protocols of the Northern Blazing Star (Liatris scariosa var. novae-angliae). Considered uncommon in New England and a plant of special concern in Massachusetts, it appears in the coastal sandplains where salt-spray, and historic fires have allowed it to persist. On Martha's Vineyard, it is found on conservation lands and its populations are closely monitored.
Over the last several years, seed collected of Northern Blazing Star was stratified, and grown in PHA's greenhouse. Hundreds have been planted into the fields at Polly Hill Arboretum both as a conservation measure and as a methodology to look more closely at pollinators.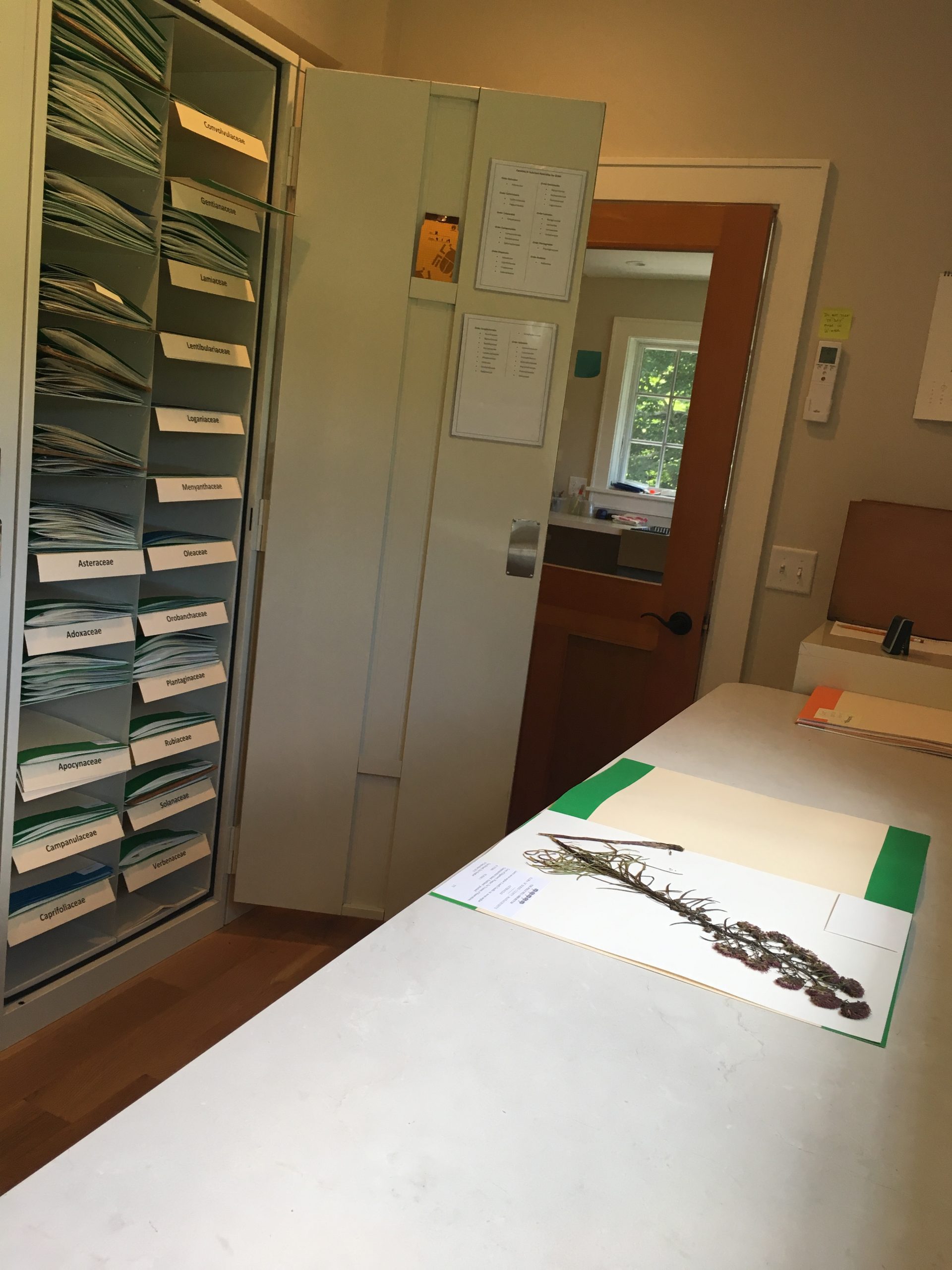 So much of PHA's work, including the ConServator program, involves a network of collaborators and their support in obtaining permits, allowing access to rare plants, and growing plants successfully in the nursery facility. It takes a village of talented, dedicated, and visionary conservationists who care about the island's biological heritage and work to preserve it for future generations. Founder Polly Hill took the long-view and started plants from seed to begin her arboretum at the age of 50 years old. Now the arboretum tries to take the long-view in their conservation work, and the mapping is just step one.
Photos (except where noted) by Tim Boland, courtesy of Polly Hill Arboretum.