San Diego Zoo Wildlife Alliance
An Orchid Oasis in the Heart of San Diego
Based on an Interview with Heinfried Block, Senior Plant Propagator & Adam Graves, Director of Horticulture
Nestled between the baboons and meerkats of Africa Rocks and the gentle giants of the Elephant Odyssey, visitors of the San Diego Zoo find a haven for a different type of wildlife in the Orchid Greenhouse. Established nearly 50 years ago to celebrate orchids and their beauty, the Orchid Greenhouse has since taken an active role in global orchid conservation. With over 900 species of orchids, the Zoo's collection is the seventh largest in North America by taxonomic diversity and the fifteenth largest in the whole world—an impressive feat!
Background photo: Epipactis gigantea growing in San Diego in May 2016. Photo credit: Stacy Anderson, courtesy of SDZWA.
The Zoo's horticulture team shows off the orchids every month at Plant Day events, inviting guests to see the world-class collection and connect with threatened plants. Every plant has a story to tell! Some of the orchids in the greenhouse came to the Zoo in an intriguing kind of rescue. Poaching is a major threat to orchids in their native habitats, where they are removed from their habitat for a variety of reasons, including ornamental use.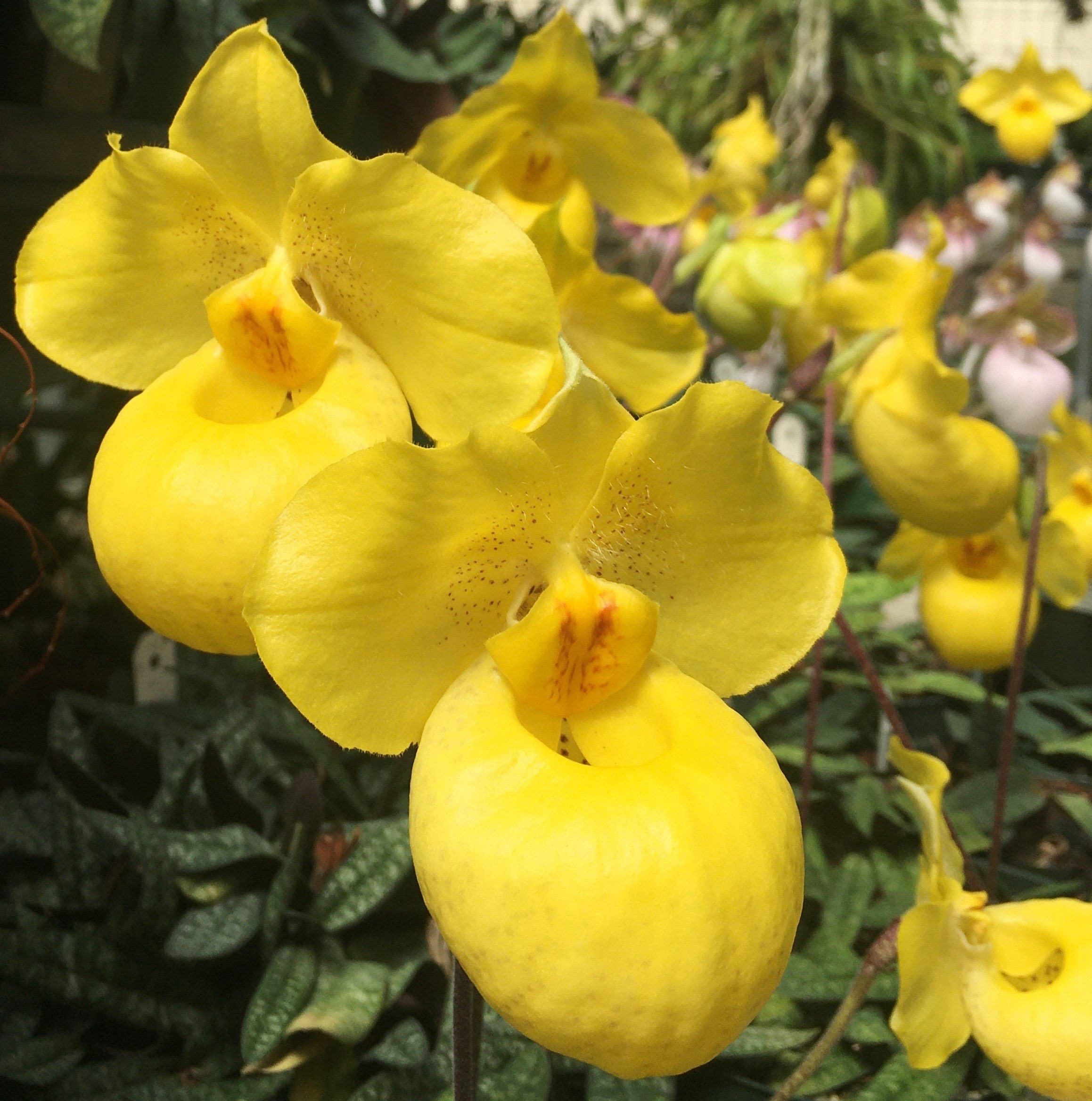 Orchids are protected by the Convention on International Trade in Endangered Species of Wild Fauna and Flora, meaning international transportation without a permit is completely illegal—but this doesn't always stop poachers. Fortunately, as a designated Plant Rescue Center, the San Diego Zoo Wildlife Alliance (SDZWA) is able to provide a safe environment for plants confiscated in the illegal orchid trade.
When plants are confiscated by the U.S. Department of Agriculture, the country of origin is contacted to determine if they should be sent back. If the country of origin declines, the Zoo becomes caretaker for the confiscated orchids, either displaying them in the greenhouse or sending them to other Plant Rescue Centers for safekeeping. SDZWA orchid specialists propagate and grow subsequent generations of the poached orchids, which can be given to other botanical gardens for ex situ display and conservation—or, if appropriate, sold in plant sales on site. This process provides an opportunity to share a story that engages visitors with plant conservation and the plight of threatened plants. Sometimes, the plant material in the Zoo's care may come from the last known population of a species! In the safety of the Zoo's ex situ collection, surrounded by brilliant conservationists, material can be preserved and cared for to ensure ex situ survival, contributing towards conservation in the wild.
Since 2015, the SDZWA horticulture team has been working on in situ conservation in orchid biodiversity hotspots. One of these is the western Pacific island country of Palau, where 80 species of native orchids can be found. Last year, SDZWA orchid experts worked with local partners to collect seed and pollen from orchids in Palau. This project, a collaborative effort with the U.S. Forest Service and the North American Orchid Conservation Center, focuses on building up local capacity for orchid conservation in Palau through micropropagation training, providing nursery supplies, and building facilities at community colleges. SDZWA hopes to become involved with IUCN conservation assessments in the region in the future to help drive conservation efforts and interest. Another region of focus for in situ work is the southwestern U.S. – a Conservation Hub, or priority region, for SDZWA. In the Southwest, SDZWA collects pollen, seed, and other biological material from native orchids like Epipactis gigantea.
Orchids occur on every continent except Antarctica, and the SDZWA collection represents the family's global diversity well. Heinfried Block, an orchid expert and Senior Plant Propagator at the Zoo, masterfully tackles the challenge of caring for such a vast array of orchids and enjoys taking on the more difficult-to-grow species. Propagation of orchids ex situ is a complex task, with in vitro growth demanding much expertise, knowledge, and specialized laboratory space. The SDZWA horticulture team has been remarkably successful at growing species from far and wide in the lab, covering many genera of orchids. One particularly challenging species to grow in the lab is Phragmipedium kovachii, a critically endangered Peruvian species subjected to rampant poaching in its wild populations. After receiving donated specimens of P. kovachii, SDZWA was able to successfully grow this plant from seed in the lab—an important accomplishment in the species' conservation.
Back at home, the Zoo's horticulture team engages the public with yet another popular event: Plant Days. On Plant Days, horticulture staff give Botanical Bus Tours of the Zoo's flora and give talks by their Carnivorous Plant Greenhouse. Plant sales are held outside the Orchid Greenhouse to attract the attention of visitors.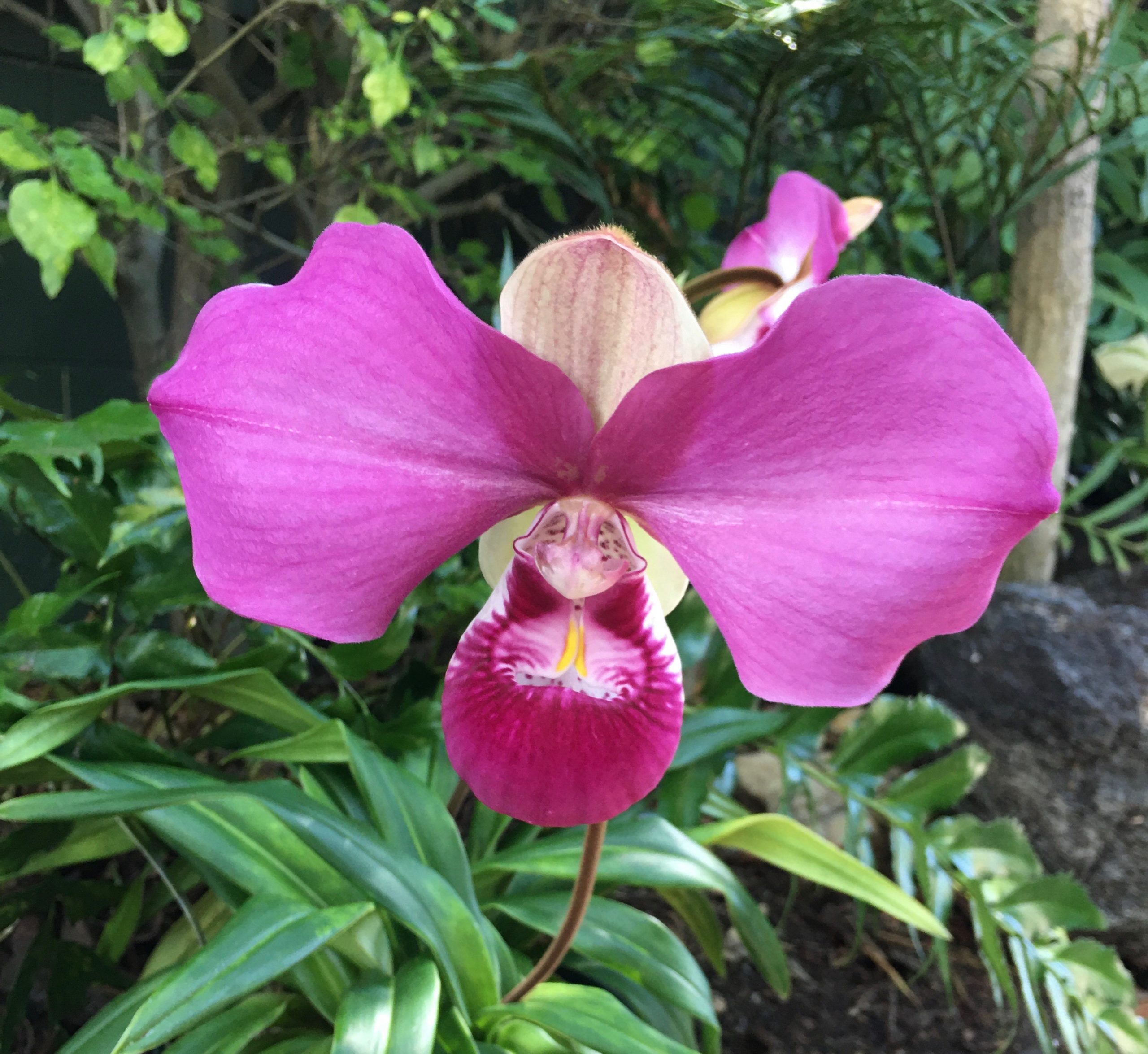 These events allow the Zoo to share about plant conservation and the Zoo's global and local efforts. According to Adam Graves, Director of Horticulture, "When we talk about the conservation status of a lot of these plants, it's really an eye opener for a lot of people…it's a gateway conversation to get them more familiar with the need for plant conservation." Plant Days help draw visitors in to learn about threatened plants. While many guests are surprised to learn about the Zoo's vast horticultural collections, their orchid collection provides yet another surprise in the form of U.S. native orchids.
SDZWA's efforts to engage the public with plant conservation help visitors understand how each of them can make a positive impact. The horticulture team's expertise with exceptional species, such as orchids, cycads, and oaks, makes this conservation niche an important focus. Future directions for the horticulture team and orchid experts include expanding further into long-term cryopreservation, ecosystem-level stories involving all species in a system, and more public-focused education programs. This broad-ranging work with threatened orchids provides a stellar example of SDZWA's global leadership in conservation.