Fairchild Tropical Botanic Garden
Environmental Education Outreach at Fairchild Tropical Botanic Garden
The Fairchild Challenge Team, challenge6-8@fairchildgarden.org
For more than 50 years, Fairchild Tropical Botanic Garden, located in Miami, Florida, has offered a range of innovative and award-winning plant science education programs. These include programs for school-age students, credit and non-credit courses for university undergraduates and graduates, professional development for teachers, and life-long learning opportunities for adults. We have designed pathways for those already interested in plants and a gateway for those yet to discover this fascinating world. Our programs are cooperative efforts led by seasoned educators, with input from research and horticulture staff and our community of expert researchers and educators worldwide.
Background photo: Pineland Jacquemontia (Jacquemontia curtissii). Photo Credit: B. Harding.
The largest and most wide-reaching of these programs is The Fairchild Challenge (FC). This award-winning, interdisciplinary environmental science competition is designed to engage students of diverse interests, abilities, talents and backgrounds to explore the natural world. Schools may participate in any number of the annual Challenges to accrue points throughout the year. Winning entries receive awards and prizes. Now in its 20th year, the program has been recognized as a benchmark for exceptional STEM education and its ability to empower PreK – 12th-grade students to become the next generation of scientists, researchers, educated voters, policymakers, and environmentally-minded citizens.
Providing an educational pipeline for students in STEM, the FC has engaged more than 1,250,000 south Florida students to date. It has granted $350,000 in school garden funding for under-resourced schools, awarded $70,000 in scholarships to enable high school seniors to attend college, and provided 16 multi-year graduate fellowships for Masters and Ph.D. candidates attending local universities. The FC has also hosted more than 350 teachers at professional development workshops and offered countless opportunities for students to creatively address connections between plants, animals, and the environment.
Miami-Dade County Public Schools, home to the majority of FC participants, is part of an international community with more than 50 percent of the population foreign-born. Miami has one of the highest poverty rates of large U.S. cities (U.S. Census, 2020). Representation in the botanical sciences has often been limited and exclusionary, creating barriers to participation. But the FC was designed to anticipate and address barriers to inclusion, and program managers are intentional about ensuring that all students and educators in our community who want to be involved can be. Students "see themselves" in science through projects like "Global Challenge: Unsung Plant Scientists – Their Journey and Legacy," in which they research and create trading cards of plant scientists who look like them but have been overlooked by the mainstream plant science community. In addition, the FC team works diligently to ensure that all programming and materials remain free to local participating schools. Teachers who are involved in the FC program report that their students are more excited about science and curious about plants after participating in challenges.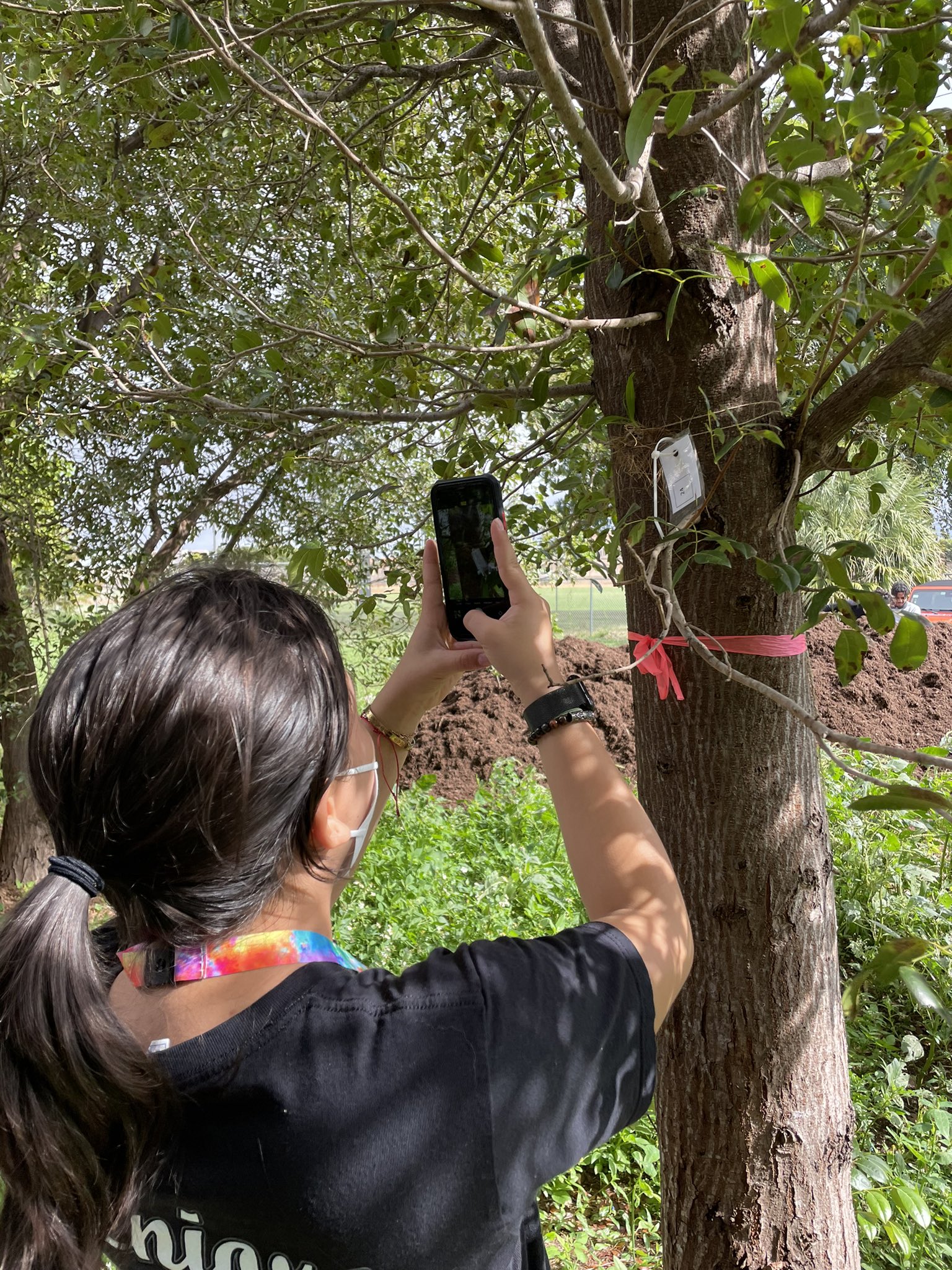 Integrated local and national conservation initiatives:
Million Orchid Project is an educational initiative working to reintroduce eight species of rare native orchids into the urban landscapes of South Florida. At its core, The Million Orchid Project is a massive science experiment that allows us to make important discoveries about how native orchids grow and reproduce.
Shade Our Schools is a partnership with researchers at the University of Miami, which engaged more than 4,000 elementary and middle school students to better understand how leaf traits differ between sun and shade leaves, potentially identifying leaf adaptations that may be used by plants to buffer themselves against climate change.
Connect to Protect Network encourages families, schools, and local businesses to plant pine Rockland gardens to increase the probability of visits from seed dispersers and pollinators. Students have designed promotional posters, board games, and business plans, and they have written stories and created short films to showcase this program and the globally imperiled pine Rockland ecosystem.
Environmental Debate Tournament again transitioned to the virtual stage in 2021, with more than 100 students — representing 21 high school teams — engaging in debates on pressing environmental issues. Students have an opportunity to research different dimensions of environmental issues at the local, national, and international levels and increase their civic awareness.
With two nearby national parks, several renowned research universities, and a myriad of environmental organizations and professionals working locally, Miami is a unique center for progress in the environmental field. This year, we hosted Exploring Environmental Careers Day to introduce students to researchers and scientists who are making positive environmental impacts in South Florida.
Leveraging our network of teachers and students, the FC is working with researchers from the Donald Danforth Plant Science Center to assess student awareness of the value and importance of plants. The resulting Plant Awareness Disparity Index will provide insights into how well students recognize and appreciate the presence and important ecological role of plants in their environment (Wandersee and Schussler, 1999).
The FC continues to grow in participation and scope, adding new partnerships — including with NASA — as well as new challenges. We have expanded our national reach to more than 430 schools. Amid this flourishing growth, we are happy to report that the program continues to maintain its original intention and spirit, bridging the disconnect between students and their environment while adding a new level of creativity and rigor.
References:
Wandersee, J.H. & Schussler, E.E. (1999). Preventing plant blindness. The American Biology Teacher 61 (2), 82-86.
U.S. Census Bureau QuickFacts: United States. (2020). Retrieved September 03, 2020, from https://www.census.gov/quickfacts/fact/table/US/RHI725219